This Tour Is Offered by Enrico's Tours and Safaris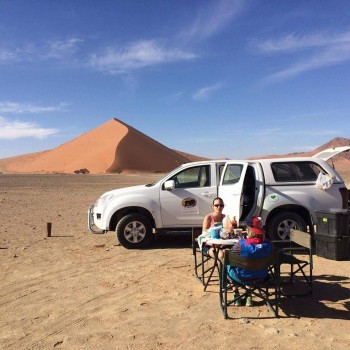 21 Days Namibia,Botswana and Victoria Falls
Enrico's Tours and Safaris
Office In:

Size:

5-10 employees (Founded in

2014

)

Member Of:

Namibia Tourism Board

Tour Types:

Small & medium group tours (Budget & mid-range)

Destinations: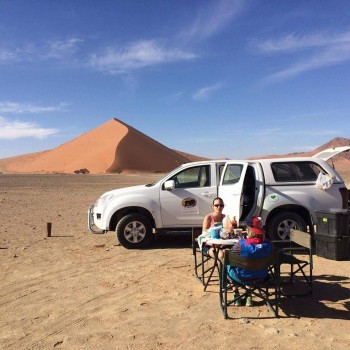 21 Days Namibia,Botswana and Victoria Falls
ENRICO'S TOURS AND SAFARIS is an independent Tour Operator specializing in small and large group safaris in Namibia, Botswana and South Africa. Our tours are planned to suit clients looking for a comfortable standard of transport and accommodation together with an qualified guide and successful adventure safaris to view wildlife. Accordingly, prices are mid-range and luxury with personalised service and value for money.
Marco
–
DE
Reviewed: Sep 20, 2019
Unprofessional and dishonest...scam!!!
1/5
We paid for the 1/2 Game Ranch Tour weeks before and never heard back from the company. The day before the tour I sent an E-Mail to ask about the pickup and I immediately received the confirmation that we are going to be picked up at our hotel. Eventually, nobody came to get us to the ranch. We tried calling and found out that they forgot about us. The company tried to rearrange for another day and we accepted.
As if that wasn't bad enough, they apparently forgot us again on the 2nd occasion. Our hotel then called them and they sent a driver who came an hour late. By the time we arrived at the ranch, the game drive has already started without us. Furthermore, we got to know that Enrico is not in charge of the game drive itself but the ranch and that our spots have not been paid!!! If we had wanted to participate, we would have needed to pay again!!!
After that, we tried to reach out to Enrico in order to at least get our money back but no response, no apologies. DO NOT USE THIS COMPANY!!!
Livia
–
IT
Reviewed: Sep 13, 2019
SCAM - STAY AWAY
1/5
SCAM - PLEASE STAY AWAY

Enrico's tour was a nightmare, he took all our money and STOPPED PAYING for our accomodions and meals after day 3. He left us alone with the driver and no tour guide. WE HAD TO PAY FOR OUR OWN ACCOMODATION FOR TWO NIGHTS, AS WELL AS ALL THE MEALS AND ACTIVITIES WHICH SHOULD HAVE BEEN INCLUDED. He simply booked everything, and we were forced to pay out of pocket if we wanted a bed for the night. When we called Enrico, he was never reachable and when he did respond, he repeatedly lied to us. He even said he would give us our money back upon return to Windhoek, which never happened. The driver stopped multiple times because Enrico did not send the payment for the gas, which kept us waiting for hours. Please stay away from Enrico's tours.
Tori
–
NZ
Reviewed: Sep 9, 2019
WARNING!! DO NOT USE THIS COMPANY!!!!
1/5
WARNING!!! DO NOT USE THIS COMPANY!!!!

We were booked on a seven night safari with Enrico's. We booked about 6 months in advance and paid in advance.

The day that our safari was supposed to commence, no one showed up. We could not get in contact with the company to find out what was going on (we tried their phone numbers, whatsapp, email, Facebook etc). When we finally got in contact (after hours and hours of trying), we were told someone would be there by 2:30pm at the latest. Again, no one showed up. Again, we could not get in contact with Enrico's to find out what was going on. When we did get in contact, he suggested that we arrange and pay for our own transfer to what was supposed to be our first stop?? Eventually our then-current accommodation offered for us to stay another night and Enrico's promised to pick us up at 9am the next morning. Enrico's said they would pay for the accomodation, but they did not and we had to pay for it.

At 9am the next morning, surprise surprise, no one showed up!! And again we could not get in contact with Enrico's to find out what was going on!! We were finally picked up at around 11:30am (1.5 days late for our six day tour...) in a minivan with worn out suspension that was supposed to drive us on sand/gravel roads in between destinations - even our driver said it was unsafe and that he didn't think the car would be able to make the journey!

We found out our was a freelancer that was called by Enrico's at 7am on the day that our safari was meant to commence to get to us in Kasane from Windhoek. It is 1,400kms and 14 hours away from our pick up point. There was no way they were going to be able to pick us up at the scheduled pick up time and no way they would even get to us by 2:30pm so I have no idea why this was promised by Enrico's. It also meant that Enrico's knew that this would not be possible before 7am the day of our safari and they never contacted us to tell us this. We could have done activities that day through our then-current accomodation, but instead spent an entire day in reception trying to get in contact with Enrico's!!

When we finally arrived at our first accommodation, NOTHING had been booked or paid for! The accomodation had never heard from Enrico's and did not know we were coming! Apparently this is a very common occurrence and our driver had heard of this happening regularly before. Luckily we could get in for one night (the last two rooms) but again had to pay for this ourselves!!! We were paying for our whole trip twice!!

We found out we had not been booked into our next accommodation and none of our activities had been booked. Again, we could not get hold of him to find out what the hell was going on! One time we called off our driver's phone and when he heard our voice he hung up!! When we finally got in contact much later, he said he could get us into some other accommodation but we would have to pay for it and be refunded. Obviously we were not going to do that, and after such an incomprehensibly terrible experience.

We found out that he has been banned from the camps in National Parks in Namibia for non-payment. He doesn't pay his drivers or guides on time. Our driver says he has a reputation for being a terrible tour operator - I have no idea how his business survives.

He lied to us continuously to try cover the mess up. He should not be allowed to offer these services. We are reporting him to tourist organisations so that our experience does not become someone else's.

Luckily we booked through Tour Radar so we were able to get a full refund.
Tanja Siegmund
–
DE
Reviewed: Aug 28, 2019
Totally unreliable, very bad communication
1/5
It was really bad, they didn't answer. We can't do the tour, because they didn't pick up us, the car was in service. They said we can also do the tour a day later or do it only 2 days, but we booked 3 days.
That's no way!
Many Patel
–
US
Reviewed: Aug 26, 2019
It was very decision to Enrico's service
5/5
We have a great 14 Days Namibia & Botswana safari. This was a great experience and dream come true. My best highlights are the Sossusvlei, Chobe National Park and Victoria Falls. Thanks Clarence for organizing a great tour.
Disclaimer
This tour is offered by Enrico's Tours and Safaris, not SafariBookings.
This operator reserves the right to change rates advertised on SafariBookings.
If you request changes to this tour, the advertised rate will likely change.
The exact order, content and rate of this tour is subject to availability.
This tour is subject to the terms & conditions of Enrico's Tours and Safaris.