This Tour Is Offered by Enrico's Tours and Safaris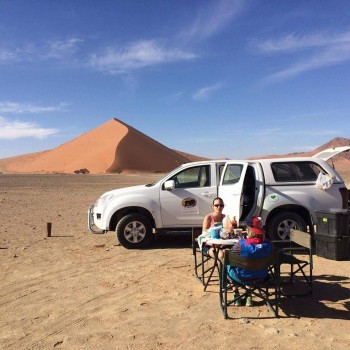 21 Days Namibia,Botswana and Victoria Falls
Enrico's Tours and Safaris
Office In:

Size:

5-10 employees (Founded in

2014

)

Member Of:

Namibia Tourism Board

Tour Types:

Small & medium group tours (Budget & mid-range)

Destinations: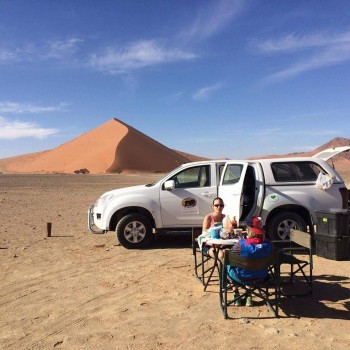 21 Days Namibia,Botswana and Victoria Falls
ENRICO'S TOURS AND SAFARIS is an independent Tour Operator specializing in small and large group safaris in Namibia, Botswana and South Africa. Our tours are planned to suit clients looking for a comfortable standard of transport and accommodation together with an qualified guide and successful adventure safaris to view wildlife. Accordingly, prices are mid-range and luxury with personalised service and value for money.
Den
–
DK
Reviewed: Oct 16, 2019
Do not use! The worst experience ever!
1/5
I booked a 7 day tour with Enrico safari two months in advance, and emailed him a few days before arriving to ensure that everything was organized, which he confirmed. However, the service level and organization of this company turned out to be far from professional or satisfactory. Here is a long list of reasons:
- My tour was supposed to start with an airport pick-up from where we would go straight to Etosha NP, but there was no one to meet me at the airport. Only through the help of a random friendly taxi driver did I manage to get a hold of Enrico. After two hours someone finally arrived, but this was not the guide/driver who was originally meant to do the tour. That guide had not shown up as it turned out - my new guide informed me. We ended up leaving with a 3-hour delay out of Windhoek as the new guide had to drive around and arrange different private things before leaving.
- Whereas the other guides waiting for their clients at the airport were well dressed wearing uniforms with the company logos, my guide was shabbily dressed in dirty clothes and flip flops.
- As a result of the delay in leaving from Windhoek we arrived very late in Etosha and I did not get the afternoon game drive that I had paid for. No apology or compensation offered!
- The guide did not know the itinerary of my tour and did not have it either on his phone or on paper, so basically he did not know what I was doing, where I was staying, etc. And Enrico did nothing to ensure that he did. Even on day 3 of the tour the guide was unsure about what was happening after having been on the phone with Enrico several times.
- All trough this it was very difficult to get a hold of Enrico, who had claimed to the guide that I had not given him the flight information even though I have an email saying "thank you for providing the information". He also repeatedly kept saying he would call to sort things out with me, but he never did.
- When arriving at the lodge in Etosha on the first night I found out that the booking was wrong as only two nights had been booked, but according to the itinerary I was staying for 3. Enrico said he would fix it Friday night, but it did not get fixed until Sunday afternoon. And I had to go to a different accommodation.
- On the second day we went on a game drive in the park, but when it came to paying the park fees the guide didn't have any money to pay as there was no money on the company card. (Enrico later claimed that there were problems with the card, but if you read other reviews here, this is apparently not the first time that has happened). After waiting for over 2 hours at the park office, and the park was closing we paid the park fees ourselves even though they had already been paid for as part of the payment for the tour. We would not have been able to leave the park otherwise and would have had nowhere to stay. During those more than two hours we tried to call Enrico repeatedly, but he did not answer. In the evening we finally spoke to him. He was extremely rude and could not see any problem and denied the problems. He said he would call us back later but never did.
- On the third day the guide was changed to another guide without any notice. On the same day we were stopped by the police and rangers in the National park. The guide did not have the required documents to prove that he was a guide, so was not actually allowed to drive in the park with me. The police let him continue with a warning.
- The guides/drivers of other companies would use part of the lunch breaks in the park to refuel and clean the car in order to maximize the clients' time, whereas my guide would get me in the car and then spend 15 min refueling and cleaning the car.
- All the other companies used appropriate safari vehicles, whereas Enrico used a normal car used for normal roads. During the two days I was there not once did I see any company or private visitors to the park use such a car. The car was not appropriate for safaris and at the end of the day both back tires were flat.
- A lot of the information in the itinerary was wrong. E.g. it said that the drive from Etosha to Sawkopmund was 3 hours, but it was 6 1/2 hours. The pictures and description ("perched on a hill with expansive views") used were not from Etosha Safari Lodge, but from a more expensive lodge.
- On day 4 I spoke to Enrico on the phone as the guide was trying to get money to pay for activities, petrol and accommodation, but Enrico kept not transferring enough money even though the guide pushed for it. Enrico practices a system where the guide has a company card, onto which he transfers money for the next thing - next meal, next accommodation, next activity. But sometimes the card doesn't work and often there isn't enough money on the card to e.g. fill up the petrol. Enrico was extremely rude to me over the phone, yelled, lied, talked over me, refused to listen to anything I said and was very arrogant. I have never by any of the tour companies I have used in any of the 60 countries I have visited been spoken to so rudely and been treated so unprofessionally.
- On day 5 when my activities had been moved to (according to the itinerary they were supposed to have been on day 4) I arranged with the guide to be picked up at 9, so that I could be at the activity center for 10. At 9.40 when he still hadn't arrived, I called him, and he said that he was at the garage to have the tires fixed, which got broken in Etosha 2 days prior. He showed up at 10.15!
- On day 5 the car had to be changed as it was not appropriate for driving in the desert in Sesriem, and an appropriate car was to be driven from Windhoek. The day before Enrico had said on the phone that the car would be ready at 11.00. At 13.45 when I had finished my activity there was still no car, and Enrico now informs the guide over the phone that the car was in service. Again no apology or compensation.
- We set off for Sesriem in the car that was not appropriate for the desert and after driving for 10 min the car would not run. As I found out 15 min later, the guide had not put any petrol on the car. So we simply ran out of petrol in the middle of the road in swakopmund. At this point I decided to terminate the tour, as I did not feel safe in the car or with the guide or the company.

In sum, the tour was a complete mess organisationwise from beginning to the point when I'd had enough. This caused a lot of stress, hassle and a feeling of not feeling safe. Constantly having to worry about whether the guide could pay for petrol the next time, or whether the next thing on the itinerary had been booked or not, is not exactly something that makes a holiday enjoyable or relaxing. Throughout the duration of the tour Enrico acted both rudely and highly unprofessionally. E.g. shouting on the phone, not listening, not acknowledging that anything was wrong (judge yourself by the points listed above), not answering or returning calls, despite making many promises to do so. In spite of all the disorganization, no apologies or compensation were offered. On the contrary Enrico accused me of looking for things to criticize (judge for yourself by the points above - and reviews listing the exact same problems). I completely recognize the descriptions in the bad reviews that many other travelers on here have written and there is definitely a pattern of the same things happening repeatedly. So if you value your holiday, time and money, do not use Enrico! I met many professional companies along the way in Namibia - use them instead!
Jorge
–
ES
Reviewed: Oct 13, 2019
is a scammer
1/5
I booked a 17-day tour with enrico, asked for a guide in Spanish and when I got there it was in English, he told me that it took 2 days to change it and it took me 7. I had to pay the gas because the guide had not given him money and if not I paid could not continue with the tour. He made fictitious reservations and does not pay to the hotels, you get there and if you want to continue you have to pay again, from Windhoek we left 6 hours later because I changed the car for a smaller one, I had 2 paid activities worth $ 600 and he did a dummy reservation and I don't pay ... you still owe me more than $ 2000 and don't pay please do not book with him, he will ruin your vacation
Mahesh
–
IN
Reviewed: Oct 9, 2019
Best safari i ever had
5/5
Our 1 Day Safari was great although we booked it on the same day in the morning but surely we did make it on time, we started off with the San tribe and then continued with a Gamedrive at Naankuse Lodge. Thanks Clarence and Enrico's Safaris
Mahesh more
–
IN
Reviewed: Oct 9, 2019
Must try once in life
5/5
Just back home after an awesome tour with Enrico Safaris on the 6 Days Etosha & Sossusvlei Tour. I had Clarence as a guide for the 6 days and was amazing. You could see he is from the management team of the company and tried all his best to ensure that we had a great trip. 100% recommended!
Kalwant kaur
–
US
Reviewed: Oct 9, 2019
Relaxing and worth
5/5
We worked with Clarence on planning our 10 days self drive safari and had the best time of our life, our tour was fully camping with a Toyota pickup with roof tents. Started off our tour in Fish river Canyon, then to SOssusvlei, Swakopmund and the a day visit to capecross finally ending in Etosha National Park. The vehicle was still new about 11 000km on the clock when we got it and added some 3 000km to it. Thanks a lot for the arrangements and surely would recommend you to my friends.
Disclaimer
This tour is offered by Enrico's Tours and Safaris, not SafariBookings.
This operator reserves the right to change rates advertised on SafariBookings.
If an accommodation is fully booked, the operator will suggest a comparable alternative.
This group tour requires a minimum of 4 people to run.
The exact order, content and rate of this tour is subject to availability.
This tour is subject to the terms & conditions of Enrico's Tours and Safaris.