This Tour Is Offered by Pongezi Africa Safaris Limited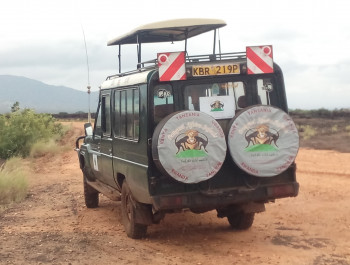 Visit to Tsavo West National Park in Shetani Lava
Pongezi Africa Safaris Limited
Office In:

Size:

5-10 employees (Founded in

2019

)

Tour Types:

Custom mid-range & luxury tours that can start every day

Destinations: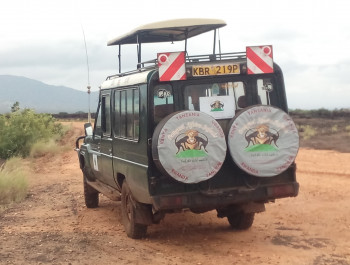 Visit to Tsavo West National Park in Shetani Lava
Pongezi Africa Safaris is based in Nairobi, Kenya. It's run by Professional Kenyan Team. We offer both Private and Customized trips. Our different choices of trips make us famous. They range from Wildlife Adventure to White Beaches, from Mount Climbing to White Water Rafting, from Agro- Tourism to Cultural Visits.. We do Safaris to Kenya, Tanzania, Uganda, Rwanda, Zanzibar and Mauritius. Our Safaris vehicles are well conditioned and are both Toyota Land cruiser and Four Wheel Minivan.
Davor Pejakovic
–
HR
Reviewed: Mar 28, 2021
Safari of our lives
5/5
Some people say that safari is once in a lifetime opportunity. Something that you will remember for the rest of your life. Because of all the wonderful moments that we had with our friend George, I hope that this safari is just the beginning. When my partner and I decided to go to Kenya and started to browse for a safari tour, we had some directions that we wanted to hold on to. One of them was to travel from Nairobi, through Amboseli and Tsavo all the way to Mombasa in a 4x4 vehicle. I knew that it would be a long and tiresome trip but we wanted that experience, we wanted a whole package. We contacted Pongezi Africa Safaris for their 4 day tour Amboseli, Tsavo East and Tsavo west. Everything was remarkable, the first impression that we had was perfect. We exchanged a few emails and messages with George who also gave us some suggestions and alterations that we are so glad now that we had accepted and that was it. We decided to visit Amboseli for two days and Tsavo East for two days also and that turned out to be the perfect combination. We met George the day before safari in our hotel in Nairobi, had a quick chat with him and that was it. Next day George arrived in a beautiful Land Cruiser(with a rooftop that pops up), we had welcome gifts from Pongezi and we started our journey to Amboseli. All the way George was telling us about Kenya, Kenya's history, people, nature...he was a really good source of informations, answered all of our questions. After a 5 hour drive, we arrived at AA Lodge, had lunch and impatiently waited for the first game drive. Minutes after we left AA Lodge, animals started to show up. When we entered Amboseli, George was telling us about every animal that we encountered. Birds, antelope, gazelle...George was like a talking encyclopedia. Next day was a full day safari and after that George gave us a proposal. This was something new that Pongezi introduced for the first time. As we both are adventurous, that seemed like a good idea to go for a hike with a Masai member outside the AA Lodge. That turned out to be one of the highlights of this trip. After a quick fresh up, Julius(our Masai guide) and the two of us headed out for a walk. Can you imagine to walk alongside zebras in the bush? See waterbucks run a few meters in front of you? Giraffe curiously looking at you as you pass them by under the magical Kilimanjaro in the sunset? Well, you'll get all of that and even more. Forget about time, tiredness and immerse yourself in the experience. If you stay in AA Lodge while visiting Amboseli, ask for a Julius and go for it! Next day was a trip to Tsavo. Once again, we had a wonderful chat with George about anything we passed by. Upon arrival at Tsavo East, we checked in at Sentrim Lodge, had lunch and then went to what showed up to be everything I wished for. It was already time to go back to the hotel and all of a sudden, we noticed something by the waterhole of one hotel we passed by. We stopped, pulled out 70-300 zoom and there they were, through the lens we saw 3 lionesses and their cubs. George, once again, surprised us in a way that we could not describe in words. He asked hotel personnel to let us inside for us to go to the waterhole and see them. We were so close to them that we could feel their smell, hear them purr while playing. Maneaters of Tsavo in front of us was a crown trophy to me. I told George that if tomorrow was a doomsday, I wouldn't mind. Next day, Tsavo East somehow managed to throw at us another spectacle that even surprised George. A pack of 15 lions. Fully grown lion, 7 lionesses and cubs. What a very rare sight was that! That marked the end of our 4 day journey, unfortunately. Amboseli and Tsavo gave us just enough to get back again for the rest of the big five and some new experiences, and someday when all this covid-19 madness would be behind us we will. Kenya lived up to our expectations entirely, and Pongezi had a big part in it. George drove as to our hotel on Diani beach, we said goodbye and made a promise to meet again. Those 4 days were really the safari of our lives.
And now for those of you who really read reviews here are some tips. Book a private tour! It is a bit more expensive but you'll have a vehicle for yourself, and trust me if you plan to take a lot of photos....privacy is something you want. As I said earlier, Masai walk outside of AA Lodge is a must have. You will be in good hands, Julius or some other Masai will safely bring you back. Wear shoes for this one, bush is not a place to be in flip-flops. If you can, book a 5 day tour. After we ended our safari, we came to the conclusion that a 5 day tour for Amboseli and Tsavo East is a perfect balance.
Whatever you decide, don't hesitate to ask Pongezi. Maybe they'll come up with even cooler ideas. 
Martina
–
HR
Reviewed: Mar 27, 2021
Experience of a lifetime!
5/5
We went 4 day safari in Amboseli N/P and Tsavo East N/P. Starting in Nairobi and ended in Diani coast. We meet with our guide George in our hotel the first day and adventure could begin. Amboseli was spectacular with lot of animals and majestic Kilimanjaro in the background. George also organized safari walk with Massai around our lodge and that was absolutely amazing experience. Feeling is fantastic, walking through the african bush with animals aroud you. I recommend that experience to everyone. We saw a lot of animals through our trip, the highlight was a last day in Tsavo, we saw a very big group of lions. Those four days was full of great feelings and amazing experience. We are thankful for our George, because we learn a lot from him about animals. He has a lot of knowledge and great eyes to spot every animal. Without him this experience would not be the same. I recommend Pongezi Africa Safari. Everything was perfect, from communication in begening to organization and whole experience. I hope that one day we will go on an adventure of a lifetime together again.

Jose Antonio Medin
–
ES
Reviewed: Aug 29, 2020
The trip of our life, we were on a wedding trip and everything was attentions, from the Guia Weru to
5/5
We went on a honeymoon, since we landed in Nairobi Weru welcomed us as if he had known us for a lifetime, from that very moment an unforgettable adventure began, we started seeing giraffes (we were able to feed and touch them) and elephants in the same city and of course I do not miss the house of memories of Africa.
From here Weru transferred us to two natural parks in which he showed us all the animals that live there, from lions mating to a hunting cheetah, elephants, zebras, black rhinoceros and a long etc., giving us data that we did not know and visiting a Masai village .
Of course the perfect accommodation enjoying nature.
In the next safari that we hope will be soon, we will have Weru a great professional.

Javier Tinaut
–
ES
Reviewed: May 27, 2020
It was an unforgettable experience. Willing to repeat it. Our guide collaborated a lot in the magi
5/5
I went with my son. From the arrival we begin to enjoy. Soon we began to see animals and with the feeling that we entered his house. We always travel in a 4x4 and our dear guide Weru, made us see the big 4, among many others. We saw them hunt, rest, bathe, etc. We were with the Massai. We saw wildebeests and zebras crossing the Mara River. Weru was absolutely involved with us, took care of us, took us to the best places to, almost, be able to interact with animals. It was all very exciting. Weru was always punctual in our collections. The hotels where we stayed were very nice and they made sure that we felt comfortable. It was all like a dream. Both my son and I still remember, even today, anecdotes from the trip. Thank you very much Weru for the happy days that you put us through. To top it off my son celebrated his 17th birthday and they made us cake with candles. Desiring to repeat
Aitor
–
ES
Reviewed: May 24, 2020
Amazing!!
5/5
Incredible experience, the guide knows the country and the environment perfectly, the explanations are very good and you can see that he is a true professional. We had some problem and the guide managed to solve it for us quickly, he was very friendly, we would repeat again without a doubt
Disclaimer
This tour is offered by Pongezi Africa Safaris Limited, not SafariBookings.
This operator reserves the right to change rates advertised on SafariBookings.
If you request changes to this tour, the advertised rates will likely change.
If an accommodation is fully booked, the operator will suggest a comparable alternative.
The exact order, contents and rates of this tour is subject to availability.