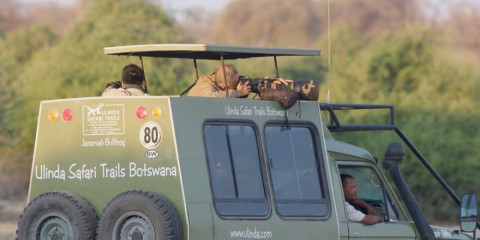 This Tour Is Offered By
Ulinda Safari Trails
Office In:

Size:

5-10 employees (Founded in

1997

)

Member Of:

HATAB

&

BOGA

Tour Types:

Customizable private tours and fixed group tours

Destinations:
We are a small luxury mobile photographic company that specialises in small groups, serious wild life photographers, longer itineraries and personal attention. Our Specially adapted Landcruisers carry a maximum of only 4 people each or we recommend only 2 for big lenses 500mm or more.
Sim Y
–
MY
Reviewed: Mar 12, 2020
The Safari Tour of my choice in Botswana
5/5
My family (me, wife and son) with 4 other friends had a wonderful experience with Ulinda Safaris for 14 days in September of 2019. The safari was led by Jane Bettaney and two other guides namely Ngkosi and Tabs.
This is my 3 safari in Botswana and my second time with Ulinda Safaris. The previous safari was a very private one with only me and my son. We had such a good experience so much so we decided to do it again this time with my wife as well.
This time the safari was even better organized than previous as Jane had taken some recommendations that I had made the last time about improving the facilities for photographers. As well as some prior planning as regards to our photographic needs like dream shots of sunrise and sunset with an animal foreground. With Jane's experience and not forgetting the other two guides Ngkosi and Tabs as well we managed into position each morning and evening to get our dream shots.
Luck or maybe good guiding by our guides, we were having wonderful experience nearly every day to witness some very unique animal sightings and behavior. Like seeing a large pack of lions something like nearly 30 lions all together in one place and seeing large packs of wild dogs most days and even witnessing wild dogs hunting and making the kill.
The organization of the safari was excellent and things went very smoothly throughout the 14 days. The food was surprising good despite the fact that it was a camping trip, and each meal was something we looked forward to. Jane even setup a surprised birthday party in the bush for my wife's birthday.
Photography is my passion and on this one trip I captured many more photos that I have ever captured in previous safaris, which I would be proud to hang in my photo gallery.
Thank you Ulinda Safaris.

Tara
–
TW
Reviewed: Sep 8, 2019
If you want to unplug, then this is the camping and safari experience for you!
5/5
This was my first safari and it surpassed my expectations. I didn't expect to see as many animals as I did. We saw a lion with a fresh zebra kill on our first game drive. Jane and Pini were excellent at spotting animals. Pini spotted a cheetah in Savuti that I could barely make out with my binoculars. Fortunately, it stayed put as we moved closer and saw that there were in fact two male cheetahs. Jane was also very knowledgeable about the birds. I also liked that she didn't chase the animals.

The staff was great at putting up the tents quickly and attending to our needs; such as water for taking a shower or washing clothes. They also cooked delicious meals and even made fresh bread. The tents were quite roomy. There was plenty of space for my gear. The cot was quite comfy to sleep on as well. It was also easy to use the toilet since it was in area attached to the back of the tent. We didn't have the fancy solar charging stations of some of the other companies, but we didn't have any problems charging our stuff in the vehicle.- Just remember to bring a South African adapter.

I felt safe in the tent even when some lions chased a huge herd of zebra nearby our campsite one night in Moremi. (I didn't open the tent, so I have no clue how many zebras were running but you could hear and feel them.) I also liked that our campsites were in the park, so we didn't have to drive far before seeing animals. Sometimes the animals even came to us. Elephants frequently came through our campsite in Khwai. One was directly behind my tent during our break between lunch and afternoon tea! The vehicle was also enclosed which was great on the early morning game drives and for dealing with the wind in Savuti. On quite a few occasions, I overheard safari goers in other vehicles commenting about our, "Warm car," when the safari guides stopped and shared info with each other when passing.
Communication was great. Jane answered all my questions in a very timely manner.

Joe
–
MT
Reviewed: Sep 5, 2019
If you are looking for a camping safari, look no further. Ulinda Safari Trails are the best.
5/5
My camping safari with Ulinda Safari Trails, was a life time experience. Jane is an excellent guide and off road driver. She knows everything about the natura of the region and delivers this knowledge without any extra blah blah. She is an excellent photographer herself and thus always knew what we needed to take memorable pictures.
The tents and beds were clean, large and comfortable making the nights in the wide with lions roaring, elephants crushing downs trees, hyaenas laughing and hypos splashing through the water simply unforgettable. The food was delicious and more then enough in quantity and always accompanied by a limitless supply of good wine and beer to end the day. All the crew were very polite and always ready to help and to sedisfy our wishes immediately. I cannot wait to go back to Botswana and join Jane again on an other safari to the Kalahari desert or the Chobe game reserve.
Chris
–
Reviewed: Jul 7, 2019
Okavango Delta mobile safari - a fantastic way to see the wildlife
5/5
We requested a 6 day safari from Ulinda back in March 2018 to be taken in June this year. Our early request allowed Jane Bettenay of Ulinda to obtain camping permits in 3 excellent locations in the Okavango Delta for wildlife viewing. Email communication was timely and clear.
Our first 2 nights were near second bridge and were ideal for hippo and birds. The second two nights were at Xini Camp and this was sensational - hippos, elephants, zebra, lion, baboons, honey badgers - what an amazing place! The final two nights were spent near Khwai North Gate and were superb for lions.
This tour would be ideal for small groups of friends or a family traveling together. Food was plentiful and delicious. Sundowners were enjoyable and in spectacular locations. The Popemobile style Troopcarriers are ideal for watching the wildlife with their pop up tops allowing 360 degree views. An excellent platform for photography. The new ensuite tents are also perfect for doing ablutions at night in safety!
All in all, the Okavango Delta provided us with an experience that far exceeded our expectations and will remain as one of our most thrilling and dramatic experiences. Our thanks to the team: Jane, Victor, Pini and Image.
Janet
–
US
Reviewed: Jun 6, 2019
This camping safari experience was indeed an adventure of a life time!
5/5
Jane was very quick in responding to queries and provided a well designed two-week safari. You do not fly between camps, but rather drive and once and awhile may even get stuck in the sand temporarily, which adds to this African adventure. We were camped in national parks, thus stayed where the animals lived with an elephant or two walking through or near the camp. Falling asleep to the sounds of lions roaring, elephants trumpeting, and hippos snorting was fascinating. May was a great month go since there were few crowds. In fact, Jane was keen that we observed animals without the crowd of other vehicles. Often we were the only ones to witness a giraffe and Cape buffalo drinking, a leopard next to the trail, a lion calling to two 18-month old lion cubs and seeing them bound out of the grass. We held our breath as we observed a young lion stalk and chase an impala. We were thrilled to see a three-month old lion cub nursing, African Painted Dogs playing, elephants (cows, bulls, and many calves) everywhere, cape buffalo, zebra and wildebeest herds on the move, giraffes with calves grazing the tree tops, honey badgers dashing, warthogs running, dozens of various birds, hippos in and out of the water and the the list goes on...
Aside from amazing animal observations, the Ulinda crew provided delicious meals all cooked over an open fire. They even baked a birthday cake for my husband. The tent was large with a double cot, nice touch. Showering in an enclosed, open to the evening sky shower was priceless.
If you are looking for a camping safari, Ulinda is certainly worth consideration. Enjoy, we did!


Disclaimer
This tour is offered by Ulinda Safari Trails, not SafariBookings.
This operator reserves the right to change rates advertised on SafariBookings.
This group tour requires a minimum of 8 people to run.
If an accommodation is fully booked, the operator will suggest a comparable alternative.
This tour is subject to the terms & conditions of Ulinda Safari Trails.