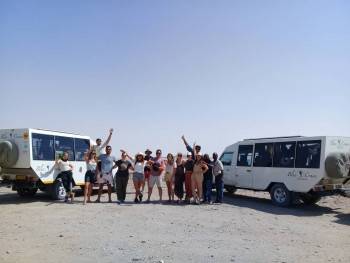 Blue Crane Safaris Namibia
5.0/5 – 92 Reviews
Located In:

Size:

10-20 employees (Founded in

2010

)

Member Of:

NTB

& TOSCO

Tour Types:

Mid-range & luxury tours with set start dates and a fixed itinerary

Destinations:

Price Range:

$88 to $1,173

pp

per person

per day

(USD, excl. int'l flights)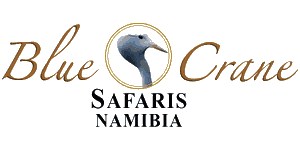 Blue Crane Safaris Namibia
Rating Breakdown
Tiago Fernandes
–
PT
Visited: December 2022
Reviewed: Dec 5, 2022
Email Tiago Fernandes | 35-50 years of age | Experience level: 2-5 safaris
Perfect Weekend Break in Sussusvlei!
The 2-days programme organised by Blue Crane Safaris is a perfect option for those who come to Namibia for work and still wish to enjoy what this beautiful country has to offer. We particularly liked climbing to the sand dunes and the amazing views and changing colors of the desert, as well as the apolalyptic environment of the Dead Valley (Deadvlei).
Fantastically helpful and responsive operator
A group of friends travelling around Namibia as a self-drive. We had a superb service from Blue Crane, with new vehicles, fully equipped with everything we needed including mobile internet, SatNav and a fridge. Derek and his team responded very promptly to every change and whim we came up with during our trip. He was very knowledgeable about all of the lodges we stayed in and was integral to determining our itinerary.
They were great value for money and looking back at the complicated logistics , we would have had difficulty coping with out their expert help.

We were so impressed with all the help we got we are already planning a new trip using Blue Crane Safaris again.
If you are planning to come to Namibia, you need Blue Crane Safaris!

Karen
–
Visited: November 2022
Reviewed: Nov 28, 2022
Email Karen | 50-65 years of age | Experience level: 2-5 safaris
Never let us down, put together a fabulous trip, thank you
From our first dealings with Blue Crane via e-mail to our farewells at the airport, Derek and his team were always "can do" and delivered! Guided us in putting together a fabulous holiday, great value for money, no hidden extra's, would thoroughly recommend Blue Crane Safari's. We will definitely use them again for our trip to Botswana.
Nico Brokking
–
NL
Visited: November 2022
Reviewed: Nov 22, 2022
Email Nico Brokking | 65+ years of age | Experience level: 2-5 safaris
Planning, execution perfect. Trip in personal execution and service a 100%
If you look for a Safari with solid trip in a mix between view of the country side, see animals as they are and learn some of the country Blue Crane is your partner. Well planned and excellently executed. The trip would be with a max of 7 persons, hen no other takers came the trip was just done the same with the two of us. Chapeau. Derek plans/prepares and Markus executed both professionally and with a personal touch. Happy
Charlene
–
US
Visited: October 2022
Reviewed: Oct 19, 2022
Email Charlene | 65+ years of age | Experience level: 2-5 safaris
Fantastic
We were planning on being in Namibia for a family wedding, and we did not have time for the larger 11-day tour. We wanted a custom 3-night tour of the Sossussvlei area with drop off afterwards in Swakopmund. Derek was recommended to us , and what a stroke of luck that was! Derek seamlessly and quickly put together a fabulous itinerary, with excellent accommodations at the amazing and sustainably built and managed Gondwana Desert Grace. And not only did Derek plan a fabulous trip, he also assigned the most incredible guide to take us there, Frank! Not only was Frank very knowledgeable about the area's culture, history, wildlife, geology, etc., but he was also a very good teacher and communicated his knowledge very well. In addition, Frank was always thinking "two steps ahead" of everyone else, and his resourcefulness and problem solving skills are first class! When I lost my phone at Dead Vlei just as we got to the dead trees (and it was Frank who noticed my phone was missing - he is super sharp and doesn't miss much!), I thought for sure my phone was gone, but Frank made a beeline back to the starting area (in very HOT weather) and checked with all the other tour guides until it turned up. He turned a near-disaster into a near-miracle! Plus we were so impressed with how kind Frank was - not just to us, but to everyone we met. He treated everyone with kindness and respect, and didn't even think twice about always stopping to lend a helping hand. And on top of everything else, he is an A+ driver! We felt we were in such good hands!

Blue Crane's itinerary was very comprehensive. We had time to climb Dune 45 (and slide back down!), hike to theDead Vlei, hike in and around Sestriem Canyon while also seeing the other magnificent dunes, like Big Mama and Big Daddy. We also got to see many, many animals in their natural habitat, like oryx, ostrich, desert snake, springbok, the amazing social weaver bird, etc. And we even got to do desert e-biking in the open Gondwana lands, exploring and learning about the plants and wildlife. All of these experiences were made all the more enjoyable because of Frank's capable guidance, knowledge, and expertise.

Just one more story about Frank's knowledge and expertise- when we hiked Dune 45, Frank gently suggested that I might want to bring my hiking sticks. I didn't think the sticks would do much good in sand, but I agreed to bring one stick because Frank seemed so sure they would help. Within 10 minutes of climbing the Dune, I realized that Frank had been 100% correct. TWO sticks would definitely have been a huge help. When I mentioned that, Frank immediately offered to go back to the car to retrieve the other one, and thank goodness he did because I don't think I would have made it to the top any other way!

Thanks so much, Frank and Derek,for the Sossussvlei experience of a lifetime!
Anthony
–
Visited: October 2022
Reviewed: Oct 18, 2022
Email Anthony | 50-65 years of age | Experience level: 2-5 safaris
Fantastic tour of Namib desert and Swakopmund
This was our first visit to Namibia and we had a wonderful experience with Blue Crane Safaris. Communication with Derek was quite good and prompt as we planned the safari. He responded to all our queries and prepared any document we asked for.

The safari itself was a 5-day tour starting from pickup from our hotel in Windhoek. From there we were driven to and spent 2 nights at the luxurious Desert Hills lodge in the Namib desert. We explored Sossusvlei, Dead Vlei, Sesriem Canyon and all the surrounding areas. We went on Dune 45 and also had the option of going on Big Daddy. It was all amazing and beautifully arranged. From there, we drove to Walvis Bay, exploring the salt ponds and the flamingos lakes and then onto the beautiful coastal town of Swakopmund. The drive from Walvis Bay to Swakopmund was one of my highlights as we saw the desert merge into the sea. Fantastic views! At Swakopmund, we went to Cape Cross to see the huge collection of seals, and also explored the small town including the beautiful Crystal gallery which was just by our hotel. At the end of the tour we were dropped back to our hotel in Windhoek.

Everything about this tour was professionally arranged and faultless. We had a fantastic tour guide and driver in Marcus. He was knowledgeable, patient and fun to be with. Our vehicle was a comfortable 4x4 with air-condition. Every accommodation we stayed in was quite good and all our meals, outside of the desert hills lodge, were taken at top restaurants with freedom to pick anything in the menu!

I will surely recommend this tour and company to anyone, and I look forward to using them again in the future.

David Berger
–
US
Visited: September 2022
Reviewed: Oct 14, 2022
Email David Berger | 65+ years of age | Experience level: over 5 safaris
Blue crane's attention to details and exceptional guiding guaranteed an exceptional experience
We booked our 50th wedding anniversary 15 day tour with blue crane in 2019 but could only travel in September 2022. Derek Jacobs the owner stayed in regular contact with us until the tour could begin. The tour covered 4400km and made it possible for us to experience the many wonderful attractions Namibia has to offer blue crane's attention to detail ensured that all of us (5 travelers) could relax and focus on appreciating ever activity. All of us on the tour had different interests from birds to geology and trees to history. The guide shared expert knowledge on all areas of interest for all of us. He even brought geology to life by explaining the relationship between observable physical environment and how plants animals and people adjusted to a changing and harsh environment we found blue crane by reading internet reviews which is a risky approach. We had an exceptional experience and I recommend contacting Derek to discuss your interests. You won't be disappointed.
Carl Rigg
–
US
Visited: September 2022
Reviewed: Oct 12, 2022
Email Carl Rigg | 65+ years of age | Experience level: over 5 safaris
Derek Jacobs personally ensures every aspect of the Safari goes well and is 100% successful.
We experienced everything we hoped to in Namibia and more. The itinerary was designed to cover a lot of miles while we were fresh and allowed for a more relaxed pace toward the end. We saw Namibia from end to end covering almost 5000 Km. Our guide/driver Me-gusto filled each day with lessons in history, geography, and geology as well as ensuring we didn't miss a single point of interest concerning the wide ranging flora and fauna. Not only was he able to spot the animals of most interest but he also knew the names and calls of the many birds we saw, some of which were a mere blur. He was able to point out features of the landscape with the knowledge of an experienced botanist. Everything seemed to go like clockwork which was in part due to his ability to think on the fly and make adjustments to fit the circumstances. Our accommodations and meals throughout were first class and the transportation even though much was over gravel roads was comfortable.
Eduardo M KALINOWSKI
–
BR
Visited: September 2022
Reviewed: Oct 7, 2022
Email Eduardo M KALINOWSKI | 35-50 years of age | Experience level: 2-5 safaris
Great option
If you are looking for a Namibia tour, you can't go wrong with Blue Crane.

I did an accommodated tour, so some details below might not apply to other kinds of tours, but the overall quality of Blue Crane should be valid for all kinds of tours.

Derek, the travel planner, was always very responsive, from the first contact until the days before the trip started. Emails were replied quickly and all questions answered. Our trip had to be postponed twice due to COVID, and this was handled seamlessly.

Once the trip started, everything went smoothly. Our driver/guide Me-Gusto was very knowledgeable, passionate about his work, helpful and patient, and this certainly contributed to a great trip.

The lodges and hotels were always good ones, and the lunch stops (or even bathroom breaks) were also carefully chosen.

One thing to be aware of is that the days are full: we always left the lodges at 8:00 or earlier, and generally would only arrive at the next accomodation shortly before dinner (and usually behind schedule - it seems the stops along the way end up taking more time than planned), so there isn't much downtime. It's a lot of driving (Namibia is a big country), but the roads are good (even the gravel ones) and our tour vehicle was comfortable enough.
Ilian Shopov
–
BG
Visited: August 2022
Reviewed: Sep 19, 2022
Email Ilian Shopov | 50-65 years of age | Experience level: over 5 safaris
Excellent Windhoek to Victoria Falls Safari
Another amazing trip for me and a group of 8 friends with Blue Crane Safaris. For 13 days we visited Sossusvlei, Walvis Bay, Sandwich Harbour, Swakopmund, Spitzkoppe, Etosha National Park, Bwabwata National Park, Nkasa Rupara National Park (the last two in the Caprivi Strip) and Vitoria Falls, Zimbabwe.

This is my fourth trip organized by Blue Crane Safari and I already take their excellency for granted. I enjoy spending time in the bush with the principle guide Sedny and the camp hand Francis, who are already old friends of mine, we all had wonderful moments with the second guide Saari, as well. All of them work hard, fullfilling every demand that we had. I have had wonderful experience with other Blue Crane guides, as well (Seven, Gavin), so whoever you take, you just can not go wrong.

I will not go into description of the beautiful landscapes and great animal sightings that we had every step ot the way, whoever is looking for a safari in Namibia, already knows about these things.

As usual we took some nights at lodges and guesthoses and some camping, had the best of both worlds.

I would like also to thank the owner Derek for the excellent organization and planning skills, all trips with him are custom made, tailored to our specifications. He is not afraid to experiment - we have done safaris to places outside Namibia, as well - Zimbabwe, Botswana, South Africa. Already started planning next year safaris with Blue Crane and the only concern I have is that the good reviews will give them lots of guests and they may not have availability for us.

Another very important thing about this company is that Derek treats his guides and camphands really well - they sleep where we sleep and we all eat the same food on the same table.


Disclaimer
All corporate and/or tour info is provided by Blue Crane Safaris Namibia, not SafariBookings
The tours offered by Blue Crane Safaris Namibia are subject to their terms & conditions