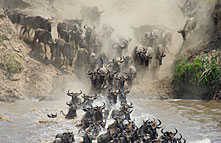 Seven By Far Travel
5.0/5 – 212 Reviews
Located In:

Size:

5-10 employees (Founded in

2013

)

Member Of:

IATA, KWS & AMFEF

Tour Types:

Custom mid-range & luxury tours that can start every day

Destinations:

Price Range:

$180 to $600

pp

per person

per day

(USD, excl. int'l flights)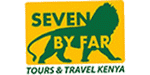 Talha Mert
–
TR
Visited: August 2021
Reviewed: Sep 14, 2021
Email Talha Mert | 20-35 years of age | Experience level: first safari
Wonderful Experience in good hands
After a lof of searches for a safari, I and my wife decided to book a 5 days with Seven By Far Travel. We saw Masai Mara and Lake Nakuru. It was wonderful! First of all, thank you to Slyvester who helped us to book this adventure. Professional and our questions were answered very fast. Also Sylvester made us very happy by upgrading our hotels for free.

As soon as I arrived in Nairobi, Arusha picked us up late at night and he took us to Eka hotel. On the first day in Nairobi, we visited the Karen Blixen Museum, Giraffe Center and Elephant Orphanage. After having a very nice lunch, we returned to our hotel. The next day we set out for the Masai Mara for safari. Lodges were outstanding. Beautiful location: Zebra Plains Mara Camp and Sarova Lion Hill Game Lodge. Thank you to the staff who served us. Super clean and very good food. We also had a wonderful feast at the Carnivore restaurant on the last day before our flight.

Since we were going to Zanzibar after Kenya, we had a PCR obligation. We had discussed this with the tour company before we came to the safari. A doctor came to our safari hotel and brought our PCR test results the next day. The tour company easily handled this requirement, which was very difficult for us. We could easily go to Tanzania.

A big thank you to our guide, our man, Pascal! He was perfect for us. He has met our needs. Always ready to go miles to see all animals, especially lions, leopards and rhinos. Always listening to what we wanted to see. Very good knowledge and very patient. He knew how to find animals, and how to wait for animals.

Definitely, I would recommend Seven By Far Travel. Thank you, Sylvester and the whole team, for our unforgettable trip, for perfect memories that are still with us!
Jeaninn Alexis
–
US
Visited: July 2021
Reviewed: Jul 28, 2021
Email Jeaninn Alexis | 20-35 years of age | Experience level: first safari
Wonderful company and Hassan is THE BEST!!!
Book with Seven By Far! I am very thankful I came across this company while doing research for the best to book a safari with. I am a 34-year-old St. Lucian/American black woman who decided to go on a solo adventure for my birthday in July 2021. I decided to go and travel through Kenya and Tanzania with a cool down in Zanzibar, and Sylvester and his team made my dream itinerary a reality. He made it so I had the opportunity to travel through different areas of Kenya and Tanzania, going to multiple game parks and reserves, and experiencing all that comes with the ride. So much comes with the ride such as the cities, towns, people, villages, Manyaras, farms, animals, the scents, the sounds, the children going to school, the list goes on and on. Asante sana, Sylvester. As soon as I arrived in Nairobi, Hassan picked me up and our 12-day Kenya adventure started. It was just Hassan and I and it was absolutely perfect! Hassan is a genius and so hilarious and he's great conversation and just so amazing! He is the best guide in Kenya and knows EVERYTHING! He renamed me Malaika and treated me like family. I truly can go on and on and on about how wonderful he is but come find out for yourself and book with Seven by Far! My trip was 18 days and I wish it was longer so I could have spent more time with Hassan in Kenya and more time on the beach in Zanzibar lol Tanzania was great as well and my guide B has an eye for spotting the hard to see! Everyone treated me like family and with love. The best trip of my life, thanks to Seven by Far! Asante Sana!
candemir
–
TR
Visited: June 2021
Reviewed: Jun 15, 2021
Email candemir | 20-35 years of age | Experience level: first safari
awesome experience
We organised a private tour to masai mara and nakuru lake. First, they were very responsive in helpful as we organised the trip. They were also excellent in their communication, providing a detailed itinerary and info on accomodation, transport and F&B.

Our guide Simon, was thoroughly polite and professional, providing an excellent service as well as being very knowledgeable about the parks, animals, and all sorts of other questions that we had.

Marie B.
–
FR
Visited: January 2021
Reviewed: Apr 5, 2021
Email Marie B. | 35-50 years of age | Experience level: over 5 safaris
Warmly recommended
I went on a 8-day safari (Amboseli – lake Nakuru – Masai Mara) with Seven by Far starting 1 January 2021 and recommend them warmly should you plan a trip to Kenya.
On the administrative side, Sylvester, who came to personally great me at the airport, was always very responsive and prompt in answering, whatever the day and hour of my emails which was very impressive - and also very welcome, as my trip was decided quite last minute. Sylvester first offered an attractive quote and was thereafter flexible and accommodating with all my requests. He made several very appreciated commercial gestures – accommodation upgrades, an included hot air balloon ride, a better vehicle. In addition, he made a specific call to the lodge in Amboseli to ensure that I had a view on Mt Kilimanjaro. I would also like to emphasize that although my wire payment did not go through quickly (unusual banking delays), Sylvester nevertheless made all the arrangements, always kept his cool and never questioned the trip.
On the field, I was most lucky to be taken care of by Ken, who was my guide and driver. Not only a great driver, Ken was knowledgeable, professional, patient, positive, cheerful. And he proved to be tireless! He never flinched despite the very full and extensive exploring days I had asked for (and the many accompanying meal boxes ahahah).
Ken was extremely dedicated to ensuring the best sightings and allowed us to take our time in observation. He endeavored to find the desired animals and proved to be a bit of a magician in this regard. We covered a lot of ground and were rewarded with many fascinating sightings – lions (oh this particular pride feasting on a very freshly killed buffalo!), cheetahs (and babies), beautiful female leopard (and a baby). Not to mention the white rhinos (with babies, too) as well as the many elephants playing, wrestling, suckling, including twins! The big five were achieved, and many more, including the serval cat; different types of giraffes; or the bat-eared fox I had never seen in any of my previous safaris. Many antelopes too, of course. And those beautiful landscapes to indulge on. In a nutshell, Ken puts the guests' satisfaction first and does a great job at it.
Seven by Far team was also reactive, efficient and calm when it came to solving some material hiccups along the way.
As a conclusion, Seven by Far is reliable and trustworthy. All that was promised was delivered, and even more.
My safari in Kenya was an enchanting parenthesis in these difficult times and provided a most welcome source of splendid memories, for which I am grateful.

Anna
–
RU
Visited: January 2021
Reviewed: Jan 21, 2021
Email Anna | 35-50 years of age
Great Experience in the Corona-virus period
We had our safari during the Covid-crisis. It was obvious that all the operators, lodges and camps in Kenya had been experiencing great difficulties, As in fact everywhere in the world. . It was hard times for everybody, and all busineses were affected. However, our trip was exciting, interesting, fun, and comfortable. We had a lot of different adventures during the holidays.

Sylvester made a great job to customize our safari to our needs: we started at the Diani Beach and Sylvester added the Bogoria lake to our itinerary, since we really wanted to see a lot of flamingoes (we saw heaps of them and are very happy).

The sequence of the trip was really good. Totally good timings and the pace was nice, not too busy, not too slow.

The Safari was excellent, and we were very lucky with what was around: lions, hippo, cheetahs, buffalos, rhinos, girafs, etc.

Last but not least, Charles. I think having him as a driver made the trip so comfortable and helped us have such an excellent experience with you guys. He's an excellent driver, cautious and flexible. He knows wild nature very well, can spot animals and share facts about their life, so that helped a lot.

Sylvester showed himself as a caring and responsible manager, he took care of us during all the safari calling our driver to know if everything was ok, and came to our hotel to get a feedback. I know that he did his best to make us feel satisfied in spite of all the difficulties of the time.

Thank you, Sylvester and the whole team, for our unforgettable trip, for perfect memorries and overwhelming emotions that are still with us!
Ekaterina Kholkina
–
RU
Visited: September 2020
Reviewed: Oct 4, 2020
Email Ekaterina Kholkina | 35-50 years of age | Experience level: first safari
Perfect!!!
Great experience with Seven By Far Travel! Our safari was amazing with the best guide Assam. Sylvester and his team are very professional, attentive, helpful and obligatory. We felt safe and secure! All our trip (after safari we continued to travel in Kenya and Tanzania) Sylvester helped and advised us about all details of our journey (tickets, hotels and many other things).
All lodges were excellent! We had a complimentary night in Nairobi, transfers from airport and very nice lunch in Carnivore restaurant!!! Thanks Sylvester and his Team!!

Cindy
–
Visited: September 2020
Reviewed: Sep 7, 2020
Email Cindy | 50-65 years of age | Experience level: over 5 safaris
Very conscientious
Sylvester went above and beyond making sure everything was set up before the trip and even saw us off that morning. Hassan drove very well especially since we were traveling on Mombasa road. This allowed us to relax while we rode. We enjoyed the scenery in Tsavo and the animals who showed themselves. Seven By Far Travel was very accommodating to our desires. We hope to use their services again soon.
Michael
–
US
Visited: February 2020
Reviewed: Feb 28, 2020
Email Michael | 20-35 years of age | Experience level: first safari
Once in a lifetime experience- perfect from start to finish
We did the 6 day Safari. This safari was an incredible experience from the moment we arrived to Kenya. Sylvester met us in the airport upon arrival and made sure we were all checked in to our hotel. We stayed in beautiful places every night. He was flexible with planning our itinerary. Every place we stayed was inside the parks which made it possible for us to get every last second out of our game drives. Our driver Ben was amazing. He has a university degree in wildlife and was extremely knowledgable. He was really dedicated to giving us a great experience, and was overall a great guy. We asked him so many questions and he was really open to talk about any topic. He really made the trip special for us. We had the option to upgrade our vehicle to a Toyota Land Cruiser which was 100% worth it since the roads in the parks can be very rough, and we saw many vans getting stuck while we were able to drive through and continue our safari with no issues. We saw all the big 5 and had close encounters with rhinos, elephants, leopards, cheetahs, and more. This time of year, all the animals have babies which made the experience all the more special. The photos we got are almost too beautiful to believe. Our trip ended with a complimentary tour of the Karen Blixen museum and Giraffe Centre. It was truly a once in a lifetime experience and I could not recommend this tour more highly.
Suzy H
–
Visited: November 2019
Reviewed: Feb 9, 2020
Email Suzy H | 50-65 years of age | Experience level: first safari
Hakuna Matata Tour, truly = No worries!!
I thoroughly recommend this tour for anyone who has a short time to spend in Kenya. From the first time I contacted Sylvester the service was impeccable. Nothing was too much trouble! Sylvester also upgraded my accommodation x2 times so that I could get an idea of different types of accommodation available. I do have to say that Base Camp at the Masai Mara was my favourite simply because you got a true feel of Africa but with still the luxury & comfort. The fact that I was travelling on my own & did not have to worry about anything made my experience exceptional!! Thank you many times over to Seven by far travels & Sylvester. I will be back without a doubt along with family & friends that I have shared this journey with.
As a side note, I do recommend that you get the upgrade to 4W drive / get the direct internal flights to & from the accommodation. The roads travelling to & from the accommodation are a bit special & you do truly get to understand the term "African massage". Up to you, I found this a great experience as I got to see a lot of the countryside and the people and found this a truly amazing experience. Mt son travelled by air and saw more of Kenya as less time travelled but not so much of the people & countryside. It is a preference but please do consider Seven by far travels as they will go out of their way to make your trip super special!
Lesley and family
–
NZ
Visited: January 2020
Reviewed: Feb 4, 2020
Email Lesley and family | 50-65 years of age | Experience level: first safari
Everything about this safari was absolutely outstanding - it could not have been better!
Seven by Far owner Sylvester was very prompt and friendly with communications - he provided a quote promptly and responded to multiple queries before our trip. The planning was responsive and detailed, and he went to the trouble of providing an alternative itinerary, after we'd already booked and paid, when it came to light that it might be beneficial to change the itinerary for my partner's health reasons. In the end, Sylvester varied the itinerary to adapt to conditions in the areas we were travelling, which resulted in upgraded accommodation for four of eight nights, and better wildlife viewing, all at no extra charge.

We were met at the airport by Sylvester and our first guide, who ensured we were checked into our hotel for the first night, which gave us comfort that we'd be well looked after, and we were.

Our safari took us from Kenya to Tanzania and back to Kenya, which meant we had three different guides. All of our guides - James, Cosmas and Hassan - were wonderful, knowledgeable, friendly, engaging and fun. We learned so much from them about animal behaviour, which really enriched the experience of seeing the animals. We saw many many animals, and much of that was credit to our guides and their ability to find and spot the animals. Sometimes we were amazed at what they could spot from a distance. They were always willing to stop for photos, and had a knack for getting us to good vantage points. They were organised and clear about the itineraries each day.

We appreciated the little touches in the vehicles such as charging stations in one, photography beanbags, and refrigeration for water bottles.

The driving was sometimes tricky, but we always felt completely safe. This was thanks to the skill of our drivers, their networks with the other drivers (so we knew we'd have back up if we ever needed it), and the well equipped and maintained Land Cruisers Seven by Far provided.

The accommodation was all fantastic. Our daughter is vegetarian and her dietary needs were catered for with no problem.

We can not say enough good things about Seven by Far and the great experience we had - we hope to be back!
Disclaimer
All corporate and/or tour info is provided by Seven By Far Travel, not SafariBookings
The tours offered by Seven By Far Travel are subject to their terms & conditions