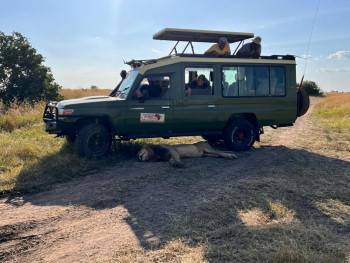 African Sunset Safaris
4.6/5 – 81 Reviews
Located In:

Size:

5-10 employees (Founded in

2010

)

Tour Types:

Customizable private tours and fixed group tours

Destinations:

Price Range:

$50 to $600

pp

per person

per day

(USD, excl. int'l flights)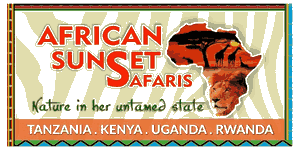 Claire Robin
–
BE
Visited: October 2021
Reviewed: Nov 18, 2021
Email Claire Robin | 35-50 years of age | Experience level: 2-5 safaris
Best experience to see the mountain gorillas
We had an absolutely fantastic 7 day tour of Uganda travelling with Haron from African sunset Safaris. This trip had been planned for two years and had to be postponed in 2020. Haron was very responsive and accommodating throughout in making sure that my permits and reservations and accommodations were taken care of and rearranged.

Haron is knowledgeable and extremely professional in all aspects. He knows his way around all the parks and is familiar with many of the park rangers and staff in order to make sure you have the best experience. He enjoys taking photos as much as we do and he made sure we got the best photo opportunities whether we were in the truck or on my chimpanzee and gorilla tracking - he made sure the other guides were also taking care of me.

Haron provided great company and lots of interesting facts as we drove through the country. We saw different chimpanzees in different groups and mountain gorillas

Highly recommend Haron and African sunset safaris... thank you thank you.
Ernesto González
–
MX
Visited: October 2021
Reviewed: Nov 6, 2021
Email Ernesto González | 35-50 years of age | Experience level: first safari
Excellent Job, he knows very well
Our trip was fantastic, my girlfriend and I took a 10 days safari tour that include Kenya and Uganda.
I began the communucation with Haron (the owner of african Sunset safaris) since july for planning all the places that we want to visit.
We have a vehicle for us and the trip guides (Haron and Charles). They have a good sense to found animals in the safari places and they told us about this characteristics.
The communication was very good, we was curious about kenyan and africancan culture, in highways time we make a lot of question that they kindly ask.
The service was excellent, in game drives we have enough time stop to see animals and take photos.
The trip was all included: hotels, meals, transport, fligth Nairobi to kampala.
We was lucky to see rinos, one cheeta, one leopard and many lions. In uganda we was very close to a gorillas family.
Really was a incredible experience
Yi Heen
–
SG
Visited: August 2021
Reviewed: Nov 5, 2021
Email Yi Heen | 20-35 years of age | Experience level: first safari
The review below is the personal opinion of Yi Heen and not that of SafariBookings.
The owner lies a lot and even now he is lying.
We have spoken with the platform master and he has suggested to give an update so here goes:

First, I would like to address the issue of refund. As mentioned, the agreement we made at the police station was for Haron's African Sunset Safari to make a FULL refund BY 19 SEPTEMBER 2021, please refer to the attached. Haron only made his first partial payment on 28 September, second partial payment on 22 October. And as of today, 6 November, the FULL refund has not been received. Can you imagine after all these mistakes and injustices against yourself, Haron had the audacity to tell you to bear transaction costs when refunding you? Especially when he had a chance to repay you in person (and avoid these fees) but he chose not to. Because of this, we waited an entire day (until 9pm) at the police station - while we are on holiday.

Next, I would like to bring your attention to his responses to our reviews.

The person supposed to do ground handling in Tanzania had some problems…
(RESPONSE: We have proof and voice recordings that Haron was in cahoots with the Tanzanian middleman and tried to cheat the Tanzanian agency. We even found out about Haron's threats because he was exposed. He is a manipulative and scary man.)

We did inform them of the only two hotels we would change more than a month before they travel…
(RESPONSE: To be precise, we certainly were not given more than a month's notice. We were notified of the latest change (13 Jul) to one of the hotels 3 weeks before our trip. Not forgetting to mention the last hotel which Haron insisted to have booked, but when the officer called the hotel at the police station, they confirmed that payment WAS NOT made. We spent our last night scrambling to find another hotel to stay in because of Haron's lies.)

There are so many lies Haron made that we can't even list all of them.

It is telling when a tour operator responds to every bad review with rebuttals of their innocence. African Sunset Safaris is one such operator.

It is also laughable that this is the first sign of apology from Haron to us and it only comes when he is replying to a bad review instead of expressing his remorse sincerely in person, he is clearly putting on a show.

Haron, we know you are reading this. As the owner of an agency, please have the decency to reflect upon your actions. You owe us an apology and of course the balance of the refund. With that being said, do not expect us to take down our reviews as the agreement has been void by you.

Of course we can take failures, not everyone is perfect. What we cannot take is when it is happening everyday of the trip and the owner ignores you when he can't find an excuse for his actions.

Of course, attaching a photo of the agreement he made with us to get away from the police station that day. That should serve as proof and give anyone reading this enough warning to steer clear.

Keziah
–
Visited: July 2021
Reviewed: Oct 18, 2021
Email Keziah | 20-35 years of age | Experience level: over 5 safaris
Amazing clientele with great services.
Good communication.
Always on time.
Drivers observe Road Rules.
Very clean and well serviced vehicles.
Best drivers who are fun and engaging.
Would highly recommend them for tours and Safaris.

simo
–
Visited: October 2021
Reviewed: Oct 8, 2021
Email simo | 20-35 years of age | Experience level: over 5 safaris
Offers quality reliable service
I had a great experience , communication was excellent and one was updated and advised incase of any changes in travel or vehicle replacement transfers . Our driver kept time and was very friendly , we enjoyed good hospitality under his care. I would recommend African sunset to anyone to want to experience Adventure or travel in a stress free and fun way, every shilling spent was worth it.
Marie Underwood
–
US
Visited: August 2021
Reviewed: Sep 11, 2021
Email Marie Underwood | 35-50 years of age | Experience level: first safari
Wonderful Guide !
Thank you Haron for going above and beyond for my group! Rest assured he is the real deal.

He drove my customers to the Masa Mara village .
Organized outings
Did an emergency pickup for us.

I will ALWAYS use Haron when I travel to Nairobi .


BROSHTILOVA-NIKOLOVA VALENTINA
–
BG
Visited: July 2021
Reviewed: Aug 15, 2021
Email BROSHTILOVA-NIKOLOVA VALENTINA | 35-50 years of age | Experience level: first safari
Safe and reliable
Friendly, reliable staff, good service and affordable price
Sharon Delphine
–
Visited: January 2020
Reviewed: Feb 9, 2021
Email Sharon Delphine | 20-35 years of age | Experience level: 2-5 safaris
Mindblowing experience of exploring wildlife and nature in Kenya staying at the perfect locations
We went to Masai Mara and Nakuru for 3 days and 2 nights. Perfect and professional service from the tour operator including customizing the package to suit our schedule and finding the most ideal places to stay. Their expertise and in-depth game drive knowledge is very impressive. The 3 days of travel was nothing but full of great memories forever to cherish. Thank you for the amazing experience. Looking forward to return to Kenya to explore more places.
Michael
–
US
Visited: October 2020
Reviewed: Oct 16, 2020
Email Michael | 20-35 years of age | Experience level: first safari
11-Night Safari Through Kenya and Tanzania - The Dream Trip!
My wife and I traveled to Africa in September, 2020 and was hands down our favorite trip to date. We worked with Dexter in planning the trip and they were very accommodating to the changes we wanted to make. It was definitely a customizable safari as we made changes a few weeks before due to the COVID travel restrictions. Thanks for all the help, Dexter! When flying into Kenya, we had to have our negative COVID test, our e-visa, and we had to submit an application through a website link at the airport to get a QR code for the health authorities in Nairobi. Upon arrival in Nairobi, we met Haron, our Kenyan guide, and from there traveled to our first stop, Amboseli. If you stay at Ol Tukai Lodge, be cautious of the baboons and monkeys. They roam the grounds and will try to take your things if you have anything hanging out of bags or anything shiny. We had a run in with a baboons that was scary in the moment, but laughable later. Just a word of precaution :) The lodge was amazing other than that run-in. That was the only incident the entire trip. Just run at the baboon or throw a rock if they start to approach you.

The accommodations that African Sunset Safaris selected for us were very nice. Great, clean, comfortable rooms, food selections were good (safe for American stomachs), and professional staff. Would highly recommend all of the lodges we stayed at. Wearing face masks was required at some of the lodges while walking around the lobby's and into dining areas, so they were taking the necessary precautions to keep guests safe. We were not required to wear a mask in the Land Cruise while on game drives or when traveling which was comfortable.

The safari game drives were incredible! Water was provided to us in our game vehicle over the duration of our trip. Haron was very knowledgeable of the animals in the parks, and we always felt safe in the vehicle and enjoyed learning about Haron and his country. The Mara region was our favorite. We did the Hot Air Balloon ride over the Mara at Sunrise and it was amazing. One of the best memories we've had on a trip. We did a boat ride at Lake Naivasha and saw the Hippos and a really cool eagle fly-by demonstration. In Nakuru, definitely do the additional game drive to see the Rhinos. This was the only park on our trip that had Rhinos. We saw a total of 7 and a baby. We also got to see the great migration crossing at the BBC crossing point in the Mara Triangle, so Cool!! Thousands of Wildebeest and Zebra crossing the River Mara.

After the Mara, we transitioned into Tanzania, where we meet our Tanzanian guide, Gideon. At the border we had to show negative COVID tests (didn't seem to care about the date), yellow fever cards (We didn't have them so we purchased them there - $30 each), and our Tanzanian e-Visa). After the boarder, Gideon was with us through the Serengeti, Ngorongoro, Tarangire, and to the aipoirt drop-off in Mt. Kili. Gideon's knowledge of the animals, and especially birds, was super cool to hear about. He got us in front of some really cool animal experiences with Leopard, Lion, and elephants - up close! I mean almost touching the Land Cruiser close! We loved this trip and are so grateful to Haron and Gideon for guiding us through the parks and all of their help and planning for the trip! We have told all of our family and friends that this is a must do trip and they need to book with African Sunset Safaris! I will post this review to trip advisor and have pictures as well.

Below I'll list the animals we saw and the lodges we stayed in:

Lodges (recommend them all!): Ol Tukai Lodge (Amboseli), Sawela Serena Lodge (Lake Naivasha), Lake Elementaita Tented Camp (Nakuru), Zebra Plains Tented Camp (Mara), Mara Serena Lodge (Mara Triangle), Serengeti Serena Safari Lodge (Serengeti), Ngorongoro Serena Lodge (Ngorongoro Crater), Sangaiwe Tented Lodge (Tarangire)

Animals Seen: Elephants, Lions, Leopards, Cheetah, Rhino, Hippo, Crocodile, Wildebeest, Zebra, Antelope, Hyena, Jackal, Many Birds, Cape Buffalo, Monkeys, Baboons, Eland, Giraffe, and probably others I can't remember! So many animals over the course of our game drives.

Kalin
–
BG
Visited: October 2020
Reviewed: Oct 15, 2020
Email Kalin | 35-50 years of age | Experience level: first safari
Amazing 7 days Tanzania safari despite these extraordinary times
First of all it was an amazing journey. If I have to describe with only one word the nature and wildlife оf Tanzania, it is magical. To the people of Tanzania a big reverence. This was my first safari and visit to Africa and it has been mind blowing. Every game drive is so different than the others. Lions, leopards, cheetah, giraffes, elephants, you will see them all and not only once. And yes they are just a few meters away. Due to Covid-19 pandemic I had to change flights believe it or not 10 times including refunds, vouchers and etc. I won't lie I didn't believe that this journey will happen till I get to the plane. But like often happens in life every effort worth it. A big thanks to African Sunset Safari and Haron for the perfect organization, despite these extraordinary times. We have to rearrange the trip a few times because of the flights changes. No problem at all. Very professional and no need of long explanations. Very good accomodation choice by Haron. Last but not least, our guide Gideon is the best guide in Tanzania. Thank you for everything Gideon, you are great. Don't postpone your safari, this is the best time to travel as there are no tourists at all and the savannah is only for you. Well almost, and the animals of course. We have been driving for hours and rarely see other jeeps around. Traveling now is difficult, but not impossible, which makes it even sweater. And this is an irreplaceable support for the local people, who don't loose hope that the next month will be better and tourists will come back. Again a big thanks to African Sunset Safaris and Haron.
Disclaimer
All corporate and/or tour info is provided by African Sunset Safaris, not SafariBookings
The tours offered by African Sunset Safaris are subject to their terms & conditions