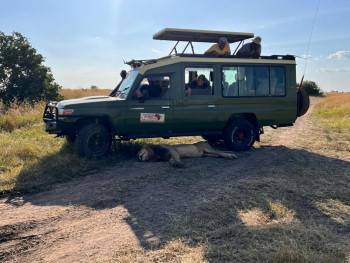 African Sunset Safaris
4.6/5 – 81 Reviews
Located In:

Size:

5-10 employees (Founded in

2010

)

Tour Types:

Customizable private tours and fixed group tours

Destinations:

Price Range:

$50 to $600

pp

per person

per day

(USD, excl. int'l flights)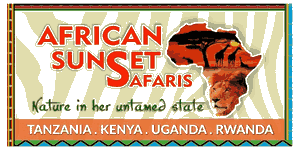 Faith
–
Visited: December 2015
Reviewed: Mar 8, 2016
Email Faith | 20-35 years of age | Experience level: 2-5 safaris
One of the amazing Experience I had...it was a great one. Everything was planned early in advance
It was very good. The communication was good and things were well communicated. Services were amazing and I was satisfied
Paul
–
US
Visited: February 2022
Reviewed: Feb 18, 2022
Email Paul | 35-50 years of age | Experience level: first safari
Geoffrey Giraffe is the BEST!
A group of 6 of us went to Masai Mara in Kenya as well as Serengeti, Ngorongoro Crater, & Kilimanjaro in Tanzania. Haron worked with us to coordinate the entire trip (including PCR testing) & was always quick to respond to our questions. Everything went smoothly as far as getting picked up on time & border crossings. I was especially surprised & pleased with the level of food & accommodations for our mid-range safari. I think we got a great value for our money. In Tanzania, our guide was Geoffrey who we began calling Geoffrey Giraffe (ever shop at Toys R Us?). Geoffrey is not only a great guide but also a great guy! He is a jovial character who made sure we saw as much as possible during our time with him. I highly recommend African Sunset Safaris!
simo
–
Visited: September 2021
Reviewed: Oct 8, 2021
Email simo | 20-35 years of age | Experience level: over 5 safaris
Offers quality reliable service
I had a great experience , communication was excellent and one was updated and advised incase of any changes in travel or vehicle replacement transfers . Our driver kept time and was very friendly , we enjoyed good hospitality under his care. I would recommend African sunset to anyone to want to experience Adventure or travel in a stress free and fun way, every shilling spent was worth it.
Kalin
–
BG
Visited: October 2020
Reviewed: Oct 15, 2020
Email Kalin | 35-50 years of age | Experience level: first safari
Amazing 7 days Tanzania safari despite these extraordinary times
First of all it was an amazing journey. If I have to describe with only one word the nature and wildlife оf Tanzania, it is magical. To the people of Tanzania a big reverence. This was my first safari and visit to Africa and it has been mind blowing. Every game drive is so different than the others. Lions, leopards, cheetah, giraffes, elephants, you will see them all and not only once. And yes they are just a few meters away. Due to Covid-19 pandemic I had to change flights believe it or not 10 times including refunds, vouchers and etc. I won't lie I didn't believe that this journey will happen till I get to the plane. But like often happens in life every effort worth it. A big thanks to African Sunset Safari and Haron for the perfect organization, despite these extraordinary times. We have to rearrange the trip a few times because of the flights changes. No problem at all. Very professional and no need of long explanations. Very good accomodation choice by Haron. Last but not least, our guide Gideon is the best guide in Tanzania. Thank you for everything Gideon, you are great. Don't postpone your safari, this is the best time to travel as there are no tourists at all and the savannah is only for you. Well almost, and the animals of course. We have been driving for hours and rarely see other jeeps around. Traveling now is difficult, but not impossible, which makes it even sweater. And this is an irreplaceable support for the local people, who don't loose hope that the next month will be better and tourists will come back. Again a big thanks to African Sunset Safaris and Haron.
Jay & Carol Smith
–
US
Visited: May 2019
Reviewed: Jun 10, 2019
Email Jay & Carol Smith | 35-50 years of age | Experience level: first safari
Exceeded our lofty expectations and hopes for the trip BY FAR!!!
Why we're glad we trusted our safari to African Sunset Safaris (the short of it - *Click READ MORE below for "the long of it"*):

• Small, local business, with personalized service and a genuine desire (and ability) to deliver the trip of a lifetime.
• Hard-working, expert guides with experience and passion, who are amazing at spotting animals, and who you will come to love so much that you won't want to leave.
• Excellent value for the price; less than what the big-name operators were quoting without losing any of the benefits.
• Top-rated parks and preserves.
• Top-rated, beautiful hotels with friendly staff and delicious food.
• Manageable, flexible, well-rounded itinerary for getting up close to the best animals in the most beautiful locations.
• Photographer-friendly, comfortable, stylish, and well-maintained Toyota Land Cruisers with pop-up tops, electrical chargers, and mini-fridge full of water, local beer and wine.

Why we're glad we trusted our safari to African Sunset Safaris (the long of it):

I should begin this review by saying that I obsessively researched safaris and safari companies for several months prior to deciding to entrust our trip to African Sunset Safaris, and my husband and I could not have been happier with them. In fact, they exceeded our lofty expectations and hopes for the trip by far! We went to Africa to see the wildlife, and not only did we see everything we wanted to see and more, but we returned from a much more fulfilling trip than we could have imagined, having made several life-long friends, Haron, the owner of African Sunset Safaris, being one of them.

Haron was born and raised and currently resides in Kenya, and running African Sunset Safaris is his full-time job (not a side-gig a few days a week from the UK like many safari travel agents/companies). He's an incredibly hard worker, he's licensed, he's been in business for over 10 years, and he is highly regarded among his peers (a hotel manager described him to an employee as "the experienced one"). Haron responds quickly to emails and WhatsApp (even with the time difference with us being in the US), which made us feel comfortable sending him money ahead of time for the deposit.

While on safari with Haron, we always felt completely safe, secure and well cared for; he has a very fatherly air about him. In the same sense, it was his sincerest desire to make all of our safari dreams come true (which he did and then some). He has eyes like an eagle (even while driving), and we were constantly blown away by his skill not only in spotting and identifying animals, but also in getting the Land Cruiser so close to them with such speed. There are a ton of dirt roads through the parks and preserves, and in our 7 days (and 5 destinations) with him, he never once had to pull out a map, including in the cities and on the road to and from the different areas we visited. Haron is the best of the best, and we feel completely honored, privileged, and spoiled to have had him as one of our guides.

On the way from Nairobi to Amboseli, we picked up Charles, one of Haron's newest guides, and within 24 hours we had a new best friend for life (no exaggeration). Haron has a knack for "match-making" friends in a safari vehicle, and he hit the nail on the head by adding Charles to the mix. Over the course of a week, we made so many unbelievable memories with Haron and Charles, sharing in deep, fruitful conversation, immense laughter (and immense tears when it came time to say goodbye)...so much so that we came to a point where we were no longer preoccupied with wanting to see more animals; we just wanted to hang out with Haron and Charles. All that being said...Charles is a first-class, top-rate guide, with a particular talent for identifying birds. Within just a day or two of our arrival, they had already found four out of five of the "big five," lacking only the elusive leopard. We also saw a cheetah, a ton of giraffe, zebra, and countless other animals.

After our time with Haron and Charles, we spent three days in the Masai Mara with Johnson, resident
guide, historian, botanist, animal behaviorist, and language instructor. His breadth and depth of knowledge about Kenya and everything in it was truly amazing. I don't think we had one single question he wasn't able to answer, and he made seemingly uninteresting animals interesting by teaching us about their specific traits and behaviors. We saw the first wave of the wildebeest migration, which was incredible, as well as several cheetah, lions, hippo, crocodiles, hyena (cubs!!!), and some beautiful Mara sunrises and sunsets. Perhaps the highlight of our time in the Mara was visiting a Maasai village on our 10 year wedding anniversary. We got to watch them perform several tribal dances/songs, see them make a friction fire, tour a Maasai house, play with the kids, and have the chief's son give us an anniversary blessing.

Upon our transfer from Kenya to Tanzania, Haron and our new guide, Gideon, were waiting for us at the border station when we arrived with Johnson. They helped us get through the immigration process with ease, and transferred all our luggage to Gideon's Land Cruiser so we'd be ready to roll after the border check.

Gideon, our guide in Tanzania, was Mr. Personality, and we thoroughly enjoyed the five days we got to spend with him. His other qualifications include studying an additional two years to become a certified birding guide, comedic relief, rocking a pith helmet, and having eyes in the back of his head. It is literally unbelievable how good Gideon is at spotting animals, and Serengeti National Park is the perfect place for doing so. Within three hours of entering the park, we had already seen several elephants and hippos, 4 lions, and 4 leopards (including a cub). Since it was nearing the end of our trip and the early morning were getting more difficult for us, Gideon gave us different options for game drive times, which helped us enjoy the time we had remaining.

Transfer to the JRO airport was easy. We stopped in Arusha for a delicious lunch at a local restaurant, and then picked up Peter, Gideon's friend and fellow guide, who rode with us to the airport. We had a laughter-filled drive to the airport, which was really nice since it took our minds off of being sad about leaving Africa and all the life-long friends we had made during our stay.

We never in a million years could have asked for or imagined a more perfect time on safari or speak highly enough about African Sunset Safaris and the "trip of a lifetime" they put together for us. We felt completely spoiled by Haron, who arranged several detours and surprises along the way for us, including getting to feed and pet Baraka, a blind black rhino (which was unreal), picking up a bike for us to ride around the various hotel grounds, arranging for us to get to spend an extra day with Charles (who we missed tremendously after we had to drop him off after the first week), and his and hers African Sunset Safaris sweatshirts that will forever remind us of our (first) trip to Africa. We already cannot wait to visit again and to see all our friends at African Sunset Safaris.

About Our Trip: "15 Day Best Program for Photography" Tour (May 21st - June 5th)
• Day 1 - Nairobi to Amboseli National Park
• Day 2 - Amboseli National Park
• Day 3 - Sweetwaters, Ol Pejeta, Kenya
• Day 4 - Samburu National Reserve
• Day 5 - Samburu National Reserve
• Day 6 - Lake Nakuru National Park
• Day 7 - Lake Naivasha
• Day 8 - Masai Mara National Reserve
• Day 9 - Masai Mara National Reserve
• Day 10 - Masai Mara National Reserve
• Day 11 - Serengeti National Park
• Day 12 - Serengeti National Park
• Day 13 - Ngorongora Crater
• Day 14 - Tarangire National Park
• Day 15 - Arusha
Flora Rajadurai
–
MY
Visited: August 2018
Reviewed: Aug 26, 2018
Email Flora Rajadurai | 50-65 years of age | Experience level: first safari
They were most accommodating to meet my private tour needs adding surprises and a good tour guide.
Out of all the Tour Operators on SafariBookings.com, African Sunset Safaris was the most responsive, making the extra effort to communicate and ensure that they could do private tours to both Kenya and Tanzania.
And after that there were 100 over emails, at planning stage and later we kept touch through whatsapp. They were responsive and able to provide well needed advice at planning stage as to which National Parks were worth visiting for the unique experience. Prior departure advice on inoculation, currency and trip costs gave me the confidence that they knew their business.
On the word go it was obvious that they cared, from picking us up at the airport to courtesy vehicles and responding to requests immediately, they far exceeded expectations and made us feel totally at home.
Our Tour Guide/Driver in Kenya had 19 years experience and was knowledgeable of all the 7 National Parks we visited and more importantly how to locate the elusive cats. He even went out of the way to include other locations if he thought it would interest us.
He showed his true nature, when I came down with food poisoning, taking me to the hospital and staying with me there and even missing his meal.
We had a very interesting trip, having lunch surrounded by wildebeest, under Acacia trees and taking breathtaking shots.
It was no different in the Serengeti, we changed Tour Guide/Driver who was so clued on because he had a two way radio and shared information on the game with other operators. It was so exciting. My bucket list ticked.

I would rate them 10 out of 10.

Paula - 28 years
–
AR
Visited: December 2017
Reviewed: Dec 28, 2017
Email Paula - 28 years | 20-35 years of age | Experience level: first safari
Unforgettable 10 days Safari in Kenya and Tanzania. Excellent guides and personal attention.
My friend and I did a 10 days Safari in Kenya and Tanzania to visit Masai Mara, Lake Naivasha, Amboseli, Taranguire, Serengeti and Ngoro-Ngoro crater.
I couldn´t have dreamed this countries to be so beautiful, so vibrant, so perfect. With breathtaking landscapes, excellent food, and cheerful people, I can say that this will be an unforgettable experience, an exceptional opportunity to get in touch with nature.
But none of this experience would have been so good if we didn´t have travelled with such good guides. Both Johnson (in Kenya) and Guideon (in Tanzania) were amazing. Very respectful, caring and excellent drivers, who did their best in order to help us profit our trip.
It's not easy for two Argentinean women to trust a company in other country, so far from home, with a different language. But I can assure now that African Sunset Safaris and its owner are really trust worthy. We had to pay for some tickets with our credit cards and Haron Gashao made a crazy trip so that we could receive our money back before leaving the country.
Travelling with a local company was the best choice we could have done. Every lodge was perfect, every moment was perfect. And I can definitely recommend both guides and of course this company that was the only one that offered us such a personal treatment and let us plan the trip we wanted to do but with this local touch that made everything better.


Hera
–
CN
Visited: August 2017
Reviewed: Sep 28, 2017
Email Hera | 20-35 years of age | Experience level: first safari
High responsibility for taking care of the 10days trip in Kenya
Thanks to African sunset safaris , for the first time trip in African Kenya, we all felt really grateful and memorable for all the days we travel through the national parks, big lakes by the super cool safari car!We saw precious animals and took thousands of pictures&videos. We get to know the culture of Kenya by our hard working leader -Haron, really a nice and humor guy helped us a lot and try to find every animals we are looking for !! Which is super amazing and incrediable !!!
Rolando
–
IT
Visited: August 2017
Reviewed: Sep 15, 2017
Email Rolando | 65+ years of age | Experience level: over 5 safaris
Not only Kenya, but also Tanzania !!!!!
After the first positive experience with African Sunset Safaris in the Kenya Parks, I decided to ask African Sunset Safaris ( Haron ) to organize a new trip to the North Tanzania Parks (we were in 4). The trip has been really great, superior to any expectation , from the beginning to the end. Everything has been perfect !
The Driver / Guide (Gideon) has been fantastic, always ready and abble to meet all our needs whit the constant support of Haron.
We were really happy for both the joyous atmosphere created with Gideon and as far as we've seen, for the food and the accommodations chose.
Everything was OK, indescribable experience!
Extremely positive was also the extension to Zanzibar organized with African Sunset Safaris.
At this point I can only say that you can entrust yourself to this Tour Operator with eyes closed for professionalism, seriousness and knowledge.
Zi
–
CN
Visited: January 2017
Reviewed: Feb 6, 2017
Email Zi | 35-50 years of age | Experience level: 2-5 safaris
Amazing experience with Mr.Haron
Me and my friend booked the air ticket to Kenya in last minute. Then we started searching for safari agencies. After pitching from several agencies based on the itinerary, price, and reviews, we chose to go with Sunset and what's more exciting Mr. Haron confirmed he will be our guide in person. We specified we are both photographers and Me. Haron prepared beans and bean bags for us! The wonderful 8 days tour started from 6 am in the airport. Mr. Haron picked us up and we drove to Amboseli directly. He is an excellent driver and guide. Got us all the animals we wanted to shoot and he knows where to find them. On the last day when we were hearing back he got the news that a leopard was spotted he turned around immediately and found us the leopard, which I was been looking for the whole trip. That night we headed Bach really late and it started to rain heavily right after we arrived. The thing we also like about Mr. Haron is that he doesn't talk much but whenever you have question, he always has the answer. We really enjoyed the well-designed itinerary that fits our demand, rich variety of animals we've seen, always on schedule, decent price and everything. Hope we can be back quickly.
Disclaimer
All corporate and/or tour info is provided by African Sunset Safaris, not SafariBookings
The tours offered by African Sunset Safaris are subject to their terms & conditions