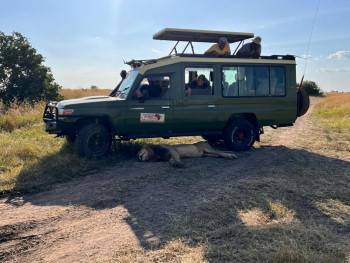 African Sunset Safaris
4.6/5 – 81 Reviews
Located In:

Size:

5-10 employees (Founded in

2010

)

Tour Types:

Customizable private tours and fixed group tours

Destinations:

Price Range:

$50 to $600

pp

per person

per day

(USD, excl. int'l flights)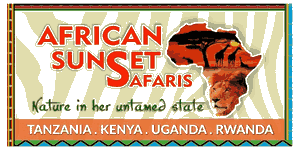 Sharon Delphine
–
Visited: January 2020
Reviewed: Feb 9, 2021
Email Sharon Delphine | 20-35 years of age | Experience level: 2-5 safaris
Mindblowing experience of exploring wildlife and nature in Kenya staying at the perfect locations
We went to Masai Mara and Nakuru for 3 days and 2 nights. Perfect and professional service from the tour operator including customizing the package to suit our schedule and finding the most ideal places to stay. Their expertise and in-depth game drive knowledge is very impressive. The 3 days of travel was nothing but full of great memories forever to cherish. Thank you for the amazing experience. Looking forward to return to Kenya to explore more places.
Michael
–
US
Visited: September 2020
Reviewed: Oct 16, 2020
Email Michael | 20-35 years of age | Experience level: first safari
11-Night Safari Through Kenya and Tanzania - The Dream Trip!
My wife and I traveled to Africa in September, 2020 and was hands down our favorite trip to date. We worked with Dexter in planning the trip and they were very accommodating to the changes we wanted to make. It was definitely a customizable safari as we made changes a few weeks before due to the COVID travel restrictions. Thanks for all the help, Dexter! When flying into Kenya, we had to have our negative COVID test, our e-visa, and we had to submit an application through a website link at the airport to get a QR code for the health authorities in Nairobi. Upon arrival in Nairobi, we met Haron, our Kenyan guide, and from there traveled to our first stop, Amboseli. If you stay at Ol Tukai Lodge, be cautious of the baboons and monkeys. They roam the grounds and will try to take your things if you have anything hanging out of bags or anything shiny. We had a run in with a baboons that was scary in the moment, but laughable later. Just a word of precaution :) The lodge was amazing other than that run-in. That was the only incident the entire trip. Just run at the baboon or throw a rock if they start to approach you.

The accommodations that African Sunset Safaris selected for us were very nice. Great, clean, comfortable rooms, food selections were good (safe for American stomachs), and professional staff. Would highly recommend all of the lodges we stayed at. Wearing face masks was required at some of the lodges while walking around the lobby's and into dining areas, so they were taking the necessary precautions to keep guests safe. We were not required to wear a mask in the Land Cruise while on game drives or when traveling which was comfortable.

The safari game drives were incredible! Water was provided to us in our game vehicle over the duration of our trip. Haron was very knowledgeable of the animals in the parks, and we always felt safe in the vehicle and enjoyed learning about Haron and his country. The Mara region was our favorite. We did the Hot Air Balloon ride over the Mara at Sunrise and it was amazing. One of the best memories we've had on a trip. We did a boat ride at Lake Naivasha and saw the Hippos and a really cool eagle fly-by demonstration. In Nakuru, definitely do the additional game drive to see the Rhinos. This was the only park on our trip that had Rhinos. We saw a total of 7 and a baby. We also got to see the great migration crossing at the BBC crossing point in the Mara Triangle, so Cool!! Thousands of Wildebeest and Zebra crossing the River Mara.

After the Mara, we transitioned into Tanzania, where we meet our Tanzanian guide, Gideon. At the border we had to show negative COVID tests (didn't seem to care about the date), yellow fever cards (We didn't have them so we purchased them there - $30 each), and our Tanzanian e-Visa). After the boarder, Gideon was with us through the Serengeti, Ngorongoro, Tarangire, and to the aipoirt drop-off in Mt. Kili. Gideon's knowledge of the animals, and especially birds, was super cool to hear about. He got us in front of some really cool animal experiences with Leopard, Lion, and elephants - up close! I mean almost touching the Land Cruiser close! We loved this trip and are so grateful to Haron and Gideon for guiding us through the parks and all of their help and planning for the trip! We have told all of our family and friends that this is a must do trip and they need to book with African Sunset Safaris! I will post this review to trip advisor and have pictures as well.

Below I'll list the animals we saw and the lodges we stayed in:

Lodges (recommend them all!): Ol Tukai Lodge (Amboseli), Sawela Serena Lodge (Lake Naivasha), Lake Elementaita Tented Camp (Nakuru), Zebra Plains Tented Camp (Mara), Mara Serena Lodge (Mara Triangle), Serengeti Serena Safari Lodge (Serengeti), Ngorongoro Serena Lodge (Ngorongoro Crater), Sangaiwe Tented Lodge (Tarangire)

Animals Seen: Elephants, Lions, Leopards, Cheetah, Rhino, Hippo, Crocodile, Wildebeest, Zebra, Antelope, Hyena, Jackal, Many Birds, Cape Buffalo, Monkeys, Baboons, Eland, Giraffe, and probably others I can't remember! So many animals over the course of our game drives.

Zheng
–
CN
Visited: February 2019
Reviewed: Feb 26, 2019
Email Zheng | 20-35 years of age | Experience level: first safari
Nice!Amazing!Excelllent!Pretty good!
All is good!The guide haron is a good person.He arranged everything very well.The car is also very comfortable, there is a lot of soda and water every day!In short,thank you,haron!I look forward to seeing you next time.

caroline
–
Visited: February 2019
Reviewed: Feb 16, 2019
Email caroline | 35-50 years of age | Experience level: over 5 safaris
Great overnight trip to Nakuru
We had a great overnight trip from Nairobi to Nakuru thanks to African Sunset Safaris. Our guide was very knowledgeable and gave us lots of insights along the way up to Nakuru. The drive itself is quite long but the car is comfortable enough (and we even had a car seat for our two year old!).

Nakuru is a great place to see the flamingoes and also the rhinos - we were very privileged to see both of them from very close - as well as a surprise sighting of a leopard! There's also lots of other wildlife. Staying in the park also meant that we were very close to the action. :)

Big thanks again to the whole team for making this happen!
Marco Di Addezio
–
Visited: January 2019
Reviewed: Jan 15, 2019
Email Marco Di Addezio | 35-50 years of age | Experience level: 2-5 safaris
very friendly and experienced guide! we always felt in good hands
With our guide Haron we managed to see the Big 5 in the first two days at masai Mara! We got really good spots for our photos and truly enjoy the game driving. He also had an ipad handy with all the pictures and key infor of each animal we were seing. If you want to be in the company of a mature, friendly and experienced guide you should definitely consider him!
Martin
–
DE
Visited: October 2018
Reviewed: Dec 31, 2018
Email Martin | 20-35 years of age | Experience level: first safari
Lovely People, Professional guides, Overall Great experience!
Communication with Haron was on point and very quick. All wishes agreed upon before booking have been fulfilled or exceeded during The safari!

Both guides (Paul in Kenia / Peter in Tansania) were so friendly and made sure we had a good time and all the animal sightings (Big Five!) we dreamed of.

It was the perfect safari and all around a once in a lifetime experience.

Thanks a lot @AfricanSunsetSafaris!
France and Rosario
–
BE
Visited: October 2018
Reviewed: Dec 9, 2018
Email France and Rosario | 50-65 years of age | Experience level: first safari
Great safari experience in Kenya and Tanzania
We had a great time in Africa (12 days in Kenya and Tanzania).
Our first tour guide, Ben, said that he was there "to make it count". He and the two other guides certainly made it count.
The general organization of the tour was OK, the guides were present on time on every appointment, great accomodations, good food. All this for a reasonable price.
There were one or two problems but they were quickly forgotten thanks to the beauty of the landscapes and the animals. And that's the most important, we did not think to see so many animals so close and that's a fantastic experience.
Tiago Nunes
–
NL
Visited: November 2018
Reviewed: Dec 3, 2018
Email Tiago Nunes | 20-35 years of age | Experience level: first safari
1st Safari. Best experience ever.
Everything was very clear. I had to transfer 50% of the safari value to Haron and the rest I paid to the driver. The driver picked us at the hotel in Nairobi and drived us to Amboseli. The accomodation that we choosed (Kibo) was amazing. Couldn't ask for better 1st Safari. I hope to come back to Kenya or Tanzania and if so, I will contact Haron again to request his services. Thank you very much!! Tiago and Andre, November 2018
Ed F
–
Visited: October 2018
Reviewed: Oct 21, 2018
Email Ed F | 20-35 years of age | Experience level: 2-5 safaris
Great safari trip, good guides and very enjoyable
Haron was very communicative via email for the booking and organising of the tour. We visited 4 parks across Kenya and Tanzania, both Paul in Kenya and Peter in Tanzania were great guides, friendly, professional and very knowledgeable - saw lots of wildlife including lions, leopards and cheetahs, and learnt a lot in the process. Had a really great time.
Slight hiccups:
1) a misunderstanding by one of the lodges, but I would like to underline that Haron sorted it out IMMEDIATELY and it was NOT the fault of African Sunset Safaris, the lodge had made a mistake (I mention this despite it having zero negative effect on our trip as it shows how responsive and quick to fix things the team at African Sunset Safaris are);
2) slight disappointment the early morning game drive on the last day in the itinery turned out to be a mistake, but we had seen so much by then that actually not getting up at the crack of dawn on the last day wasn't a big issue!
All the lodges/tented camps (mix of mid-range and a couple of luxury) were amazing, beautiful rooms, attentive staff and delicious food.
Would definitely recommend African Sunset Safaris (and already have done to a friend).
I am going to copy this review to FB and tripadvisor, as some travellers use those forums to double check reputability etc, and I would't want others to be put off by a lack of reviews on either of those - great company, great people, great trip.
Thank you very much for everything!

B. H.
–
IT
Visited: July 2018
Reviewed: Sep 15, 2018
Email B. H. | 20-35 years of age | Experience level: 2-5 safaris
Unforgettable experience!
Easy to communicate, all expectations fullfilled. Was a Really Nice Tourguide !!!
Disclaimer
All corporate and/or tour info is provided by African Sunset Safaris, not SafariBookings
The tours offered by African Sunset Safaris are subject to their terms & conditions