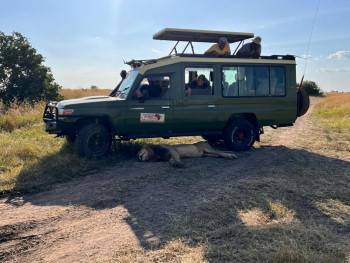 African Sunset Safaris
4.6/5 – 81 Reviews
Located In:

Size:

5-10 employees (Founded in

2010

)

Tour Types:

Customizable private tours and fixed group tours

Destinations:

Price Range:

$50 to $600

pp

per person

per day

(USD, excl. int'l flights)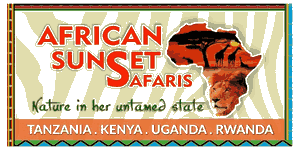 Rating Breakdown
Tiago
–
NL
Visited: September 2022
Reviewed: Oct 2, 2022
Email Tiago | 35-50 years of age | Experience level: 2-5 safaris
The review below is the personal opinion of Tiago and not that of SafariBookings.
STAY AWAY FROM THIS COMPANY
Long story short we paid for a 5 Safari days.
On the day 4 we found out that the 5th day of the Safari was… going to the airport.
So the amount that we paid to this company, included the entrance in Tarangiri park 1 morning + the use of the Jeep for a morning safari and they just took us to the airport and kept that money to them. When I spoke with the person in charge he said that he wanted to make it right so he would do a refund of 318€. 10 days have passed and Haron is ignoring my emails. First he gave an excuse that he was in Nairobi and after then ignoring emails and phone calls… not happy at all.
Besides this incident, we also paid based on accommodation. On the 3rd night we paid for a Serena Hotel in Ngorongoro cratera and we found out, once we left the cratera, that we werent staying there….
Keep in mind that there are thousands of Safari companies who will definitely provide a better service. As an example, during lunch time, we always had a very basic lunch box (cold items) and we saw several companies coming with warm meal and providing a total different (and better) experience to the customer.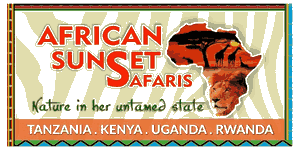 Reply
from

African Sunset Safaris

Posted on Oct 24, 2022

We had this trip in September, we arranged everything as we had indicated to them, we did offer them our best guide for the 5 days safari, he has done an excellent job in all our safaris and never had any complaints about him, and he did his best on this trip

It has been our tradition to always celebrate the occasion our clients are celebrating in a special way, We have always made arrangements for honeymooners on the last night and morning to have a surprise for them, which has always had special memories at the end of the tour, we made this arrangement for this couple, but they didn't want that, for this reason, we agreed to refund them for the morning game drive, ​​but they had the vehicle and they were dropped at the airport at around 2 pm from Tarangire, ​The refund is already done ​

We had the itinerary and shared the reservation with all hotels as we had indicated on the itinerary, Serena Ngorongoro had overbooked and some of the companies clients were to stay at Serena Manyara, I did request the hotel to work something out for them since they were staying in Serena Manyara and they did,

On the last issue to do with lunch boxes, this is strictly for the hotels to provide and not us since all hotels are booked on full board bases, having hot pots depends on which properties one is staying at, different hotels offer different lunch boxes,
Yi Heen
–
SG
Visited: August 2021
Reviewed: Nov 5, 2021
Email Yi Heen | 20-35 years of age | Experience level: first safari
The review below is the personal opinion of Yi Heen and not that of SafariBookings.
The owner lies a lot and even now he is lying.
We have spoken with the platform master and he has suggested to give an update so here goes:

First, I would like to address the issue of refund. As mentioned, the agreement we made at the police station was for Haron's African Sunset Safari to make a FULL refund BY 19 SEPTEMBER 2021, please refer to the attached. Haron only made his first partial payment on 28 September, second partial payment on 22 October. And as of today, 6 November, the FULL refund has not been received. Can you imagine after all these mistakes and injustices against yourself, Haron had the audacity to tell you to bear transaction costs when refunding you? Especially when he had a chance to repay you in person (and avoid these fees) but he chose not to. Because of this, we waited an entire day (until 9pm) at the police station - while we are on holiday.

Next, I would like to bring your attention to his responses to our reviews.

The person supposed to do ground handling in Tanzania had some problems…
(RESPONSE: We have proof and voice recordings that Haron was in cahoots with the Tanzanian middleman and tried to cheat the Tanzanian agency. We even found out about Haron's threats because he was exposed. He is a manipulative and scary man.)

We did inform them of the only two hotels we would change more than a month before they travel…
(RESPONSE: To be precise, we certainly were not given more than a month's notice. We were notified of the latest change (13 Jul) to one of the hotels 3 weeks before our trip. Not forgetting to mention the last hotel which Haron insisted to have booked, but when the officer called the hotel at the police station, they confirmed that payment WAS NOT made. We spent our last night scrambling to find another hotel to stay in because of Haron's lies.)

There are so many lies Haron made that we can't even list all of them.

It is telling when a tour operator responds to every bad review with rebuttals of their innocence. African Sunset Safaris is one such operator.

It is also laughable that this is the first sign of apology from Haron to us and it only comes when he is replying to a bad review instead of expressing his remorse sincerely in person, he is clearly putting on a show.

Haron, we know you are reading this. As the owner of an agency, please have the decency to reflect upon your actions. You owe us an apology and of course the balance of the refund. With that being said, do not expect us to take down our reviews as the agreement has been void by you.

Of course we can take failures, not everyone is perfect. What we cannot take is when it is happening everyday of the trip and the owner ignores you when he can't find an excuse for his actions.

Of course, attaching a photo of the agreement he made with us to get away from the police station that day. That should serve as proof and give anyone reading this enough warning to steer clear.

Joakim Ekedorff
–
SE
Visited: December 2016
Reviewed: Jan 16, 2017
Email Joakim Ekedorff | 20-35 years of age | Experience level: first safari
The review below is the personal opinion of Joakim Ekedorff and not that of SafariBookings.
Owner cancelled the trip 4 days before arrival!
I will do my absolute best to hereby share my experience with African Sunset Safaris in the most objective way.

Note: This review do only cover their services in regards of booking accommodation and their general way of working and communicating, since Mr. Haron (the owner) decided to cancel the trip only 4 days before arrival!

Mr. Haron is a well-spoken person. The problem is that he lies a lot!

He lied about the condition of the tents at our confirmed accommodation, and therefore asked us to pay more to move us to another hotel.
He lied about the cost of our accommodation when calculating on our refund.
He lied about the Kenyan tourism levy rate (6% instead of 2%).
He told me it is against the Kenyan law to share the receipt of his payment to the hotel (I have not confirmed this, but I find it very hard to believe).

All in all, his last-minute cancellation made us find another agent in very short notice, in peak season.
It cost us 300 USD more than initial agreement, for the exact same itinerary due to out-sourced jeep rental.

I would never recommend African Sunset Safaris to anyone.




Full time line:
October 10th: We agree on booking of 2 nights at Mara Leisure Camp + game drive in jeep + transport from/to Nairobi at 1400 USD for 2 persons.

October 16th: I transfer 945 USD (~70 % of total amount) to Haron as deposit.

October 24th: Haron confirms payment is received and "hotel is cleared".

Dec 18th: Haron emails: "I had to move you from Mara leisure to Sarova Mara due to unavoidable reason being at Leisure the were affected by the short rains two weeks ago and currently most of there tents are under Maintenance." ... "I kindly advice we shall have a small hick on the price by USD 250."

Dec 19th: I find Haron's message suspicious and contacts Mara Leisure Camp directly to verify that their tents actually are under maintenance. Their sales manager dismisses this false facts and personally guarantees there are no problems with their facilities. They also say "your booking is still on tentative status awaiting for payment to confirm". (meaning my pre-payment had not yet been received by the hotel!)

Dec 21st: I get back to Haron: "We believe we will be very satisfied with Mara Leisure Camp, even though the tents are in bad condition.
I want you confirm the booking of a Nyati tent at Mara Leisure Camp ASAP and send them the money to confirm the reservation before it gets lost to any other client."

Dec 21st: Mr. Haron now seems to feel neglected and decides to cancel both the safari game drive and transport! However, he promises to pay the money to Mara Leisure and refund us the remaining amount of 200 USD.

Dec 22nd: I asked Mr. Haron about a reciept for his payment to Mara Leisure to confirm that 200 USD is the correct amount to refund. He now refers to their listing rates instead (which is higher that his agent rates) and concludes that I actually owe him additional 35 USD, but in the same e-mail he also states that he is willing to refund 200 USD anyway as a Christmas gift (?!).

Dec 22nd: Still without showing any receipt of his payment to Mara Leisure, I at least get the 200 USD in refund.

Jan 10th: After a number of emails to Haron and Mara Leisure Camp, I finally received a copy of Haron's payment of 716 USD, i.e. 264 USD less that what he tried to tell us when referring to their public listing rates + Christmas supplement.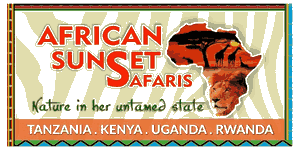 Reply
from

African Sunset Safaris

Posted on Jan 17, 2017

Mr Joakim

When we first got you request we treated you the same way we do to all our clients until the day we felt this could not work out for both of us

We clearly stated to you we are not in this business to take any advantage of anybody, but to give our clients the best time of there life and life time memories

Mr Joakim at the initial stages of our conversations when you raised the issue of agents that promise to take clients to the park and direct the to other place and liar that that is the park, we clearly told you we are not the kind of people that promise you wine and give you water and in case you have any doubts at all you book with the next agent ?

Let us get to the reason that brought about your cancellation

We had clients that had just completed there 14 days safari in Kenya and Tanzania, three weeks to your arrival dates. they raised some issues a bout the lodge in question and we felt we need this sorted out before we could take other clients to this lodge or hotel, When they told us of the hiking group at Mt. Meru group we had to completely terminate the contract that we had with that company since they were not working up to our standards. It would be very wrong of me if I would not take advice from my clients on what is to be improved to ensure better services is offer and maintaining our standards.

The next group of clients which you happened to be one of them was Mr Sumesh Sreevalsam and Mrs Sanna. We wrote to each one of you advising of the change of the accommodation and on the email I indicated this was un upgrade from your previous accommodation and by standard this was the best ranked in the Main Mara in terms of services and facility. This I gave you 100% guarantee of the accommodation, I wrote to you advising to all of you since the change was within a short notice this being 13 days to your arrival, the increase of the change of the accommodation was not mandatory and we would cater for the increase to those of you who could not be in a position to and said our main objective was to ensure you enjoy your trip. this can be confirmed by anyone that would required as to extract those emails and forward to them.

It was after this Mr Joakim started having conversations with Mara leisure and went on to disclose the package details to the hotel with the intent that should Mara leisure be in a position to offer them this tour under the same conditions, they move and work with Mara leisure , we got to learn of this when Mara leisure sells Manager wrote to us requested us we go and discuss the issue that were making us move our clients. The hotel Manager told us the client was in direct contact with them, we did got to there office and raise the issues we had with them and he promise to have the sorted out,

The Manager is a very good friend of ours and he agreed if he was the agent he would like the same done before going on.

When Mr Joakim realised what he intended could not work out he wrote to us asking us is we could continue with this trip in, We clearly told him we can not ,do a safari where there issues of mistrust and we did his payments to the lodge in question as requested by him and asked him how he would like to get his balance we shall make it available at his most convenient place. After the payment a scanned copy of his confirmation to leisure was scanned and sent to him and email followed from the hotel followed

This time we knew everything was settled and we wished him well only to get a surprising call and email from SAROVA informing us they got a email from joakim requesting for there booking availability, this know is only 3 days to there arrival and a confirmation of leisure had Already gotten to them 2 days ago. this beg the question were this clients serious

THE EXTRACTED CONVERSTION CAN TELL JOAKIM WAS GIVING VERY MIXED SIGNAL AND DENGEROUS

FW: Reservation 25-27th Dec



From: Sarova Mara Reservations
Sent: Thursday, December 22, 2016 4:12 PM
To: 'Joakim Ekedorff'
Subject: RE: Reservation 25-27th Dec

Dear Joakim,

Thank you for your email, we are fully booked on the 25th please advice on alternative dates
The below voucher belongs to an agent booking which was already cancelled

Kind regards,





From: Joakim Ekedorff
Sent: Thursday, December 22, 2016 3:15 PM
To: Sarova Mara Reservations
Subject: Fwd: Reservation 25-27th Dec


---------- Forwarded message ----------
From: Joakim Ekedorff
Date: 2016-12-21 18:03 GMT+01:00
Subject: Reservation 25-27th Dec
To: econcierge

Dear Sarova,

Our tour agent has bailed out, please confirm if this reservation is still available and at what price.

Please also quote cost for pickup at Nairobi (both ways) and 2 days game drive.

Please reply asap as we need to clear out our options by tomorrow at latest.

Thanks,

Joakim Ekedorff


DISCLAIMER: This email and any attachments are confidential and are intended solely for the addressee. If you are not the addressee tell the sender immediately and destroy it. Do not open, read, copy, disclose, use or store it in any way, or permit others to do so. Emails are not secure and may suffer errors, viruses, delay, interception, and amendment. Sarova Hotels does not accept liability for damage caused by this email and may monitor email traffic.
________________________________

Before printing this mail please make sure it is completely necessary.
THE ENVIRONMENT IS EVERYONE'S BUSINESS.

http://www.sarovahotels.com/eshots/images/sarovawhitesandspic3.jpg


THE OFFER OF THE SAFARI

We had given Joakim the best offer since he just happened to be one of the last client to travel with us in 2016 the transport on a Jeep at half price the normal price

let us all work this out

- the hotel if it was the normal safari by any other agent would be Usd 399 by 2 = 798
798 plus charismas supplements 200 = 998

- Park fees charges would be USD 80 by 2 people by 2 nights this will give us = 320

- transport on a jeep for three days it would be 220 by 3 days this will give us = 660

TOTAL COST = 1978
What we charged Mr Joakim -

Full time line:

October 10th: We agree on booking of 2 nights at Mara Leisure Camp + game drive in jeep + transport from/to Nairobi at 1400 USD for 2 persons.

if we take 1978 - 1400 = USD 578

Let us say he picks the very cheapest mode of transport this brings him a negative of USD 300 and still we gave him the agents price which we are not supposed to give and can never be given by any agent

We felt we deceive some respect after give them this kind of offer.

We have and we shall always advice our clients to the best of our knowledge and should we feel there is any form of doubts we shall request the client to kindly pick the next agent.
We need to know we have clients who can trust us and we trust them to give the a safari they will for ever live to cherish.
Disclaimer
All corporate and/or tour info is provided by African Sunset Safaris, not SafariBookings
The tours offered by African Sunset Safaris are subject to their terms & conditions