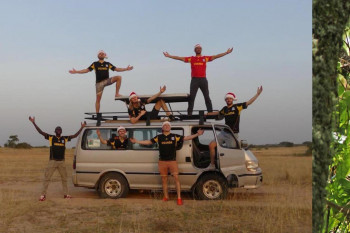 Lifetime Experience Safaris
5.0/5 – 21 Reviews
Office In:

Size:

5-10 employees (Founded in

2012

)

Member Of:

AUTO

,

UTB

& UWA

Tour Types:

Custom budget & mid-range tours that can start every day

Destinations:

Price Range:

$40 to $500

pp

per person

per day

(USD, excl. int'l flights)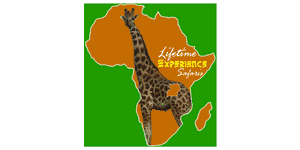 Request a Quote


for a custom tour
Your request will be sent directly to the operator
If preferred, you can contact the operator directly
Rating Breakdown
Eric Samson
–
US
Visited: December 2022
Reviewed: Jan 6, 2023
Email Eric Samson | 50-65 years of age | Experience level: first safari
Absolutely Wonderful!
My wife and I just finished a 17-day Uganda safari and we couldn't be happier with how it went. The organizer, Jesse-Tom was quick to respond to our questions and always able to accommodate our requests for alterations and additions to our itinerary. We did a mid-range private safari and found the accommodations and food to be wonderful at every place we went. Our driver/guide Gerald was incredibly knowledgeable and great at spotting wildlife. With Gerald's help, we saw plenty of lions, giraffes, leopards, elephants, exotic birds, and other wildlife. We did game drives, boat trips on the Nile, night safaris, and walking safaris. One of the things that made Uganda a great choice was that most of our wildlife encounters occurred without any other vehicles around, making the experience very intimate. Of course one of the best things about visiting Uganda is the opportunity to see a wide variety of primates. On our trip, we had close encounters with gorillas, chimpanzees, and golden monkeys! It should also be mentioned that the varied landscapes and people of Uganda are also fascinating and beautiful.
If you are considering a trip to East Africa to see wildlife, I would definitely encourage you to consider Uganda as your destination of choice, and Lifetime Experience Safaris as the company to go with for a wonderful, personalized experience.
Alice
–
CA
Visited: January 2019
Reviewed: Nov 25, 2022
Email Alice | 65+ years of age | Experience level: first safari
Amazingly wonderful!
We took the 12 day Pearl of Africa Safari. It was absolutely amazing! We loved every moment of every day. We had no idea of the quantity and variety of animals we would see. The communication & service, the guide and value was all great as well. Everything was absolutely wonderful!
Karen & Marvin
–
US
Visited: October 2022
Reviewed: Oct 23, 2022
Email Karen & Marvin | 35-50 years of age | Experience level: first safari
A dream come true
Lifetime lives up to its name for sure. They organised a beautiful trip for us, full of adventure, fun and some chill time, while ensuring safety and comfort. Our guide Geral was superb, friendly and knowleadgable of animals, local culture and always giving us the best tips on what are the best extras to do and so on. This trip was a dream come true.
Ivy
–
SE
Visited: September 2022
Reviewed: Oct 12, 2022
Email Ivy | 35-50 years of age | Experience level: over 5 safaris
fantastic safari experience with Lifetime
I had a 7-day safari with Lifetime. And it was really fantastic. I have been to Africa for safari a few times, but still can get tons of new experiences this time.
I'm a solo traveler and Lifetime managed to arrange everything great for me. My driver/guide Sula is wonderful too.
Trey
–
CO
Visited: May 2022
Reviewed: May 20, 2022
Amazing perfect
Great service for fair price. Made our uganda dreams come true
Tania
–
FR
Visited: December 2021
Reviewed: Jan 10, 2022
Email Tania | 20-35 years of age | Experience level: 2-5 safaris
A truly lifetime experience
We spent part of our honeymoon in Uganda, where our trip was organized by Lifetime Experience Safaris. I contacted Jesse a few months before and he was super helpful all the way through the actual safari. He organized our trip which included seeing the gorillas in Bwindi as well as a short safari at Queen Elizabeth Park. He also arranged for our COVID test and was reachable any time before and during our trip. The lodges that were chosen by Jesse were super nice and Gerald, our driver, was simply amazing! On the top of being a good driver, he also knows a lot about Uganda and really made our trip even more enjoyable.
Seeing the gorillas was such an unforgettable experience! Everything was arranged for us, permits, guides etc. The rest of the trip was also very nice, in Queen Elizabeth we were sleeping in a lodge just next to hippos :) and people in Uganda are so nice and welcoming! I can only recommend Lifetime Experience Safari and would really encourage you to use their services for your trip to Uganda!
Wilfred Alibea
–
SS
Visited: July 2021
Reviewed: Aug 25, 2021
Email Wilfred Alibea | 20-35 years of age | Experience level: first safari
A dream come true! thanks to Lifetime Experience Safaris
After a visit to Kampala from Juba, South Sudan in June 2021, when I brought my dad for a medical review in the midst of the COVID-19 lockdown, it wasn't easy to find any places of refreshment around for my old man.

Uganda's tourism sector as one of the industries operating immediately came in my mind, but the big question was, how can I afford such a trip to take my dad to see the beauty of the Pearl of Africa to refresh his mind?

The internet was my first point of reference to find as much information as possible regarding Uganda's tourist attraction centers with much emphasis on the national parks. Yes, I did get information and the related costs which were really high. This put off my hopes of taking out my dad.

In my neighborhood, there is a gentleman who I have always seen driving a tourist safari Toyota Landcruiser that I believed is associated with tourism and hoped he would give me better information. Little did I know he was a gateway to my dream come true.

Yes, we met and I told him about visiting one of Uganda's game parks with my dad & asked if he could help. He introduced himself as Mr. Jesse Tom, a founding member of Lifetime Experience Safaris, one of Uganda's leading tourism firms. Because he was a bit busy, he requested we have a Zoom meeting later that day so he could take me through the tourist activities in various game parks of Uganda as well as give me cost breakdowns for the trips.

Jesse, in his presentations of several game parks, ignited more love in me for the trip. He recommended a 3-day tour of the Murchison Falls National Park, the largest national park in Uganda for our visit. The cost he gave for the entire trip was less than half of the ones I obtained from the internet. To make it even more interesting, he offered to take us on part payment and that we could clear the balance a few days upon return. I couldn't let such opportunity go & immediately accepted.

On 24th July, my dad, his friend & my little daughter of 5 yrs, set off to the park. George, a young, energetic & humorous gentleman was our driver & tour guide at the same time. This is how we got our lifetime experience during the 2-nights & 3-day Murchison Falls National Park safari.

Day 1: We drove to Murchison Falls National Park, stopped at Masindi for lunch then proceeded to check into the park for the afternoon safari drive which lasted until dark. We saw many wildlife and enjoyed every bit of it. We later checked into our lodge, had a tasty dinner and off to rest.
Day 2: We woke up at 4am, had breakfast and went for the early morning game drive and this time in the company of a game ranger who took us to the game tracks where we saw a lioness, her cub & also got an opportunity to see a leopard on a tree branch. It was all joy & a great experience for my dad. We then had our lunch at Chili lodge.

At 2pm, we went for the afternoon 2.5 - 3hr boat cruise safari on the Nile River. It was another great experience. We saw many marine lives such as hippos & crocs, a couple of beautiful birds, etc. as we cruised to the bottom of the mighty Murchison Falls. Upon return from the boat cruise, we had a short evening game drive & saw a few wild lives that we hadn't seen on day 1. We later went to the lodge for dinner and overnight stay.

Day 3: This was our last day in the park. We woke up at 7am, had breakfast and drove to the top of the falls. This, to me was most amazing experience and it summed up our trip. I could see my dad, his friend & my little daughter engulfed in joy as they ran around enjoying the water falls and the cold breeze from the River Nile. I was so happy that at last it happened.

George, our friendly driver & tour guide then drove us back home to Kampala. It was indeed a well fulfilled dream. Thanks Mr. Jesse Tom & Lifetime Experience Safaris Uganda.

Mario Jiménez Navarro
–
ES
Visited: June 2021
Reviewed: Jul 7, 2021
Email Mario Jiménez Navarro | 35-50 years of age | Experience level: first safari
If we return (hopefully) it will be with a lifetime
Uganda with lifetime Safari and Sula

We had planned the trip for 2020, but with the catastrophic pandemic we had to postpone it to 2021 so we could continue saving to extend from 3 days, which was the initial plan, to 7 days. I have to say that 7 days are still few for this spectacular country. It should also be noted that we had read that the roads were very bad, but the main roads have been improved for a year and a half, so they are very bearable.
First of all, comment that with lifetime Safari the organization was all very simple and fast. Unbeatable value for money. Thank you very much Jesse! If Jesse is the engine that runs lifetime, the heart is Sula, our friend and guide. You just have to see how they receive you when you arrive at the destinations and recognize you, the workers in the accommodation light up their faces when they see you. Sula strives at all times for you to enjoy 120% of the trip, he does not stop until he finds the animals for you to see, with those binoculars that he has for eyes. He is a great driver, he makes you feel at home, safe at all times, it's like traveling with a friend. As everyone who knows him has told us he is a goodman. Part of our heart stays in Uganda and with Sula. We hope to be able to return and without a doubt make the trip again with Sula by our side. An experience that you cannot stop doing at least once in your life.
Andrew
–
BD
Visited: December 2020
Reviewed: Jan 29, 2021
Email Andrew | 35-50 years of age | Experience level: first safari
Lifetime Experience Safaris lives up to its name!
Lifetime Experience Safaris is superb. Jesse-Tom is great to deal with by e-mail in the planning stage. He answers promptly and thoroughly. He offers genuine advice in tailoring your safari.

Sula is an excellent driver,guide, and friend, who covered the sometimes long distances and rough roads in the Land Cruiser safely, and stayed a day ahead in constantly reconfirming plans. At the national parks he found the best guides. He has all their numbers, everybody knows him. It meant that the rangers with us were very knowledgeable. Sula is not called the leopard man for nothing. In 12 days I saw 4.

Meanwhile Jesse-Tom checked regularly to ensure all was going well. At Lifetime Experiences they value their reputation. They genuinely want tourists to have a great time. All the care meant there was nothing to do but enjoy.

We visited Ziwa, Murchison Falls, Queen Elizabeth, Bwindi, Mgahinga and Lake Mburo. All are excellent. I also liked the accommodation Jesse-Tom booked. When I asked, he also organised a night at the Ihamba residence so I could visit a Batwa community at a reasonable price. It was a highlight.

Jesse-Tom and Sula also helped organise the Covid 19 PCR test in Kampala needed to leave Uganda, even though our tour ended several days earlier. It was convenient and easy.

In planning any safari it is difficult to know who to trust. Lifetime Experience Safaris delivers. They will do their best to live up to their name. I can't recommend them highly enough!

Carolyn and David
–
Visited: December 2019
Reviewed: Mar 8, 2020
Email Carolyn and David | 50-65 years of age | Experience level: 2-5 safaris
A wonderful experience
We went on a 12 day adventure to see the Shoebills, Murchison Falls, Queen Elizabeth Park, Bwindi National Park and the beautiful Bunyonyi Lake.
On our trip, we had a young man as our driver and guide named Richard. Richard was very knowledgeable, particularly with the animals in the park. He made sure we saw the tree lions in Queen Elizabeth park and that we were well fed throughout our journey. Our organizer, Jesse came and saw us in person and explained our trip itinerary. We felt comfortable asking questions and communicating with him throughout the planning. Richard was a fun guide, took photos and became like family after the trip.

Definitely a trip of a lifetime. The gorillas were amazing and country of Uganda was just beautiful.

Disclaimer
All corporate and/or tour info is provided by Lifetime Experience Safaris, not SafariBookings