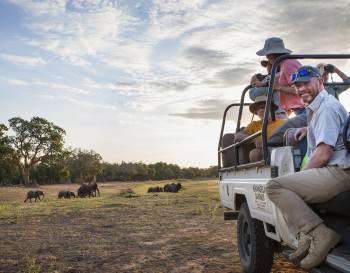 Khangela Safaris
4.9/5 – 13 Reviews
Office In:

Size:

1-5 employees (Founded in

1995

)

Member Of:

ZTA

& ZPGA

Tour Types:

Small & medium group tours (Mid-range)

Destinations:

Price Range:

$400 to $500

pp

per person

per day

(USD, excl. int'l flights)

Rating Breakdown
Stevenjs
–
US
Visited: May 2022
Reviewed: Jun 28, 2022
Email Stevenjs | 65+ years of age | Experience level: 2-5 safaris
Mike Scott is as experienced and skilled a guide as you could hope for.
We took an "adventure tour" with Mike, Bernard and Memba and stayed in Mana, Matobo and Hwange National Parks. We saw remote and incredibly beautiful areas in each park, hiking daily, had great wildlife sightings and ... ate copiously of great "home cooking". If you want to stay on a comfortable cot in a tent where you can experience all the incredible sights and sounds of an African night, this is the trip for you. THANK YOU Mike and team for an unforgettable adventure!
Tom
–
Visited: October 2019
Reviewed: Oct 28, 2019
Email Tom | 20-35 years of age | Experience level: over 5 safaris
Incredible stay in Mana Pools
I spent five nights in Mana Pools with Mike Scott and the Khangela team, and was blown away with both the wildlife and how well the trip was executed. We spent two nights in Chitake Springs, where we had excellent views of lion and elephant on foot, as well as a wild dog kill near camp during the night. We then spent three nights at the waterfront on the border with Zambia - the setting for this camp was stunning - where we were lucky enough to encounter the famous Mana Pools dogs on foot, as well as the famous Boswell.
Mike is an excellent guide, who was highly responsive to the demands of a group who had plenty of experience in Africa. He put real effort into finding the dogs, as this was very much at the top of our wish list. Mike is highly knowledgeable and conscientious, going out of his way to respond to my queries before the trip and being thoroughly accommodating throughout my stay. A huge shout out must also go to Bernard, whose tracking skills are unparalleled, and Mickey, who catered for us expertly. I'm already planning a further trip with Khangela in future - the cheetah of Hwangwe and rhino of Matobo are next on the list!
David
–
Visited: September 2018
Reviewed: Sep 22, 2018
Email David | 20-35 years of age | Experience level: first safari
Unforgettable experience
My girlfriend and I recently spent 10 days in Mana Pools (5 nights river camp, 4 nights Chitake Spring) with Khangela Safaris and it was absolutely incredible. Mike and Bernard were a brilliant team who've known each other for decades, helped in camp by Bernard's brother Memba. Their knowledge of the animal and plant life was amazing and our experience was also helped enormously by their superb tracking ability, once they had picked up a track we would end up with a brilliant sighting 9 times out of 10. We saw lions 6 times, a leopard, wild dogs with 9 puppies, hyenas, buffalo, elephants, hippos, zebras to name just a few. They were very warm and friendly and helped prepare us great food at meal times (we're both vegan and they were a great help). We will miss getting up at sunrise for our morning walks, mid-day drives, evening walks, Mike and Bernard's stories round the fire at night, hyenas and elephants walking through camp while we eat and lying in our tent listening to the sounds of the bush at night.

It was truly an incredible experience and without doubt would recommend Khangela Safaris to anyone, we would love to return.
Cindy Tyrrell
–
Visited: August 2018
Reviewed: Sep 10, 2018
Email Cindy Tyrrell | 65+ years of age | Experience level: over 5 safaris
Beyond outstanding!
We have just returned from an incredible trip to Mana Pools with Khangela Safaris, made all the more enjoyable due to the professionalism and expert knowledge of Mike Scott, our guide and his tracker Bernard. The camps were more than comfortable, hot showers provided every day, delicious meals (provision made for Vegans and Vegetarians). Evenings under the amazing night skies were enhanced by Mike's many stories, as well as visitations by hyena and ellies very close to camp. Both Mike and Bernard were excellent trackers which enabled us to see lions on foot on several occasions. However, just staying in the camp provided us all with many amazing sightings of wild dog, buffalo plus large numbers of baboons, who kept us all entertained by their antics . Mike's knowledge of birds and trees was beyond impressive, which augmented the enjoyment of each and every remarkable day we had in this very special place. Beyond amazing!
Janine
–
NL
Visited: September 2018
Reviewed: Sep 9, 2018
Email Janine | 50-65 years of age | Experience level: over 5 safaris
Walk on the wildside
In the last 10 days we went on safari with Mike Scott to Mana Pools in zimbabwe.
We enjoyed every second of it! Together with tracker Bernard, who wil never ever give up while tracking, they form a great team. Also in the the kitchen. We saw leopard, lion on foot as also big herd of buffalo and many more. Very special sighting of wild dogs and 9 pups in the chitake spring on our last morning.
Humor and wonderfull stories are present to! We went to Africa 10 times..but this one is in our top 3 of the special ones.
We certainly will be back! And will recommend khangela safaris with pro guide mike scott to all other africa lovers who want to go for the real stuff...in the bush...under canvas..just as it is ment to be!

Heather Gulliver
–
Visited: November 2017
Reviewed: Jul 18, 2018
Email Heather Gulliver | 65+ years of age | Experience level: over 5 safaris
Very good safari; Michael Scott is very conscientious and efficient.
It all went very well in spite of turbulent politics at the time.

Matt & Bianca
–
NZ
Visited: March 2018
Reviewed: Apr 21, 2018
Email Matt & Bianca | 20-35 years of age | Experience level: first safari
5 Day Safari Hwange National Park
We did our safari from the 12th - 16th of March 2018. The trip was amazing, even better than we had hoped for. As this trip followed what had been a reasonably wet wet season, the park was very green and lush. This being the case the bird viewing was fantastic. I must admit we were unsure if we would have the opportunity to see a lot of large game due to the density of the bush at this time, but Mike and Bernard were able to use their wealth of knowledge of the area to ensure we were not disappointed. We had a very up close an personal experiences with lions, many elephant, giraffe, hippos, crocodiles, zebra and many antelope species.
On our trip we opted for walking safaris as well as the drives. This was definitely a highlight, and it got the adrenaline pumping seeing lion and leopard spoor frequently.
To top it off, Mike and Bernard made us feel very welcome back at camp and throughout the trip.
We cannot recommend using Khangela safaris enough, and if we are lucky enough to come back we will be using Khangela without a doubt.
Cheers!

Andrea and Chris
–
DE
Visited: August 2014
Reviewed: Dec 24, 2014
Email Andrea and Chris | 35-50 years of age | Experience level: 2-5 safaris
12 days Hwange and Mana Pools August 2014
Dear Mike and Bernhard from Khangela Safaris

Thank you for putting Zimbabwe on top of the safari world map!
We were lucky to take part in a 12 days Hwange / Mana Pools National Parks combination on a Khangela Safaris trip with Mike Scott.
This felt like the sea to summit tour showing diverse natural wonders with great differences in landscape scenery, habitat and animal population. Game spotting is always a variable thing but the plentiful menu will have a lot to offer in terms of different antilope, circus elephants, cats and dogs and great scenery with colorful sunsets at the river or with baobabs to dream.
Thank you for doing your safaris in a minimal impact way being respectful to nature and animals. We really enjoyed staying at remote places experiencing the luxury of being away from the crowds in combination with your great campfire restaurant. The mobile tented safari offers great freedom in trip layout and could be customized to our wishes. Together with excellent camp assistant and spotter Bernhard we were guided by a brilliant team.
The Camps you picked at Mandavu Dam (Hwange), Chitake Springs and Croton on the Zambezi riverfront (both Mana Pools) were excellent. What a wonderful experience to check out the surroundings in a mixture of game walks and drives.
Thank you Mike and Bernhard as well for spotting, pampering us safely, caring, sharing knowledge, cooking and much more –giving us memories to put a permanent smile on our faces.
This is definitely something to come back for !
Andrea and Chris

Andrina and Peter
–
CH
Visited: August 2014
Reviewed: Sep 15, 2014
Email Andrina and Peter | 20-35 years of age | Experience level: first safari
Unforgettable and fantastic trip - better than everything we could ever have imagined!
We've participated in a 12-Day Hwange and Mana Pools Parks safari trip with Mike Scott and his partner Bernard. We've spent 12 absolutely amazing and outstanding days in Hwange and Mana Pools: Tent camping (with camp cots, mattresses, duvets and pillows) with all imaginable amenities (from Birchermüesli and Nutella to excellently constructed bush shower/toilet) at really remote camping sites - particularly Chitake Spring Camp 3 and Croton Camp in Mana Pools were in complete wilderness; the first Mandavu picnic site camp in Hwange to a lesser degree - with only very few people but lots of game…! The mix of walking safaris and drive safaris was adjusted to the guests wish. To get an idea for interested visitors – here is the link for a video a former guest has uploaded: http://youtu.be/sfvT23_t7J8.

Mike Scott, a licensed tour operator, and Bernard who speaks various local languages including Ndebele, Shona and Chitonga were an excellent, super-friendly and very competent team. If inquiries are done in time, one can tailor one's safari (duration, parks, remoteness etc.) completely.

We can absolutely recommend Khangela Safari to everybody wishing to visit beautiful Zimbabwe and to observe (and to walk into...) impalas, elephants, birds, hippos, leopards, giraffes, lions etc. The unique landscape combined with this fantastic team is an unforgettable experience in all respects.

We're already looking forward to coming back, not only but also for watching the spectacular sunsets while enjoying a cool lion beer under a majestic baobab :-)

Thank you, ngiyabonga, merci vylmol/vöumau!
Herman and Robert
–
NL
Visited: June 2014
Reviewed: Jul 28, 2014
35-50 years of age | Experience level: over 5 safaris
Fantastic walking safari trip
In June we had a trip with a Mike. He is very friendly and wants to do everything for his guests. We stayed 6 nights camping in Hwange, 4 nights in Mana Pools and 2 nights in Matopos. Apart from the wildlife it was a very relaxed experience. We just did the walks and game drives and everything else was done by the guide, the tracker and the cook.
Our tracker was superb. He found lions on several occasions. We could watch them from a close distance during walking safaris.

Disclaimer
All corporate and/or tour info is provided by Khangela Safaris, not SafariBookings