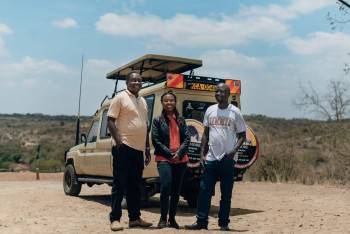 BuyMore Adventures
4.8/5 – 28 Reviews
Located In:

Size:

5-10 employees (Founded in

2012

)

Member Of:

Kenya Association of Tour Operators, Ecotourism Kenya, The International Ecotourism Society, Travelife & Kenya Association of Women in Tourism

Tour Types:

Small & medium group tours (Budget & mid-range)

Destinations:

Price Range:

$100 to $380

pp

per person

per day

(USD, excl. int'l flights)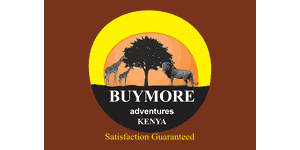 Amy Baker
–
US
Visited: May 2019
Reviewed: Jul 19, 2019
Email Amy Baker | 35-50 years of age | Experience level: first safari
INCREDIBLE EXPERIENCE!
I traveled in May with my sons to Kenya. We have wanted to do this for years and we're so lucky to have had BuyMore Adventures and Nadzua as our tour operator. The experience from the very beginning while I was planning with Nadzua (well over 30 emails!) was wonderful. All of my questions answered in detail and my concerns addressed. Then the trip...JUST AMAZING!!! We started in Amboseli and then went on to Masai Mara, finishing in Nairobi. We saw hundreds of elephants in Amboseli and in Masai Mara saw Lions, Cheetahs, Buffalo, Giraffes, Elephants, Zebras, Warthogs, Hyenas...everything you can imagine. Our guide Enock was very sweet and knowledgeable...he explained the seasons and showed us where many of the animals were, he also stopped and pointed out so many birds, he knew their names and little interesting facts about them.
We also spent a little bit of time with Charles who was very happy to discuss in detail the history of the area and politics.
From beginning to end this was a once in a lifetime experience!!!
I hope to go back one day and I will ABSOLUTELY go through BuyMore! Thank you Nadzua!!!
Kelli Brooks
–
QA
Visited: May 2019
Reviewed: Jun 19, 2019
Email Kelli Brooks | 35-50 years of age | Experience level: first safari
Very Special Service
I appreciate the special care and very professional and polite service I received from Buy More Adventures. Every request, every change, every question was answered immediately and with immediate solutions and services. Very good prices. Everything was taken care of. Thank you, Ms Nadzua Matara for all of your service! I will be using this company again in the future.
Melanie
–
US
Visited: October 2018
Reviewed: Mar 25, 2019
Email Melanie | 20-35 years of age | Experience level: 2-5 safaris
From first contact to airport goodbyes, BuyMore Adventures exceeded our Kenyan safari expectations.
It's taken me several months to write out a review for this remarkable safari operator in Kenya because every time I tried, I would think of something else awesome that should have been included. From first contact to last, BuyMore Adventures exceeded our expectations in every possible way. From the most knowledgeable and accommodating planner, Nadzua, to our incredibly talented guide Kaka, there wasn't a moment that didn't exceed my expectations while traveling with BuyMore. Our four day three night private safari was perfectly planned and executed to leave us with the most amazing memories of Kenya that we could possibly ask for.

Traveling with my close friend and her mom in October of 2018, we had a limited amount of time in Kenya and wanted to make the most of it. After travel time and spending a day touring Nairobi, we only had 4 full days and three nights to spend on safari. I researched multiple parks and read through dozens of itineraries before deciding on a trip that included the Masai Mara, Hell's Gate National Park, and Lake Nakuru. Most operators offered this itinerary with an extra day, combining Hell's Gate with Lake Navaisha, but it was more difficult to find four day trips with this itinerary, excluding Navaisha. I started to narrow down operators that offered something similar, and I began reaching out to inquire whether a stop at Hell's Gate en route to Nakuru would be possible. I received several answers and eventually narrowed it down to two operators.

BuyMore Adventures impressed me almost immediately with quick response times, detailed information, and a willingness to plan with me and not for me. I have always planned every last detail of my trips, so it was a new experience to have someone helping me figure out travel times, the best route, and where to stay. I was probably more difficult than most because I like being so involved; however, Nadzua was so patient, informed, and accommodating from the very start. Looking at a map and deciding on destinations is only a small fraction of planning a customized safari in Kenya because as an outsider, I had no idea about travel times and road conditions, which were very important factors when planning the order of the parks we visited. Whenever a new idea popped into my head about where and when we should go, she was always there to give tips on how much time would be needed, if it was feasible, and how best to tweak our trip to match what was in my head.

Throughout planning the trip, Nadzua remained in contact for any questions or concerns throughout. The most memorable part of planning, however, was when I decided I wanted to stay at Ashnil Mara Camp and asked her about prices and whether it was possible. She was accommodating, and I went back to my travel party to check whether they were agreeable to paying a little more for this accommodation on the Mara River. In the time it took me to get back to her, the accommodation had booked up for tour operators, although two tents were still available through booking websites. Instead of pushing me towards one thing or another, Nadzua found me three comparable accommodation options to explore and was also willing to adjust the prices to exclude meals and accommodations for those days if I wanted to book it myself. I was so impressed that she was so open to changing such a huge part of the safari to make sure I got the trip I wanted. I ended up booking through a booking site, and she updated all of the charges but continued to send amazing detailed itineraries to reflect the changes. It really meant so much to me to be able to help plan in that way.

Upon arriving in Nairobi, we were picked up at the airport and taken to our hotel by a BuyMore Adventure driver who was happy to share information about the buildings during our night drive into the city. The next day, Nadzua met us at our hotel in the afternoon to collect our balance, pass out souvenir BuyMore Adventures safari hats, and go over extra details about our trip, which would begin the next day. She was just as kind and helpful in person as she was during our email communication, and it set a wonderful tone for our trip to come.

The next morning after breakfast, we met Kaka, our amazing tour guide who would be (stuck with!) us for the next four days. Kaka was polite, kind, and very knowledgeable from the beginning, but he wasn't quite as talkative as our somewhat loud group of three. That definitely changed quickly as he got to know us during that initial drive, and we absolutely came to love his dry sense of humor and endless knowledge about absolutely everything. The worst thing about the entire trip was the drive times and rough roads, something our safari company (or any safari company) has no control over, and for that, we were thankful. From the very start, Kaka seemed to know everyone. As we made stops along the way, he was friendly with all of the locals and guides, and it would end up being an invaluable trait as we were on the lookout for wildlife on our various game drives. After a long and bumpy ride, we came to Ashnil Mara where we got checked in while Kaka took a break from the long drive.

After a late lunch and some time to relax, we met back up with Kaka for our first game drive in the Masai Mara, where he spotted a female lion, hippos, giraffes, and crocodiles. As we looped back to leave and watch the sunset, we saw the lion again, this time with an audience of hyenas and other wildlife waiting to eat her leftovers. On the way back, Kaka asked whether we would prefer a very early start with breakfast on the way or if we would like to start after breakfast at the camp. Being difficult, I had to ask when would be the best time to see cheetahs, and being the amazing guide that he is, he abandoned both previous options to make sure we were in the park when cheetahs are most active. I've volunteered at a cheetah reserve in the past, but I'd never seen them in the wild, so this was my absolute number one wish; Kaka made it happen. He took care of everything that evening to ensure we had packed lunches, let us know when to meet him, and the next morning we were on our way into the Mara.

The second day in the Masai Mara was absolutely incredible. On top of a variety of antelopes, giraffes, and other animals we'd seen the day before, Kaka found a family of elephants with two babies followed by a group of five male cheetahs that were well known throughout the park. We spent quite a bit of time watching the males resting, grooming, and walking across the plains, and eventually, we chose a spot to eat our breakfast as we watched them walk into the distance. It was absolutely incredible, and I am so thankful Kaka was so willing to change the schedule in order to maximize our chances of seeing cheetahs. On our way back in from our morning drive, we also spotted a female, possibly pregnant, resting under a tree with fewer safari vehicles to contend with. We would venture out again later in the evening, and Kaka found two young male lions on our evening drive before watching the most incredible sunset.

Our third day departing Ashnil Mara was an extremely early morning, made all the more difficult by having gone to sleep rather late. Kaka had arranged for packaged breakfasts for the road, but it was so early that no one ate right away. Our early morning game drive across the park gifted us a beautiful sunrise as well as an early stop to see cape buffalo. It was hard to keep our eyes open that morning until just before we were leaving the park, Kaka got a call over the radio and before we knew it, we were racing across the park to see a leopard that had just been spotted walking back into the brush from a night out hunting. It was the most exciting part of the entire trip, and when we arrived, we were one of only three cars. The leopard walked right up to our car as we sat parked, barely breathing as he walked by. The experience was unforgettable, and we could tell Kaka was also excited because he shared it with several other guides we talked to throughout the day.

Day three was a long drive to accommodate our preferred itinerary, and Kaka asked if we'd like to do the hour boat tour at Navaisha to see hippos. Unfortunately, it started pouring rain minutes after we pulled up, and worried about time, we decided it would be best to skip. It didn't take long to get to Hell's Gate, so we were still dealing with rain for our bike ride. In addition to the bad weather, the bikes we rented would not shift gears, making it nearly impossible to make it down the muddy road to the entrance. Kaka handed over guide duties to a ranger who took us into the park to hike and bike past buffalos and other various wildlife. The scenery is stunning, and we were fortunate enough to have a break in the clouds once we actually got in the park. It's a wonderful opportunity to get out and experience a park on foot, something that isn't possible at most other parks in Kenya, and I would highly recommend it to others who visit Masai Mara and Nakuru, if not just for the scenery, but also for the opportunity to experience a very different type of safari.

Our bike ride and hike through Hell's Gate took longer than expected, which meant we had a late start leaving the park and heading to our accommodation near Lake Nakuru. I had fallen in love with a place called Maili Saba Camp, which overlooks the Menengai Crater, and of course, wonderful Nadzua had adjusted our itinerary so that we could stay here. The drive was longer than expected, so we arrived quite late and in the dark, and we were so thankful for Kaka's resilience and excellent driving skills as we made our way up the crater. The staff were incredibly kind, and they camp's mission was to help disadvantaged youth develop skills in the tourism industry, so it was an absolute joy to stay here. They even stayed up late to make sure we had dinner upon arrival. Kaka bid us goodnight, and we all agreed that we could get a very late start the next (and last) day.

After an amazing breakfast and tons of pictures with the staff at Maili Saba Camp (and Kaka!) we headed towards Lake Nakuru to find the last of the Big Five that had thus far eluded us: the rhino. Heavy air from the rains the day before gave the park an ethereal feel as we drove in past trees growing up through the water. Our most amazing find of the day was a large male lion that Kaka spotted and let us sit and watch for a large majority of our time in the park. Later, we drove out to see the flamingos which were somewhat far away, but provided a nice backdrop as we ate our packed lunch. We could feel the pressure to find the rhino before we left, and thanks to Kaka, we found a small family of rhinos just before we needed to leave.

After an amazing four day safari, we had to drive back through the Riff Valley to get to Nairobi, where we had planned to eat dinner with Kaka before proceeding to the airport. As Kaka radioed ahead to check driving conditions, we got some unfortunate news: steady rain in and around Nairobi would make travel much slower than usual. Traffic around Nairobi is like nothing I've ever seen before, and our trip back easily doubled if not tripled in time. We had to forego dinner altogether in order to ensure we had enough time for our flight; the only regret was not having the opportunity to have a memorable last dinner with our incredible guide. When we arrived at the airport, Nadzua called and wanted to make sure everything was OK — she was so incredibly apologetic that we had missed our dinner! If anything, I felt bad that it made everyone at BuyMore so upset because it was absolutely out of their control. We experienced the best of everything on our trip, and we couldn't have asked for kinder and more amazing people to work with. After lots of hugs and figuring out what other trips we could book with Kaka in the future, we made our way into the airport to fly back home after an absolutely amazing adventure.

I've wanted to review BuyMore Adventures for several months now since returning from Kenya, but nothing really seemed to adequately describe the experience we had thanks to this amazing company and our wonderful guide Kaka. I would recommend them to anyone, but especially to anyone who likes to be involved in the planning process. Nadzua was amazing to plan with and Kaka gave us a safari beyond our expectations. The price was more than reasonable considering how much effort they put into customizing our itinerary and finding us the accommodations we wanted. I compared prices with other private safaris with 4x4 vehicles (definitely go with the 4x4!) and BuyMore was very competitive in their pricing while providing better service than anyone else I spoke with. I know that the next time I plan anything where they operate, I'll be sure to go through BuyMore Adventures and ask for Nadzua and Kaka!
Eleonora Magi
–
IT
Visited: September 2018
Reviewed: Mar 3, 2019
Email Eleonora Magi | 20-35 years of age | Experience level: first safari
An amazing experience.
Kaka and Shaffy,our driver and guide are very nice and competent. They explaned us everything about animals and savannah's life. They give us the time to a picture during the safari and they learned us how recognize animals.
It was a very great experience, maybe BuyMore Adventures is the best tour operator of Kenya. They were very nice because moreover they give way us a beautiful and funny safari's hat! Amazing!!
Jennifer Caldwell
–
TH
Visited: December 2018
Reviewed: Jan 14, 2019
Email Jennifer Caldwell | 20-35 years of age | Experience level: first safari
This was a once in a lifetime opportunity for me and I loved every second of it!
I have nothing but wonderful things to say about my safari experience. Not only was the safari itself amazing, but the van drivers and the BuyMore Adventures staff were amazing. Before our trip, we spoke with Nadzua and asked her many many questions. She was extremely friendly and helpful. She reassured me of everything and everything was organized so nicely. We had two drivers and they were both amazing. Mr. Evans taught us a lot about the animals at the park, he made the safari extra fun, and he kept us safe from crazy baboons!

The safari itself was fantastic. We were fortunate to see all of the big five during our four day safari. We spent time in Masai Mara and at Lake Nakuru. We were so lucky to see a Leopard and other rare animals. Our guides were amazing at finding the animals and we were up close to them as well!

I would highly recommend traveling to Kenya and doing a safari. I would also highly recommend booking through BuyMore Adventures. It was affordable, comfortable, fun, and I can't think of anything I'd change. The camps we stayed at were great. The food was really nice. We met so many nice people as well. This will forever be one of the highlights of my life.
Nab Zid
–
FR
Visited: October 2018
Reviewed: Dec 27, 2018
Email Nab Zid | 20-35 years of age | Experience level: first safari
One of the best 10 days of our life
For our honeymoon, we wanted something special and different.. so we choose to visit Kenya for 3 and half weeks.
And obviously, a safari was on our plan. So we sent a mail to KATO ( Kenya Association of Tour Operators ) with our wishes : safari duration, languages, prices, dates..
We had, after that, about twenty responses of twenty different kenyan tour operator.. we just had to compare.
We finally decided to go with Buymore Adventures (funny and weird name! ). Nadzua was so nice, very quick to response and to adjust our safari. She made us a unique travel with all our wishes. We went for 10 days safari from north to south, east and west. We were with the best driver/guide Kaka and the best french guide Joseph (as we requested, we are both good in english but it was so much better to have someone who can explain to you everything in your language).. they were both very complementary and made those 10 days very special.
We started a very beautiful and special park named Samburu, one of our favorite ! Chetahs, zebras, girafes, elephants, leopard, oryxs, crocos, etc... We missed the lions ans rhinos for the Big 5 but this park is so much more than that ! Then we went to Nakuru, very beautiful landscape.. and the RHINO, black and white.. speechless. Some Rothschild girafe, flamingo, buffalo, jackal.. After that, the one and famous Masai Mara. If you want to see it all, and you have only few days, that the one you must go. We saw the big five in one day.. CRAZY ! We spent 3 days there so we also saw a hunting chase, the great migration, the birth of a baby zebra ( one of the best moment of the trip) and so much more. If I had to give the one negative point it will be the crowd. That the price of such beauty, there are a loooot of people around. And some time it feels more like a zoo than a reserve. The worst part was for a leopard, they were about 20 jeeps around it.. It felt bad.
It wasn't easy to leave it but the trip must go on! So we went to Lake Naivaisha. Not much to see, it just and only a way to go to Amboseli (they are no road straight from Masai mara to Amboseli). DO NOT DO the boat tour, it's expensive and worthless. We were in a nice lodge (Sopa lodge) where you can walk with wild animals around the garden (waterbucks, zebra, hippo, girafe).
We went to Amboseli for 2 days.. the weather was terrible the first day so it was a little bit frustrating.. The park was ok, but with the rain few animals were around. The second day, we woke up and WAOUH the Kilimanjaro was welcoming us.. speechless ! We saw elephants, elephants, and elephants mostly ! But it was very nice to do.. sometimes you can see lions, hyena, etc..
And we ended our trip in Tsavo for just one and half day.. So, not much for this big park. But just for the landscape it was worth it. The red land, the green and yellow grass, the blue sky, the baobab, the red elephant/zebra/oryx/girafe .. Very beautiful. We did a footsafari for one hour which was nice in contrary to the night safari.
So to end this very long comment, we were very pleased with the safari Buymore and Nadzua made us, from the beginning to the end we have had such a wonderful moment, such beautiful memories and photos, 10 perfect day. Thanks ten times to Kaka and Joseph, and there bionic eyes.. we would have missed so much without you guys !
If I have to make just one "negative" point, it's about the duration of the travel between parks! It's very, very long.. because of the road, the traffic, the maximum speed allowed, the villages you cross, the pause, etc... You can easily add 1 or 2 hours to every forecast Nadzua made on the time-travel document.. But we won't change a thing even if we knew the real time road between parks, so..
Just enjoy every second of every time of it.
Raja
–
US
Visited: November 2018
Reviewed: Dec 8, 2018
Email Raja | 35-50 years of age | Experience level: first safari
Very professional and personable
Took 6 day and 5 night customized tour. Nadzua provided quote for us. She is amazing in every way. She was patient, very professional, prompt and communication with her was a breeze. She made the changes as requested and got back promptly. And pricing was reasonable. When the lodge got sold out, as proposed in quote, she promptly communicated and gave options and adjusted pricing accordingly (up or down, based on the lodge choice). I had experienced no hiccups in the pre-process.
Once we landed, Nadzua and our guide/driver Charles came to pick us up. And Nadzua was as pleasant to communicate in person as she was on emails. Coming to Charles, he was a gem. He got connected with my family right away and everybody was comfortable with Charles. Over the next 6 days, he made every moment as best as he could make it. When we ran into vehicle issues, he ensured it was repaired during evening time so that our game drives were not impacted. He made detours as needed/as asked for. We ended up staying in a conservatory in Masai Mara and he got the help for local guide to make sure we had the best possible sightings. And sure enough, we spotted all big five, including leopard which is very hard to spot.
Overall, we had an amazing trip and in the smoothest possible manner.

AR
–
CH
Visited: September 2018
Reviewed: Nov 30, 2018
Email AR | 20-35 years of age | Experience level: 2-5 safaris
Great adventure in Africa
We spent 10 great days in some Kenyan national parks. The tour organizer was alywas very keen to answer to all our questions and to change the itinerary according to our willingness. The driver/guide was always very professional, and able to spot most of the animals. Accomodations were very beautiful and comfortable, and food very abundant and good. The only (small) flaw was that not all of the accomodations were located inside the parks (this was not fully clear at the moment of the reservation, even if the tour operator provided us the addresses of all accomodations)
Jordan Calhoun
–
US
Visited: November 2018
Reviewed: Nov 29, 2018
Email Jordan Calhoun | 20-35 years of age | Experience level: first safari
Nadzua was very responsive and the safari was great
Great safari, responsive staff, amazing value for the price.
km
–
FR
Visited: July 2018
Reviewed: Jul 29, 2018
Email km | 20-35 years of age | Experience level: first safari
AMAZING HOLIDAYS
Naduza made our trip memorable ! We were a group of 9 people and she arranged evrything even if it was hard sometimes for her, she did her best. The communication was very good because we talked through whatsap, and the trip itself was just amazing.
We went on 2 different safaris and the drivers took us on roads where we were able to see the big 5 and even more !

On the second week, we went on an all inclusive resort that Nasuza selected for us. Everything went perfectly well.
I do recommend this tour operator !

Disclaimer
All corporate and/or tour info is provided by BuyMore Adventures, not SafariBookings
The tours offered by BuyMore Adventures are subject to their terms & conditions