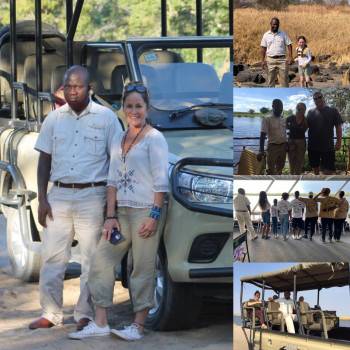 Cultural Vibes Travel & Tours
5.0/5 – 96 Reviews
Office In:

Size:

5-10 employees (Founded in

2010

)

Member Of:

Zimbabwe Tourism Authority

Tour Types:

Custom mid-range & luxury tours that can start every day

Destinations:

Price Range:

$100 to $750

pp

per person

per day

(USD, excl. int'l flights)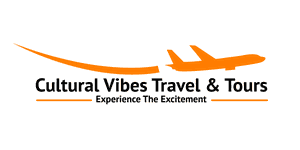 Cultural Vibes Travel & Tours
Rating Breakdown
George Wagner
–
US
Visited: October 2019
Reviewed: Oct 25, 2019
Email George Wagner | 65+ years of age | Experience level: first safari
Far, far exceeded our expectations, the place, the people, the food.
First, Tongesai Mtematsaka was excellent with communications and service. We couldn't have asked for better. My questions via email were promptly answered. His English was excellent, and better. He was always on time in meeting us, coming and going. Our two hour trips from VIc Falls to the sable sands lodge, and then from the lodge to the Vic Falls airport were a highlight to our entire Africa trip. My wife and I will be discussing various aspects from the discussions with Tongesai for some time to come. By patiently answering my many questions he educated my wife and I about Zimbabwe and the region - culture, practices and assets of the people, typical family life, economy, weather, etc., and possibilities and trends into the future - all believable and detailed.
The staff and facilities at the sable sands lodge were all excellent, beginning with Michelle's clear instructions and cautions. She was a delight. We were asked if we wanted to take a charming hut as close as we could get to the marvelous watering hole there and got it. Incredibly we were greeted by a dust-cloud from a herd of maybe 100 Cape buffalo running to the water - unbelievable! The meals prepared by So and Derik were really good, throughout. MC, our drive guide was excellent and very accommodating to all the guests in the comfortable and safe-feeling, open 4x4. We met some nice co-guests. We saw so many animals on our safari that I will not attempt to recall here. I would just say that the many watering holes in the Hwange park were impressive, As an environmentalist myself I was very impressed with the solar powered system for exploiting the aquifers, and the foresight of the authorities in developing and maintains these. I know the history going back to the 1920's, but if there wasn't maintainence and upgrade the animals could not continue, especially with drought effects of climate change. Finally, I must comment on the fact that our first night in our hut was spent listening to the rumblings of the elephant just outside out hut. In the morning the tracks outside our hut showed how close our visitor was. We knew then that Michelle's cautions were serious. But then more, the second night we had a lioness spend the night outside our hut, perhaps roaring a mating call. At first light MC came by with the truck and asked if we wanted to see the lion. I shot out with my camera. What an experience!!
We hope our parting tip to the group of 16 people providing excellent service was meaningful. I will certainly recommend this trip to anyone who will hear me. What a privilege!!!

Mr Charles Kinnaird
–
Visited: October 2019
Reviewed: Nov 11, 2019
Email Mr Charles Kinnaird | 65+ years of age | Experience level: over 5 safaris
Our trip to Hwange, Chobe and Vic falls was another fabulous, magical experience thanks to Tongesai
Cultural Vibes Travel and Tours has proved to be excellent in every way yet again as this is the second time we have used them. Tongesai Mtematsaka (Company Director) is very reliable, professional, knowledgeable and does everything to make your experience a trip of a lifetime. We felt that our holiday with Tongesai was much better and suited us more so than if we had booked through a larger company. His individual tailoring, personal involvement and attention to detail pays off in the smooth running of your trip. We felt completely safe with him which was important to us as we had our 7 year old grand daughter with us.
Wildlife was in abundance numerous lions, hundreds of elephant and a leopard that we had been following as it was walking through the bush eventually came down and sat on the bank beside us! After posing for a few minutes for a photo shoot it got up and walked back up the bank - couldn't believe it.
I have no hesitation in recommending the company for arranging tours in Zimbabwe, Zambia or Botswana - we will definitely be seeing him again.

Jodi
–
US
Visited: March 2019
Reviewed: Mar 17, 2019
Email Jodi | 50-65 years of age | Experience level: 2-5 safaris
Amazing Four Day Tour of Victoria Falls and Chobe National Park
I was in South Africa for work, and wanted to spend the weekend seeing sights beyond South Africa. So I set my sights on Zimbabwe and Botswana and used Cultural Vibes Travel & Tours to book my visit. Everything was very smooth from the pre-travel communication to the actual weekend travel. Tongesai was very professional, and my tour followed the itinerary exactly, with no hiccups. The Hotel, Victoria Falls Safari Lodge, felt a little worn, but that completely faded away as I sat overlooking elephants, giraffes and impalas drinking from the watering hole facing the hotel. The highlight of my trip was reading on my balcony with a family of elephants eating the brush directly below! Additional highlights of the weekend were the helicopter ride of Victoria Falls and the private tour Tongesai provided of the falls themselves. I also enjoyed walking through town and heading to Botswana to see the Chobe National Park, home of an amazing number of elephants. Thank you Tongesai for making my short visit one I will remember!

IMG_5937.jpg
IMG_5689.jpg
IMG_5558.jpg
IMG_5811.jpg
IMG_4588.jpeg
IMG_4492.jpeg
IMG_5747.jpg
Mr Ole Moll
–
DK
Visited: January 2019
Reviewed: Jan 23, 2019
Email Mr Ole Moll | 65+ years of age | Experience level: first safari
Excellent service, meeting the needs of the customer
Tongasai from Cultural vibes Travel & tours did pick us up personally in Budlawayo and drove us to the Nwange Lodge for over night stay.After the game the next day , he did drive us to Vic falls. On the way we discussed potential events in Vic falls. Tonagesai did suggest a lot of good events and helped us book these events even though we did arrive late . He also picked us up at the lodge in Vic falls the next day and drove us to the vic falls and back. Very good service
Mr Charles Kinnaird
–
Visited: October 2018
Reviewed: Oct 31, 2018
Email Mr Charles Kinnaird | 65+ years of age | Experience level: over 5 safaris
Efficient, thoughtful, professional, excellent and helpful
Just home from a wonderful holiday at the Victoria Falls. Our holiday was arranged by Tongesai Mutematsaka of Cultural Vibes Travel and Tours based in Zimbabwe. The trip was superb. We stayed at Victoria Falls Safari Lodges and our last night at the Victoria Falls hotel. Our accommodation was very comfortable and overlooked a water hole frequented by bushbuck, impala, warthogs, monkeys and baboons. The cuisine was excellent and staff extremely helpful and friendly.
Our driver and guide John Matumbura (he runs The Cyclonic Tours) was knowledgeable, friendly, helpful and made our visit a delightful occasion. Tongesai himself ensured that everything ran smoothly. Every excursion, visit or activity was first rate. Any questions or worries that we had were immediately dealt with and resolved.
We would highly recommend Tongesai and his company Cultural Vibes Travel and Tours (www.cultural-vibes.com) to anyone wanting a perfect experience in the Victoria Falls area.

Joann Fuentes
–
CA
Visited: May 2018
Reviewed: Jun 24, 2018
Email Joann Fuentes | 35-50 years of age | Experience level: first safari
Our experience with Cultural Vibes Travel & Tours was exciting, amazing, delightful and memorable!
Booking the safari at Miombo Safari Camp with Cultural Vibes Travel & Tours was easy and they answer all our questions thoroughly and in a timely fashion. We communicated through email, payment was easy too through email. There was no availability for the Hwange safari camp on the dates we requested but Mr. Tongesai managed to find us another safari camp, Miombo, which was a delightful place whilst honoring the rates offered at their website. Mr. Tongesai made sure we were picked up and driven to the camp, accompanying us on the 2-hour trip and later receiving us back at our hotel. Miombo's accommodations, the tent, was like camping with glamour. It was spacious with 2 comfortable single beds and charming decoration. The ensuite bathroom felt like we were in the woods but protected and with the comforts of a good hotel. The hot water in the shower was not working but Mr. Bernard, Miombo's host, made sure it was fixed by the time we came back from the afternoon game drive. The tent was right in front of a water hole, which depending on the season, would have received the visit of elephants. We didn't see any animals there but one night a leopard came to our camp. Unfortunately, we didn't see it as we slept safely under the watch of night guards. They also made sure we were escorted back and forth during the night between our tent and the common area. Mr. Bernard served delicious meals in the beautiful open common area viewing the forest and sometimes with a visit of monkeys. The dessert was always delicious! At night we had a bonfire to huddle to, and one of the nights we were treated with local barbecue and a dance. Everything was a delight. The game drivers are also a delight with their stories, knowledge and funny jokes, Nigel and Mr. B are amazing hosts, making sure everyone is comfortable and going out there to find the great animals and birds for us. The game drives in Hwange were amazing! We saw elephants, giraffes, zebras, wildebeasts, buffalos, impalas, koudos, warthogs, crocodiles, hippos, amazing birds! We missed the lions and leopards by minutes but it was okay. Makes us want to come back again. The sunset drive was also a delight with Nigel, including a stop for a snack. Our driver back to the hotel was also a great delight with his incredible stories and knowledge. I learned so much about the animals in these 3 days. The tour has lived up to our expectations and more! Mr. Tongesai also took care of our requests for a Sunset Cruise and an Elephant Ride as soon as we reached the hotel. Less than half an hour, Mr. Tongesai arranged us to be picked up to go to a Sunset Cruise on the evening we arrived from the safari. The cruise was a delight, the sunset on the Zambezi river was amazing and the service on board was great, great food and beverages, Zambezi beer of course! The Elephant Ride arranged by Mr. Tongesai was also an amazing adventure I will never ever forget. Riding my elephant Detema with the driver Tunzi was amazing, against the sunrise backdrop, amazing colours in the sky. The lady that accompanied us taking pictures, she did such a great jobs, I love my pictures on the elephant! The feeding and petting the elephants after the ride was another amazing experience! These elephants are such a delight, sucking fiercely the food in our hands! I simply loved it! Then they served us a delicious breakfast while watching our beautiful pictures on the elephant. I learned so much about elephants with my driver. Everything in this place, this tour, the people and the animals, is amazing, unbelievable, unforgettable! I love Vic Falls, Hwange, Zimbabwe! I hope to come back and I will definitely tell all my friends that they have to have this experience in their bucket list. And it is easy, just reach out to Mr. Tongesai and Cultural Vibes, they will take great good care of you! You will love them! We thank Mr. Tongesai and everyone at Cultural Vibes, Miombo Safari Camp, Sunset Cruise, Elephant Ride, who made us have the time of our life!
Dimitrios Galanakis
–
LU
Visited: August 2023
Reviewed: Aug 26, 2023
Email Dimitrios Galanakis | 20-35 years of age | Experience level: first safari
An excellent tour operator with a very high level of professionalism and knowledge.
We opted for the offer of Cultural Vibes Travel & Tours for our safari thanks to, among other things, the very good reviews that we read online. And they were correct. Cultural Vibes, and especially Tongesai Mutematsaka, organised the tour perfectly.

Since the moment we made the booking, communication with them was easy and seamless, providing us with all the necessary information. During our tour, Tongesai was an excellent guide and a pleasant companion. He knew the areas very well, was well prepared and gave us useful instructions and information about the places, the people and the wildlife. The activities were exciting and the whole programme was well thought out. Accommodation was perfect and we were provided with all necessary amenities.

All in all, this tour allowed us to get the most out of the places we visited. A big thank you to Tongesai, and to Cultural Vibes, for this beautiful experience.
George
–
LU
Visited: August 2023
Reviewed: Aug 26, 2023
Email George | 50-65 years of age | Experience level: 2-5 safaris
Extremely professional, very organized with attention to detail and high quality of service provided
The experience with Tongesai from Cultural Vibes was excellent from the start. The information before the actual booking was provided quickly and in a very professional and illustrative fashion. Very detailed program was provided in advance, with plenty of pictures, so we knew exactly what we were going in for! On the day of our arrival we were met by Tongesai at the airport and transferred to our lodge. All of our lodges were of very high standard, just as they looked in the pictures. The food was excellent too. Also, and very importantly, Tongesai was a very pleasant and knowledgeable guide. He drove us everywhere in his van, which was very comfortable, clean and air-conditioned. He was also very flexible when we proposed slight changes to the plan, for example some later departures from the lodges in the morning or a drive to a nearby city on a free morning, which he took upon himself to organize and he accompanied us, for no extra cost. The game drives were excellent too, conducted by professionals who were organized and committed to delivering the best possible service. The tour was admittedly not cheap, but not more expensive than other analogous options available, and it was definitely great value for money. All in all, our experience with Cultural Vibes was excellent and I would warmly recommend them, and particularly Tongesai, for an amazing experience in Africa!
JDW
–
Visited: August 2023
Reviewed: Aug 21, 2023
Very efficient and good service
All arrangements for our stay in Zimbabwe were done vua email with Tongesai and it was lovely to actually meet him when we started our tour. We stayed in Pioneers Lodge which is a beautiful place designed lkke an kld style colonial home. Comfortable room with nice bathroom. Beautiful gardens, two pool areas and plenty seating in veranda and lounge. Only negative would be service is a bit erratic for a place if this standard and although food good was not piping hot. The tours were excellent and Garry, our main driver/guide was reliable, helpfuland very knowledgable. We went on helicopter ride over Victoria Falls and a guided walk by them - spectacular! We had an early morning drive in Zambezi National Park (it is VERY cold that early so even though we thought we had warm enough clothing on and they give you ponchos and hot water bottles it is still cold as vehicle has open side). We saw giraffes and a group of 5 lions just lazing in the early morning sun! Had a welcome stop for hot chocolate next to the river. We went on a sunset cruise on Zambezi river which was enjoyable and saw hippos. Also went to a cultural drumming show called BOMA which was OK with masses of food but wasn't very good quality. The highlight was a day trip to Chobe National Park in Botswana. We saw the largest groups of giraffes and elephants that we have seen on any safaris. Our guide Ledge had seen lion tracks and we drove to that area and were so lucky to see 2 lions sleeping undet bushes. The second one woke when we were there and put his head up and roated!! Amazing to be so close to these powerful beasts. We had a good buffet lunch and then went on a river cruise snd saw hippos, crocodiles and groips if elephants crossing the river. It was a wonderful day we will always remember. As well as seeing all of the animals it is a very scenic place. We would highly recommend Tongesai and his team at Cultural Vibes. We went on to stay in Zambia for a couple days and they arranged our transfers for this as well. We viewed the Falls from this side and although not as powerful, you get up closer to them. Would recommend asking for a trip that went to both sides (could do in a day).
Monika
–
DE
Visited: August 2023
Reviewed: Aug 18, 2023
Email Monika | 50-65 years of age | Experience level: over 5 safaris
Professional from start to finish
I had booked the flight over the Victoria Falls and had some questions in advance. All of them were answered qickly and reliably. I had to postpone my flight by a day at short notice and that wasn't a problem either. The flight itself was spectacular. Each passenger had a windowseat and a perfect view of the falls.
Many thanks to Cultural vibes travel and tour for this unique experience.
Disclaimer
All corporate and/or tour info is provided by Cultural Vibes Travel & Tours, not SafariBookings
The tours offered by Cultural Vibes Travel & Tours are subject to their terms & conditions