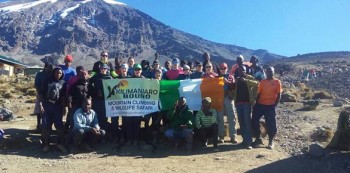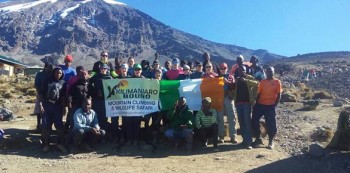 Kilimanjaro Cimbing Crew With Guests
Kilimanjaro Bound
5.0/5 – 10 Reviews
Located In:

Size:

5-10 employees (Founded in

2012

)

Member Of:

Kilimanjaro Association of Tour Operators

Tour Types:

Custom budget & mid-range tours that can start every day

Destinations:

Price Range:

$180 to $450

pp

per person

per day

(USD, excl. int'l flights)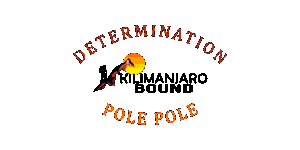 Rating Breakdown
5 star

10
4 star

0
3 star

0
2 star

0
1 star

0
Derek
–
NL
Visited: July 2018
Reviewed: Jul 22, 2018
Email Derek | 35-50 years of age | Experience level: first safari
Warm group of people and very knowledgable guides
Our Kili climb with Kilimanjaro bound exceeded our every expectation. We were prepared for a very tough trip with minimal comfort but we were in for a surprise. The service that the excellent porters and guides of Kilimanjaro Bound offered was great, with excellent cooking and personal service and we summitted successfully.
Aidan
–
IE
Visited: May 2018
Reviewed: May 26, 2018
Email Aidan | 20-35 years of age | Experience level: first safari
7 Day Rongai
Excellent trip - we successfully reached Uhuru peak at 6.45am on 11th May 2018. My guides name was Leonard, who was very knowledgeable and experienced, and gave me some really good advice with regard to acclimatisation etc. Health & safety was also a priority, with daily monitoring of my heart rate and the oxygen levels in my blood. The food was also excellent throughout, with a good variety and very big portions! Overall an excellent service, very happy to recommend.
Mr Ian
–
Visited: January 2023
Reviewed: Jan 23, 2023
Email Mr Ian | 65+ years of age | Experience level: 2-5 safaris
Kilmanaro Conquered - KilmanjaroBound Ltd - Effective and efficient - The Best
I cant thank KilimanjaroBound Ltd enough to be able to say I conquered both Mount Meru, January 5th, 2023 and Mount Kilimanjaro, January 15th, 2023 via The Lemosho 8 day route, with my best friend Dougal.
The "Dream Team" lead by Aggrey and Benson, both very experienced guides, with their support team, Chief Stomach enginneer, Edwardo, Kennedy, Marco, Samson, Arthur, Osca, Bruce, Reho, Eliapenda and Godispell. (12 in total for our private group of 2). All who are either related or friends of friends from the local village of Marangu work supebly as a united team. Much laughter and songsand smiles all the way, with so much knowledge of the fauna and animals....and of course the obilgatory tears when I reached the summit..Aggrey,s whispered "you,re doing good, your,re looking fine" and confidence I would make it will be remembered always.
Samson Lauwo, of Kilimanjarobound Ltd whose lineage goes back to the first ever summit, has a product /service that is effective and efficient. 5 Stars. we were spolit by being taken to their home village as well where the "Watford" links were sealed and the Dreamteam took on board as our climbing moto. You need look no further for a support organisation if you are to take on the challenge of Kibo.
Ian Dell..a young 67 year old Englishman, with a slightly younger Dougal, a young 66

Chloé
–
FR
Visited: October 2022
Reviewed: Nov 24, 2022
Email Chloé | 35-50 years of age | Experience level: 2-5 safaris
The Dream Team to hike Kilimanjaro (7 days Machame Route)
This was the 2nd high mountain hiking experience for my boyfriend and I but we would have never experienced a trek as long as this one. We chose the 7 days Machame Route following the advise of Samson (Kilimanjaro Bound manager) to maximize our chances to acclimatize well. The day we arrived at Mount Kilimanjaro airport, we met with one of our guide: Aggrey. He came with us to the hotel, gave us a quick briefing and checked at our equipment to make sure we were not missing anything. We started our trek on the 19th of October 2022 with nice weather. It was a long first day and we get to appreciate what would become our daily routine. We were surprised that 10 people were taking care of the 2 of us! We get the chance to meet the Dream Team: Aggrey and Leonard our knowledgeable, patient and careful guides, Eduardo the joyful cook also nicknamed "Stomach Engineer" and a team of 7 lovely persons without whom the logistic and the success of this trip would have not been possible, the porters and camp assistants: Honnest, God Bless, Eli, Bruce, Kelvin, Marco, William ! We would call them the Wondermen! The job they do is very tough as they carry up to 20kilos each, over long distances and difficult trails. Then they settle the camp. A big thank you to each of you!
The food was amazingly delicious and the chef adapted it so it would suit my vegan diet...the soups and the Tanzanian dumplings were to die for! We have never eaten that much and it certainly helped us reach the Roof of Africa!
The logistics was perfect, we were never missing anything: water to "wash wash" (thanks Honnest ;) ), fresh water to drink, plenty of ginger tea, snacks.
We got a comfortable tent with a table and chairs to have our meals away from the wind and sun. The inside of the tent had enough room to fit 2 mattresses and our duffle bags. We had trouble getting use to go to bed early and to bear the cold at night, but sometimes we survived!
About the sceneries and the hike experience...wow! This was amazing! Each day was different and the flora was soooo beautiful! I won't tell much as you have to discover it on your own!
The summit day was tough! The early departure (00:00am), the cold, the 7 hours of very steep ascent in the dark did not make it easy! We did not really suffer from altitude sickness as we followed the recommendations from our guides as to avoid the temptation to stop for too long as we were quite tired.
We reached the Stella Point and later, at about 7am we were having fun at Uhuru Peak with Aggrey and Leonard. Thanks for your support during this journey! Then, the 4 hours descent was long and the trail very dusty. We stopped for 2 hours at the base camp to have lunch and for some rest time. We still had a 4 hours hike to reach Mweka camp as Millenium camp ( closer from the base camp) was not recommended at that time as it has suffered a big fire that we saw from Baranco Camp on the 3rd day of our trek. This was a really long day of more than 15hours walking. We wish we could have split that day but this is how it is! The last day was much easier, reaching the cloud forest and finally exiting the park with our diploma in hands and mixed emotions of excitement and sadness because this experience was finished.
Thanks again Kilimanjaro Bound for making our dream come true! It worths every penny! Thanks Dream Team for sharing your good vibes, singing and dancing!

Arvid Alexander
–
HU
Visited: October 2020
Reviewed: Dec 20, 2020
Email Arvid Alexander | 20-35 years of age | Experience level: first safari
Great trip and excellent service
On my first trip to Africa I used Kilimanjaro Bound and the experience was more than I could have hoped for. My sister and I opted for a private, week-long, camping safari, which was very reasonably priced, especially considering we never had to pitch our own tent or prepare our own food.
We traveled with a guide and a cook, both of whom were so professional, yet very warm and easy to travel with. I'm sure all the guides are amazing, but I can't say enough Ray. Since my trip, friends have requested him upon booking and are all happy they did so! I swear he knows more about the wildlife than Google, and loves sharing that knowledge.
I'll never forget a moment of this trip. Especially the night the lions visited camp!
Sebastiaan
–
NL
Visited: July 2018
Reviewed: Jul 31, 2018
Email Sebastiaan | 20-35 years of age | Experience level: first safari
Very reliable and high level of customer service
The tour itself was very well arranged. The team of guides/porters is very experienced and carry a high level of customer service. (To be honest: This surprised me a lot!) The over-all communication was fast and questions where clearly answered. I would recommend Kilimanjaro Bound to people who prefer to deal with, and support, a local company with a team of mountain enthusiasts.

Kedar
–
US
Visited: June 2018
Reviewed: Jul 12, 2018
Email Kedar | 35-50 years of age | Experience level: first safari
Memorable 7 days Rongai route hike to Mt. Kilimanjaro
I went with this company because a friend and my brother both hiked the same route with them. Me and my family had a wonderful experience trying to summit Mt. Kilimanjaro. Everything was well-organized and worked on time. We had a person to receive us at the airport who took us to Impala hotel in Arusha. After our safari, we checked into Bristol Cottages in Moshi. Samson was waiting to brief us about the hike and do a bag-check. Even though we had reached the hotel late from safari, he waited patiently for us in the lobby for over an hour. He explained the hike in detail and the precautions to take to avoid AMS. Next morning we got picked up from the hotel and drove to Rongai gate. The drive was comfortable and we picked up bottled water for ourselves. We were joined by other members of the crew including our guides King Seleman and Williams. The 7-days hike went smoothly and we had enough food to eat and the tents were in reasonable shape. We were even able to adjust the schedule to get a day of rest at Mawenzi Tarn hut. Me and my family were in good health and had no issues with AMS when we started the summit ascent because of the slow and steady progress we had made during the previous days. We all reached down to Marangu gate safely without any health issues. A special shout out to the team of porters, cook, and guides who made this a memorable experience for us. On return, our hotel rooms were ready for a hot shower and night's rest. Our drive back from the hotel was uneventful and we had plenty of time to shop and eat lunch in Moshi before heading to the airport. I would recommend Samson and his company to anyone who is interested in doing this hike at a reasonable price.

Michael Scott
–
Visited: June 2018
Reviewed: Jun 25, 2018
Email Michael Scott | 20-35 years of age | Experience level: 2-5 safaris
6 day, Machame route.
This trip sure did exceed my expectations. Right from my arrival in Moshi prior to starting the trek, Samson - the coordinator was clear and precise in explaining the itinerary and what to expect. Our two main guides for the duration of the trek, William and King Seleman were brilliant. They have a wealth of knowledge about the mountain, its nature and wildlife. They were approachable and they sure did make the trek more comfortable through their guidance and 'pole, pole' technique. The cook and the team of porters were undoubtedly the unsung heroes during the whole trek. They worked so hard with setting up and packing away the campsites. If it weren't for the porters, the climb would be a lot harder. All in all, my experience on the mountain was incredible. The goal to begin with was to reach Uhuru Peak as a team and that's exactly what we done. Thank you to all the team at Absolute Africa for the incredible journey.

Ian Sterling
–
US
Visited: April 2010
Reviewed: Apr 9, 2018
Email Ian Sterling | 35-50 years of age | Experience level: first safari
Inspiring and epic journey with a motivational guide that will get you to the top.
Samson Lauwo is a remarkable guide that fulfilled my dream to summit Mount Kilimanjaro--Tanzania, Africa. His grandfather Yohani Kinyala Lauwo was one of the first to climb to the top of this majestic mountain.
Samson's Company information is Kilimanjaro Bound Ltd www.Kilimanjarobound.com.
When I reached Tanzania, Samson provided all the gears for the trek because he wanted to make sure I was safe and prepared. As well as, communicated effectively what I needed for this challenging but exciting opportunity. He listened to my concerns keenly, and responded in a way that kept me calm and encouraged. I realized in that moment that he was passionate about what he does, and he was also a skillful motivational speaker. After the talk he made me feels so inspired and ready for this spectacular journey. He asks me what route would I like to take and I mentioned," The Machame Route" also known as the scenic route and it should take 6 days.
During the trail up the lava tower I felt the effects of altitude sickness:
(1) Headache
(2) Nausea
(3) Dizziness
(4) lightheadedness
(5) Weakness
(6) fatigue
(7) Difficulty sleeping
(8) Loss of appetite
Samson kept saying just walk slowly and takes deep breaths and drink water. He reassured me that it was normal to experience altitude sickness, and explained his strategy in walking up; but coming down to the campsite to help me to acclimate to the altitude. Eventually, we arrived at Stella point (SP) 5,756 meters where we revitalized. Finally, Samson said are you ready, and it was almost sunrise. As we walked up we were met by sunrise and the views all around was spectacular. Samson took my camera and took amazing pictures of me to capture this moment. We were able to get a picture together next to the sign that says, "Congratulation you are now at Uhuru Peak Tanzania 5,895 meters; Africa highest point…World's highest free-standing mountain." Also, once we got to Kilimanjaro National Park office I received a certificate stating, "Ian Sterling has successfully climbed Mt. Kilimanjaro the Highest in Africa to Uhuru Peak 5,895 m." We reached the top at 6:20 am and it was clear with sunrise overlooking the clouds.
Samson Lauwo an excellent guide helped me to summit Mount Kilimanjaro. His grandfather Yohani Kinyala Lauwo was one of the first to summit Mount Kilimanjaro. Samson and his staff have helped many people to summit to the top of this great Volcano. He was recommended to me by two friends that he helped to summit to the top of Kilimanjaro. They spoke very highly of Samson and his staff. These two friends are well traveled and are very knowledgeable about the best guides in the business. I was convinced and book my hiking expedition with Samson. When I spoke to Samson, he made me feel very comfortable and I felt very confident that he would get me to the top. He booked my accommodation and made sure I had transportation. He made sure that I knew where to go and what restaurant was safe. He provided the gear for the tour and made sure that I had everything I need before the climb. He explains the precautions about the climb. On the first day, he mentioned the key to reach the top was to walk slowly because of altitude sickness. Samson was very patience and made sure he took pictures at the right spots and stop to show me the great views. Finally, we arrived at the top and it was a clear day and a beautiful morning. Samson again made sure he took many pictures has I was enjoying the beautiful vistas. He really made the journey amazing and I highly recommend Samson and his staff to anyone that wants to get to the top of Mount Kilimanjaro.

Laia
–
ES
Visited: January 2018
Reviewed: Mar 31, 2018
Email Laia | 20-35 years of age | Experience level: first safari
The experience was amazing and really friendly! The real experience with the locals is with them!
Climb the Kilimanjaro with this group of locals is a amazing experience, they are funny, friendly and they 'll help you in all that you need!
Best price, best people!! 100% sure

Average User Rating
Rating Breakdown
5 star

10
4 star

0
3 star

0
2 star

0
1 star

0
Write a Review
Disclaimer
All corporate and/or tour info is provided by Kilimanjaro Bound, not SafariBookings