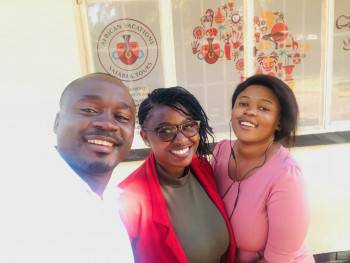 Rating Breakdown
Prudence
–
Visited: July 2019
Reviewed: Jul 24, 2019
Email Prudence | 20-35 years of age | Experience level: over 5 safaris
Fun.
The communication could improve, however this was all compensated by such a cheerful team they have. there is always room for improvement especially with camping tours, especially when going to areas with limited activities having a detailed plan shared, and sticking to it.
Apart from that the tour did live up to expectations

Mike
–
DE
Visited: April 2019
Reviewed: Jun 2, 2019
Email Mike | 50-65 years of age | Experience level: first safari
wonderful tour to the Falls and into the Natioanal Park, always friendly, competemet and flexible
The tour was planned quite well. As a result all our expectations has been kept. The communications between us was excellent, quick answers to our questions and flexible management of our changed activitties.
Last but not least we can stated that James is safe driver on Sambian's roads.


Matthew
–
Visited: November 2018
Reviewed: Dec 10, 2018
Email Matthew | 50-65 years of age | Experience level: over 5 safaris
Trip to Mbala, Zambia for Centenary Ceremony for the end of World War I in Africa
Our trip to Mbala was for five days with the principal event being the 25 November 2018 Ceremony marking the Centenary of the World War I surrender of German East African forces to British Forces which took place on 25 November 1918. We also visited other significant locations in Zambia's Northern Province.
Our tour guide and driver was James Tembo from African Vacations. We left Lusaka at 4:30 am to avoid the traffic and headed north, reaching Kasama that night. We visited the Lettow Vorbeck (the German Commander during the War) Memorial on the way.
Day two and we visited the Chishimba Falls which are amazing, then headed north to Mpulungu on Lake Tanganyika where we visited the port (hum ho) then the old stone church (very interesting). Unfortunately, the accommodation in Mbala that night was not satisfactory, however we endured it with some sympathy for James who had been badly let down by the Lodge owner.
Day three was the Centenary Ceremony which was fascinating. All appeared to be chaos shortly before the Ceremony, but somehow they managed to pull together an impressive event with the Zambian President, Ambassadors, Generals and von Lettow-Vorbeck's grandson all laying wreaths at the Mbala memorial. In the afternoon we visited the old jail (which needs work), the pioneer cemetery (interesting), and Mbala's Museum (very impressive). There is a surprising amount to see in Mbala, but you need to know where to look.
Day four and we headed north to Kalambo Falls where a torrent of water falls 235 metres into the gorge below. An absolute must if you are in the area. We then headed south to Kapisha Hot Springs Lodge where we camped the night in the tents James had brought with him. Kapisha is definitely the place to stay in this area. We woke early for a swim in the hot spring then headed off to Shiwa House which is a grand English style country house and estate. Also a must see. James then drove us to home in Lusaka.
It was a great trip. We had no preconceived expectations, and the disappointing aspects of the trip were outweighed by the hidden gems we found. James did a good job organising then running the trip, and we're sure he is now wiser for the experience.
Malindi Msoni
–
Visited: November 2018
Reviewed: Dec 6, 2018
Very professional, responsive and have tour options to suit different needs!
My recent experience with African Vacations was flawless. There is no silly question, James answered all my questions. Everything was worked out to the last detail. I would highly recommend African vacations for anyone looking for a truly Zambian experience!
Miller Chibomba
–
Visited: October 2018
Reviewed: Nov 2, 2018
Email Miller Chibomba | 20-35 years of age | Experience level: over 5 safaris
The created our dream vacation, by far exceeded even our wildest dreams. Great team, will be back
The level of experience and knowledge that this team has been second to none. We have nothing but praises for them.. Prompt response, nicely tailored tour that was beyond our expectations. It was almost as if the tour was custom made for each member of the family
Alice
–
Visited: September 2018
Reviewed: Oct 10, 2018
Email Alice | 20-35 years of age | Experience level: 2-5 safaris
Very informative and invested in the clients needs and allows the experience to be memorable and fun
It was great and it exceeded my expectations overall. I enjoyed everything and in the end it was worth it. I would definitely book with the same tour operator. The service was well crafted and quite pleasing. All in all, my trip was enjoyed.

Tafadzwa Badza
–
Visited: July 2018
Reviewed: Sep 18, 2018
Email Tafadzwa Badza | 20-35 years of age | Experience level: first safari
Excellent itinerary, very good communication and comfortable lodgings through out the trip
I participated in the Zambian Northern Falls Circuit tour organised by African Vacations and it was an excellent trip. The tour was an eye opener to all the hidden gems in Zambia, specifically Chishimba falls and Mumbuluma falls. Sitting in the rapids of the Chishimba falls ,walking in the Luapula river, taking a dip in the sleeping pools of Ntumbachushi and relaxing by the beach at Samfya were my highlight of the tour. African Vacations surely surpassed expectations and lived up to their pay off line; Dream, Explore, Discover. African Vacations is officially my vacation planner. Keep up the excellent work!!!!
Disclaimer
All corporate and/or tour info is provided by African Vacations, not SafariBookings
The tours offered by African Vacations are subject to their terms & conditions