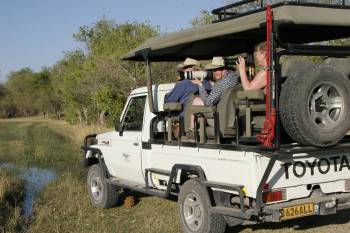 Early Kingfisher Safari
5.0/5 – 21 Reviews
Office In:

Size:

1-5 employees (Founded in

2017

)

Member Of:

BOGA

& Botswana Tourism

Tour Types:

Custom budget tours that can start every day

Destinations:

Price Range:

$50 to $400

pp

per person

per day

(USD, excl. int'l flights)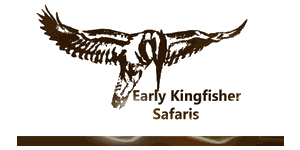 Request a Quote


for a custom tour
Your request will be sent directly to the operator
If preferred, you can contact the operator directly
Rating Breakdown
Luke
–
Visited: May 2023
Reviewed: Jun 25, 2023
Email Luke | 20-35 years of age | Experience level: first safari
The trip of a lifetime, all thanks to Early Kingfisher
Where to start...I had never gone on safari before, and felt quite overwhelmed with the choice on offer from different companies. Early Kingfisher stood out to me because the tour sizes were small, the costs were competitive, it was run by local people, and the reviews raved about Sam's passion for animals. Having completed a tour with them I can say confidently: if you book with them, you won't regret it.

The week was unforgettable, in large part to Sam & his staff. The animal spotting, knowledge I gained from Sam, the quality of the food we ate (3 course dinners every night), camping setup (practically luxurious), and travel arrangements (not a moment of stress during the course of the week). I am so, so glad that I overlooked more established companies in favour of Early Kingfisher, and I cannot recommend this company highly enough for what to me felt like a true safari experience. Some personal highlights are below...

Camping: the camping setup was perfect; spacious tents with a REAL BED, as close to a real (hot) shower/toilet as you'll find in the middle of nowhere, and even a turn down service twice a day (because why not). I haven't stayed in a lodge for a safari, but hearing deafining thunder, lions roaring and hyenas laughing during the night is simply unforgettable. And whilst most people might think camping and safari doesn't mix, I honestly felt no fear the entire week in the camp.

Staff: the staff on our tour were simply wonderful. I felt like I got to witness a group of friends cheerfully go about their jobs every day, and to such a high standard. Joan was our chef, who worked actual magic by preparing every single meal, including our 3 course dinners, each day, with only an open fire to work with. And it truly was delicious food. As I was on a week long tour, there were lots of pack downs to move location, all catered for by the staff, but the process ran like clockwork. And lastly, returning after an evening game drive to a song from the staff, was fantastic.

Game drives: I loved the twice-daily game drives, not just because I saw an abundance of animals, but because we had an awesome, passionate guide in Sam. His knowledge was second-to-none, always ready to answer our questions, but his ability to track animals was so impressive. As another reviewer has noted, many other guides came on the radio regularly to get his opinion, and we regularly found animals that no one else had, enjoying them in peace & quiet until other trucks invariably saw us and rolled in. Every detail was considered, from rugs in the morning when it was seriously cold, to 'Sam's Cafe' opening for business mid morning for a coffee break.

Photography: I went on safari for the photography, and Sam's understanding of light showed his experience not just of animal spotting, but how best to view them. He helped me get photos that I am extremely happy with by perfecting the angle. Our first night saw us spot a male lion with the setting sun right behind him, as just one example.

Learning: honestly, I learned so much from Sam during the week. For one example: over dinner one evening I asked if termites created their mounds from the earth as they dug down. In response we got a 15 minute reply detailing exactly how they function, and how they contributed to the formation of the Okavango delta. I don't think there was one animal or bird the entire week he couldn't identify.

Communication: before the tour, I found Sam to be very communicative over email in the run up to the trip, answering all my questions, and ensuring I had no concerns.

Recommendation: go for at least a week, if not longer, to ensure you're not spending full days travelling between locations. There were long journeys, but even on these, we were treated to seriously good food & animal sightings.
Adam
–
US
Visited: May 2023
Reviewed: Jun 11, 2023
Email Adam | under20 years of age | Experience level: first safari
Exceptional Experience from an Exceptional Company
Just completed an amazing 7 day safari with Early Kingfisher, led by owner Sam. Every aspect of this camping expedition was exceptional and left breathtaking memories of the beautiful animal kingdom. I learned so much about the animals that roam Bush. I give 5 stars to animal spotting, knowledge of animal behavior, accommodations, and food service. Thank you for such a spectacular safari, it far exceeded my expectations.

Noura
–
Visited: May 2023
Reviewed: Jun 6, 2023
Email Noura | under20 years of age | Experience level: first safari
If you have found Early Kingfisher, you have found the best safari to book with
I had no idea what to expect when going into my family's safari with Sam. But by the end of our trip, I knew that we could not have had any better experience with any other company.
The level of expertise, dedication, and passion is what makes Early Kingfisher so uniquely fit to provide the most enjoyable and memorable experience.

Over the course of our trip we found ourselves repeatedly grateful for having Sam as our guide. Having someone so knowledgeable about the bush, animal behavior, and everything in between made each moment particularly special. The Early Kingfisher name rings true, but for good reason. Though we were awoken before sunrise (to a good breakfast might I add), it meant that we not only had the opportunity to witness some truly spectacular morning skies, but it also allowed Sam to utilize his skills in tracking. We had the chance to witness a pride of lions relaxing after a meal and wild dogs searching for packmates, before any of the other safari cars made it to the spot and crowded around. If anything was an indication of Sam's skills and keen eye to find animals and understand their movements, it was the constant call of "Sam Sam" over the radio by OTHER guides looking for his expertise and finds. The moments we experienced in the bush were also so dependent on the level of understanding Sam had. We had the incredible chance to see multiple 'ceremonies' of meeting and hunting as Sam knew when to hold out beyond snapping a few photos.

I cannot overemphasize Sam's knowledge. Every question I asked about the animals behavior, evolution, and more—often times unsure there would be an answer—would be answered expertly in turn. And if you are an ornithologist, Sam has got you covered with his specialty in bird identification (even those not particularly keen on bird watching will find themselves interested I guarantee!).

This utter commitment to craft extends to everyone in the Early Kingfisher team. I truly do not think I have had better food (seriously delicious), more comfortable sleeping arrangements while camping, and service than what Sam's staff provided. Honestly, it is something you just need to experience firsthand. You will never for a moment worry about being hungry or tired, with hearty meals and tea-times well-timed.

Our safari lasted seven days, and I believe that is the bare minimum that you should go for. I cannot more highly recommend Early Kingfisher, in all aspects imaginable. The opportunity to encounter Botswana's beauty in such a powerful, well-attended way should not be passed up.
I would love to give a massive thank you to Sam and his team for giving me and my family an experience that will not fade from our memories!
Grace
–
US
Visited: May 2023
Reviewed: May 29, 2023
Email Grace | 50-65 years of age | Experience level: 2-5 safaris
EXTRAORDNARY EXPERIENCE IN ALL ASPECTS OF THE SAFARI
I set out to go on a budget safari with my family to explore the beauty of Botswana's wildlife. What was advertised as budget camping turned out to be 5 star glamping with the most knowledgeable guide/tracker with expertise in animal behavior. Early Kingfisher Safari in Botswana provided a very personalized, once-in-a-lifetime 7-day adventure that surpassed all our expectations. Led by the exceptional owner/guide Sam and his team of dedicated passionate professionals, this safari was an experience that will forever hold a special place in our hearts.

Of the MANY standout aspects of this safari, the unparalleled knowledge and expertise of Sam was in a league of its own. His passion for the animals and their behaviors was infectious, and his ability to answer every question in-depth and with enthusiasm was remarkable. With Sam by our side, we were able to witness incredible wildlife encounters and gain a deeper understanding of the captivating animals that call this region home.
From the majestic elephants, the elusive big cats, to the endangered wild dogs, each sighting left us in awe. Sam's wealth of knowledge allowed us to appreciate the intricate dynamics of the animal kingdom, creating a profound connection with the wildlife around us. It was truly a privilege to witness these extraordinary creatures in their natural habitat while learning their unique behaviors.

Sam and his team truly set the bar high for exceptional service and hospitality. From the moment we arrived, their warm and welcoming demeanor made us feel like family. Their dedication and passion to ensuring our comfort and satisfaction was evident throughout the safari. An unexpected highlight of this budget safari was the multi-course meals we were served. Despite being in the heart of the wilderness, the expertise displayed by the camp's kitchen staff was astounding. Each day brought a new culinary delight, expertly prepared and beautifully presented. As I would mention to the small group at every meal, "I do not get food or service as good as this at home".

While the focus of our trip was the wildlife, Sam and his staff also excelled in what is advertised as "budget camping". I expected tents with sleeping bags. No sleeping bags, but a luxurious tent complete with carpeting and comfortable beds with daily service ensuring a restful night's sleep in the wilderness. The individual pop-up bathroom and shower area connected to each tent allowed for a comfortable private environment.

I cannot imagine a better safari experience even in a posh resort. This was truly a luxurious glamping experience provided at a budget rate. Every moment was filled with awe, wonder, and discovery. The opportunity to witness the incredible wildlife of Botswana in such an intimate and immersive manner was truly unforgettable. My family and I wholeheartedly recommend Early Kingfisher Safari to anyone seeking an exceptional safari experience that combines expert guidance, breathtaking wildlife encounters, and luxurious camping accommodations. This adventure has left us with new friends and spectacular memories to cherish for a lifetime!!!!

James Williams
–
US
Visited: April 2023
Reviewed: May 21, 2023
Email James Williams | 50-65 years of age | Experience level: first safari
Trip of a Lifetime!
Other reviewers have already said it, but here it is in a nutshell. Everything about this trip was amazing! Sam and the crew provide a first-class experience in the wild. This photo safari far exceeded my expectations! I highly recommend EKS!!!
Andy Brown
–
US
Visited: May 2023
Reviewed: May 15, 2023
Email Andy Brown | 50-65 years of age | Experience level: first safari
Amazing guides, amazing service, amazing comfort, amazing food!
Do you want a top-notch safari with experienced, respected guides who love animals as much as you do? Do you want to be close to the environment? So you want service every day that feels like lodges with the mobility and flexibility of a tented safari? Look no further. Early Kingfisher Safaris is everything you're looking for and more!

I traveled on a 12-day tour spanning Chobe National Park and surrounding local game reserves, including the Chobe River, Savuti, the Moremi, and the Mbabe Depression with 8 total strangers and had an amazing safari experience. Owner, founder, and lead guide Sam has deep, passionate knowledge about the area and is highly respected by other guides (stopping along the way, Sam would share their information with other groups freely and happily). Co-guiding this trip was Paul, Sam's brother-in-law, who is an incredibly guide in his own right. The combination of their knowledge, experience, and instinct led us to be spoiled by experiences observing animals up close, but in a way that we simply became part of the environment. The two of them clearly love guiding and introducing us to the animals they've come to know so well.

Campside, tents are large and well-appointed. Real beds with firm, comfortable mattresses were dressed each days with fresh linen, made up after we left on the morning game drive and turned down before we returned from the afternoon. Rugs in the front half of each tent for your comfort, but not in the back half - that's where the entrance to your bathroom is, so it makes sense if you're drying off on that side. Each tent has its own, private outdoor bathroom and shower, and a sheltered veranda for afternoon relaxation. Hot water was there when we woke up for a quick wash and again at lunch, and then hot showers were ready at night (and while I didn't take advantage of it, I heard from other guests that hot water was made available at other times when they asked). Members of the EKS team were friendly and made you feel at home - but also faded into the background while they did what needed to be done. You just didn't notice all of the little things that go into what made the experience so enjoyable.

Food? Second-to-none, and made all the more impressive by being cooked over open flame. PK, EKS's new chef is amazing. Soups, breads, meat dishes, vegetables, desserts - all made with our needs and tastes in mind, but also local flavor, styles, and dishes traditionally made (this was reserved for the last night in our case). The dinner announcement was something we all looked forward to every night. Breakfast and lunch and tea time were equally delicious.

Game drives started early - that's when the animals start being active, so it makes sense to go out with them. Mid-morning tea was a highlight at "Sam's Cafe" (if you know, you know). And then back to camp for lunch and siesta. Around 4pm, just after afternoon tea, we would head out for an afternoon/evening game drive and also to get great views of the sunset. For animal lovers, this means the best opportunities to see animals active. For photographers, these times ensured the best light.

Vehicles were comfortable and spacious, and you could talk to Sam and Paul throughout each game drive. We had near 360-degree views wherever we went. As for what we encountered, we saw four of the Big 5 (sadly, no wild rhinos in the area), cheetah, serval cats, antelope of all shapes and sizes (including elusive reedbucks and steenboks), hyenas, wildebeest, zebras, giraffes, three species of mongoose, and elephants by the score. This doesn't even touch on birds.

I couldn't have asked for a better first safari experience and cannot wait to go back! Early Kingfisher Safaris is who I will travel with again when I go back to Botswana!

Joan
–
Visited: May 2023
Reviewed: May 14, 2023
Email Joan | 35-50 years of age | Experience level: over 5 safaris
Beautiful Botswana, Beautiful Camp, Beautiful Crew
This was my third safari with Sam. Each time has been a blessing and a phenomenal experience. Sam and his crew are incredibly talented, kind and professional.
Sam's knowledge of the bush, animals, plants and birds is second to none. Sam has an intuition that gets his guests into the most amazing spots. Whether your passion is photography or being in the bush, Sam will share amazing sights and opportunities.

The camp is comfortable and well catered. PK creates masterpieces in that bush oven! I couldn't recommend Early Kingfisher more.
Desray
–
US
Visited: May 2023
Reviewed: May 13, 2023
Email Desray | 50-65 years of age | Experience level: over 5 safaris
Magical, Authentic and Exhilarating African experience
This safari was the best safari experience of my life. Growing up in South Africa I've been fortunate to experience a wide range of safaris from luxury lodges to self drive to walking safaris. The safari with Sam and his team tops my list of a relaxing retreat whilst been immersed in the beautiful African bush. Sam has an uncanny sense of where to park at a sighting so that his guests get the best views and photo opportunities. All qualified guides need to know the facts of the animals, birds and trees in their area - what sets Sam apart is his knowledge of their behavior and his delightful sense of humor. The team at the camp treated us like royalty and we were spoilt at every opportunity. It is unbelievable the quality of food that can be made on a camp fire. The tents are beautifully clean and the outdoor shower is the cherry on the top of every safari experience. We have booked our next adventure with Sam and the team. Ideal for a friend's or family getaway. Thank you Sam and team for an experience that nurtured my soul and one that was very difficult to leave.
Andrew P.
–
US
Visited: May 2023
Reviewed: May 8, 2023
Email Andrew P. | 35-50 years of age | Experience level: first safari
Fantastic in all regards!
Myself and 8 other people went on a 12 day tour throughout the park, and everything could not have gone better. EVERYTHING was FANTASTIC! WOW!!!!
We were camping along the way and staying in the same camp about 2-3 days each on average, for a total of 12 days. EKS handled all aspects of the trip: transportation/guiding, meals, lodging (tent), and everything else that might be smaller. We had Sam and Paul as guides and took 2 trucks. The transportation/guiding was amazing - you could tell that Sam was the longtime guide that all the other guides (in other outfitters) constantly talked to and asked for advice. Paul provided a perfect partner guide as their personalities worked great together and complemented each other well. Each day was great and long enough to see animals, without getting overwhelmed or leaving miles on the table. Food was traditional "western" food with a carb (rice/potato), meat (chicken/beef/etc), salad, bread, soup, dessert. PLENTY of food. And wine/beer/mixed drinks. Everything was served to you and it was a full 5 star experience in all regards. Lodging was also better than most people have at home with fresh sheets each day, large tents, bathrooms/shower in each tent, and all the small amenities you would wish for - a cold towel to wipe your face after each drive, a cool wet towel on the outside toilet so the seat is not too hot, etc. They thought of it all. I would certainly do it all again and not change anything - the experience was perfect in all regards. HIGHLY RECOMMENDED!
Laura
–
US
Visited: November 2021
Reviewed: Dec 21, 2021
Email Laura | 35-50 years of age | Experience level: first safari
Unforgettable!
Absolute trip of a lifetime! We traveled to Botswana in November 2021 for a 10-day safari through Chobe National Park, Savuti, and the Okavango Delta. Sam and his fellow guide Paul were absolute encyclopedias of knowledge of the area, the animals, and the birds. They were so patient with all of our questions, and they worked so hard to ensure that we saw lots of animals and beautiful sights. Our tents were immaculately cleaned every day, and the beds were so comfortable. Sam's staff took incredible care of us, catering to our every wish. The food was absolutely delicious; we were amazed at what Chef could create over a campfire. He even made us a chocolate cake one day! I'm so glad that we didn't stay in a lodge. We were truly immersed in the environment, at one with the birds and animals. Every night the stars would fill the sky, and the animal sounds were the music to which we fell asleep. I had no concerns of covid because all of Sam's staff is vaccinated, and everyone in Botswana and South Africa wears masks. Sam also planned the trip so that we could get our travel-required covid tests for our return flights home. You cannot go wrong booking your trip with Early Kingfisher Safaris.
Disclaimer
All corporate and/or tour info is provided by Early Kingfisher Safari, not SafariBookings
The tours offered by Early Kingfisher Safari are subject to their terms & conditions