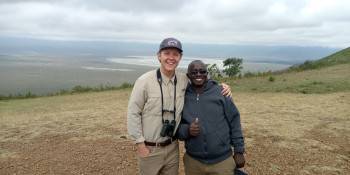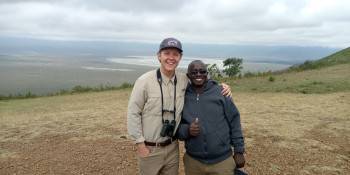 Earthlife Expeditions
5.0/5 – 97 Reviews
Located In:

Size:

10-20 employees (Founded in

2011

)

Member Of:

AMREF

, TTGA & TLTO

Tour Types:

Custom mid-range & luxury tours that can start every day

Destinations:

Price Range:

$175 to $650

pp

per person

per day

(USD, excl. int'l flights)

Rating Breakdown
5 star

94
4 star

3
3 star

0
2 star

0
1 star

0
Stefanie & Manuel
–
DE
Visited: January 2017
Reviewed: Jan 23, 2017
Email Stefanie & Manuel | 20-35 years of age | Experience level: 2-5 safaris
A once-in-a-lifetime adventure
Firstly in a nutshell:
We have been to safaris in several African countries before, thus our expectations were pretty high. Earthlife expeditions and especially our guide really managed to exceed our expectations by far. A real outstanding once-in-a-lifetime adventure which we will never forget.

Now in detail:
We spent 15 days in Tanzania in January 2017. We found Earthlife expeditions on a website for safari providers and decided to ask for an individual offer for our safari from Earthlife expeditions. The owner, Deo, immediately replied and sent us a taylor-made offer with great value for money.

Our guide and a lady picked us up at the airport and from the first minute we felt very welcome and comfortable. On our way to our first lodge we got some general instructions, hints and even learned a few words in Swahili. This was extremely helpful and opened a lot of doors for our journey.

Our safari included Lake Manyara, Greater Serengeti, Nduto, Ngorogoro and Lake Eyasi and we finished our trip with some relaxing days in Zanzibar. A great selection recommended by Deo. We had a lot of adventure, experienced breathtaking wildlife, met and interacted with local people, had unforgettable nights in tents in the Greater Serengeti and Nduto. We stayed in tented camps and lodges and all accommodation was great. All this was really fantastic, but what really made this experience outstanding was our guide Gilbert. This guy is just fantastic, really well experienced with a great eager to find animals and a passion for his home country. Very soon we became much more than clients, we really became friends and this made the trip so special.

After our safari we flew to Zanzibar which was also organised by Earthlife. We expected a nice hotel at a nice beach but also here our expectations had been exceeded. Our hotel "Next paradise" was really worth its name, it was an amazing hotel at a great beach. Much, much more than anything we could have expected for the total price we paid.

Initially, we had a problem in transferring the money from Germany to Tanzania before we travelled to Tanzania, so we were a little nervous about this. However, Deo helped us to solve this problem and everything turned out very well.

For a better impression, please find some photos attached. Thank you Gilbert, Deo and the team, for this memorable tour:-)

Manuel & Stefanie
Jason Maynard
–
US
Visited: June 2017
Reviewed: Jun 24, 2017
Email Jason Maynard | 35-50 years of age | Experience level: first safari
O U T S T A N D I N G! In Every single aspect, Earthlife Expeditions overdelivered!
So after extensive research (and I mean extensive ... I hate spreadsheets, but I created one to compare tour operators and their offerings), I selected Earthlife Expeditions. It was the single best decision I've made in quite a long time. Deo Japhet is the owner and the main point of contact while discussing your safari needs. We were looking for a family (two parents, two kids) safari on the northern circuit. Deo was patient, helpful with suggestions, and open to more dialogue. Unlike some other tour operators I contacted via email, I never felt any pressure to sign a contract or make a deposit. And even after I had booked, I was allowed to add on other activities (a coffee plantation tour), which he deftly scheduled in a suitable timeframe.

During the safari, our driver-guide Paul help to exceed all our very high expectations on safari. He was super friendly, answered tons of questions (both on animals and just about life in Tanzania), has that uncanny ability to spot animals.

The safari started in Arusha, after Paul picked us up at JRO. We left the next day for Tarangire National Park. In consultation with Deo, we selected Tarangire over Lake Manyara, and are so happy with the decision. Tarangire was a wonderful start. Don't skip out on it. We stayed at Tarangire Simba Lodge, which Deo selected and was wonderful. This felt like a luxury safari without the luxury price tag.

The next day, we did a cultural tour in Mto Wa Mbu village, hike to Enduro waterfall and explored the elephant caves, and visited a coffee plantation. All arranged by Earthlife, with expert local guides for each. Paul was waiting for us at the end and we headed to Ngorongoro.

The crater was incredible. Paul was expert at plotting out our day. We stalked lions as they stalked buffalo. He spotted a bat-eared fox first thing the morning, which are tough to spot. We forded a rocky stream in our Land Cruiser easily. And speaking of the Land Cruiser, this vehicle has it all. First, Deo promised plenty of water, soft drinks, candy and snacks in the vehicle to be sure the kids were always fueled up. Paul didn't disappoint on that front. The icebox in the back was always accommodating. And ginger snaps, butter cookies or cashews would appear on the shelf in front of us. The four seats were spacious, with lots of storage (a shelf ran across the front with walls ... very handy), and each seat had at least one outlet with international prong access, no adapter needed. Two large beanbags were under the seats for your camera. Don't waste space or weight packing one. And some tour operators promised 1L of bottle water per person per day. Earthlife has no limits, which is good when you do long game drives under the Tanzanian sun. Stay hydrated!

Paul knew that in June, the main road between Ngorongoro and Serengeti would be under construction, causing some slowdowns and even more bumps than usual. With our permission, we went off the road (allowed in the Ngorongoro Conservation Area, not in the crater or SNP) and found amazing sights we would've missed otherwise.

In Serengeti National Park, we stayed at Kubu Kubu Tented Camp in the Seronera area. Again, Deo hit it out fo the park. Paul had not yet visited this camp as it was relatively new, and even he was impressed. Staff, food, views, cabins ... all excellent. Without Deo, we'd have missed out on it.

We relied on Paul to plan out our time in the Serengeti (three full days). He was masterful at it, with one day going into the Western Corridor for the migration, another searching (and finding!) one of only three packs of African Painted Dogs (aka, African Wild Dogs) relocated from the south of the country. Even other driver-guides were incredulous of our find, pestering me to confirm what Paul had told them.

Deo had booked our tickets out of Seronera to Zanzibar and Paul delivered us and handled all the logistics at the airport. It was a sad time since not only was our safari ending, we had to say goodbye to Paul, who had become a great friend.

Bonus Plug for Earthlife Expeditions: We had booked our international plane tickets into JRO and out of Dar es Salaam, going to Zanzibar after the safari. Deo graciously booked our plane tickets from ZNZ to DAR. However, after we got to Zanzibar, reasons cropped up that caused us to want to be in Dar for a night before our international flights. We contacted Deo on a Saturday afternoon, asking a HUGE favor: could he rebook our tickets for a day earlier? Not only that, he had already given us gratis two free aiport transfers, so could we get picked up a day early, also? He called the airline (Coastal Aviation, recommended) and got the manager he knew at home. He secured a promise to get us rebooked in the morning and told us to be ready for the pick up. He said to expect an email by 9:30 am with the new tickets. Well, Africa Time is a serious condition and I wasn't sure if we'd have the tickets then. Call me a Doubting Thomas: the email arrived at 8:48 am.

This was supposed to be an item I had always dreamed of doing (African Safari!) and then I could check it off and move on to other things. It went sooo well and simply was far better than anything I had imagined, that we will return to Tanzania. We will book with Earthlife and we will ask for Paul to guide us again.

If you have been searching for a Tanzanian tour operator, stop now and contact Earthlife Expeditions. You. Will. Not. Be. Disappointed.
Shannon
–
Visited: January 2015
Reviewed: Feb 4, 2016
Email Shannon | 20-35 years of age | Experience level: first safari
Amazing!
Finished a 24 day tour/safari with earth life expeditions about two weeks ago. Deo was amazing from the start when we were first looking into everything. He tailor made an itinerary for us and included everything we wanted to an exceptional level. All the accomodation we stayed in was so luxurious we couldnt believe it. We had five days in Zanzibar and then the rest in mainland Tanzania, including the Serengeti, the ngorogoro crater and Ndutu national park. All of these locations were amazing and Aggrey our guide was so in tune with the surroundings and could easily spot animals far away that we had no idea were there. He is a credit to the earth life expeditions team. A small but trustworthy and quality company to book through!
Yoram Shpirer
–
IL
Visited: February 2013
Reviewed: Apr 21, 2014
Email Yoram Shpirer | 50-65 years of age | Experience level: over 5 safaris
Excellent service, personal attention, flexibility, and knowledge in leading a photo safari.
I am a nature photographer and experienced traveler from Israel. I visited Tanzania with my wife in February 2013 and used Earthlife Expeditions to organize the entire trip. They were recommended to me by a friend of mine. They did a great job,that our experience was beyond our expectations. As an experienced traveler, I found their services outstanding and very unique and we saw lots of wildlife including some killings
Norman Ross
–
Visited: August 2017
Reviewed: Sep 4, 2017
Perfect in All aspects
Recently returned from a sensational safari in the serengeti and crater area, from the start the the information and professional approach from Earthlife expeditions was second to none, my contact Caudence was fantastic,as I had previously been on a safari ,we worked through my itinerary to fill in the areas I had not been before and also the animals that I had not seen before,combined with the guide Jeffery I can only speak highly of my wonderful experience that Earthlife arranged , from the communication to the accommodation to the vehicle and to my guide Jeff thank you very much I will have lasting memories of a sensationally arranged Safari For all who read this I thoroughly recommend this company and would be happy to answer any questions you may have Thanks again earthlife
Leonardo
–
BR
Visited: July 2017
Reviewed: Aug 7, 2017
Great company, unforgettable experience!
My friend and I did a 3-day Safari with Earthlife Expeditions and it couldn't be better! Me and my friend had a very close schedule and have only begun talking to them 3 weeks before the Safari.

They were not only very efficient on arranging everything but also extremely kind from emailing with Caudence and telephoning them to the day we actually met. I believe the best thing about Earthlife Expeditions is that it is a small company (though one of the 10 best in Tanzania) but surprisingly organized and able to do personalized schedules.

Regarding the Safari itself, we went from Kilimanjaro International Airport to a hotel in Arusha (where they happily took us to buy a few supplies and change money) and then to our stops: Lake Manyara, Ngorongoro Crater and Tarangire National Park. Most of hotels were of high standard and we had great meals (the only problem was that sometimes the shower wasn't warm).

Our Tour Guide was Charles, who has 35 years of experience and a pair of Eagle Eyes. What was best about Charles was that he would go slower than other cars when he thought that might be animals around, but when he heard of lions or other more less common animals, he would just rush through the savannah to get us there (and he did quite a few times).

Regarding prices: it is not the cheapest nor the most expensive company out there: we paid 1200 dollars for 4 nights, all meals, transportation and Safari. Drinks at the hotel are not included and there is a lot of tipping (5 dollars per day per person to each hotel; 15-30 dollars per day per person to the Safari Guide, we gave 60 euros for both of us).

You have to keep in mind that it might not always be comfortable and you might be unlucky some days and do get to see all you want (we were extremely lucky: lions, cheetahs and a caracal). It was a great experience, and A good fraction of it was because of Earthlife Expeditions!
David and Celia
–
Visited: December 2016
Reviewed: Jan 17, 2017
Email David and Celia | 50-65 years of age | Experience level: first safari
Amazing experience and very helpful and friendly
We just got back from a 3 week trip to Tanzania. We were two weeks on safari and one week in Zanzibar. The organisation before we arrived in Tanzania was incredible. Deo completely understood my illness and was able to arrange all the accomodation and travel for the 4 of us as a family. The itinerary was interesting with the most luxurious unique accomodation and totally different from other safari companies. Deo even tolerated our changes and helped us find alternative activities when we needed it. Deo arranged for us to have a terrific guide and driver, Aggrey, who made the experience all the more wonderful. Thank you to Deo and Aggrey and the rest of the support staff for a memorable experience and for tolerating our changes and helping us when we had problems. Nothing was too much trouble and Deo even managed to find us an amazing place in Zanzibar on New years Eve when the hotel that was booked closed down suddenly. Earthlife provides a terrific service with great communication and local knowledge.
Kim
–
US
Visited: August 2016
Reviewed: Jan 9, 2017
Email Kim | 20-35 years of age | Experience level: first safari
EarthLife made our safari my favourite part of our honeymoon!
My wife and I finished off our 2 month around-the-world honeymoon with a safari through EarthLife Expeditions, towards the end of the dry season last August for 8 nights.
Spoiler alert – our safari with EarthLife was my favourite part of the honeymoon too and was genuinely sad to leave!

We went through Tarangire, Lake Manyara, Serengeti, Serengeti Mara & Ngorongoro Crater.

From the beginning I thought Deo's explanation and route planning was the best out of the half dozen operators that I contact, he countered my own ideas with great explanations and reasoning whereas other operators were just happy to agree with my suggestions. Why would I pay for an expert if not to get their opinion and input?

All of the accommodation he recommended were just perfect and beyond our expectations. We had a mix of luxurious lodges and tented camps, all of which had their charm. I wouldn't hesitate to stay in the same places again next time I go! He knew exactly what my wife and I were after, I felt he was always on the same page as us.

Our guide was Agrey who was fantastic, had humor and sharp eyes. We saw the Big 5 and also multiple leopard and cheetah sightings, getting up and close with a few leopards and a cheetah too!
Did I mention that we also caught two Mara river crossings? Deo had the best instincts and he decided to go separate ways from the other two vehicles, which meant we were the only ones to catch that first crossing… amazing!

We did encounter a slight mechanical issue with the land cruiser but the roads are so rough and we weren't stopped for more than 10 minutes as Agrey was practically a mechanic too! We always felt safe with him. Because the roads were very tough, we passed many other cars who had issues such as flat tires or had engine issues which meant they couldn't move (Agrey stopped to lend them a hand, and we were glad to see that he's such a gentleman and so helpful). All in all, our small breakdown that took only 10 minutes was not a big deal as it may just be down to luck.

Deo and Agrey made sure the lodges knew of our honeymoon so we received amazing service and special dinners with private fires! All staff at all lodges were simply amazing and we were so fascinated with their culture. Before our honeymoon ended, I was already planning our next safari! Looking forward to our next trip with EarthLife!
Francesca
–
IT
Visited: August 2016
Reviewed: Aug 22, 2016
Email Francesca | 20-35 years of age | Experience level: first safari
The experience of a lifetime!
We had the time of our life on safari with Earthlife Expeditions! We couldn't be happier with our experience.

Accommodations, food and transportation were all great, safety was a priority and communication was always immediate and very clear. But most importantly, this company offered us many many magic moments in one of the most beautiful countries on Earth!
Deo, the owner, organised the perfect trip, listening carefully to what we were looking for and suggesting tons of amazing places to visit.
Our guide, Moison, was eagle-eyed when it came to spot animals, and could always answer in great detail to all our questions about wildlife, culture and tradition. He could even remember the name of each animal and bird in four or five different languages!
We managed to see the Big Five within our first 24h inside the Serengeti, so we spent the rest of our time looking for little "treats" like a lioness with very young cubs, or elephants bathing and scratching on their favorite tree, or rare birds.

All the game drives, experiences and walks included in our tour were amazing to say the least, and we are already planning to go back because there's too much to see in Tanzania to fit in one trip! :)
Sharon M.
–
US
Visited: June 2016
Reviewed: Jun 29, 2016
Email Sharon M. | 50-65 years of age | Experience level: 2-5 safaris
Trip of a Lifetime, Customized to our Expectations
We had been on Safari twice before, one Budget and one Luxury but Earthlife Expeditions provided the best mix of fun, adventure and luxury. All communications were done by email and the response time was usually overnight because of the time difference. The owner Deo managed our itinerary and provided exceptional lodging upgrades. Our itinerary was also customized based on the Great Migration and we didn't miss anything. Deo met us at the airport when we arrived, drove us to our first lodging, briefed us on our adventure and answered any last minute questions. He was also at the airport when we left to make sure all went well. His exceptional customer service began with the first communication and never faltered. Our guide was knowledgeable, friendly, professional with a keen eye for locating animals. This is an honest, well managed company that will work hard to meet your expectations.
Average User Rating
Rating Breakdown
5 star

94
4 star

3
3 star

0
2 star

0
1 star

0
Write a Review
Disclaimer
All corporate and/or tour info is provided by Earthlife Expeditions, not SafariBookings
The tours offered by Earthlife Expeditions are subject to their terms & conditions