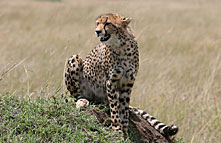 Kalahari Skies
4.9/5 – 45 Reviews
Located In:

Size:

10-20 employees (Founded in

1994

)

Member Of:

Hopitality & Tourism Association of Botswana

Tour Types:

Mid-range tours with set start dates and a fixed itinerary

Destinations:

Price Range:

$220 to $1,000

pp

per person

per day

(USD, excl. int'l flights)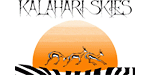 Rating Breakdown
Nicole
–
BE
Visited: October 2022
Reviewed: Oct 24, 2022
Email Nicole | 65+ years of age | Experience level: first safari
The best in Botswana
Thank you Eddy , Mano and the crew , you give me during 12 days the best vacation ever. !
Lovisa
–
SE
Visited: July 2022
Reviewed: Jul 23, 2022
Email Lovisa | 20-35 years of age | Experience level: first safari
Fantastic service and friendly
Our visit with Kalahari Skies was phenomenal. Our guide, Rex, gave us the best experience in the Moremi reserve. He went above and beyond to catch sight of as many animals as possible. We stayed in tents for two night, with wild animals walking freely outside our tents during the night. An incredible experience. The crew had a well prepared dinner ready for us when we came back from a game drive. They even met up with us in the reserve once, and set up a table with a cooked meal. Exceptional service and a great treatment by the employees. Many interesting conversations and always nice. Thank you so much!
Philip and Mary Beth Cohen
–
US
Visited: May 2019
Reviewed: Jun 12, 2019
Email Philip and Mary Beth Cohen | 50-65 years of age | Experience level: first safari
We had the Kalahari and Okavango all to ourselves with Kalahari Skies.
I searched the reviews for safaris on Safaribookings and followed their advice. Eddy Everaerdt of Kalahari Skies got back to us quickly. His advice was spot on. He suggested that if our time was flexible we should consider late May rather than busy July. He said that it sounded like we would like a mobile safari rather than being in the lodges. It turned out that the airfare was much cheaper in May. It was late Fall in Botswana. He asked me to tell him what I hoped to see, so I sent him my wish list. He designed a 15 day mobile safari for my wife and me. It turned out far better than any of our expectations!

Kalahari Skies took care of all of the arrangements, except airfare. I told Eddy that I would like to meet some Bushmen, see animals, learn about the natural environment, see the central Kalahari as well as the Okavango delta, and see Victoria Falls. It all happened for us!!! The tents with en-suite shower and toilet were the most comfortable camping experience of our lives! Eddy has the best camping spots scoped out. We had two nights in lodges and one in a hotel the rest was camping. We stayed 3 nights in Central Kalahari Game preserve, and two nights each in Moremi, Khwai, Savuti, and Chobe.

We started at a Thakadu Lodge in Ghanzi for our Bushman experience. It was beyond excellent! Bushmen took us on a walk, showed us various plants, explained some tracking and made a fire in a few minutes with sticks. That evening they put on an intimate dance and song performance. We had a surprise visit to the vulture restaurant which is not to be missed!

Although the Okavango is extraordinarily rich with wildlife, my favorite was the perfect remoteness of the Central Kalahari.

Eddy knows his animals and birds and was able to answer our many questions with great expertise. Even if you are not a birder, the birds of Botswana will make you want to be one.

During the trip every meal was prepared for us. Everyone showed great concern that we have what we wanted. Eddy noticed that we were drinking something we hadn't mentioned and immediately stocked up. He noticed that I liked hot sauce and made sure that there were several for me to choose from. Each home cooked dinner had a starter, soup or salad, main course and a dessert. All were very, very good, some were downright amazing.

Eddy is from Belgium and speaks French, German, and very good English. He also has native Botswana guides, Nueman, Gideon, and Mott who are fluent in English. Mott also speaks German. They all lead safaris.

Eddy's wife, Manu, was along, in charge of the kitchen for most of our trip. She is an inspired cook. We also had two wonderful Botswana, Mateo and Ez, preparing meals and camp. All four work as a team and were a joy to travel with making each camping site a relaxing and comfortable experience.

Our guide was an expert at knowing where to locate the animals and the wealth of wildlife we were able to see from lions, leopards and cheetah to honey badgers, bat-eared foxes, mongoose, and eagle owls was amazing!!! When you are in the vehicle you are safe yet able to get very close.

Kalahari Skies made all of our arrangements for Victoria Falls as well. They have local guides in Zimbabwe and, I am sure, Zambia. They also do safaris in Namibia.

We highly, highly recommend Kalahari Skies and their mobile safari experience!!!

John
–
US
Visited: August 2018
Reviewed: Sep 26, 2018
Best guide, support, animal sightings, overall experience!
I have been on 5 safari trips throughout Africa. Newman is by far the best guide I have ever worked with. The support team was on top of every detail of our trip. We had the best time!
Mark
–
US
Visited: August 2018
Reviewed: Sep 22, 2018
Email Mark | 50-65 years of age | Experience level: first safari
It was the trip of a lifetime!
It was the trip of a lifetime. I had never gone on a trip like this and I was nervous about staying in tents, food, showers, toilets. But we were treated like kings and there were no issues with any of the facilities. The food was wonderful, the drinks were plentiful and always cold. Plenty of beer and liquor if you desired it. Took and fulfilled drink requests before the trip. Hot showers every day. Comfortable bedding, roomy tents. The guide, Newman, was outstanding. We called him Dr Dolittle as he always knew what the animals were going to do before they did it! Other trucks would follow animals from behind, he would go where the animals would be in a few minutes! He knew everything about the animals, he has been a guide for 30+ years.
I highly recommend this company without reservations.
Phil S.
–
US
Visited: August 2018
Reviewed: Sep 21, 2018
Email Phil S. | 50-65 years of age | Experience level: 2-5 safaris
It's all about the guide
We had six men on a "boys camping trip" through Botswana and it was awesome! Our guide Newman was fantastic - immense store of knowledge about the area and the animals and we had great sightings the whole trip - he got us to the right places at the right times. Our mobile tented camp wasn't luxurious, but was quite comfortable, the food was great and the guys helping were both efficient and wonderful to be around. Highly recommended and great value!

Robyn Biviano
–
Visited: July 2018
Reviewed: Aug 8, 2018
2 families, 6 wild teenagers, plenty of wild animals and 2 wild guides!
It took us a long time to choose a Mobile Safari operator for our 10 night tour in Botswana and we are so glad that Kalahari Skies was the chosen one. There are a lot of people to keep happy when 2 Australian families of 5 are travelling and Kalahari Skies managed to do that with professional excellence. We were in the capable, friendly and caring hands of guides Newman and Killo. After 10 nights they were part of the family.
Every part of the safari was well planned with fabulous tents, hot showers, delicious food (keeping the vegetarian and gluten free very happy), friendly smiles, animal knowledge etc etc. However, the real reason you want to go with Kalahari Skies is because their vehicles are the best in the business. Many times we drove past other companies with open safari vehicles early in the morning to see their clients so cold and miserable while we stayed toasty warm behind the sliding windows. A couple of hours later we would just drop the windows right down and enjoy being mere metres away from the amazing display of healthy predators and their prey. Those vehicles were thrashed along the dirt roads and stood up to the test very well (we were bogged once but that's part of the adventure!)
The Bradleys and Bivianos would like to give their sincere thanks to the beautiful people that are Newman and Killo, the wonderful cooks that are George (who somehow managed to make a 50th Birthday cake on an open fire) and Matteo (who can speak Chinese), the fabulous bar stocker that is JT and our amazing 'jacks of all trades', Ronald and Matsuabe.
Kaete Daum
–
US
Visited: June 2018
Reviewed: Jul 9, 2018
Email Kaete Daum | 50-65 years of age | Experience level: 2-5 safaris
This trip will be a lifetime memory!
Gideon was our guide. Matheo and Sydney cooked and set up camp. My husband and I were on safari with our 18 year old granddaughter - a 9 day camping safari in Botswana. I have been on safari the "fancy" way several times in South Africa, Botswana and Tanzania in the past and wanted our granddaughter to experience something more authentic. I couldn't have asked for a better experience. Our campsites were outstanding, the food was remarkable - especially for being cooked over a fire. Coming home in the evenings to the twinkling of lights and the smell of a campfire was magical. The outside showers were a treat. There was no detail left uncovered for our comfort and delight. I highly recommend a camping safari with Kalahari skies. If you can get Gideon as a guide - he is a treasure. All three together were the dream team. Go and enjoy the beauty!
Iris Barz
–
DE
Visited: March 2018
Reviewed: Apr 14, 2018
Email Iris Barz | 50-65 years of age | Experience level: over 5 safaris
The Best of Botswana
At the end of a 5 week trip to Namibia and Botswana we booked an 8 day mobile safari with Kalahari Skies of Maun, Botswana.
We visited Nxai, Moremi and Khwai and travelled at a very leisurely pace.
Guide Gideon and chefs/camp assistants Mateo and Baeti made this a memorable trip.
We were amazed at what could be cooked on a camp fire – moussakas, pizza, the best vegetarian curry ever tasted, bread – to name just a few. The service was efficient, friendly and attentive.
Gideon appears to have "binocular eyes", he spotted birds and animals that we had to use our binoculars for. His tracking is excellent and he is calm and unhurried on game drives and very knowledgeable about fauna and flora. He accommodated our interest in birds and landscapes and would do his best to find the most suitable position for photography.
We thoroughly enjoyed our stay in the bush with this wonderful team.
Bruno Mayques
–
CH
Visited: March 2018
Reviewed: Apr 4, 2018
Email Bruno Mayques | 35-50 years of age | Experience level: 2-5 safaris
Ten days of dream: Kalahari desert, Boteti river and Nxai Pan.
A mobile safari with a fantastic guide and the best cook in the Bush.
Landscapes worthy of the birth of the world, the encounter with wildlife, here is what I lived during ten days.
An unforgettable experience that allowed me to discover the Kalahari desert with its extraordinary fauna and flora (cheetahs, oryx, giraffes, zebras, steenbok... and a multitude of birds...), travel along the banks of the Boteti River to observe hundreds of elephants and two hunting lionesses and enjoy the vastness of the Nxai Pan with its flights of flamingos, white elephants and giraffes.
The pleasure of returning to camp each evening to spend a beautiful moment of sharing with the guide around the fire observing the Milky Way and the stars and being awakened in the middle of the night by the roar of the lion.
Thanks Eddy, Guidéon and Methéo. Everything was perfect, the equipment (tent, car, food) and your services.


Disclaimer
All corporate and/or tour info is provided by Kalahari Skies, not SafariBookings
The tours offered by Kalahari Skies are subject to their terms & conditions