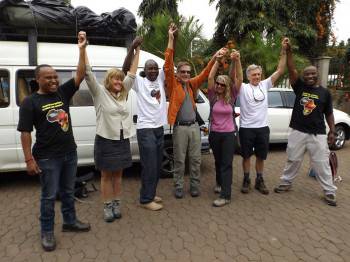 Kilimanjaro Brothers Climbing Adventure
5.0/5 – 38 Reviews
Located In:

Size:

10-20 employees (Founded in

2010

)

Member Of:

Kilimanjaro Association of Tour Operators

Tour Types:

Custom mid-range & luxury tours that can start every day

Destinations:

Price Range:

$170 to $500

pp

per person

per day

(USD, excl. int'l flights)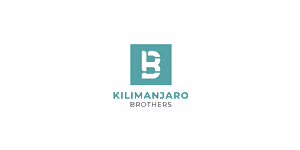 Kilimanjaro Brothers Climbing Adventure
Pakorn
–
TH
Visited: December 2014
Reviewed: Jan 29, 2015
Email Pakorn | 35-50 years of age | Experience level: first safari
Excellent service, Excellent guides & porters, Excellent management
I climbed Mt. Kilimanjaro via Rongai route and visited Ngorongoro Conservation Area in December 2014, with a big group (28 people) from Thailand. George and his Kilimanjaro Brothers team did a great job taking care of us. George and his team tried their best to ensure all of us would reach the top. And we were pleased with our group's summit success rate (26 out of 28 people or 93%).

During my summit attempt, my porter, Zacharia, really helped me, motivated me, stayed with me all the time and walked with me all the way to the end. He was the light in my darkest hours. Without his support, I would not have made it to the Uhuru Peak.

All in all, I highly recommend George Mtaki and Kilimanjaro Brothers!
Kinga
–
Visited: January 2014
Reviewed: Jan 20, 2015
35-50 years of age
a trip of a lifetime
I've had a great experience with Kilimanjaro Brothers. They took care of everything and really looked after us. We, 4 girls felt like princesses. It was in January 2014. Fantastic adventure and fantastic company. Highly recommended!
Quazi Shahriar Rahman
–
US
Visited: March 2014
Reviewed: Dec 9, 2014
Email Quazi Shahriar Rahman | 35-50 years of age | Experience level: 2-5 safaris
Excellent Safari arrangement by George and team
Back in February 2014, myself and my climbing partner Mauricio had climbed Kilimanjaro with Kilimanjaro Brothers (George MTaki is the owner). The climb was an excellent experience and George and team provided excellent support to reach the top. After the climb we had booked 3 days safari before leaving for the US. We did some last minute changes too, as we wanted to stay in resort rather than tents. With reasonable change fee George immediately booked all the nice resorts for us. We had our own safari jeep and 3 days to spare in Lake Manyara, Ngorongoro Crater and Tarangire National park. It was an unforgettable experience. We covered all the big name animals of that part of Africa. All the way from climb to safari, it was very safe environment, friendly attitude. I highly recommend Kilimanjaro brothers. They are very experienced. Because of our recommendation one of our US friend will be going to Tanzania in February 2015. Thanks George and team :)
John and Mama Chris
–
US
Visited: December 2014
Reviewed: Nov 20, 2014
50-65 years of age | Experience level: first safari
An exhilarating and rewarding climb and an amazing safari.
My wife and I wanted to climb Kili as a celebration of our twenty-fifth wedding anniversary and Kilimanjaro Brothers was recommended to us by a friend who climbed Kilimanjaro about a year ago. George Mtaki and his team met or exceeded all our expectations. Organizing with George by email couldn't have been easier. He was very responsive and answered all our questions promptly. When we arrived at the airport at 2:30 in the morning, George and his driver were there with smiles on their faces ready to take us to our hotel in Moshi. The Park View Hotel was very comfortable and served as our home base before and after the climb. George was very flexible and helped us coordinate a visit to a local children's home that we wanted to visit as well.

The Kilimanjaro Brothers guides and crew were exceptional. Rogers (Rojas) and Saide, our lead guides, spoke english very well and were the most personable and friendly hosts on the mountain that we could have ever imagined. We set out to do an 8 day trek on the Lemosho route. After a couple days when our guides were able to assess our fitness level and our tolerance for the elevation, we quickly determined that we could do the route in 6 days. Rogers and Saide radioed down to George and were easily able to adjust our plan.

We successfully reached the summit just as the sun burst over the horizon and poured its glorious warmth and light over us and our celebration. What a thrill!

The safari that George organized for us to Tarangire National Park and the Ngorongoro Crater was a welcome reward after six days on the mountain. The wildlife was incredible... everything that we'd heard about.

Thank you so much to George and his team for providing us with a life changing experience as we accomplished one of our life's dreams.
Keith Young
Visited: July 2014
Reviewed: Nov 16, 2014
Fantastic Local Company!!
This company offered the best value for money for myself and a group I was organising a trip for. They came in at almost half the cost of international companies.If you are in any way capable of organising flights for yourself I could not recommend this company more. Some international companies rip you off on Kilimanjaro trips.

The hotel we stayed in before and after was beautiful, in the centre of Moshi. The climb itself was well planned out. The porters and staff are amazing. It is very straight forward and there is a real emphasis in this company and with its guides in sharing with and teaching you the culture of Tanzania. We even picked up some Swahili along the way. All 10 of us reached the summit!

If you are not that experienced with mountaineering, the guides will help you every step of the way, and you can also rent gear.

If you pick this company, you know your money is going to a local company, to local guides and it is helping to support them
Van Nguyen
Visited: October 2014
Reviewed: Sep 27, 2014
Life-time memories
Climbing Kilimanjaro was so far the trip that took a lot of time from me for research. I was so overwhelmed with the amount of information that I could find on the TripAdvisor. At times I felt so lost and didnt really know which route to take, which operator to choose etc... I was tempted to go with a foreign operator, thinking that I would not have to worry too much and my trip with them could mean stress free. However, as I kept reading and being a person working in the development field all my life, I finally made a conscious decision to go with a local company. There are good local companies and I contacted a number of them and had pleasant experiences with them. However, the final decision to go with Kilimajaro Brothers is simply that the owner George used to be a porter. I contacted George on 30 Aug and luckily they had a climb that fit my scheduled leave. George and his team are always very quick in responding to my inquiries. I also planned to go for safari after the climb but only made the final decision once I was in Moshi after meeting with George and had the first real/actual feeling about them. All in all, both the 7 day Lemosho climb and 6 day safari were so memorable and I truly enjoyed my time there. My guide Andrew and guide assistance Jackson are so great, without them I would not be able to make to the top on the Summit night. They were always by our side, encouraged us to go, extremely patient as I was so tired that my pace was even slower than pole pole! I was not prepared mentally that the Summit night could be that hard and I wondered if all I read on TripAdvisor was somewhat downplayed! Anyway, I was very happy that I did my climb with Kili Bros. My safari was equally interesting. I had a very experienced and knowledgeable guide who was my companion in Ngorongoro, Lake Manyara, Tarangire and Serengeti. I know that Kili Bros is a new company and needs a lot of support from us the tourists and I have no hesitation to recommend them to you.
Exceeded all our expectations. Outstanding company. Friendly, caring & professional team.
The company's owner George and his team were fantastic from the outset, answering our many (many!) questions and giving us a lot of reassurance (we booked over a year in advance).

When choosing a climbing company, it was important to us that:
(1) It be a local, Tanzanian company, to ensure the profits stay in Tanzania;
(2) The guides and porters are employed by the company (rather than subcontracted at the national park gates) and provided with training, footwear, etc (we had read many horror stories of appalling porter treatment);
(3) Balance of good price with decent wages for staff and decent equipment for staff and us;
(4) Recommended highly by previous clients.

We spent many months looking at different companies and chose Kilimanjaro Brothers Climbing & Adventure as they met the above criteria and were highly recommended by all we contacted through Tripadvisor and Facebook. Throughout our info-gathering, they also came across as the friendliest and most accommodating.

We booked a private climb for the 2 of us (we are both females, in our 30s from Scotland). We chose the 8 day Lemosho Route, starting 6th September 2014, successfully summiting to Uhuru Peak on 12th and finishing up on 13th.

Our entire experience, from looking into the companies, to booking our trip, arriving in Tanzania and right through to being dropped back off at the airport, was beyond all our expectations. George Mtaki and his team were very friendly and we felt welcomed by their warmth and professionalism.

Our team of 16 on the mountain were outstanding. Always caring for our safety, wellbeing and happiness throughout the entire 8 days. We extend our gratitude and thanks to Gabriel our guide, Priscuse our assistant guide, Simon our porter and trainee guide - all of whom made it possible for us to reach the summit. Jeremiah our cook and Chas our waiter, who provided us with endless cups of tea and the most fabulous vegetarian food you could ask for. I don't know how they did it, on the side of a mountain! Many thanks to Isaac our tent porter, Christopher our toilet porter, Freddy our porter and Black Five card game champion, Stanley, Emmanuel and all the other porters. You are all wonderful, you kept us safe and happy, and we enjoyed our singing, card games and your enthusiasm to keep us going "Non stop, to the top!". We meant it when we said you are our Kilimanjaro family.

Please remember to tip your team generously. Happy to be contacted via Tripadvisor about this as we found the tipping amounts to be hugely varied across all websites. Before arriving, we asked George for a list of staff and the recommended tipping amounts (min to max) for each staff role, so we were prepared. Tips are issued to each staff member on the final day of the mountain, so remember to take this money with you in your daypack. We tipped at the maximum level and also gave away the majority of our gear to the crew. We do a lot of hill walking in Scotland, but we can afford to slowly replace the gear we gave away - a down jacket, thermals, Camelbaks, good socks, etc are usually far out of the financial reach of most mountain crews, so please do donate whatever you can to your team as it is gratefully received and shared out. By the end of your climb, you will want to give them the shirt off your back, believe me. Colours of clothing don't matter here.

In addition to donating our own kit, we also took out with us a large kit bag full of donated walking gear for the guys (from our husbands & friends). We flew with KLM so 2 kit bags each were within the hold baggage allowance. Please consider doing this as it really does make a huge difference to those working on the mountain. If your crew doesn't need the gear, there are plenty others working on the mountain who do need it.

The other thing we would suggest is to consider fundraising for and visiting some local Tanzanian community projects. Coming from a very materialistic, Western society, we found the whole experience really does change your perspective on life. We asked friends, family and colleagues if they would like to make a donation to Amani Children's Home in Moshi and Kilimanjaro Young Girls in Need school outside Moshi. So glad we did this as we ended up raising (with Gift Aid) approx £6,000 UK pounds for both charities combined ($9,000 usd) and took out a couple of big bags of donated clothing, footwear,football boots and arts/craft stuff. We spent a very enjoyable morning at KYGN school and afternoon at Amani. IT WILL CHANGE YOUR LIFE!!!

We stayed at the Honey Badger Lodge just outside Moshi town. Highly recommended. Good food, lovely accommodation and gardens, staff excellent. Also very focused on community give-back.

All in all, we highly recommend Kilimanjaro Brothers Climbing & Adventure. 10/10. We thoroughly enjoyed the beautiful, remote 8 day Lemosho route which gave us good opportunity for acclimatisation. We felt safe and looked after the whole time. Outstanding service.

Lots of information available on the company's website and on their Facebook page.

We are more than happy to be contacted via email if you have any questions.

Zoe Holdsworth & Jacqueline Rennison
Scotland, UK.
thesmilingpig
–
SG
Visited: August 2014
Reviewed: Sep 5, 2014
20-35 years of age | Experience level: over 5 safaris
8 Day Lemosho Route with Kilimanjaro Brothers
I climbed Kili with Kilimanjaro Brothers in Aug 2014. I had communicated with 15+ Kili operators over six months before contacting George Mtaki. My criteria was:

1) To support a local operator directly (instead of going through an agent who would take a cut)
2) To find an operator who would provide daily health checks, carry bottled oxygen, a phone for emergency communication, and a portable toilet
3) A competitive rate (not the lowest)
4) Someone I could trust to organize the climb for me

As a highly-detailed trip planner, I felt comfortable communicating with George. He responded to my questions patiently and promptly without pressuring me to sign up with him.

Most importantly, George delivered everything we agreed on. He personally welcomed us when we arrived and provided us with a dedicated, professional team to take care of us on the mountain. Good equipment, good food. Our guides Gabriel and Priscus were attentive to our needs, comfort and safety (particularly when we exhibited signs of altitude sickness). I had difficulty breathing on the way down from the summit and am grateful to the team for their care. Gabriel carried me on his back for part of the way, then supported me till I made it back to camp.

I highly recommend Kilimanjaro brothers and am happy to answer more detailed questions if you are considering the climb. Thanks George, Gabriel and Priscus for the adventure!
Average User Rating
Rating Breakdown
5 star

38
4 star

0
3 star

0
2 star

0
1 star

0
Write a Review
Disclaimer
All corporate and/or tour info is provided by Kilimanjaro Brothers Climbing Adventure, not SafariBookings