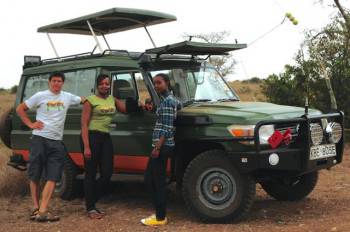 Transtrek Safaris
5.0/5 – 111 Reviews
Located In:

Size:

5-10 employees (Founded in

2013

)

Member Of:

TTA

& TRA

Tour Types:

Custom mid-range tours that can start every day

Destinations:

Price Range:

$220 to $380

pp

per person

per day

(USD, excl. int'l flights)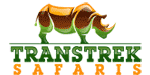 Rating Breakdown
Sue and Keith Fitz-John
–
Visited: August 2018
Reviewed: Aug 21, 2018
Email Sue and Keith Fitz-John | 50-65 years of age | Experience level: first safari
Superb from start to finish!
My husband and I have just returned from the Transtrek 12 Day Classic Safari.

Everything from start to finish was superb. From our initial enquiry, Daniel, from Transtrek was professional, helpful, friendly and patient. He initiated a phone call between us so that we could discuss the plans and he was able to use his expert knowledge to advise and alter some of the details of the safari to satisfy our wishes. Dan was always quick to respond to any questions we had during the planning stage, which gave us total faith in his arrangements. Our faith was justified as everything, from the initial pick-up, when we arrived at Nairobi Airport, to the final airport drop-off at the end, went like clockwork.

The safari was absolutely amazing. All the reserves we visited, our day in Nairobi and all of the lodges and camps we stayed in were first class.
We had the best of drivers in Peter. He met us early one morning, at the Airport Hotel and was with us throughout our time in Kenya. His knowledge of the wildlife of Kenya is amazing and his expertise enabled us to see all of the, "Big Five". Nothing was too much trouble for him and we enjoyed listening to him talk about life in Kenya. We only hope that he enjoyed our tales of life in the UK just as much. Peter is, without doubt a real asset to the Transtrek Safari experience.

If you are reading this review because you are unsure of who to book your next safari with, don't hesitate in contacting Transtrek, Dan will take care of every last detail for you.

We fully intend to return to the wonderful country of Kenya again some day and will not consider any other company to take us there.

Thank you Dan and Peter, you both made our first safari an unforgettable experience.
Benoit
–
CH
Visited: October 2018
Reviewed: Nov 1, 2018
Email Benoit | 50-65 years of age | Experience level: 2-5 safaris
Superbly Customized and Beautifully Executed 10-day Safari
We had heard about Transtrek through friends so when we (family of four, with 2 kids aged 5 and 9) decided to do that dream safari in Kenya, I sent them a note with our "dream requirements", having been to Kenya a few times in the past. What we got back from Transtrek was even better than what I envisioned: these guys really take care of all the details. The plan was changed twice before the travel as the organizer found better options, such as when family tents became available in tented camps. Remarkable commitment to make the trip memorable. We had our private driver for the whole stay and he was absolutely fabulous. We even found out he spoke French perfectly (I did not even ask for that...). Tony was our angel and a star with the kids. He was a superb safari guide, patient, knowledgeable and always looking for ways to make things perfect for us. Transtrek went beyond the call of duty many times to ensure a unique experience. Really feels like a boutique / family operation, really attentive to the clients. Difficult to leave Kenya after that but we will certainly return with them...
Evelyn "Laurie" and Elfie
–
CA
Visited: December 2017
Reviewed: Dec 7, 2017
Email Evelyn "Laurie" and Elfie | 50-65 years of age | Experience level: over 5 safaris
Trust Transtrek for the best safari ever!
From my initial contact with Daniel to an amazing 14 day safari, Transtrek never disappointed.

With more than a few emails due to the modifications I asked for (and Daniel happily adjusted the tour) the down payment was easily/safely sent via wire transfer through my local bank.
There were huge flight delays on the the way to Africa. Not to worry. Again an email or two and Daniel ensured our guide, Tony was at the airport waiting despite our 24 hour late arrival.
My friend and I were immediately taken with Tony's kindness and respect. His easy going attitude was a pleasure throughout the trip.
Tony is very skilled at spotting wildlife. From birds to leopards to trees, Tony knew them all. He obviously has a passion for animals which I truly appreciated.
Due to his driving skills on and off road, we always felt safe.

Our accommodation throughout the safari was better than we could have imagined.
Most were tented camps which we loved! Having camped numerous times in Africa with overland companies, believe me when I say that these "tents" were spectacular! Beds, showers, toilets, electricity...you name it, the tents had it.
Our safari included Amboseli, Tsavo East, Tsavo West, Aberdares, Samburu and Ol Pejeta.

I hope to return to Kenya and Transtrek will definitely be my first contact when I do!

Asante Sana to Tony and Daniel.
Penny
–
Visited: July 2015
Reviewed: Sep 7, 2015
Email Penny | 50-65 years of age | Experience level: first safari
Jambo, Kenya!
This was a family holiday of a lifetime for my partner and I and our 15 and 12 year old son and daughter. We now have treasured unforgettable memories. I would describe it as the best holiday I have ever had and that's mainly down to Transtrek Safari. I selected Transtrek Safaris based on reading positive reviews by others and wanting to support a family business. We were not disappointed. The 21-day holiday exceeded our expectations. We had a professional and personal service from Daniel, who had put together a superb itinerary. We visited Lake Nakuru, Lake Naivasha, Masai Mara, Amboseli, Tsavo East and West and lastly a week at Diani Beach to rest, relax and reflect on what we had experienced during our 14 day safari.

Daniel selected a variety of accommodation which were all excellent, even the rooms in the tented camps were really spacious and the food throughout was excellent, even for the children, who are more picky. All staff were so friendly and accommodating which made the holiday especially relaxing and enjoyable. WiFi was an added bonus at most places we stayed at.

There are so many wonderful comments we could make about the whole holiday but I will give you just a taster. At Lake Nakuru we stayed at the Sopa Lodge which was so luxurious and had fantastic panoramic views. The place was fit for royalty! Daniel selected lodges with swimming pools which the children loved between morning and evening safaris. Daniel organised a boat trip in Lake Naivasha. It was amazing to see all sorts of birdlife and being in the boat so close to Hippos was thrilling if not rather scary!

In Nairobi, Daniel organised a visit to the elephant orphanage, which was so interesting that we ended up adopting a baby elephant; and at the Giraffe Centre we were able to feed and kiss a Rothschild giraffe which proved an exhilarating experience.

Peter, our amazing driver and guide, was a star. He knew exactly where to find the animals and nothing was too much effort. His knowledge of wildlife including the countless birds we saw was marvellous. We saw the Big 5 and much more. Nice one Peter! He positioned us safely so close to Lions, Cheetahs, and Buffalo etc that it was a surreal experience. He even taught us some Swahili words. Peter took us to the Hippo pool on the Mara River near the Tanzania boarder. We picnicked here and a cheeky Vervet monkey crept up and took an orange from my partners pocket! Daniel even treated us to a trip to the Colobus conservation centre at Diani Beach, where we learnt so much.

If you are looking for excellent customer service then I would not hesitate to recommend Transtrek Safari for an extremely enjoyable and memorable Safari. Thank you Daniel and Peter for all your work.
Karina
–
NL
Visited: October 2019
Reviewed: Oct 30, 2019
Email Karina | 35-50 years of age | Experience level: first safari
Unforgettable experiences and an amazing guide!
We chose Transtrek Safaris based on the company's reviews and the swift and open communication with Daniel and we were definitely not sorry! We have done a fair bit of travelling around the globe, but we can honestly say that our private 9-day safari in Kenya was the best holiday we've had so far! We visited Amboseli, Tsavo West, Lake Naivasha and Masai Mara, and all 4 places were diverse and very beautiful. Our stay in Tsavo West was our absolute favourite. We could see different animals (elephants, giraffes, hyenas, zebras, wild dogs, etc.) come to the hotel's water hole, which was incredible to watch.
Evans, our guide, contributed greatly to the amazing experience with his knowledge (this man is a walking encyclopedia!), sense of humour, and support overall! We can't recommend this company and Evans highly enough!
Ian and Beth
–
Visited: December 2018
Reviewed: Nov 21, 2018
Email Ian and Beth | 65+ years of age | Experience level: over 5 safaris
An Unforgettable Safari
On our fifth visit to Kenya for a safari we chose TransTrek on the recommendation of one of their previous clients. I would have no hesitation in extending that recommendation to other travellers who have similar interests and objectives. This is a very professional outfit.

For us Kenya is a wildlife photographers paradise, her people are amazingly friendly, and the camps at which we stayed were outstanding. This was our first completely 'on road' safari and despite reservations regarding driving times it was overall not hugely different to total times taken flying between game reserves when travel to and from, and waiting at, airstrips etc is balanced. The only downside was the amount of dust on the road to the Mara.

TransTrek readily tailor safaris to clients needs and desires. In e-mail and telephone discussions with Daniel we made refinements and changes to times and camps in the "Samburu Five & Big Five" offer advertised in the TransTrek web pages. Each stop had its peculiar highlights; Samburu and the Mara never disappoint; the Aberdares Country Club was just Oh So Colonial but the Ark at the Aberdares was a new experience which gave good photo opportunities; Ol Pejeta was also new to us, providing some unforgettable encounters; Sopa at Naivasha was fine for a transit stop; Naboisho was also a first visit - it was really interesting to understand the integration of Masai herders, safari lodges and animal conservation within a conservancy. It bodes well for the future. Food was good at all camps, but special mention should be given to the chefs at Sweetwaters, the Aberdares CC, and at Samburu Intrepids.

Our guide Tony went out of his way to make us comfortable and to get us into the best photography positions. He was on the go non-stop. Beyond his in depth and perceptive knowledge of the animals we encountered he has a broad command and appreciation of local, and African at large, culture and history. Our interaction was constantly engaging.

Overall we had a "lions share" this safari - we saw more lions and rhinos than on all our previous trips combined and as chance would have it we also witnessed once in a lifetime wildlife encounters. This trip will live long in our memories.
Matt
–
Visited: December 2017
Reviewed: Jan 17, 2018
Email Matt | 35-50 years of age | Experience level: 2-5 safaris
Excellent safari in Kenya, highly recommended
Transtrek organised an excellent safari to Naivasha, Nakuru, Masai Mara and Naivosho Conservancy in Kenya for me, my partner and my father in December 2017. The booking, payment and administration process was very simple and easy, and gave me confidence we were booking with a reliable company. We had a superb guide and driver, Peter, who drove very well, had great knowledge about Kenya's wildlife, and who clearly enjoys his work. Because of his knowledge, we were able to see a huge range of wildlife, including all of the 'big five', at close quarters. The vehicle was comfortable and well maintained, and the accommodation was superb. We have since used Transtrek again, to book a very similar trip for friends, with confidence that they will have a great trip too. I highly recommend talking to them about your East African safari and travel plans, you won't be disappointed.
Simon
–
Visited: October 2017
Reviewed: Oct 25, 2017
Email Simon | 35-50 years of age | Experience level: first safari
Holiday of a lifetime executed perfectly!
Myself and my girlfriend decided we wanted to go to Kenya on Safari so began the task of assessing companies and itineraries.
From the off Dan was incredibly attentive to our requirements. We found other companies to be very short with minimal time for our changing ideas. Dan on the other hand went above and beyond to help us organise our safari adventure and was happy to guide/assist us on our (embarrassingly) constant mind changing with regards to what we wanted to do.
It became clear very quickly that Transtrek were the company we wanted to use.
Everything was organised specifically how we wanted it to be. The amount of days in certain places, activities etc.
I had high expectations of the holiday before I left and they were blown out of the water............ It was literally 3 flawless weeks of pure beauty and enjoyment! Everything came together perfectly without a single mishap.
Each and every lodge/camp we stayed at was breathtaking. The surrounding nature was mind blowing, the hospitality and friendliness of every member of staff a true pleasure to behold.
We went to Amboseli, Tsavo west/east, Lake Nakuru/Navaisha & Masai mara. Each area with its own landscapes, identity and plethora of wildlife.
I went on this holiday thinking it was a once in a lifetime adventure but I know for certain I will go back and do it all again at some point as it was the best holiday I've ever had.
Special thanks to Tony our guide who was easy going, kind hearted, understanding, organised, more knowledgeable than an encyclopedia on location and wildlife, and just a lovely jack the lad to be around... he very quickly became a massive part of the enjoyment of our holiday.
To sum up....Holiday 10/10, Transtrek/Dan 10/10, Tony our guide 10/10, lodges/camps 10/10, wildlife 10/10.
Thank you Transtrek for giving us the experience we had. It will never ever be forgotten!!
Sarah & Chris
–
Visited: October 2019
Reviewed: Oct 12, 2019
Email Sarah & Chris | 35-50 years of age | Experience level: first safari
Excellent safari company and driver/guide
Transtrek safari were recommended to us and they didn't disappoint. Daniel was very helpful planning our first ever safari and numerous questions being promptly answered. I have type 1 diabetes and was unsure about taking my medication on a dusty hot safari but I needn't have worried as Daniel reassured me this would not be an issue and they would put a cool box/fridge in the vehicle for my medication. We stayed in 7 different lodges, tented camps, chalets and a boutique hotel and Daniel arranged fridges in the rooms for me. Our driver Tony was excellent, friendly, very knowledgeable, ensuring we were in the best position to take photos of all the animals and really made our safari fun. Every morning Tony got ice for the cool box to keep my medication in during our 10 day safari trip/game drives.
Everything went to plan including our flight to the Malindi coast. Highly recommend Transtrek Safari and driver/guide Tony and they would be our first choice for our next Safari.
Graeme Scarr and Trinity Shaw
–
NZ
Visited: May 2019
Reviewed: Aug 21, 2019
Email Graeme Scarr and Trinity Shaw | 35-50 years of age | Experience level: over 5 safaris
Family experience of a lifetime!
Thankyou to Daniel Francis and the Transtrek Safaris team, we had a fantastic time and have memories for life. Daniel organised a 10 day safari around our wishes to visit Samburu NR, Lake Nakuru NP, Lake Naivasha and the Masai Mara and his knowledge, advice and communication were exceptional. We were very fortunate to have Tony as our guide and his knowledge of the flora and fauna was outstanding. Tony was great at ensuring our 10 and 12 year old daughters were always engaged and they loved his friendly and fun personality. Daniel gave us the option of visiting the Naboisho Conservancy on the edge of the Masai Mara, where the Masai are the landowners and are very involved in the running of the Wildlife Conservancy and see and reap the benefits of the conservation of wildlife. The Wilderness Camp in Naboisho is run by Masai, and it is a very special experience. We did a full day trip into the Masai Mara and saw an incredible array of game including a cheetah kill and leopard up close, but we also had fantastic game viewing in Samburu and Naboisho to match the Mara. The accommodation Daniel recommended and organised was exceptional, especially Intrepids Camp in Samburu and the Wilderness Camp in Naboisho Conservancy.

Thanks again to Daniel, Tony and the Transtrek team, great work!
Disclaimer
All corporate and/or tour info is provided by Transtrek Safaris, not SafariBookings
The tours offered by Transtrek Safaris are subject to their terms & conditions