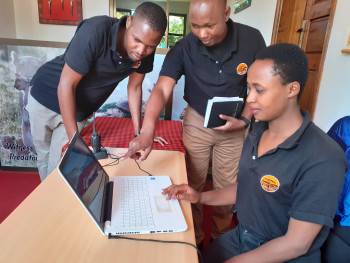 Dusty Roads Adventures & Tours
4.8/5 – 24 Reviews
Office In:

Size:

20-50 employees (Founded in

2003

)

Tour Types:

Custom budget & mid-range tours that can start every day

Destinations:

Price Range:

$150 to $1,200

pp

per person

per day

(USD, excl. int'l flights)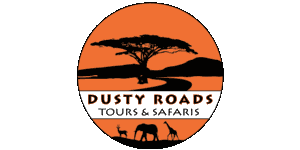 Request a Quote


for a custom tour
Your request will be sent directly to the operator
If preferred, you can contact the operator directly
Rating Breakdown
Ioana Gabriela
–
AT
Visited: November 2023
Reviewed: Nov 25, 2023
Email Ioana Gabriela | 50-65 years of age | Experience level: over 5 safaris
An amazing experience which I plan to repeat!
Everything was well organized, punctual and for a fair price. Jeff, our driver, was good and knowledgeable about animals, birds and plants. We had the chance to see 4 of the big five and, this thanks to the good eyes of Jeff. We appreciated that our vehicle was always keeping a respectful distance from the animals.
Vehicle clean and in good condition, we always felt safe.
Thank you for making our first experience in Tanzania a pleasant and memorable one!
Heather
–
Visited: December 2021
Reviewed: Jan 11, 2022
Email Heather | 35-50 years of age | Experience level: 2-5 safaris
Outstanding Kilimanjaro and Safari tour. Pole Pole all the way!
My fiance and I recently climbed Mt. Kilimanjaro and completed 7 days safari with Dusty Roads Tours after the climb. They were an excellent company from start to finish. We had a fabulous time on the mountain with an outstanding porter team and two wonderful guides. We hit a terrible blizzard on our ascent day/night and we would not have made it to the summit without them! Many climbers did not make the summit that day. The food was excellent during our hiking tour and the service, camping gear, and tents were top notch.

After the mountain, we enjoyed safaris in Tarangire, Serengeti, and Ngorongoro Crater. Jeff was our guide and was an excellent driver and outstanding safari guide. He was incredible in how he could spot so many animals from such a distance. I know why he has earned the name "eagle eye!" He was also so knowledgeable about all other animals which was wonderful for us to learn about their behaviors and habitats. We had such a fantastic week with him and we highly recommend him as a guide and driver.

We loved our time in Tanzania from start to finish and we cannot wait to come back again with Dusty Roads.
Barbara
–
PL
Visited: July 2018
Reviewed: Sep 3, 2018
Email Barbara | 35-50 years of age | Experience level: 2-5 safaris
Perfect!
We found Dusty Roads on the safaribooking, with good reviews and many safari options.
I have contacted them per epost and had long dialogue with Molel, who replied patiently to plenty of question, suggested and discussed accommodation and tours, payment methods (we wished to use credit card) and much more.
When we arrived to Kilimanjaro airport, there were our guide, Emanuel, waiting for us.
On day one we visited local coffee farm (with Tanzanian dinner) - great introduction to Tanzania.

Safari was unbelievable! It was really a dream tour!
We visited Lake Manyara, Serengeti, Ngorongoro and Tarangire.
We have seen a lot of animals. Our guide was very good to spot wildlife and knew much of all species. He had books (in English) as well, showing us photos and description of animals and plants. We were very lucky to have him as a guide.

We have chosen luxurious accommodation (lodges / hotels) - locations suggested by Molel were even better than we expected.
Brad S.
–
US
Visited: July 2018
Reviewed: Jul 26, 2018
Email Brad S. | 65+ years of age | Experience level: first safari
All I hoped and more
I went on safari with Dusty Roads for ten days in July 2018, visiting Tarangire, Lake Manyara, Ngorongoro, Serengeti, and the area around Lake Natron and Ol Doinyo Lengai. I also visited a Maasai village plus the Hadzabe tribe and a Datoga blacksmith near Lake Eyasi. My accommodations were "Budget/Standard Lodges." I chose Dusty Roads because of the enthusiastic recommendation of friends, who likewise chose Dusty Roads because of friends' recommendations.

I just told Mollel at Dusty Roads when I wanted to travel and generally what I wanted to do, and accepted his suggested itinerary, which worked out very well. I didn't know what to expect from the visits to the three tribes. They added a whole new dimension to the trip – VERY highly recommended.

The accommodations were all comfortable, well maintained, spotless, and had friendly and attentive service. I would gladly stay again at all of them.

My guide was Geoff, who was also recommended by my friends. He said when we started that he would do anything (within reason, of course) in order to make my trip enjoyable: stop anytime for a picture, back up, go elsewhere, try to find a particular kind of animal, and so on. He did all of that and more, answering any questions I asked and providing additional insight into wildlife, landscape, and culture.

Geoff's abilities in finding wildlife are incredible: his eyesight is amazingly sharp and even while driving on rough roads, he spots anything to be seen in almost all directions, whether it is moving or not. He even stopped the car to point out the track of a cobra that had crossed the road since the last car had passed by. He was also very capable at identifying birds and trees. (We didn't get into insects – maybe those, too.) And as an example of his attention to safety, he reminded me to use my seat belt whenever we were driving just to get someplace.

I could go on and on about other ways that Geoff and Mollel made my trip a complete joy, but I am trying to keep this short. I hope to return to Tanzania, and when I do, Dusty Roads and Geoff are the only way I will go.

Tammy K
–
US
Visited: April 2017
Reviewed: Jun 1, 2018
Email Tammy K | 35-50 years of age | Experience level: first safari
incredible, amazing and all the other superlatives!
My husband and i and 2 friends booked an 8 day/7 night safari with Dusty Roads. We could not have been happier!! Mollel was a pleasure to work with in planning and executing the safari, catering to our every request. Geoff, our driver was absolutely the best! He could spot things noone else would dream of seeing and was so patient, thoughtful, honest and FUNNY! His insights and observances were much appreciated. We actually all became fast friends over that week and have kept in touch. The places that were booked were really a treat - the food was fantastic and the accommodations lovely. We stayed at Green Mountain Hotel, Burudiki lodge, Eileen's treehouse, and Tortillis tented lodge. We were there in 'off-season' but it wasn't an issue at all. We saw everything we could have hoped for and more! (including 6, yes 6, leopards over 2 days!!). Highly recommend stopping at the oldavai gorge museum; really wonderful presentation of mankind's origins. We would go back in a heartbeat and would HIGHLY recommend it to anyone who can make the trip.
sumana
–
Visited: January 2018
Reviewed: Feb 4, 2018
Email sumana | 20-35 years of age | Experience level: first safari
Amazing five days safari and four days in Zanzibar holiday
An excellent and memorable experience - we did five days of Safari with Jeff, who was an amazing guide - very knowledgeable and friendly. We went to Manyara park, Serengeti, Ngorongoro Crater and Tarangire park. We saw lots of animals, many up close - thanks to Jeff's excellent knowledge and ability to spot things from far away!

We contacted Dusty Roads in October to make a booking and they were very responsive and accommodating of our plans to give us a bespoke holiday plan. The itinerary they prepared was very well thought through and organised, and each of the lodges we stayed at were very good, as was the Zanzibar accommodation. The booking and payment process was very straightforward. The overall trip combining safari and Zanzibar was also much better value for money than other safari tour operators we contacted.

We would confidently recommend Dusty Roads to our friends and hopefully will also come back some day again!
Rachel
–
KR
Visited: October 2017
Reviewed: Nov 6, 2017
Email Rachel | 20-35 years of age | Experience level: first safari
Highly recommend
It was my first time to Africa and although I'm not much of an adventure type, I enjoyed every moment of it.

I traveled 5 days with Jeff and him and Mollel were very supportive and attentive during the whole time I was there. All hotels were very clean and comfortable. They have very spacious rooms. Also food was great.
The itinerary was full with exciting safaris but I also got the plenty of time to rest at night.
Juris
–
LV
Visited: September 2017
Reviewed: Oct 13, 2017
Email Juris | 65+ years of age | Experience level: first safari
Dusty Roads + Tanzania = perfect combination
Together with my wife and daughter, I had an unforgettable safari with Dusty Roads. We got more than we expected.
Mollel was a great manager. He fulfilled all our wishes and quickly and kindly answered our never-ending questions via email.
Edward was a knowledgeable and responsive guide and a good driver.
Definitely, if you need a reliable company for a safari in fabulous Tanzania opt for the Dusty Roads.
Hilde
–
NL
Visited: April 2017
Reviewed: May 22, 2017
Email Hilde | 20-35 years of age | Experience level: 2-5 safaris
Great Safari!
Together with my parents, I had a really nice safari trip with Dusty Roads. Our guide Jeff told us a lot about the animals and nature in the several national parks we visited! Definitely worth it.
Piet Hein Groot
–
NL
Visited: May 2017
Reviewed: May 18, 2017
Email Piet Hein Groot | 65+ years of age | Experience level: first safari
Wonderful people and wonderful safari !!
Everything went OK with our trip with Dusty Roads! On our arrival at Arusha we immediately saw the car from Dusty Roads. Mollel was waiting for us. He drove us to our hotel. Next morning we had a short trip with the family - and we met our driver-guide Jeff. Mondaymorning the car was present at the hotel and the safari could begin. We had booked a 5 days-safari with camping in tents. We had a wonderful time in Tarangire, Lake Manyara, Serengeti and Ngorongoro. Jeff is really a good driver, and has very sharp eyes. He knows where the wild beasts are and knows almost every name of the birds ! The places to camp where all nice - Fanaka was real good and the two camp- sites in full nature - especially in Ngorongoro - were fascinating. Abdi was a very good cook: every meal tastes good - specially the ginger in the food !
It was hard for us to say goodbye to Jeff and Abdi.
If you are thinking of a safari with Dusty Roads, just do it !! You'll never regret.

Disclaimer
All corporate and/or tour info is provided by Dusty Roads Adventures & Tours, not SafariBookings