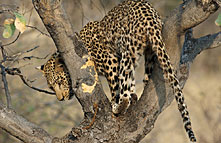 Golden Africa
5.0/5 – 31 Reviews
Located In:

Size:

10-20 employees (Founded in

2005

)

Member Of:

ATTA

,

HATAB

,

BOGA

& House of Beyond

Tour Types:

Mid-range & luxury tours that, when possible, use accommodations owned and operated by them

Destinations:

Price Range:

$690 to $2,500

pp

per person

per day

(USD, excl. int'l flights)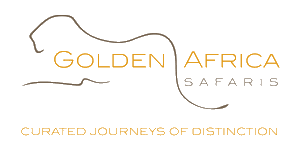 Rating Breakdown
5 star

31
4 star

0
3 star

0
2 star

0
1 star

0
Isabelle and Eddy Geenen
–
BE
Visited: September 2022
Reviewed: Sep 14, 2022
Email Isabelle and Eddy Geenen | 50-65 years of age | Experience level: 2-5 safaris
Safari was fab! Rob and Frank were like old friends, how lucky can you be with 2! wonderful guides!
We booked our Botswana-trip through a Belgian travel agent, that works together with Rob Barber and his Golden Africa Safaris. From the moment we had expressed our wishes and vision, we immediately felt that our journey was planned just accordingly. With very fluent conversation through almost amicable e-mails, we were fully confident when we arrived in Kasane, that it was going to be a wonderful holiday. Yet, we were still overwhelmed, as everything ran so smoothly: flights, transfers, accomodations with always a hearty welcome, serving and quality of food. Moreover really everbody was so kind ! Nothing, really nothing to grumble about, we felt spoilt as we have never been before.

After Chobe and Okavango River, we arrived at the mobile Khwai camp (set up only the day before!) We were welcomed by Rob and Frank (the other guide) and a staff of 9, who were all friendly and caring. Chef D.H. worked magic in his field kitchen, not just cooking, but also baking cookies, scones and cakes – even a birthday cake for my wife :-) :-):-) .No wonder we were totally at ease in the silence of the evenings, soon talking and joking like old friends. In the mean time the frogs in the river next to us were making a racket…

The 4WD – drives were at the same time exciting, interesting ánd great fun; a leopard, a family of 5 lions with 3 cubs devouring a lechwe – catch, a giant herd of 400 buffalo trekking, 30 something elephants passing by our tents to cross the river, but also a hamerkop swallowing a frog after picking it to death. And birds, birds, birds of course ! Frank started every morning saying: " Let's see what nature has got to offer us today ! " which translated his ánd our spirit perfectly. He's a master in finding wildlife, mostly driving with one hand, while giving interesting and funny details of all this beauty, his love for baboons, the odd Green Elephant Syndrome, and his unknown knowledge of Spanish….;-). Rob was a relaxed and considerate observer, cracking a joke now and then, and clearly enjoying just being amid the wildlife with some nature buffs. All this topped off with a daily sundowner (or 2), admiring the unforgettable African sunset.

Thank you Rob, and everybody at Golden Africa, for taking such good care of us. Thanks to you lot, our safari was like a wonderful dream, better than a second honeymoon. Any marks to be given, we'll go for 6 stars on all items. We'll be back !!

Felicitas
–
Visited: May 2021
Reviewed: Dec 30, 2021
A dream come true
Golden Africa Safaris is simply a secret I can no longer keep to myself.
From planning the Safari right through to the final goodbye, Charlotte & Rob made it all seemingly effortless and ensured our Safari was indeed a dream come true.
On the drive from Maun we already saw wild dogs and so much other wildlife that we arrived a trifle late for sundowners. The fire had been lit and after following Covid protocols meticulously but not intrusively, we were shown to our very comfortable and beautifully appointed tents.
What the chef manages to conjure up in a field kitchen cannot be achieved by many competent chefs with all modern machinery and gadgets. The spinach roulade was a particular highlight!
Every day we were woken with a jug of warm water and fresh coffee to spur us on, and then taken on a long game drive.
What was so special is that there are no real set times but when a sighting was good, we would just stay out longer. Once we even downed our plates mid-dinner to follow the call of nearby lions.
Midday allows for some quiet time (there even is a hammock) and after some light refreshment we were off again for more wildlife. Although the Delta was more flooded than normal, Rob found always new areas to explore and discover. The only animal he was not able to conjure up was a leopard but I'm so glad there is a good reason for returning to what can only described as a magical experience.
If you want to come up close and personal with nature and wildlife in a wonderfully sustainable way, Golden Africa Safari is the outfitter you should go to.
Thank you Charlotte & Rob and your whole team!
Robin & Matt
–
US
Visited: August 2019
Reviewed: Oct 13, 2019
Email Robin & Matt | 20-35 years of age | Experience level: first safari
The trip of a lifetime, wedding of our dreams, and memories that will last forever!
What can we say - Charlotte and Rob pulled off the impossible - an unforgettable intimate wedding for 5 people in the beautiful Botswana bush and an 11-day safari that went off without a hitch. Charlotte was with us every step of the way through a legal ceremony in Maun and a ceremonial wedding in gorgeous Khwai surrounded by wildlife - we even had a few unexpected (but very welcome) animal visitors. Charlotte organized decor, cake, a wonderful photographer, an entrance to remember, music, and many thoughtful surprises for us along the way. We couldn't be happier with the experience or more grateful for Charlotte's efforts!

On top of the wedding, Charlotte organized the most incredible 11-day safari for our group through a great mix of lodges and mobile camps. Rob was a highly-skilled, knowledgeable, and entertaining guide - the best in the business. We were thrilled to see a huge variety of wildlife and some rare and exciting sightings including 2-week old leopard cubs, feasting lion cubs, and a huge pack of wild dogs hunting. Charlotte and Rob's mobile safari gear is unbelievable, their team are lovely, and the food was incredible. We felt so well taken care of from the moment we landed to the moment we (regretfully) had to leave.

We couldn't recommend Golden Africa more highly! We can't wait to join them again for our next trip.
David Dugan
–
Visited: June 2019
Reviewed: Jul 9, 2019
Email David Dugan | 65+ years of age | Experience level: 2-5 safaris
A fortnight of sensational wildlife encounters, exquisite food and well organised mobile safaris
Rob at Golden Africa safaris selected a brilliant combination of permanent camps and mobile safari camps our trip (for six people). These included Linyanti Bush Camp, Gomito Plains and Meno a Kwena. Each had their own unique charm and habitat. For the mobile safari Rob took us to Khwai and Moremi. The whole journey was superbly organised with small aircraft taking us from one airstrip to the next. The standard of service on the mobile safari was exceptional. Rob's crew were attentive, good fun and eager to help in any way. The food and wine were excellent, the cook performed miracles in the camp kitchen. The camp included a chill-out area with canopy and sofas, a bar tent and a dining area with linen table cloths. Each of the tents had en-suite showers and flush toilets, really comfortable beds (with hot water bottles magically inserted while we sat round the camp fire before retiring.) This was unlike any camping experience I'd had before. Rob's newly re-furbished safari Land-Cruiser was very comfortable - there were no middle seats - lots of places to store water bottles, binoculars and cameras - and recharging points... Everything was well thought through - right down to the furry-lined ponchos for the chilly early mornings. But what made the safari truly outstanding was Rob's stories and deep knowledge of the wildlife. Every day was memorable - an unforgettable experience - that I would wholeheartedly recommend to anyone considering going on safari in Botswana.
Janet Reid
–
Visited: June 2019
Reviewed: Jul 2, 2019
Email Janet Reid | 65+ years of age | Experience level: 2-5 safaris
An unforgettable fortnight in Botswana closer to nature than I have ever been
We were a family group of 6 adults. The whole holiday was planned with our requests and needs in mind. Every lodge that we stayed in was of a very high standard, but the highlight for me was the set up of the mobile safari camps. I loved everything about them from the exceptionally friendly staff who genuinely seemed to love what they were doing and got on very well together, the superb food cooked in what must be pretty challenging conditions, the very comfortable tents with real beds, hot water bottles and flushing toilets, the 'chill out tent' where we could relax and write up the day's doings or just watch the world go by, the night times round the log fires under the stars, to the exceptional way we were looked after by Rob during the day. From the hard boiled eggs and nibbles on the makeshift table on the front of our jeep after our early morning porridge to the sundowners which took account of all our individual tastes (mostly gin and tonic!) we relished every moment. Rob's knowledge and tracking skills were amazing and we saw so much, and learned a lot. We saw everything that we'd hoped for - lions (very close to our tent demolishing a warthog!) elephants wandering through the camp and on one occasion approaching near to us in the jeep - keep calm is the motto (!), innumerable birds which kept my bird loving sister in seventh heaven, and the variety of terrain from the Okavango to the Kalahari with fascinating glimpses in between from our little flights from runways often shared with zebra! We loved every minute and would go back like a shot, and would recommend anyone to travel with Golden Africa. You definitely won't be disappointed.
Lucy
–
Visited: June 2019
Reviewed: Jun 25, 2019
Email Lucy | 50-65 years of age | Experience level: first safari
Unforgettable fortnight in a remarkable country
A trip of a lifetime is an overused expression but this absolutely was. Having thought this would be my one experience of an African safari, the problem now is I want to come back!
Our trip was for two weeks . Rob and Charlotte arranged the perfect mix of lodges and two three days mobile safari. The advance information was brilliant, just enough to raise the excitement levels and anticipation and we were not disappointed with the reality. The lodges were lovely and the mobile safari was definitely the highlight.
Every day for the whole fortnight saw us seeing something new. An animal round every corner ( some more difficult to access than others) with the occasional elephant providing siesta entertainment by wondering past the camp as we lounged on the extra "chill out" area tent. Besides the animals there was the most incredible number of birds all reliable identified making our wildlife books almost redundant for everything except reliving the days exploits!
The safari team were remarkable, the tents put up and set out so that we had all the pluses of camping but none of the discomforts. Miles from nowhere, really in the middle of the bush but with all the home comforts. En suite showers and loos were great but above all the food and wine was absolutely superb and would compete with any static restaurant or hotel. What's more the team were lovely and couldn't have been more welcoming.
I really hope I will be back.

Marilynn
–
US
Visited: May 2018
Reviewed: Jun 26, 2018
Email Marilynn | 65+ years of age | Experience level: 2-5 safaris
A Pleasant Surprise
I use the word "surprise" in the heading because our group of nine were originally scheduled to stay in a permanent tent camp, but due to unforeseen circumstances we were switched to a mobile tent camp at the last minute. As details emerged as to what that entailed, our group was not sure if the last three days of our time in Botswana would result in a positive experience. As soon as we entered the camp site for the first time any fears we had were dispelled by the lovely setting of the camp and the gracious greeting we received from Rob, the owner of Golden Africa, and his staff. Over the next three days we grew to love the experience of being closer to nature--hearing the hippos at night, laughing at the monkeys in the trees, and waking up to the sweet tweeting of the large variety of birds.

We were absolutely amazed at the delicious food that was prepared from a simple kitchen and open fire pit. We lacked for only a few comforts of home and actually enjoyed being disconnected from the world via social media, etc. Experiencing the animals of Botswana was all the entertainment we needed.

Rob and his staff, whom have been with him for many years, have perfected the mobile camping experience. An experience we will cherish forever.

AJ and Albert Bunuan
–
US
Visited: May 2018
Reviewed: Jun 26, 2018
Email AJ and Albert Bunuan | 50-65 years of age | Experience level: first safari
WOW.....
Our original camp lost it's concession and we were informed from our Travel Agent a few weeks prior to arrival in Botswana that we would now be in a mobile camp. Not sure what this exactly meant, our group had a bit of trepidation as we made our way to our "mobile camp" on the 1st of 3 days. I'm sure Rob, our host and owner of Golden Africa could see the uncertainty in our faces as we sat down for a cool drink and our orientation. He kindly explained the camp rules and guidelines and after our 1st night we were in LOVE with our all of the staff, accommodations, surroundings and the beauty of being on the land with no electricity, wifi or other modern day trappings.

Early in the morning hours, before the sun has even given rise, the smell of camp fire starts the day and you know water is being heated for showers and breakfast is being readied. Quietly the camp staff makes their way to each tent, filling outside basins with fresh warm water and saying "Good Morning, your shower is ready".....Slowly the day begins.

The heart of Africa is not only in the vast open land, the free roaming animals that we all come to see, but deep in the grooves of it's people's kind and generous souls.

We miss our time with Rob and his staff, incredible and unexpectedly prepared gourmet meals, laying in our cozy tent at night hugging our hot water bottle, listening to the sounds of animals nearby and awaking to that wonderful smell of camp fire and the warm "Good Morning"......

Thank you Rob and all of your staff for the memorable 3 days of living in the quietness of Botswana.



John Woodhouse
–
Visited: June 2017
Reviewed: Jul 13, 2017
Email John Woodhouse | 65+ years of age | Experience level: first safari
The best holiday ever!
It was a lifetime ambition to visit Okavango and we had a bewildering choice to make. In the end we went for Rob as we had known him years before and I know his father-in-law. From the start Rob arranged everything so well including the best time to visit. The combination of dry 3 nights at Xini in Moremi, 2 at Motsiri for makoro and boat and then back to Khwai with the team was perfect. On arrival Killor our guide said we would not be joined by others! The tent and bed were very comfortable and the dawn and evening and some night drives worked well with a rest after lunch and then a shower. The food thanks to Bishop excellent and Joseph looked after us so well. We were incredibly lucky to see leopards including a mother with her cub chasing off an eagle (wow! David Attenborough eat your heart out), 15 lions, wild dogs, roan, bush pig, jackals, serval, etc. Wonderful birds and trees and everything was explained so well. Understanding our tiny place in the whole of creation and how it all works together was truly uplifting. At Motsiri I went against my resolution not to walk in the bush (I grew up in Joburg) and so glad I did as we saw elephants across the river in complete safety. On arrival at the Khwai camp we watched elephants from our tent as they crossed the river so close by - amazing! Killor was expert in finding wildlife and the 2 lionesses eating a zebra foal and the 4 lionesses with a playful cub on the main road will always stay with us. But it is not all about big cats. You cannot have elephants without plants and frogs! I did slip getting off the vehicle and grazed my leg but Killor had cream for that and it was dressed at the clinic at the Victoria Falls Avani hotel. We had 2 nights there and were able to go on the train, helicopter (awesome) and river cruise. I cannot stop raving about this trip - we have been all over the world but this was just fantastic. We will definitely return - start saving now!
Douglas Clarke
–
Visited: September 2015
Reviewed: Jul 25, 2016
Email Douglas Clarke | 65+ years of age | Experience level: over 5 safaris
Botswana through the eyes of a Golden Africa team will never be forgotten both personalised or group
My wife and I visited Botswana for the first time for two weeks on a private safari, through Golden Africa, with Rob Barber, the owner of the business, who has in excess of 10 years experience, and Charlotte (his now wife). Our remit was to see the best of Botswana with maximum privacy, and exposure to the birds and animals in contrasting environments, with an equestrian element. This remit was more than met by Golden Safari themselves, primarily on a superbly organized mobile camp, and through their association with third party lodges.

Their communications were excellent both by phone and email. To ensure your safari can be as agreed, book well in advance to avoid disappointment. The itinerary can be personal or group. We stayed in three different lodges, including Motswiri Ride and Walk which provided an excellent horseback experience - providing mounts suited to personal expertise, as well as driven safaris.

The mobile safari was a unique experience offering two prisitine sites away from all others. A moveable tented camp with long drop loos and bucket showers. Logistics and excellent food were handled by Annalies. Two hyenas came through the camp the first evening, and we were also visited by an elephant and a honey badger.

Rob showed his excellent bush craft when we followed a pack of wild dogs on the hunt and he was able to anticipate their movements and drive in advance thereof. Wild game safaris are subject to the luck of the draw and we were very lucky in that which we saw- both birdlife and animals. Only Savute, in the Chobe National Park, was somewhat limited by drought and the drying up of the river past the lodge - but this in itself provided different experiences.

All transfers between main sites, other than between bush camp sites, is by small chartered light aircraft. This is due to the nature of the Okavango delta.

An excellent detailed itinerary with illustrated details of the accommodation and areas was provided.

Complaints - had we none! and I was happy to provide positive repors on Trip Advisor.

In conclusion just arrange a safari and go. (He also organized an excellent safari for us in Nambia through an associated company).

Average User Rating
Rating Breakdown
5 star

31
4 star

0
3 star

0
2 star

0
1 star

0
Write a Review
Disclaimer
All corporate and/or tour info is provided by Golden Africa, not SafariBookings
The tours offered by Golden Africa are subject to their terms & conditions