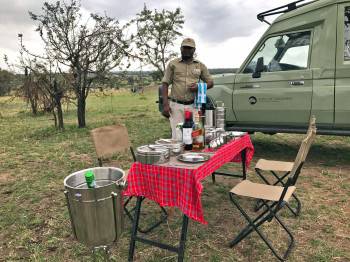 Unlimited Expeditions: The Soul of Tanzania
4.9/5 – 426 Reviews
Office In:

Size:

10-20 employees (Founded in

2015

)

Tour Types:

Custom mid-range & luxury tours that can start every day

Destinations:

Price Range:

$150 to $400

pp

per person

per day

(USD, excl. int'l flights)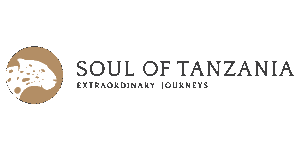 Request a Quote


for a custom tour
Your request will be sent directly to the operator
If preferred, you can contact the operator directly
Amber
–
Visited: May 2023
Reviewed: Jun 3, 2023
Email Amber | 50-65 years of age | Experience level: first safari
Far Exceeded our Expectations
Soul of Tanzania was an exceptional company to work with to book our African Safari. Sandy answered our many questions and gave advice so we could set an itinerary exactly as we wanted it. Our guide Wilson Kihiyo was warm, welcoming and extremely knowledgeable. He patiently ensured we got to see every single animal we had dreamed about and then many more. We learnt so much about the animals and the country. It was the trip of a lifetime, one we will never forget. We loved it so much we are planning to come again. Thanks again Wilson for making our trip so special.
Aanu Isaac
–
NG
Visited: June 2023
Reviewed: Jun 3, 2023
Email Aanu Isaac | 35-50 years of age | Experience level: first safari
Zebe was very helpful & knows where to find the games as you request. He's very humble & honest.
We flew in from Zanzibar to Senorena Air strip in central Serengeti. There, our guide was already waiting for us at the arrival lounge. from there straight on our game drive in Serengeti for about six hours. we got to the lodge about 7 pm. We stayed at Tukaone camp and there was internet in the middle of this wilderness. Next morning we hit the road by 6am straight to Ngorongoro caldera for another round of breathtaking views and animals. We were lucky to see all of Africa's Big 5.
Justo & Mónica
–
ES
Visited: May 2023
Reviewed: May 20, 2023
Email Justo & Mónica | 35-50 years of age | Experience level: first safari
Our lifetime journey
My husband and I went on safari for five days and we can say, without a doubt, that it was the best journey of our lives.

First of all, we would like to highlight Sandy's management, because with her help, cooperation and quick feedback we were able to tailor the trip to our needs. We were guided from the beginning about different alternative routes, we were provided with different suggested lodges, where we could stay, and left it up to us. Moreover, we must underline that never, even when there were setbacks before the trip, did they forget about us.

Secondly, we would like to give a big thank you to WILSON, our guide during the safari. WILSON is an attentive, friendly, helpful, polite, very intelligent, knowledgeable about the places, the weather, the animals and a very patient man. From the very first moment we connected and we will always remember how lucky we were to have him to elevate the experience of our journey. We had interesting conversations, he solved all our doubts (which were not few) about the flora and fauna in Tanzania, he told us curiosities and anecdotes and we learned with him the true meaning of HAKUNA MATATA.

Our safari started with the pick up at Kilimanjaro airport. Later on, we went on the safari through Tarangire, where we were lucky enough to see a lot of animals (baboons, elephants, giraffes, impalas ...) and after the game drive we moved to a lodge overlooking Lake Manyara (Kilimamoja Lodge) where we rested. What to say about this place: IMPRESSIVE. We will write the corresponding review on the page, but the attention, the details, the location, the room and the love, made our experience there excellent.

From there we left the next day to Serengeti via Ngorongoro (we saw lions, leopards...) and spent the night at Karibu Sametu. This camp enchanted us. The welcome was excellent, with exquisite manners and politeness. They took us to our room (always accompanied so as not to find any surprises) and we loved it. Spacious, beautiful, elegant and with a glass window from where we could see the sunrise of our dreams. It was simply a fantasy.

En route through the Serengeti, we arrived at the Melia Serengeti. The change of scenery was incredible, especially now in the rainy season. On that day we had the opportunity to see crocodiles and hippos, among other species. Of the Melia, which we will also review, it goes without saying that it is a paradise on earth. The facilities are breathtaking and the staff members (we had the pleasure of meeting Fernando and Nacho (Melia Ngorongoro) were charming, thoughtful, friendly and made us feel at home. It's great to see young people with such energy, enthusiam and a desire to take on the world.

The last two days were divided between the Ngorongoro Crater and Lake Manyara. The final night of our stay in Tanzania was at the Karibu Lion Paw Lodge. I don't think there are enough words to describe the beauty of the facilities, the breathtaking scenery, the service and friendliness of the staff and all in all, like living in a fairy tale.

The food was excellent in each of the lodges and the picnics were exceptional, due to the location and the surrounding nature and, above all, thanks to WILSON who took care of even the smallest detail.

We are very happy that we chose Soul of Tanzania via Safari Bookings, because thanks to them we will always remember the trip of a lifetime.

ASANTE SANA
Grant
–
US
Visited: May 2023
Reviewed: May 16, 2023
Email Grant | 20-35 years of age | Experience level: first safari
For an ultimate safari experience, choose Soul of Tanzania
Our experience with Soul of Tanzania was very good. They are responsive, flexible, and educated.

Our guide, Cleopa, was outstanding! He was very friendly, knowledgeable, and accommodating in order to ensure we had the best experience possible. For whatever type of safari you are seeking, he knows where and when to take you. His guidance and presence made us feel very welcomed in Tanzania and helped us learn some Kiswahili along the way. We were blessed to see the beautiful landscapes, wildlife, and culture of Tanzania because of Cleopa's phenomenal guidance. During our 8 day safari in Tarangire NP, Lake Manyara NP, Serengeti NP, Ngorogoro Crater, and Lake Eyasi, he was able to get us safely close to all wildlife to be seen. The scheduling of our activities was flexible and Cleopa was reliable in taking care of the logistics. We strongly recommend Cleo as your next safari guide

But please note as you are planning your trip, we recommend educating yourself on customs around tipping. We did not understand this before our trip and it will result in some unforeseen costs.
Chris
–
CZ
Visited: August 2022
Reviewed: May 4, 2023
Email Chris | 35-50 years of age | Experience level: first safari
Experienced and very accommodating
My wife and I went on safari for our honeymoon and enjoyed the wonder and spenders of Ngorongoro gorge as well as the savanna of the great Serengeti. It was an incredible journey and one we will always think fondly on. Part of the reason why we enjoyed our time so much was due to this tour company and the wonderful service they provided for us. We were well cared for and our driver went out of his way to make sure that we had an amazing time. Thank you so much to the Soul of Tanzania.
Miguel Silva
–
PT
Visited: March 2023
Reviewed: Apr 25, 2023
Email Miguel Silva | 35-50 years of age | Experience level: first safari
Fantastic private custom-made safari through Kenya and Tanzania
From the drawing board to the actual tour, the support was simply outstanding.
Took a private custom-made safari of Kenya and Tanzania and the organization was superb.
Everything worked like a charm during our stay - from hotel bookings to venues, visits, vehicles and guides - all excelled.
The greatest plus for me wast hat we had wine included in our pic-nic meals in Tanzania :) Yay!
Victor
–
SG
Visited: April 2023
Reviewed: Apr 22, 2023
Email Victor | 20-35 years of age | Experience level: first safari
Amazing Safari experience in Kenya and Tanzania
My wife and I did a 10-day safari across Kenya and Tanzania. We had the TIME of OUR lives; seeing the Big5 up close, learning about the Maasai culture, eating delicious food and experiencing exceptional hospitality from every place that we stayed!!

We worked with Hugo to plan our trip and logistics; he was super responsive to our questions, gave us advice on visas and how best to prep ahead! He also helped us during the trip, when one one of our flights was moved 12 hours earlier by the airline, and made the relevant arrangements to accommodate this last minute change! One thing to note that is that the planning team (e.g. Hugo) is based in Portugal, so there is a slight timezone difference, but in summary, everything was seamless!

We want to give a HUGE shout out to our guides/drivers, James (Kenya) and Hasani (Tanzania), who were knowledgeable, friendly and ensured that we enjoyed our time throughout the trip! We learnt so much about the behaviours of the animals, how to spot them, and their distinctive features! They also had a relaxing approach - you can plan your day based on your preference; whether you wanted to do a whole day drive, or half day drive and then chill for the rest of the day!

We really enjoyed all of the camps that we stayed in, but the ones that really stood out for us were:
(1) The Cliff (amazing view of the lake and you can see the sun rise from your room, and the food was also incredible!)
(2) Four Seasons Serengeti (great amenities e.g spa & swimming pool, cool museum, and very comfortable stay) and;
(3) The Highlands, Tanzania (really cool room; it's like staying in a crystal ball with amazing views of the mountains with a fireplace in your room. The staff are so lovely and like one big family!)

In summary, we would highly recommend to book with this company (Spirit of Kenya and Soul of Tanzania) - THANK YOU for making this trip a special and memorable one!!

Keith Galea
–
MT
Visited: August 2022
Reviewed: Apr 12, 2023
Email Keith Galea | 35-50 years of age | Experience level: first safari
A dream come true
Our journey began in 2019, when we started shopping around for tour planners in Africa, as most of us do we read reviews to find the best operator according to travelers opinions. Soul of Tanzania was rated the best, so we sent an email to inquire further. From that moment on, it was a daily communication back n forth with proposals, questions and ideas, back then our tour planner was Helena, she was so professional and met all our requirements instantly, unfortunately due to covid she departed the agency and we were transferred to Luis, another very professional planner who continued where Helena left off as if he was in contact with us from the beginning. We had to postpone our 2020 experience due to covid, initially to 2021, but then to 2022. All was set to depart Malta on August 8th, a minor hick up evolved, August 5th, my partner got sick and was tested positive for covid, just our luck...when contacting Luis he did not hesitate, and told us not to worry, just to give him another date and he will try to make all the arrangements necessary. A week later, my partner was tested negative, so we asked if we could opt to start the safari 21st August, within 2 days Luis made all arrangements, now we had planned Kenya, Tanzania & Zanzibar, all was settled including the internal flight to Zanzibar, that was an amazing task Luis managed, so 21st August we began our experience. Kudos to Luis :)
The safari was amazing, guides were great both in Kenya (Joseph) quite, not much of a talker man but knows the Mara and animals like the back of his hand, he did all he could to get us close as possible to the animals not bothering them or putting us in any danger. In Tanzania our guide was Gabriel, such a nice humble person, he was a talker :) An encyclopedia of information on legs, my gosh how many things he knew and talked about, again another guide that knew Serengeti all to well, and also a great animal spotter...one time he spotted an owl in a tree from 50m away, and it took us a while to see it and he literally gave us co ordinates! The images we brought back and the great memories will last a life time, thanks to Soul of Tanzania and their team of experts. If you are going on a safari, just look up this agency...you will not be disappointed :) Thank you Soul of Tanzania :)
Ricardo Serrano
–
PT
Visited: April 2023
Reviewed: Apr 9, 2023
Email Ricardo Serrano | 35-50 years of age | Experience level: first safari
Best experience ever with the best safari guide!!
I don't know where to start, but maybe through the end, when we have to say goodbye to CLEOPA , our guide, and when I saw both of my children (4 & 7 years old) crying like babies because they don't want to leave him and catch the flight to Zanzibar… those emotions says everything about the guide and about our experience.

Now let's review the safari, we went for 5 Nights to Tarangire, Serengeti & Ngorongoro, and since the moment we land in Arusha we knew we are in good hands. CLEOPA is the man, very friendly, very polite always smiling and saying "Hakuna Matata" in all your requests. Everything was possible for him!

He has an eagle eye in what finding animals concerns (and it doesn't need the binoculars :)) ). With him, we took the all breakfasts, lunch picnics and dinner together, because we invited him to share those moments with us.

We saw more than 50 lions (male/female) , cheetahs, elephants, giraffes, gnus, rhinos, hippos, etc etc. We saw all the big 5, and it's a plus that all guides/drivers communicate through their radios so you don't miss any moment or animals.

We are very grateful and we will come back to Tanzania again, and of course with CLEOPA. (Our family is already preparing the trip with him :) ) Thanks Cleopa and thanks for sharing with us these 5 days and for open your life to us! Rodrigo, Matilde, Catarina, and myself miss you a lot and our kids keep asking if we will stay with you again…. :)

See you soon "my friend"!! Hakuna Matata!!
Asante sana
Naushad
–
CA
Visited: March 2023
Reviewed: Apr 4, 2023
Email Naushad | 50-65 years of age | Experience level: first safari
Excellent service by Soul of Tanzania
Took 4 days safari to tarangire. Serengeti and ngorongoro crater. Our driver was so experienced and very knowledgeable knew where the big 5 were.
We had an amazing safari trip and enjoyed every single day with joy.
Disclaimer
All corporate and/or tour info is provided by Unlimited Expeditions: The Soul of Tanzania, not SafariBookings