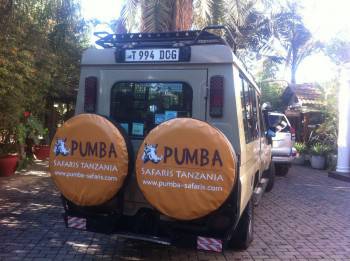 Pumba Safaris Tanzania
5.0/5 – 14 Reviews
Located In:

Germany

Size:

1-5 employees (Founded in

2015

)

Tour Types:

Custom mid-range & luxury tours that can start every day

Destinations:

Price Range:

$215 to $1,293

pp

per person

per day

(USD, excl. int'l flights)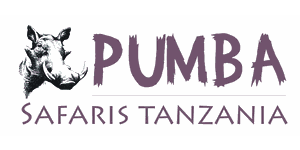 Rating Breakdown
5 star

14
4 star

0
3 star

0
2 star

0
1 star

0
Monika
–
DE
Visited: August 2020
Reviewed: Aug 15, 2020
Email Monika | 50-65 years of age | Experience level: over 5 safaris
Just the perfect Safari
We spent 5 days with Pumba Safaris and loved it. The co-owner Edwin himself was our guide in Ngorogoro and the northern Serengeti. We are regulars on safari - this experience with Edwin was the best ever. We attended Wildlife University: Edwin made us see all the signature animals (Rhino, Elephant, Cheetah, Leopard, Lion, Hyäne...), he shared his deep and holistic knowledge in ecology, conservation, habitats and even daily life of Tanzanian people. He went with us on a night drive to see honey badger, which are among the very rare animals to see, porcupines, and others. He made us see the great migration crossing the Mara river from a special vantage point, where we were alone with the animals! Simply stunning experience!
He is attentive to details which deepen your experience and make your safari more comfortable. In Mwanza we took over his Landcruiser to go on a selfdrive tour through Western and Southern Tanzania and it was hard to part ways. Edwin became a trusted friend and we miss his competent guidance, his friendly personality and - not to forget - his excellent driving which by far exceeds ours. We strongly recommend going on Safari with Pumba Safari and Edwin and Hope to come again.
Monika and Thomas
Lena
–
DE
Visited: July 2019
Reviewed: Aug 8, 2019
Email Lena | 20-35 years of age | Experience level: first safari
Unforgettable once-in-a-lifetime-vacation
It's difficult to put our boundless enthusiasm into words - however, we'll try to do so. ;-)
The safari tour with PUMPA Tours was absolutely worth every penny! We got to see the Big Five as well as the Mass Migration - both absolutely stunning. It's possible to see the animals from a very close distance which makes it possible to take great photos.
We'd like to emphasize how awesome our guide Edwin was! He is absolutely passionate about his job and Tanzanian wildlife and capable of telling his guests countless interesting facts about the animals and their habits (thanks to his degree from a Wildlife College). He does so without any language difficulties as his English is very good (also regarding all the biological terms). He always wears a smile on his face and won't call it a day before he had made sure that his guests saw as many (rare) animals as possible. Detours and overtime aren't keeping him from doing so. PUMBAs lunch boxes are exceptionally good and stood out in comparison to the ones from the guests of other companies.
Other than that, we don't want to tell you too much - as we don't want to ruin the surprises which Edwin has in store for you. Edwin always knows how to surprise his guests and exhibits a dedicated sense of service. We'll always remember our fantastic honeymoon, so THANKS SO MUCH, Pumba Tours, THANKS Sebastian and Edwin! You rock!
dilepoe
–
DE
Visited: July 2018
Reviewed: Aug 19, 2018
Email dilepoe | 35-50 years of age | Experience level: 2-5 safaris
Excellent Safari!
We were traveling with Pumba Safaris with two families for eight days. After we had agreed the journey with Sebastian - the expectations were high and were never disappointed.

The team on site was great. Of course, Edwin as a soul of man - but also Andrew and Jackson we liked a lot. It definitely made sense that we had with Jackson a German-speaking guide for the kids.

We started with two jeeps in Arusha. We arrived in the Serengeti via Tarangire, Lake Manyara, Ngorongoro Crater. Here we stayed four nights in two different accommodations - once central Serengeti and once in the north.

Lodges we liked a lot - the Katambuga Lodge in Arusha is great to arrive and the "tented camps" in the Serengeti are also highlights. In the middle of the wilderness - a lot of comfort - and relaxing sundowners and dinner in the middle of nowhere - cool. Very nice was also the Ngorongoro Farmhouse near to Lake Manyara.

The kids also participated well - even if we have been traveling for some time in the jeeps. But with the guides on board you will not be bored and you get a lot of information (if you want) about Tanzania etc.

We saw everything except Rhinos - highlight areas here the crater, the wild cats in Serengeti and of course the migration at the Mara River. We could not have imagined such a number of animals. Feeling you were always "close" - very impressive.

Flo
–
DE
Visited: August 2018
Reviewed: Aug 14, 2018
Email Flo | 20-35 years of age | Experience level: first safari
Better than any expectation!
We made an individual five-day tour with Edwin through the Tarangire National Park, the Serengeti and the Ngorongoro Crater. In the run-up we did not really know what to expect - be it the type and number of animals, the comfort of the accommodations or our guide Edwin.
As mentioned above, we are totally thrilled now back in Germany. Thanks to Edwin's expertise, we have seen pretty much everything about animals that you can see. Highlights were certainly the rides, in which one was alone in the endless expanse of the Serengeti and suddenly discovered a lion family at the waterhole. Or when we set off in the morning before dawn and discovered two lion brothers and shortly thereafter two cheetah brothers and no one else was around us.
Regarding the accommodations no wish remained unfulfilled. We did not think what comfort awaits you in absolute nowhere.
And also Edwin has delighted us with his sympathetic nature and responded to every wish, without losing the spirit of discovery in itself. Great!

We can fully recommend Pumba!!
Simon Joss
–
CH
Visited: July 2018
Reviewed: Jul 30, 2018
Custom-tailored Safari – Fully recommended
We did a 7 day trip with Pumba Safaris: Lake Manyara National Park, Ngorongoro Crater and Serengeti National Park. Our guide Edwin took great care of us and made sure that we always got the best possible position for wildlife spotting and taking pictures. He knows a lot about tanzanian wildlife and is always good for a joke or funny surprise ☺ It was fun traveling with him and we always felt safe and well taken care of. The accommodations in Lodges and Bush Camps were all high standard. We loved sleeping in luxury tents out in the wilderness, hearing the sounds of hyenas at night. Food was great – because of rich buffets even as vegans/ vegetarians we had a great variety of fresh and tasty food.
So all in all our Pumba Safari was an unforgetable experience that we can fully recommend.
LoveTheSun
–
DE
Visited: May 2018
Reviewed: May 28, 2018
Email LoveTheSun | 20-35 years of age | Experience level: first safari
Excellent safari - 100% recommended!
You dive into the nature & beauty of a different world. Pumba provided perfect individual planning, very fair rates & Edwin - the most amazing guide. He knows where to find the big animals and brings you very close to them. We can really recommend Pumba without any exception!

Game drives and accomodations were exceptionally good. Best Holidays ever!
Gunilla
–
SE
Visited: February 2018
Reviewed: Mar 3, 2018
Email Gunilla | 50-65 years of age | Experience level: first safari
Best holiday ever!!
The tour was a lot more than we expected, we saw the big five and many... many more animals so close that we almost could have scratch their bellys( lions). We didn't ;). The service on the lodges was excellent and our tourguide Edwin is the best!!<3
Benjamin
–
DE
Visited: November 2017
Reviewed: Dec 31, 2017
Email Benjamin | 20-35 years of age | Experience level: first safari
Great tour, great guide, great experience
We did the 6 days: Tarangire, Serengeti and Ngorongoro national parks. We have seen so much wild animals - it was amazing. Guide/ driver Edwin is perfect: Great in spotting wild animals with a lot of knowledge about the animals and the parks. Edwin has a very likeable personality with very high service orientation. All accommodations were very high standard with very good food and big rooms.
We are very happy with choosing Pumba Safari.
Judith Kennecke
–
DE
Visited: November 2016
Reviewed: Oct 23, 2017
Email Judith Kennecke | 20-35 years of age | Experience level: first safari
Most amazing travel experience of our lives!
Our trip with Pumba Safaris has been the most amazing trip we have ever experienced - it was truly one of a kind, our honeymoon and it is absolutely the tourguide Edwin who has made it so special. As we changed the tour a bit to our individual needs, I'll be describing our tour briefly.
We started our tour without spending the night in Arusha, so Edwin picked us up at the airport to directly start the safari tour at the Tarangire National Park with us. After spending the first night in an amazing lodge (Lake Burunge Tented Camp) including a pool, amazing dinner outside with a view to the Lake and little dikdiks running in front of our accomodation, we cut the long drive into the Serengeti on the next day in half and had a great lunch at the Ngorongoro Farm House (Tanganyika Wilderness Camps), which was really special and something I can only recommend you to do, as we sat just the two of us in an amazing garden with a great lunch menu and a big marabou bird coming up to us. Overall, we spend three nights in the Serengeti and the Serengeti Tanzania Bush Camp which was the greatest and most special experience overall. Our tent was glamorous with hot water and a unique African luxurious furniture style. The people hosting us at the Bush Camp were amazing hosts, the food was fantastic and it was the best three vacation days of our lives. The people made us feel at home at all times and they really cared about our safety. Even when five fully grown lions hung out right by our tent at night! Finally, we spend a last day at the Farmhouse again and went into the Ngorongoro crater to end our tour.
Coming back to our tourguide and heart and soul of Pumba Safaris, Edwin truly cares about his clients' customer experience at all times, he anticipates perfectly to give room for some time as a couple on the one hand and is never too tired to answer questions on the wildlife on the other. As my husband and I were really amazed by the wildlife, Edwin would drive all day for us and never get tired of searching for new animal experiences for us even if we had already spent all day in the car and still wanted to explore some more. I can only recommend to book the car all for yourselves as you have more space to move around and can have the tour YOUR way without waiting on other travellers or even photography nerds.
What is truly special about Edwin is his passion about driving and the wildlife. You can tell he has studied Wildlife in university as he has deep knowledge far beyond what a standard tourguide could tell you about the Serengeti. Also, he is a really funny guy and we loved getting to know him, learn about the culture through him and spending time with him. Finally, as I left my iPhone in the Serengeti, Edwin went beyond all service levels to get my iPhone and mail it to me to Germany, which I was so thankful for. I hope many more people get to book a tour with him and have the time of their lives in the Serengeti. Finally, we can fully recommend booking Pumba Safaris and especially we recommend you to tailor the tour a bit as it is absolutely worth spending some more money to increase the number of nights in the Serengeti desert. The Tarangire National Park is a nice introduction into the wildlife at the beginning of the trip, but the special wildlife encounters happen in the Serengeti!
Edwin, Sebastian, thank you so much for giving us the most special honeymoon ever!

Govert
–
NL
Visited: October 2017
Reviewed: Oct 16, 2017
Email Govert | 20-35 years of age | Experience level: 2-5 safaris
Very professional safari with lots of fun!
We booked an 11 day safari (Hot springs, Tarangire, Lake Manyara, Tribes, Ngorongoro and Serengeti) and we have to say Pumba gives you the best safari experience.

Edwin is an expert on East African wildlife, with an keen eye for even the smallest birds and hidden leopards. Thanks to him we have seen almost all the animals in the parks. He is very flexible, full of nice surprises and is just a reliable, professional and humorous guide.

Pumba Safaris is a growing company with an excellent focus on the demand and wellbeing of its clients. We will never forget what we have experienced and definitly want to come back some time! For now we will recommend him to all our relatives!!
Average User Rating
Rating Breakdown
5 star

14
4 star

0
3 star

0
2 star

0
1 star

0
Write a Review
Disclaimer
All corporate and/or tour info is provided by Pumba Safaris Tanzania, not SafariBookings
The tours offered by Pumba Safaris Tanzania are subject to their terms & conditions