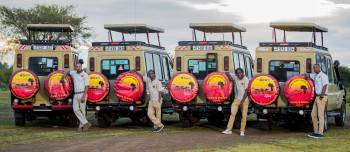 Cross to Africa Safaris
5.0/5 – 58 Reviews
Located In:

Size:

5-10 employees (Founded in

2017

)

Member Of:

TATO

&

TTB

Tour Types:

Custom budget & mid-range tours that can start every day

Destinations:

Price Range:

$140 to $350

pp

per person

per day

(USD, excl. int'l flights)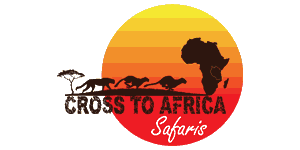 Martijn Pernot
–
NL
Visited: October 2021
Reviewed: Oct 26, 2021
Email Martijn Pernot | 35-50 years of age | Experience level: 2-5 safaris
For an unforgettable honeymoon choose Cross to africa safari
We had an amazing 8 days in Tarangire, Serengeti, Ngorongoro and Lake manyara. We did our trip during the corona period, but it didn't bother us much. Antony had everything perfectly arranged. The accommodations were hygienic, beautiful and the food was very tasty. Also the staff was very nice everywhere and always in for a joke. Antony had sent us a good guide. Had an eye for everything and put the jeep on a perfect location to always shoot a beautiful photo. After the trip we spent another 5 days in zanzibar. Antony had a good feel for which hotel would suit us. What a great location and we enjoyed it so much
We totally recommend Cross to Africa safari!

Caroline
–
FR
Visited: July 2021
Reviewed: Aug 4, 2021
Email Caroline | 20-35 years of age | Experience level: first safari
Unforgettable and magical experience !
We had an incredible experience with Anthony's team. Our driver Lazaro was perfect and our cooker Salehe the best one ! Thank you all for this incredibles moments, we spent 4 days in Safari to do Tarangire, Serengeti and Ngorongoro and all the organisation was perfect.
They are all available to answer to all our questions, before and during the Safari. It is an experience forever engraved in us, tha nk you all for realise our dream ! We totally recommend Anthony's team !
Raquel
–
CH
Visited: June 2021
Reviewed: Jun 24, 2021
Email Raquel | 35-50 years of age | Experience level: 2-5 safaris
Anthony knows how to make the clients happy!
We had an incredible tour in Serengeti and Ngorongoro thanks to Anthony and Cross to Africa Safaris. Already before arriving we had a great impression of Anthony, since he answered all our questions showing a deep understanding of our concerns.

Once there, he really couldn't have done more to fulfil our expectations, which were high. We wanted to spend as much time as possible watching at the animals, so Anthony spent many long hours driving and looking for the most interesting places. I don't think it is possible to find more animals than he did, and moreover he knows where to place the car to get the best shots!

Also the cook and the food were exceptional. Moreover, Anthony organised the COVID tests that we needed for our flight. Everything was efficient and well organised.

We can only recommend this local agency with an incredible dedication to make the customers happy!
Ankur
–
US
Visited: October 2020
Reviewed: Nov 29, 2020
Email Ankur | 20-35 years of age | Experience level: first safari
Great safari experience with very friendly guides
Cross to Africa Safaris provided a unique and unforgettable experience. From the very start they provided us with flexibility on our tour dates due to the ongoing pandemic and made us feel very comfortable throughout. The safari itself was well thought out in providing us with different experiences and amazing accommodations each day. Our guide, Tony, has a plethora of experience and it showed in how he was able to locate every animal the Serengeti had to offer. The vehicles this company used were top notch in allowing us a 180 degree view during game drives. Great itinerary, great staff, great price, and great experience.
Sofia
–
US
Visited: November 2020
Reviewed: Nov 18, 2020
Email Sofia | 20-35 years of age | Experience level: first safari
Amazing safari experience!
This was our first safari experience. We are 3 Americans who found Anthony on this site, and we are so glad we did! We are younger than the usual crowd and just wanted to have fun despite the pandemic. And from the moment Anthony picked us up from the airport, we had an amazing time! Tanzania was an amazing country, and Anthony was so much fun. He was our driver and guide for 6 days of safari, and we saw every animal including a black rhino from a distance on the last day of the Serengeti ! When we needed anything , he would make a stop to get it. Also honorary mention to Julius at embalakai camp in the Serengeti, where we had some of our best memories with him and Anthony. Book with this company you won't regret it!
Sofia
Simon Tamir
–
IL
Visited: January 2020
Reviewed: Jan 28, 2020
Email Simon Tamir | 65+ years of age | Experience level: over 5 safaris
very professional
The service was excellent, The stuff real nice and took care for everything

Travelin Consultants
–
AT
Visited: October 2019
Reviewed: Dec 1, 2019
Email Travelin Consultants | 20-35 years of age | Experience level: over 5 safaris
12 day - private trip around the Serengeti and neighbouring parks
We booked a 12 day special trip with Anthony directly. As seasoned Africa travellers we knew what we would like to do and see. With Anthony we had a great sparing partner who understood our aims and wishes and tried to cater to all of them producing a comprehensive tour itinerary for us. From there we tweaked bits and pieces, which went well as Anthony was very responsive and constructive all along.

Once we arrived in Tanzania Anthony picked us up and took us to the Hotel in Arusha where we could organise everything and prepare for the trip ahead. As requested we spent the afternoon with our chef at the market and told him what we like and our food preferences. This was a great experience as the local market has this buzzing vibe to it (not suited for squeamish people). Our chef showed us around and gave us insights into the local food, we gave him hints what we like most.

The next day we set off on our trip into the wild, with our guide Ahadi, chef and Anthony. Our route took us through Tarangire NP, Lake Manyara NP, Lake Easy, Ngorogoro Crater, central Serengeti, northern Serengeti and lake Natron NP.

The route was well thought out and we managed to visited almost all planned sites, parks and tribes (we missed the occasional one due to exceptional sightings which we stayed with and watched on). The time and distance approximations given, where sometimes rather guesses than approximations, changing schedules a little during the day, but nothing serious. We took some "easier" routes or D-tours which in some cases felt like excuses to kill some time. Rather driving to the camp slowly instead of reaching the next camp early and doing an extra game dive around the area after we settled in. But nevertheless we saw everything we could dream of and more.

Ahadi did a great job driving us around and showing us the wonderful wildlife and nature, as well as being a great source of knowledge; telling stories all the way and sharing facts&figures. He did a great Job a spotting wildlife and sharing it with us. His driving was second to none, making it an agreeable journey wherever he took us.

Our chef had a hard time remembering what we told him at the market, but as we went along and guided him when he restocked supplies, he did a phantastic job feeding us well the entire trip. The African diet is usually very filling and heavy on carbs, which is normal - looking at the reasons for eating around here.
Although, if you spend most of the day in the car not moving too much, three full meals and loads of carbs are a heavy load to take in. With time and some guidance we managed to reduce on meal to a salad snack. In general he made awesome meals and varied them from day to day, we never got board of eating. The fresh popcorn after long drives and game drives where a treat :-)

What we haven't understood - it seems to be an African-thing (not only Tanzania) - why don't they appreciate the local produces. We drove by avocado trees, papaya trees, Banana and Mango trees, Corn and beans fields. But in our lunch pack there was an apple (imported from somewhere) and for breakfast or as a side it was canned (Heinz) backed beans (why not the local ones?).

For the immersive experiences Anthony organised some great local guides with whom we visited the Datoga tribe's blacksmith, the Hadzabe bushmen and the Maasai.
With the Hadzabe, what started as a leisure walk with tourists to show them how hunting works turned into a full blown hunt and kill of a wild boar. An experience that is not for the feint hearted but better than any BBC or NatGeo documentary.

All in all it was a great 12 days of full-on Tanzania wildlife and culture. Anthony prepared and executed a great trip for us with many highlights and some downs. When there was anything to talk about, he was open for it and took the feedback immediately acting on it if that was possible. Ahadi did a wonderful job and our chef never left us hungry during the trip. Ahadi was fully dedicated to show us the best his country has to offer, which occasionally was cut short by Anthony wanting to return to camp, for him to look after his business, instead of us pursuing a distant sighting or track we spotted. But we guessed this was due to Ahadi and Anthony joining the trip and jointly looking after us.

Summarising it; we had a great trip with cross to African and can fully recommend them for any safari first timer and repeat safari booker. Just let them know what you are looking for and they will cater to your needs.
Bernard and Preethi
–
Visited: October 2019
Reviewed: Oct 28, 2019
Email Bernard and Preethi | 65+ years of age | Experience level: 2-5 safaris
Beyond Belief! Excellent life time experience in Serengeti and Ngorongoro.
We have just completed our safari in Tanzania with Tony (as recommended to us by our son). What a wonderful experience, thanks to Anthony and Cross to Africa. To see such a large number of animals in their natural habitat itself is amazing and rewarding. Tony's communication skills, intimate knowledge and experience in the great African Savanna in Serengeti, both Central and Western plains, immensely helped us to see many animals in a very close range. At the time as well as now on reflection, some of the maneuvers employed by Tony to give us the best possible experience is truly remarkable. These close-up animal encounters are now our treasured memories. His itinerary, logistical support, food and accommodation in the wild in Africa was a five-star treatment.
Lahiru Silva
–
Visited: September 2019
Reviewed: Oct 20, 2019
Email Lahiru Silva | 20-35 years of age | Experience level: 2-5 safaris
Dream come true!
This was one of the best trips we've ever done! I was planning our safari for quite awhile and was recommended cross to Africa by a friend. Their communication was very clear and fast. What we wanted the most from the safari was to see as many animals as possible. Tony and cross to Africa didn't disappoint! We saw every animal including Multiple cheetah sightings and a leopard in a tree with a kill! It was a dream come true! Tony always managed to get us as close as possible to the action. He went above and beyond what you would expect. To experience it with my family was great! 5 of us had a great time travelling around Tanzania in style in the 4WD.

The accommodation was at a very high standard including 2 nights where we stayed in the Serengeti national Park. We picked medium range accommodation but they were at a very high standard. The highlight was hearing the animal noises whilst staying in a safe and modern tented accommodation with all the amenities of a 4-5 star hotel. Later, I looked up the accommodation online, if we booked it ourselves, it would have cost about 4x what we paid!

In addition to safari, whist we were travelling they also offered cultural experiences including a visit to a massai settlement and a meal a local home.

Overall,a dream come true!!

Cat
–
Visited: August 2019
Reviewed: Oct 14, 2019
Email Cat | 20-35 years of age | Experience level: 2-5 safaris
Incredible
Not only was the trip Incredible but so were Anthony (the Owner) and Ahadi (Our Driver)
From the get go, Anthony was onto it, he replied straight away and made the Tour to our liking.
We originally went to see the Great Migration and we were there too late. He was honest with us that we missed it and suggested another Itinerary to suit us better than wasting our time.
Ahadi was such a fun and positive driver and very responsible. He even went the extra mile to go find animals in the afternoon when some of the people in our group wanted a break. This is where he found a Leopard super close up and it was incredible.
I definitely recommend this Company if you are considering going to the Serengeti :)

Disclaimer
All corporate and/or tour info is provided by Cross to Africa Safaris, not SafariBookings