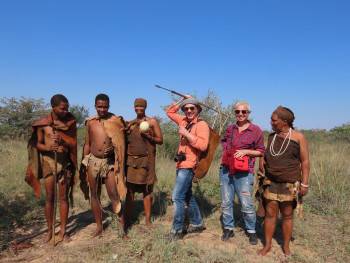 Kalahari Marsh Safari Holidays
4.8/5 – 16 Reviews
Located In:

Size:

5-10 employees (Founded in

2017

)

Member Of:

Botswana Guides Association

Tour Types:

Small & medium group tours (Mid-range)

Destinations:

Price Range:

$280 to $900

pp

per person

per day

(USD, excl. int'l flights)
Kalahari Marsh Safari Holidays
Rating Breakdown
Naomi
–
Visited: June 2022
Reviewed: Jul 11, 2022
Email Naomi | 35-50 years of age | Experience level: 2-5 safaris
Amazing experience, truly memorable
I booked this tour through Lucky who saw to my every request from leopards to Bushmen, lucky enough to see 3 Leopards and 2 Cheetahs travelled from Savuti through to the Kalahari and back to Maun, driver was exceptional along with cook who provided us some lovely meals, tents were roomy felt safe and looked after throughout our Botswana tour
Carol Stage
–
Visited: June 2022
Reviewed: Jul 6, 2022
Email Carol Stage | 50-65 years of age | Experience level: 2-5 safaris
Amazing Experience
If you want an adventure that is authentic and real, then Kalahari Marsh Safari is for you. In Botswana, camping amongst the wildlife, with experienced, knowledgeable guides, who know the terrain and animals that live there. You are close to the most stunning wildlife and are able to live and enjoy them in their own habitat whilst feeling totally safe with the guides who know their environment.

It will be an experience you will not forget!




Hjalmar
–
NO
Visited: June 2022
Reviewed: Jun 22, 2022
Email Hjalmar | 35-50 years of age | Experience level: 2-5 safaris
Very nice Safari trip
Perfekt set up for a short 1 night 2 days Trip with makoros and camping in the Okavango delta. Flexible and nice guides, very nice experience.
Anthony Jordan
–
US
Visited: April 2022
Reviewed: May 12, 2022
Email Anthony Jordan | 35-50 years of age | Experience level: 2-5 safaris
SAFARI AT ITS BEST!
We travelled as a private tour on a 15 day tour in Botswana with Kalahari Marsh Safaris, starting at Maun, through the CKGR, Makgadikgadi Pans, Nxai Pans, Moremi Game Reserve, Okavango Delta, Khwai Concession, Savuti and Chobe National Park, transfers to Victoria Falls Zambia in April 2022 – our first safari experience – very personal and customized to our own wishes. Communication with Kalahari Marsh Safaris was extremely friendly and efficient, without complications.

The tour itself was absolutely amazing – We exceeding all our expectations! We saw many aspects of Botswana's amazing flora and fauna and experienced it in various ways (game drives, boat and mokoro overnight in Okavango Delta, bush walk in an Island) unforgettable! The team that accompanied us (Thuso, Russel and Lucky) was wonderful. Thuso is the best safari guide we could have imagined – he has a huge knowledge on so many aspects of the safari animals and nature, and his great experience and patience in searching also for the rare animals made us see essentially all of them!!! Russel's cooking over the fire was delicious! The tents and all infrastructure – up to the bucket showers – were nice and convenient. Sitting around the fire in the evenings. The 15 days passed much too quickly; saying good bye was hard as we had all become friends. If you want to visit Botswana I highly recommend Lucky to be your host.
Masego Mmile
–
US
Visited: April 2022
Reviewed: May 11, 2022
Email Masego Mmile | 20-35 years of age | Experience level: first safari
Best of the best
Our first experience with Kalahari Marsh Safaris and definitely not the last. Our 10 day tour to Okavango was organized by Lucky who was always reliable, at all times, friendly and patient with us. We did not have a clue of how an African is, with his knowledge he helped us well and everything became possible. The tour organizer Lucky has always been reliable and communicating well responding to our emails every time we need clarification, everything was perfectly organized and managed, with professionality. I highly recommend Kalahari Marsh Safaris for any Botswana Safari. They are knowledgeable, professional guides who have been working in the safari over 20 years, approachable and receptive. If you want to visit Botswana I highly recommend them, keep it going Lucky!!
Elisa Vadanovici
–
FR
Visited: March 2020
Reviewed: Mar 31, 2020
Email Elisa Vadanovici | 20-35 years of age | Experience level: 2-5 safaris
Simply amazing
I arrived in Africa at a difficult moment (beginning of the corona virus pandemic) but Lucky has been here for me and helped me to have a beautiful experience in Botswana. Thanks to him I went to the north and was able to visit the delta and some parks! It has been a wonderful experience and he made sure to help me respect my budget and see everything I wanted to see. Unfortunately I didn't had enough time to spend but I know I will come back and go on other tours with lucky and his team because it's the only way to get a truly authentic experience with locals and respecting the environnement. Thanks!!!
Aayushi
–
IN
Visited: December 2019
Reviewed: Feb 19, 2020
Email Aayushi | 20-35 years of age | Experience level: first safari
It was an amazing experience. Great peeps!
Fantastic company to book your safari or other adventure through. Great prices. Everything from our transportation, safari and lodge were perfect. Worth every penny !
Thabo
–
Visited: January 2020
Reviewed: Feb 19, 2020
Email Thabo | 20-35 years of age | Experience level: first safari
GREAT EXPERIENCE
We had a good time with Kalahari Marsh on our day trip in Moremi, they provided good food, great guide. Thanks a lot to the team.
Isabelle Niederberger
–
CH
Visited: December 2019
Reviewed: Feb 14, 2020
Email Isabelle Niederberger | 20-35 years of age | Experience level: first safari
It ended in a court case
I had a few days of meetings in Botswana and booked two Safaris with Lucky, one before the meetings and one after. In the first Safari (4 days) everything was ok. Moremi of course is a wonderfull place. The guide and the chef did a great job - all of them are freelancer. After the second safari (see further down), I am not sure they will work with Lucky again.
A much worse experience was the second safari (it should have been 7 days CKGR and Nxai Pans). Lucky didn't do any advance preparation for the trip like buying food or booking accomadation in the parks. When the safari started he was not in Maun, but in Gabarone, an unexpected meeting he said.
He sent the guide to pick me up, but didn't provide him with money for food, disel or accomodation. With the help of a friend of Lucky we could buy the most necessary things. Even I cashed in some money I had on me. Lucky said he would join us after two days and bring the required supplies. He didn't. He only showed up after three days, probably when he realized, that our situation wasn't too good: we were in CKGR, no food left and not sure we had enough disel to make it back to the gate, where we could have a phone call for support.
So he briefly came to our camp with more supplies, appologized, said from now on everything would work fine. It didn't. When we went over to Nxai Pans we realized: he did not pay park entrance nor accomadation for us - eventhough before hand he had repeatedly confirm that he did...
Before more people had to cash in money for something Luckey had been paid for by me in advance we headed back to Maun, two days early. Back in Maun we waited on Lucky. And he kept on with the scheme of telling that he would be there and then not showing up. He finally showed up when I set an ultimatum and threatened with the police. We then agreed on the money he had to refund me for the two days of safari that didn't happen and I also set the condition that he would pay the guide and chef for their work in order for me to consider the thing to be ok. He than set off, saying he would go to the bank to get the money - only to hide somewhere and play on time until I had my flight back home.
Until now, he did not pay the refund to me nor did he pay the money he owns the guide and the chef for their work. And I must say both of them did a great job, doing their best for me to have at least some safari!
Given the fact that Lucky owes money to all of us, the guide went to court with the case. We are waiting.
After this I wouldn't trust Lucky. He studied communication and he is good at telling stories. I assume he run into financial problems. This should not happen, he should not have used the money I paid to him for something else than my safari. But even if so, once it happened, he should not tell stories as he did. Very disappointing.
If you still book with Lucky, do not pay more than 1/3 of the money in advance, like this you make sure there's money left for your trip.

Anastasia
–
FR
Visited: December 2019
Reviewed: Dec 27, 2019
Email Anastasia | 20-35 years of age | Experience level: 2-5 safaris
The best value for money safari in Botswana
Lucky and his team gave us an amazing experience, from the booking of the Moremi Safari until the end. They were professional (arrived on time, clear explanations), friendly, very knowledgable about wildlife and trying their best for us to see a wide variety of animals, always solution oriented and hard-workers (we left at 4:30 in the morning and came back at 7pm!). I highly recommend organizing a tour with Lucky for anybody who is looking for an amazing and authentic adventure.
Also the next day we decided to choose his service again to visit the Delta Okavango during sunset and have a very interesting visit in a small typical village near Maun. My only regret is to not have chosen to sleep in the Delta as we didn't have enough time;
Disclaimer
All corporate and/or tour info is provided by Kalahari Marsh Safari Holidays, not SafariBookings