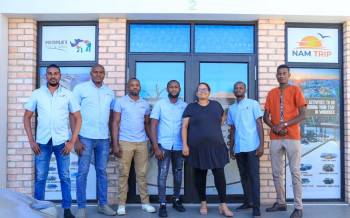 People Tours And Safari
4.9/5 – 13 Reviews
Office In:

Size:

5-10 employees (Founded in

2017

)

Member Of:

Namibia Tourism Board

Tour Types:

Small & medium group tours (Mid-range & luxury)

Destinations:

Price Range:

$110 to $3,467

pp

per person

per day

(USD, excl. int'l flights)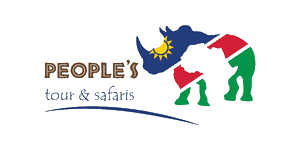 Request a Quote ›
Your request will be sent directly to the operator
If preferred, you can contact the operator directly
Rating Breakdown
5 star

12
4 star

1
3 star

0
2 star

0
1 star

0
Isak & Emelie
–
SE
Visited: October 2023
Reviewed: Nov 9, 2023
Email Isak & Emelie | 20-35 years of age | Experience level: first safari
Well planned and executed
We traveled with People Tours and Safaris for 12 days. Our experience was really good on most places. The route of the tour is planned so you are able to see all varieties of Namibia, from the Namib desert, to Etosha and all in between. Food, activities and accomodation was included in our price which we thought was a good deal. We mixed camping and lodging which was really nice, it was very comfortable and you get a lot for your price. Our guide was really friendly and hepful, most of all, because of his good knowledge of the sights we visited, we were able to arrive before the big tourist groups which made the experience overall really great. To be able to enjoy the namib landscape in peace and with a great amount of flexibility is what you want for this trip. After the 12 days we rented a car to do a self drive the last part of our trip. We were really happy that we went with a tour operator before the self drive, we had much less stress than if we would do only self-drive. We also managed to see more with a tour operator which we also liked. Overall great experience!
Trang
–
DE
Visited: October 2023
Reviewed: Oct 16, 2023
Email Trang | 20-35 years of age | Experience level: first safari
Great customer care
They thought about everything, I was not missing a single thing during my trip. I had an amazing time and was always taken care of in every situation. Everything was provided and I could not have thought of a better setup for the trip.
Hiroko
–
Visited: May 2023
Reviewed: Sep 30, 2023
Email Hiroko | 50-65 years of age | Experience level: first safari
Gave us the best support to make our experiences in Namibia singular
Thank you, People's Tour & Safari for excellent coordination for personalizing the tour, accepting our request to add Swakopmund to the Sossusvlei, where we cooked together Mozambican chicken peanut curry and xima with coconut milk, accompanied by the chef's special sautéed vegetables in the camp. Overland of Namibia from Windhoek, crossing the Namib desert to the Atlantic for 4 days required much driving hours, techniques and concentration to execute a safe and pleasant trip. Thank you Mr. Fanuel for being a big brother to us, teaching us Namibian nature, culture and society during our trip and for your eagerness to learn about where we came from. Now at the end of September in Mozambique as the burning sun rays and unpredictable raining pattern have shown the climate chaneges, I am reflecting on our trip in Namibia that took place in last May, dry and cold nights. My lips got very rough and bled, "Gosh, they look like fire wood", my friend described them in the best restaurant in Swakopmund and all started to laugh. In desert camp, my friend left his boots out of the tent in the evening, just for a while, and when he came out, a boot was missing. Right way Mr. Fanuel with a search light went around the site, saying that a Jacko could have taken away. Luckly he found it in a bush. Even with that experience, he went to sleep leaving his sandals out of his tent after having brushed his teeth. Next morning I saw him walk around in one sandal, stepping with one barefoot on the cold sand, without the second luck. Mr. Fanuel said, "I thought you had learned a lesson", again all laughed. I remember the uncountable stars in clean and cold air, red dunes, on the top of which I felt the evolution of the earth that has occured during millions years and my small being embraced. Paragliding towards the Atlantic where the oil exploration has been implemented, I glanced an aspect of Namibian development. Next time, I hope to get to know the Namibian people, their life style and culture in different regions.
Cristina
–
ES
Visited: August 2023
Reviewed: Sep 6, 2023
Email Cristina | 35-50 years of age | Experience level: first safari
Great tour :)
They arranged a wonderful 11-day tour for us all around the country, even organizing some last minute activities to adjust to our preferences.

We felt safe and cared at any moment, Sacky (our guide) made it a funny and 100% namibian experience. The accommodations were clean, comfortable and very well located. Great service at a very reasonable price, highly recommended!!
Ana
–
ES
Visited: August 2023
Reviewed: Sep 4, 2023
Email Ana | 35-50 years of age | Experience level: first safari
Amazing experience travelling around Namibia
We really made the most of our 11 days in Namibia.
People tours and safari organized very well the tour, we had the opportunity to see different landscapes around the country and have fun with all the activities there.
Accommodation was great.
And our guide was a nice easy going person. We had a lot of fun with him and he really took care of us and every detail during our trip.
Great experience!
Fabio
–
IT
Visited: June 2023
Reviewed: Jul 5, 2023
Email Fabio | 35-50 years of age | Experience level: first safari
Great experience, super attention!
Our experience was great!

We were able to admire everything: the landscape, the animals, the silence of these plains... a sunset near a pool of water with the elephants and the rhino drinking.

And the guide (mr Fanuel): an attentive, scrupulous and professional person, who took care of us (husband, wife and 2 kids) from the morning as soon as we woke up until the evening, always with a smile. One of the best things was that he prepared dinner for everyone, grilled meat, rice and vegetables - so we had dinner around the fire.

In short, an experience that we not only recommend, but that we hope to repeat one day!
Thank you for making our experience unique!
Ioana Dudila
–
RO
Visited: June 2023
Reviewed: Jun 28, 2023
Email Ioana Dudila | 35-50 years of age | Experience level: 2-5 safaris
Namibian Safari company ready to cater to your every need
I had a 3 day safari of Sossusvlei in June 2023 with People Tours and Safari and it was really great! They were able to arrange it just for me at an affordable price which is really something you almost never find.
The first day was like a game drive on amazing scenic gravel roads, spotting dikdik, oryx, springboks, baboons, vultures and countless other birds. We made 2 stops, at Alberta's homemade shop and Solitaire, for excellent lunch. We camped at lovely Sesriem where dinner is also included. We started the second day early with a delightful first part of the day at Sossusvlei including the famous dune climbs with the descent into Deadvlei. We had a break for lunch and went to nearby Sesriem canyon for sunset. Dinner was again very nice and it can even be oryx if you want to have a taste of the wild. Third day we drove through amazing canyons and I was even dropped of in Swakopmund.
Communication with the staff was easy before, during and after the safari, the guide was very punctual and informative, the camping gear new to the point it still smells new. It was an amazing experience that wouldn't have been so smooth for me as a solo traveler if it wasn't for this amazing team. Book them and you will not regret! Thank you for everything!
Linda
–
US
Visited: June 2023
Reviewed: Jun 26, 2023
Email Linda | 20-35 years of age | Experience level: 2-5 safaris
A MUST USE NAMIBIAN TOUR COMPANY
I had the absolute pleasure of Booking a tour with People's tours and safari for my solo trip in Namibia. Fanuel served as my guide. What a fantastic experience and a fantastic company and a fantastic guide! From the get go, everything went smoothly. I contacted the company and immediately got a response from Albin who was kind and incredibly helpful. He answered my questions and helped me with organizing the tour. Then I received my itinerary as well as the name and contact information for my guide. My guide showed up to get me for our Namibian desert adventure as he said he would. The three days touring and camping in the Namibian desert with Fanuel as my guide was AWESOME! He is such a warm soul. We had great conversations, listened to great music and just had general good vibes. This trip was my first time camping and Fanuel made it amazing. He also was incredible patience and helped me take the 10 million photos I wanted to take (haha), which is very important because a girl needs her photos. All the time we were on the adventure, I felt safe. He's a great driver and tour guide and he went above and beyond to make my adventure an amazing one! 10/10 I highly recommend! Thanks Albin and many thanks Fanuel!
Hiroyuki Kubota
–
JP
Visited: June 2023
Reviewed: Jun 17, 2023
Email Hiroyuki Kubota | 35-50 years of age | Experience level: first safari
Well managed tour
3 Days - Windhoek- Sossusvlei - Windhoek Camping Guided Safari

It was well managed 3days tour for Dune 45, Big daddy, Deadvlei Sossusvlei, and Sandwich harbour.

Guide:
Fanuel had enough skills and experiences for this tour. He knows well about persons around the camp site of the park and it's restaurant and thus he is reliable. He is friendly to everyone and willing to help with other travelers as well. I respect his attitude.

Drive:
Total driving distance of this tour was over 1,000km. And around 40% of them are gravel roads. You need to be prepared for them. But Fanuel's drive was good because he drove safely and not too much speed. I was very comfortable with it.

Scenic points:
Sun set at Dune 45, Sunrise at Big daddy and view of sandwich harbor were magnificent. These are like another planet. Fanuel knew well about the timing of each points to go and thus I could smoothly see them without troubles. For example, if you see sunrise at Big daddy or Dune 45, you need to be in front of the gate at the time of gate open. To do this, you have to stay lodges or camp site inside the park. You also need 4x4 car. Fanuel well prepared for them on behalf of me, which was very convenient for me.

Camp site:
Although the tour was just me and the guide of Fanuel, he prepared tents for each other separately and I could stay there comfortably. I expected the night time was freezing cold but it was okay for me. I could sleep well without problems. We had dinner at the restaurant/bar of the camp site and the food was actually very good.

Overall:
I will definitely recommend this tour for the person who wants to view scenic points smoothly without stress.

Preparing for the tour
It's better to bring followings with you.
•Small torch : to use inside the tent
•Camera which can take photos of stars: Stars at camp site is very beautiful. But smartphones cannot take photos of them.
•Small spoon: the breakfast prepared by the restaurant includes a cup of yogurt but not a spoon…

If you can fry in or out from Walvis bay airport instead of Windhoek, choose these flights since there are a few things to do in Windhoek.
Shaan
–
IN
Visited: May 2023
Reviewed: May 30, 2023
Email Shaan | 20-35 years of age | Experience level: over 5 safaris
marvellous,best ever experience..
I am traveling and going placses from last 8 years ..
Been with many tour operators…
This was the best ..
No words to express my gratitude….
Average User Rating
Rating Breakdown
5 star

12
4 star

1
3 star

0
2 star

0
1 star

0
Write a Review
Disclaimer
All corporate and/or tour info is provided by People Tours And Safari , not SafariBookings
The tours offered by People Tours And Safari are subject to their terms & conditions