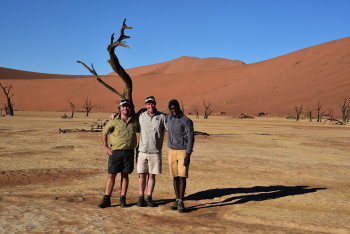 Nature Travel Namibia
4.8/5 – 112 Reviews
Office In:

Size:

10-20 employees (Founded in

2005

)

Member Of:

TASA

& Namibia Tourism Board

Tour Types:

Custom budget & mid-range tours that can start every day

Destinations:

Price Range:

$83 to $330

pp

per person

per day

(USD, excl. int'l flights)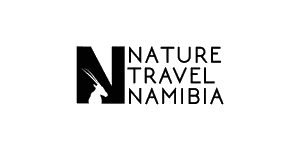 Request a Quote


for a custom tour
Your request will be sent directly to the operator
If preferred, you can contact the operator directly
Janeen Hernan
–
US
Visited: November 2021
Reviewed: Dec 20, 2021
Email Janeen Hernan | 65+ years of age | Experience level: 2-5 safaris
Excellent tour with Nature Travel Namibia.
Over the last nine years I have traveled with Nature Travel Namibia and Nature Travel Africa four times. My recent visit to Namibia was again beyond my expectations. The trip was well planned with attention to detail from a packing list to dining tables with a view. Travel during this time of covid adds a layer of concern, but Nature Travel answered all our questions, kept us informed, and arranged necessary testing.
Our guide and driver Nick Buys has an uncanny ability to identify wildlife from extreme distances. Nick says it is not necessarily due to keen eyesight, even though that helps, but by recognizing shapes, color, movement and location. Highlights include: a journey far into the Skeleton Coast where we were able to view the desert Elephant, and sitting at a watering hole in Etosha National Park at night and hearing the roar of a lion, realizing not only that it was close but how powerful an animal it is. Mostly we had "fun".
Even after multiple trips to Africa, I feel it is still full of adventure just waiting for me. I highly recommend Nature Travel and will use them again to help me wander and explore this special place.
A special thank you to Nick Buys, Nicolette Muller, and all the staff at Nature Travel Namibia.
Shailesh
–
US
Visited: July 2021
Reviewed: Jul 30, 2021
Email Shailesh | 50-65 years of age | Experience level: 2-5 safaris
Outstanding, worldclass customer service, responsive, knowledgeable guide, exceeded expectations
Nature Travel Namibia is a world-class tour operator that provided excellent value for the money spent. Nicolette Muller, our tour organizer and coordinator was excellent and responsive. While in the USA I got responses within time zone differences, while in Namibia, responses were in real-time, and believe me you will need real-time support when your airline changes flights at apparently random times when you do not have Internet access or things happen beyond your control (provide your booking login details including passwords to Nicolette). Nicolette's response was the main reason for deciding to select Nature Travel Namibia, but it just got better from there. My guide and driver Marc Cronje was outstanding; he was friendly, very knowledgeable, and flexible; the hours spent in the car with Marc were filled with interesting discussions and an informal discourse on birds (by the way Namibia has some amazing birds). The tour was customized for me as a single traveler, another feather in Nature Travel Namibia's cap (in fact it is a group of companies that does bird watching - Nature Travel Birding, NT Kruger, NT Africa, etc.). One of my requirements was to visit dark sky locations, since Namibia has one of the darkest night skies in the world; consequently, the first several nights were catered to dark sky and Southern Milkyway viewing in Keetmanshoop, Sossuss Dune Lodge, and Star Dune Camp. I was told that Nicolette has personally visited the lodges she recommends, which is a huge plus. The accommodations (I chose mid-range) as chosen by Nicolette were outstanding. I spent 16 days in Namibia, and this was my second trip to African in two decades, and I was totally blown away by the experience and the efficiency of the tour operator. In summary if you are looking for a tour operator to visit Namibia (or Kruger in South Africa, or for birdwatching anywhere in the world), without reservations I highly recommend Nature Travel Namibia or the Nature Travel Group of companies. I did go in time of the COVID situation, and though Namibia is on the USA travel.gov "do not travel list", it is safer than many cities in the USA; all individuals everywhere in Namibia use masks and hand sanitizers and the population density is much lower than any of the major metros in USA. As a final disclaimer: I was neither paid nor coerced into writing this review, and the words are all my own. Hope you enjoy your upcoming trip wherever it may take you. Cheers!
Mike Sylvia
–
US
Visited: May 2021
Reviewed: Jun 12, 2021
Email Mike Sylvia | 50-65 years of age | Experience level: first safari
What a Great Trip! 380 Bird species, and 50 species of Mammal
This was my first trip to Africa let alone Namibia. My main focus for the trip was to see as many bird species in Namibia as possible. After researching for a good guide that I thought would be a good fit, I chose Nature Travel Namibia (NTN) mainly due to my talks with owner Nick Buys. His attentiveness and quick thorough responses to my many questions made the decision easy. I never use guides or tour companies for my travels so this was going to be new for me. I am usually the guide or part of a team that is showing clients the places I go, which means I know what to look for in a good guide. With Africa being a new continent and with the Covid landscape I decided this would be the best way to be safe, healthy, and see the most on my trip. Nick made it happen on all points. Never was I worried that he did not have my best interests in mind and did all he could to make them happen. It was just him and me for 14 days on the road.
During the time I learned a lot about him and his passion for Namibia, wildlife, and touring. He is dedicated on all fronts. Initially I set a lofty goal of 350 species as a goal for the trip. He planned out a route that would bring us across many of the unique habitats in Namibia from the City of Windhoek to the North and Northeast of the country. This area covered the various scrubland, acacia, grassland, desert, mountain, riparian, marshland, flood plain, coastal, and dune habitats of the area. This gave us the best chance to focus on the near-endemic and endemic species as well as have good chances to pick up the Southern Africa species as well. Obviously, this plan worked and was exceeded. Having both of us totally motivated 24 hours a day helped as well. We worked very well together. After a couple days we had definitely gotten to understand each other and communication was easy.
Nick has been involved in the landscapes of Namibia since a young age and his family took part in many camping trips to many of the game parks growing up giving a lot of field knowledge. He is a veterinarian as well working with various agencies on tagging, relocation, and other operations with big game. It was apparent that he knows the animals well and how they will respond and what to look for when around them. Mainly to make sure they are not nervous or feel threatened and when we should be quiet or move on even if the scene is breathtaking. Animals first. I appreciated that as I have the same values.

Gillian Ainslie
–
Visited: May 2021
Reviewed: May 21, 2021
Email Gillian Ainslie | 65+ years of age | Experience level: over 5 safaris
Fantastic & well-organised birding & wildlife tour of Namibia & Botswana
I heard about Nature Travel Namibia and Nature Travel Birding through a presentation at the African Bird Fair organised by Birdlife South Africa in August 2020 by Zoom. As I had some funds available from a cancelled international trip in 2020, and no likelihood of other international travel in 2021, I took the opportunity to use the money to indulge my recent passion for birding. Birding friends recommended Namibia as a great birding destination and, after sending an inquiring email to Nick Buys of Nature Travel Namibia, I got immediate information about all the options available and suggestions for the best itinerary. The trip was organised by Nick via multiple emails and one phone call. All my queries were answered fully & promptly, allowing me to make all the decisions necessary to plan a dream trip, despite the nightmare logistics of international travel in the Covid-19 era. Marc Cronje was my guide and he looked after me wonderfully, from meeting me at the airport in Windhoek and travelling onwards for 12 days. We drove to Rundu in the Caprivi Strip, then through Mahangu, across the border to the Okavango Panhandle in Botswana (including fabulous birding boat trip), back into Namibia for a further couple of days at wonderful Mahangu National Park (and yet another great boat trip), then 2-3 days in Etosha National Park, and then a day each at the Brandberg in Damaraland, the Erongo Mountains, Swakopmund & Walvis Bay and then back to Windhoek. Namibia is fabulous with great scenery, people, game and, most importantly for me, birds. Marc was an excellent guide: very knowledgeable and enthusiastic about all birds, wildlife and photography. He knew exactly which spots to go to find all the various bird species, allowing me to see almost all the targets we were looking for. I saw 270 different bird species over the trip (including many many "lifers") and over 30 other animal species, with plenty of time to get good observations and photos. He was a careful driver and liaised very well with lodge staff, park staff and border officials. In addition, he was really great company and also very patient and helpful with a relative novice both as regards birding and photography. He even managed to fix my camera after I damaged it early on, and thus salvaged an important component of the trip for me. The lodges and food were good, particularly the Erongo Wild and the Mahangu Safari Lodge. I have recommended Nature Travel Namibia & Nature Travel Birding highly to many friends and hope to use them again myself for any future visits to Namibia or other parts of Africa. I have been well & truly bitten by the birding travel bug!

Bob Palmer
–
Visited: March 2020
Reviewed: Apr 2, 2020
Email Bob Palmer | 65+ years of age | Experience level: over 5 safaris
Knowlegible Professional caring Company
We were introduced to Namibia Nature Travel through a friend, best days work we ever did. From the moment we stepped off the plane in Windhoek until we returned 16 days later after a round trip that made a holiday for us that we will never forget . Our tour package was handed to us at the airport which contained everything we needed, our itinerary , phone numbers of every lodge, contact numbers , maps etc. which were all invaluable.
Namibia is a stunning country, the scenery people, hospitality, lodges, tour guides all second to none, can't wait to go back.
George Kung
–
VN
Visited: February 2020
Reviewed: Mar 23, 2020
Email George Kung | 35-50 years of age | Experience level: first safari
amassing journal. the classical tour in Namibia is very good. i have a lot of fun with my parents.
it is accessible for old people as well. my parents are 70+. they also enjoy the tour.
Sarah
–
Visited: February 2020
Reviewed: Feb 25, 2020
Email Sarah | 50-65 years of age | Experience level: first safari
Fantastic trip
Planning and support from San-Mari prior to the trip was outstanding. The plan included everything we wanted but the actual trip exceeded our expectations. Our guide Marius was brilliant; knowledgeable, fun, worked hard to find some amazing animal sightings and drove like a pro. The Living Desert Tour with Chantelle was oustanding. Lodges were very good and food plentiful!
We would always use Nature Travel Namibia for any future visits and recommend them highly.
LLongmann
–
NZ
Visited: September 2019
Reviewed: Feb 11, 2020
Email LLongmann | 50-65 years of age | Experience level: first safari
Be careful if you sustain an injury during one of their tours
Despite advertising that they carry comprehensive insurance, this company will deny any responsibility if during one of their tours you sustain and life changing injury as I did. They arrange all activities and accomodation and therefore it is reasonable to expect that they will accept a duty of care. They do not. Do your research before selecting your tour operator, make sure you are covered.
Fi Isaacs
–
Visited: October 2019
Reviewed: Dec 12, 2019
Email Fi Isaacs | 50-65 years of age | Experience level: first safari
Drive through Namibia into northern Botswana
Great organisation, everything went like clockwork, excellent range of accommodation. Nature travel Namibia were flexible about our needs, responsive, friendly and helpful. Would definitely recommend them without hesitation.
Annsofie and Lena
–
SE
Visited: November 2019
Reviewed: Dec 6, 2019
Email Annsofie and Lena | 50-65 years of age | Experience level: over 5 safaris
Outstanding and way over our high expectations!!
We never ever, during our over 20 years of travelling around the world, have experienced such excellent service and communication with a tour agent before! Thank you so much Nicolette for answering our 100 e-mails so fast!
We went for a 8-day Namibia Classic Safari in our own vehicle and with our superfantasic driver and guide, mr Marius Siemens.
Nicolette and Marius made all our wishes and dreams come true way over our high expectations! Those 8 days seems to us as a lot longer cause of everything we got to see: The amazing different landscape that changed from day to day like the wonderful colors of the big dunes in the Namibdesert "floating" out to the coast and the wonderful city of Swakopmund.
And the wildlife we got to see!!! Totaly amazing! Marius knew exactly where and when to go where to get to see the most. And we sure did!
One of our days in Etosha we saw lions, leopard and cheeta - all before lunchtime!! Above that w also got to see desertelefhants and the African elephants as well! Marius always made sure we got the best possible angle for a photo and he also has a great knowledge about the wildlife that made all our questions answered.
The lodges and food was also great and we really don´t know how to express ourselves to be able to say just how perfect this safari has been.
You have to experience it, feel it, live it. And we promise: You will not regret it!
Once more: Thank You so much Nicolette at Nature Travel Namibia and mr Marius Siemens - you are simply the best! We will be back!


Disclaimer
All corporate and/or tour info is provided by Nature Travel Namibia, not SafariBookings