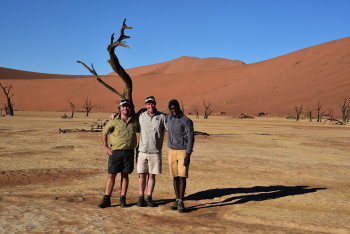 Nature Travel Namibia
4.8/5 – 110 Reviews
Office In:

Size:

10-20 employees (Founded in

2005

)

Member Of:

TASA

& Namibia Tourism Board

Tour Types:

Custom budget & mid-range tours that can start every day

Destinations:

Price Range:

$87 to $349

pp

per person

per day

(USD, excl. int'l flights)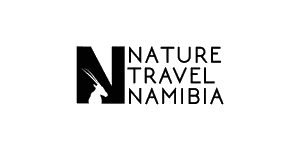 Request a Quote


for a custom tour
Your request will be sent directly to the operator
If preferred, you can contact the operator directly
Rating Breakdown
Leah
–
US
Visited: August 2013
Reviewed: Dec 9, 2013
Beyond our wildest expectations. Well organized, with a tour operator who understood our needs.
Our small group had the good fortune to go on two safaris with Nature Travel Namibia in August, 2013. Prior to our arrival, the email communication was very informative and professional. We basically just showed up, and every last detail was attended to.

Our guide was extremely knowledgeable, personable, and fun. He went above and beyond to make sure we had an unforgettable experience. We traveled comfortably in a small van, our accommodations were clean and pleasant, and the meals were delicious. But most of all, we had the benefit of being in a small group, guided by a true expert, and therefore had the most magnificent wildlife viewings. What a gift.
Stefano Brambilla
–
IT
Visited: August 2013
Reviewed: Jan 27, 2014
Email Stefano Brambilla | 35-50 years of age | Experience level: over 5 safaris
Great experience!
I had a wonderful time with Nature Travel Namibia!

August 2013, 2 people. After a start in Victoria Falls, Zimbabwe, I was looking for someone organizing the transfer to Caprivi region of Namibia. The idea was first to explore Caprivi, then go to Etosha and "normal" touristic route. It happened that the only company based in Katima Mulilo (the biggest city in Caprivi, near the border with Botswana) was Tutwa/Nature Travel Namibia (NTN). So I tried with them. And I was not disappointed at all!

Nick Buys, from NTN, first organized me the private transfer. Then he explained me that visiting the Caprivi parks self-driving was not the best choice (Caprivi is not Etosha!) and he offered me his services. Since I'm a keen birdwatcher and fauna-lover, I was intrigued by the fact that Nick was a birdwatcher himself. So I fixed 5 days with him in Caprivi, Katima to Rundu.

It was a marvellous experience. The organization was perfect – the experience and knowledge of Nick was the real bonus of our trip. He knew everything – the best lodges near the parks, the best spots in the parks (we visited Nkasa Rupara, Bwabwata, Mahango, Mudumu), the best areas to do birdwatching, the best boat excursions to see wildlife. You have to trust someone, in a region like Caprivi with so little infrastructure and so little possibility to go by yourself – and Nick is the right person to trust. Birdwatching speaking, he was great – he managed to spot lots of Okawango specialities, including Lesser Jacana, White-backed Night Heron, Luapula Cisticola and many more!

I want to underline a point. Taking a private tour with a private guide is quite expensive. But it's the only way to explore Caprivi – without a guide, you could not spot a single elephant. Yes, you can take the game drives organized by the lodges, but to have a personal guide with you, ready to explain everything about the life in the bush, is a real privilege. Also, Nick is fond of camping – we spent a wonderful night bush-camping in Nkasa Rupara, we'll remember it for a longtime. We had a great time together.

I would recommend NTN to anyone travelling to Caprivi and to Namibia. Nick also knows Etosha really well, he gave us a lots of suggestions about the best waterholes to see animals – and he was right (we were on our own there). So if you want to see animals during your trip to Namibia, NTN is the right company. And I'm sure that also in Botswana and Zambia he knows how to organize the perfect trip.

Stefano, Italy
Sam Scott and Lucy Whitridge
–
US
Visited: February 2014
Reviewed: Apr 4, 2014
20-35 years of age | Experience level: 2-5 safaris
Choose Nature Travel Namibia!
Nature Travel Namibia is the best, from first email inquiry to first Black Rhino sighting in Etosha!

While planning our trip to Namibia I inquired with about ten different tour companies, all of which gave me confusing, brief responses that were not helpful, and then I inquired with Nature Travel Namibia and instantly knew that I had found the right tour company for us. Their response to my initial inquiry was prompt, thorough, and answered all of my questions in great detail and then some. We were instantly put at ease and knew we were in goods.

The tour itself also far surpassed our expectations. We did the 8-day Taste of Namibia Tour with Nick Buys, and it was spectacular. Nick was extremely knowledgeable, kind and professional. If birding is your thing than you would be hard pressed to find a better expert on the birds of Southern Africa than him. And his knowledge doesn't end there, he is a true naturalist and nature lover, and his upbringing in the Namibian bush has made him an expert on all things wild.

I truly cannot recommend Nature Travel Namibia more. We went to Namibia not knowing anyone or what to expect, and left eight days later with a true friend in Nick Buys, and a slew unbelievable stories to tell and photos to share of the beautiful country of Namibia.
Leoni Barth, Tervuren
–
BE
Visited: March 2014
Reviewed: Apr 20, 2014
Email Leoni Barth, Tervuren | 50-65 years of age | Experience level: over 5 safaris
Unforgettable trip with Nature Travel Namibia: Etosha, Caprivi, Chobe & Victoria Falls
On 8th of March 2014 we took a trip fully organised and managed by Nature Travel Namibia. Our trip departed from Windhoek through the Etosha-Park – crossing it all the way from west to east – into the Caprivi-strip to Botswana (Chobe-Park) and ending in Zambia at the Victoria Falls. Even so it was supposed to be the rainy season, we experienced only two times a thunderstorm – and what an experience this was, too. The temperature was always perfect, the plants and trees were in blossom, the grass high. We spotted a number of beautiful birds – thank you, Nick -, and all kinds of mammals, including lions, rhinos, buffaloes, elephants, and so many other creatures great and small. In addition, the lodges Nick selected for us were all real beauties and at most of them we were just the three of us, so that we could enjoy the sounds of the night, too.
Nick Buys, our guide and also highly specialized in birdwatching, really took care of everything up to the smallest detail: we were pampered. Right from the first email contacts we got a good feeling of Nature Travel Namibia and the people working there.
Whenever you plan to visit Namibia, we can highly recommend the services of Nature Travel Namibia and the admirable knowledge on nature and wildlife which our friend Nick Buys has. We travelled already quite a lot before, but never had we felt as good and learned somuch about fauna and flora as we did with Nick Buys and Nature Travel Namibia. http://www.naturetravelnamibia.com/

The Hutt Family
–
Visited: May 2014
Reviewed: Jun 15, 2014
20-35 years of age | Experience level: first safari
Fantastic 'Classic Namibia' experience - impossible to fault
A huge thank you to our guide Nick and Nature Travel Namibia for making our trip an unforgettable adventure. From the moment we stepped off the plane to the moment we said goodbye, we loved every second. In such a beautiful country, we couldn't have asked for a better conceived itinerary - our only wish is that we could have stayed longer! Nick was the perfect host with immaculate attention to detail, exceptional knowledge of wildlife and a fantastic sense of humour. From the beautiful and ever changing scenery to hunting around for snakes and lizards with the incredible Tommy on the 'Living Desert' experience, there was always something new to enjoy. We still can't believe how many different and wonderful animals and birds we saw and each new sighting was special, no matter how far - or close! - they were. On our flight home we were already planning our trip back. We couldn't recommend Nature Travel Namibia highly enough. Totally spectacular. Go!
Linda LeBlanc
–
US
Visited: June 2014
Reviewed: Jun 19, 2014
Email Linda LeBlanc | 65+ years of age | Experience level: over 5 safaris
Fantastic experience in every way!
We decided less than a month before departure to do a southern Africa trip. I researched about fifteen tour operators that had good reviews and contacted seven. Nature Travel Namibia quickly rose to the top and responded almost immediately—hours and days before anyone else. They offer a wide variety of established tours or will create a personal one that meets all your needs. The owner, Nick Buys, was able to arrange all within days and got the desired bookings for a 15 day tour of Namibia, Botswana, and Zambia. Everything worked perfectly!
A native of Namibia, he is a wildlife expert, especially birds. He also runs birding trips to a number of places. He can spot one on the wing from a hundred yards away and tell you exactly what it is, describe its habits, relationship to other birds, etc. His knowledge is absolutely amazing. He's equally good with all wildlife. He'd say, "There's a zebra," long before I could see it even with him pointing. This isn't just a job for him. You can tell he truly loves what he's doing. His goal is to create the greatest trip possible. He's very flexible and put our interests and comfort above all else. What sets him apart even further from others is his wonderful sense of humor and genuine, passionate enthusiasm. It's very infectious. So beware! You may never want to leave and will be determined to return many times. I've traveled to 40 countries and this was my third trip to Africa. Never have I had such a fulfilling and exciting experience. Five plus stars. Highly recommended.

Barbara and Paolo
–
IT
Visited: April 2014
Reviewed: Jul 15, 2014
Email Barbara and Paolo | 35-50 years of age | Experience level: first safari
the perfect trip
When I decided to plan a two weeks travel to Namibia at the end of April I approached 3 local travel agencies. Nick Buys was the first to reply me and offered some options to arrange quickly a Western Namibia Safari for me and my husband. We decided for a guided tour as it was our first travel in Africa, and we're sure we did a good choice. Nick was so kind in answering to all our questions ,suggesting us places to visit and, at least, planning the trip. Our guide, Kit, was much more than a guide. So kind in teaching us a lot of things about nature, wildlife and history of the Country, and so able to carry us in the best spots during the game drives. After a couple of days it was like to travel with a good friend and we had a lot of fun together. The travel was fantastic, everything was OK, relaxing and interesting. All the places that we visited were so nice and different, with wonderful landscapes from deserts to sandy beaches. Everyday there was something different to see, the lodges were nice and located in gorgeous sites. It's impossible to say what we liked more …. the deserts, Dead Veil, Swakopmund, 2 nights on the banks of the Kunene River, Etosha, the games, the sundowns…. The only thing we are sure is that we want to come back soon to Namibia to see the Caprivi, arranging the next trip with Nature Travel Namibia again. - Barbara e Paolo - Italy
Lee
–
US
Visited: June 2014
Reviewed: Aug 15, 2014
Experience level: first safari
Amazing Africa From the Southern Dunes to the Wilds of Etosha: Kids and Adults loved it!
Book with Nature Travel and you will be amazed by the level of customer service, lodging options, transportation, and expertise of the staff including Nick and Jakes, our guides for this adventure. If time and money were no issue, we'd leave tomorrow and do the entire trip all over again. We had a wonderful time, learned so much, saw this beautiful country, and made a lifetime of memories. We can't say enough positive things about the entire experience. We took the 8 night tour.

Transportation: We opted for the van which worked out for us perfectly. It gave us the space to spread out and not be crowded, at all. The amount of driving was fine, even though we did a lot of it, and we wouldn't have changed any of our stops. We managed to do all the traveling without leaving too early in the morning, and always got to our destination before dark.

Lodging: outstanding across the board, starting with the Belvedere Hotel in Windhoek. It was nice having time there to enjoy their facilities. The lodges were top notch and we enjoyed staying so close to the beauty, sights. Our rooms at the NWR in the park were so close to the watering hole making animal sighting ideal. Staying at the Mushara just outside the park on the last night was especially nice. They have the attention to details down to a science, including the hot water bottle. Each
place had something special and we would recommend them all. We didn't miss tv or the lack of wifi at some of the places. We also liked the guesthouse in Swakopmund. As I said, they were all good.

Food: the lodges provided great meals and we didn't have any complains, except we ate a lot and gained weight, luckily no one had scales. The stops at Solitaire were also nice. Jakes ensured we had plenty of water and in the day we were delayed because of sand, he had us pick up lunch to go. All good.

Sights: really perfect itinerary with the number of days we had. We wouldn't have wanted to miss anything. The kids loved the dune buggies, safari outings, and we found the dunes breathtaking, the living museum informative, the rock engravings interesting, and Etosha to be outstanding. Really everything was outstanding. At ages 12 and 14, it was just the right mixture of activities. Some
people might not want as much driving, we did about 2400km, but none of us got bored or tired of the scenery. Jakes gave us plenty of time to take pictures and explore and had a good sense of timing and when we needed to get moving- like getting away from the dunes right before the sand whipped up so much it would have been miserable. The tour at the Desert lodge on our first afternoon was also great. I took over 3000 pictures and I'm sure I'm forgetting something. You did a great job putting this itinerary together and we will definitely recommend you to friends. Going to Vic Falls first worked out well. We loved being in Africa and the kids remarked how fast the time went.
Thank you Nature Travel - you deserve the five stars plus more.
Simona&Giacomo
–
IT
Visited: August 2014
Reviewed: Aug 27, 2014
Email Simona&Giacomo | 20-35 years of age | Experience level: 2-5 safaris
Amazing Safari in Namibia, Botswana and Victoria Falls
We organised our honeymoon with Nature Travel Namibia, a tour totally customised in line with our needs of 15 days across Namibia, Botswana and Zambia Victoria falls. Our guide was the owner of the Company, Nick. Nick picked us up to the airport in Windhoek and the first impression of him was a very serious and well organised person.
The first impression was fully confirmed for the entire tour and day by day we had the opportunity to appreciate that Nick is a competent, knowledgeable and passionated tour guide. Nick is an expert in bids watching, able to recognise any type of bids even from distance. Nick is also excellent in games spotting, seeing an animal very far and sometime hidden behind a bush and recognising their traces on the boards of the road.
He took care about all our needs and accommodated all our requests.
Thus, we can fully recommend to book a trip with Nature Travel Namibia and enjoy Africa under all different points of view.
Brian
–
US
Visited: October 2014
Reviewed: Oct 14, 2014
Email Brian | 35-50 years of age | Experience level: first safari
Amazing safari to Etosha
We had a wonderful trip to the Etosha Reserve in Namibia with the help of Nature Travel Namibia. It started with the office staff and ended with a delightful guide. We planned a custom trip to Etosha for 2 couples. Janeke was extremely responsive to my questions and tolerant of my daily e-mails over about 3 weeks to get all the logistics sorted out. If I emailed her from the states, I would wake up to a response the next day.
They booked all our lodging for the trip and we were all thoroughly delighted with the places we stayed. The safari itself was amazing. Our guide, Kit, was not only a great wildlife guide and cultural envoy, but he was also a wonderful person whom we all enjoyed spending time with.
If you're planning to go on Safari in Namibia, I would recommend Nature Travel Namibia without any hesitation.
Disclaimer
All corporate and/or tour info is provided by Nature Travel Namibia, not SafariBookings