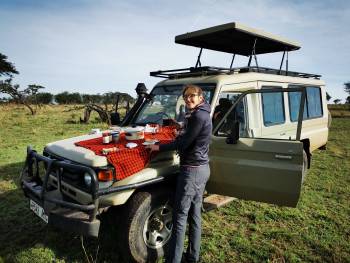 AAA Express Adventure
4.8/5 – 66 Reviews
Office In:

Size:

250+ employees (Founded in

2000

)

Member Of:

TATO

& ATTO

Tour Types:

Custom mid-range tours that can start every day

Destinations:

Price Range:

$170 to $450

pp

per person

per day

(USD, excl. int'l flights)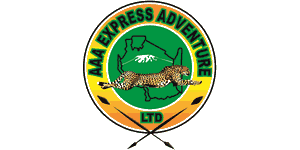 Request a Quote


for a custom tour
Your request will be sent directly to the operator
If preferred, you can contact the operator directly
Mathilde
–
FR
Visited: January 2021
Reviewed: Jan 28, 2021
Email Mathilde | 20-35 years of age | Experience level: first safari
Unforgettable Safari experience !!
Great organization - great driver-guides, picnics, lunches in parks with tablecloths, animal tracking
Ludo
–
BE
Visited: September 2020
Reviewed: Oct 10, 2020
Email Ludo | 35-50 years of age | Experience level: first safari
Very good safari experience in camping !
We did a very good safary with AAA Express Adventure. We came in September 2020 and it was very safe with covid. There is a small number of tourists right now and you feel alone in the parks, it's very nice to see the animals.
We see a lot of animals and the wildebeest migration in north Serengeti, a wonderful expercience.
Our guide knew very well all the animals and the parks, we learnt a lot about wildlife.
The food was very very good at each meal !
The camping allows you to be close to the center of the parks and close to the wildlife. You can hear the cry of the animals during the night.

So I can just advice to you to come in Tanzania right now, it's a very good moment to discover all the parks without too many tourists.
Roberta Templeton
–
CA
Visited: February 2020
Reviewed: Apr 19, 2020
Email Roberta Templeton | 20-35 years of age | Experience level: first safari
Great guide, lots of animals
We had a great time with Peter, our guide through the Serengeti and Ngorongoro Crater. He was very knowledgeable about the mammals, and eager to discuss birds and learn more about them. He made sure we were always comfortable, happy and having a great time. Jalala (owner) was good to deal with, and we would recommend this tour group.
Debaditya
–
DK
Visited: September 2019
Reviewed: Mar 1, 2020
Email Debaditya | 35-50 years of age | Experience level: over 5 safaris
The review below is the personal opinion of Debaditya and not that of SafariBookings.
Average !!
We went on a 11 days Safari with AAA in the end on September 2019, Tanzania. We are ardent wildlife lovers and had pretty high expectation from AAA considering the earlier reviews. However, I must admit that the experience was pretty average.
Day 1 - Travel to Tarangire from Arusha - Stay in Tent in Lake Manyara
Lots of time wasted in Arusha (picking up food for next 3 days). This should have been arranged before picking up us. As a result we reached Tarangire pretty late - Past noon. Tarangire is a pretty nice place for game drive. We were staying at Manyara, which was 2 hours of drive from Tarangire, so we were forced by the driver to leave before the usual time of park closure. Again a disappointment - the road from taranire to Manyara is a highway and no reason the drive cannot be taken after dark. At camping site, the tent provided - we had fight with the zipper to close it. These are basics of camping. Dinner was good.
Day 2: Started Trip to Manyara around 630 in the morning, Breakfast was good. Lunch packet was good. Game drive was nice. But again the driver/guide was too keen to leave early before the closing time of the park. We missed the bird watching walk. Dinner was good.
Day 3: Manyara to Lake Natron: Start of the trip was delayed - as the chef informed that the driver found some defect in the car. Was wondering why the maintenance was not done in time and vehicle not checked in time. We started at 9 (wanted to start at 7) and reached Natron at 1.30 pm. We wanted to directly go to the Natron lake for Birding - but again the driver/guide played the spoil sport. We were not taken to the location before 4 pm. We were frustrated. The entire plan and experience was ruined as the day got wasted. The camp site arranged was horrible. Worst toilet possible. Food was OK.
Day 4: Natron to Serengeti North: Started at 7 and reached around 1400. Game drive was good. Stayed in Heritage Mara Tented Camp for 3 days. Superb location and staff.
Day 5-6 - Game drive was good. Watched the Mara river crossing. The driver/guide always found it difficult to find the correct spot suitable for photography and filming. I did not find the guide passionate about wild-life.
Day 7-9 - Central Serengeti - Again the game drive was nice. Arranged stay was at heritage Tented Camp - Fantastic location and experience. But same story with driver/guide continued - missed spotting birds, driving past / stopping late - we missed quite a bit of shots. And this was heartening as this was the sole purpose of the trip.
Day 10-11 - Central Serengeti / Ngorongoro - Stayed in Rhino Lodge - Great location again. But was again amazed by the drivers behavior at the dinner table - don't know if he was high - but whatever. Ngorongoro game drive was nice.

Over all - I would say the trip could have been much more satisfying & fulfilling. In Serengeti all the vehicles communicate over radio and once something interesting is spotted all vehicle comes to know - so don't worry you will have a lot of sightings for sure.
Jaap
–
NL
Visited: January 2020
Reviewed: Jan 31, 2020
Email Jaap | 50-65 years of age | Experience level: first safari
10 days budget private 4 pers camping safari
10 day budget camping private safari 4 adults.

Arusha NP, Tarangire NP, lake Natron, climbing Ol Donyollengai active volcano, Serengeti, Ngorogoro, lake Manyara.

Varied safari where in addition to the famous parks also visited less famous but beautiful places
Be able to make good appointments in advance by e-mail Jalala responds quickly and clearly.
Deposit and final payment secure and easy online.
Landcruiser car in good condition, friendly competent driver guide Peter speaks good english works as a guide driver for more than 15 years for AAA Express Adventures told enthusiastically about wildlife, tribes, food, climate and is open to questions and requests from us. his experience has ensured that we have been able to spot the big five and also many other wild animals.
Randall at night made it necessary to adjust the route because the original route was blocked by high water levels. the flexible organization of AAA adventures has tackled this quickly and well.
Thank you AAA Express Adventures for this beautiful safari organized, we are very satisfied and strongly recommend AAA Express Adventures. look no further contact Jalala for real value for money Safari !!

Cyrill
–
CH
Visited: July 2019
Reviewed: Oct 18, 2019
Email Cyrill | 20-35 years of age | Experience level: 2-5 safaris
12-Day Maasai Land Trekking - Great Budget Tour. Simple but still amazing
We did AAA express adventure's "12-Day Maasai Land Trekking Maasai Bushland and game reserved with Maasai Warriors and Game drive in Serengeti –Ngorongoro and Lake Manyara trip" with some extensions. The organisation with Mr Jalala went perfectly well. Payment through international bank transfer went through really smooth too.
Upon arrival we were picked-up at the airport which was quite convenient. The first hotel-night was mediocre with some holes in mosquito nets but was sufficient for sleeping. Especially as once the tour really started things got truly nice.
The first night we slept in the backyard of a village, in the even more remote areas we then simply camped somewhere in the middle of nowhere. We really liked that unique experience. The Maasai walking guide was special, and tried his very best to please us. Sometimes even a bit too much, we had to 'fight' to actually get to sleep in the middle of nowhere as it is less comfortable and he wanted us to be as comfortable as possible but the experience was well worth it.
Thanks to the heat, the walking was relatively tiresome despite the leisurely speed. But the feeling to be walking through the bushes was unique and we really enjoyed capturing the landscapes at walking speed.
The second part of our trip was a classical safari as one would imagine it. Our driver was awesome, we saw a lot of wildlife thanks to him. The cook too did his best to spoil us with both African and western meals. The car we had was definitely in a good shape compared to cars of other companies, even though the DCAC power converter broke at some point. (Bring enough camera batteries to be prepared for something like this!)
The camping material too was in a reasonable shape. We used liners in the supplied sleeping bags on the supplied mattresses and slept quite well. One could always bring their own sleeping bag + mattress to be sure of the material and hygiene when in doubt. The tents were solid, though not really waterproof anymore.
All in all we had a really great trip for a reasonable price (the expected tips are about 2x more than announced) and would definitely recommend. We will re-book through AAA Express Adventure for future trips to Tanzania.
Feel free to ask Jalala for my contact if you have any questions.
Laima
–
LT
Visited: October 2019
Reviewed: Oct 14, 2019
Email Laima | 35-50 years of age | Experience level: first safari
Great safari with AAA Express
Overall our trip was perfect. Jalala was very helpful to accommodate our schedule and to ensure we have pick-up/drop-off from/airport. The team was very nice and helpful,we feel very comfortable whole the time. The food was delicious and always a lot and fresh. Our cook Mike as well was doing a great job by serving us tasty meals. Our driver and guide Steven is a very good man and he is very experienced.All the accommodations were great. Our tents were the biggest. The Seronera
pimbi campsite was very basic but offered a memorable experience, with the real taste of the Safari.But the best thing about this tour was obviously the wildlife,
we were not expecting to see so many animals, so we really enjoyed ourselves.We warmly recommend his agency.
Gianmarco Pica
–
IT
Visited: September 2019
Reviewed: Oct 10, 2019
Email Gianmarco Pica | 20-35 years of age | Experience level: first safari
Superlative
This Safari was the most beautiful experience of my life, Thanks to the AAA EXPRESS ADVENTURE and Mr JALALA that we have made all this possible. A special thanks goes to my guides VICTOR AND PETER, Thanks to you I spent unforgettable moments, you showed me all kinds of animals, Lions, Leopards, Cheetahs, Elefefanti, Giraffes, Hyenas, Jackals, Vultures and all the animals that you they can spot you, but above all you have made me feel at home and you have filled my days of happiness, I will never forget you Brothers! I see you soon! ❤


Ina Vannijvel
–
BE
Visited: September 2019
Reviewed: Oct 7, 2019
Email Ina Vannijvel | 35-50 years of age | Experience level: first safari
Every day was an adventure, a fantastic, once in a lifetime experience!
All email contacts with the owner, Jalala, prior to the depart happened quick and professional. There is room to ask for a tailor made safari package. The deposit money transfer was handled correctly through bank transfer as wel as the cash payment at the start of the safari. AAA Express Adventure is an agency working for the future, not for fast and quick gains.

We booked the 7days-6 nights camping safari. It was perfectly organized. We had a 4-wheel drive car for the 3 of us alone. Our guide and driver Ibrahim was well experienced within the parks and as eager as us to find the animals. He knew a lot about the parks, the animals, the people and culture of Tanzania. He never got bored answering our questions! We have seen the big five and many more animals. We always felt safe. Our cook Mike as well was doing a great job by serving us tasty meals. We had a lot of fruit and vegetables, pancakes, eggs, meat, fish, … and we never got sick from the food.
The camping areas are mostly located in the middle of the parks. The infrastructure is basic but OK. There are clean showers and toilets. It happened that we got awake surrounded by zebras!

Thank you for the fantastic safari experience! Every day was a big adventure.
Giulia R.
–
IT
Visited: August 2019
Reviewed: Aug 29, 2019
Email Giulia R. | 35-50 years of age | Experience level: 2-5 safaris
5-days safari - great migration
We had an amazing experience of a tailor made 5-days Safari organized by Jalala and his team. We got in touch through friends, who has highly recommended AAA Express Adventure and I could confirm that Jalala is an extraordinary person. He has patiently and quick replied to all our questions and requests of changes. We have been warmly welcomed since our arrival at the airport. All the incovenient we went through have been professionally managed. Gabriel, our guide, has made unforgettable our trip, we've seen all the big fives and lots of other animals.
Disclaimer
All corporate and/or tour info is provided by AAA Express Adventure, not SafariBookings
The tours offered by AAA Express Adventure are subject to their terms & conditions