Weather & Climate – Saadani NP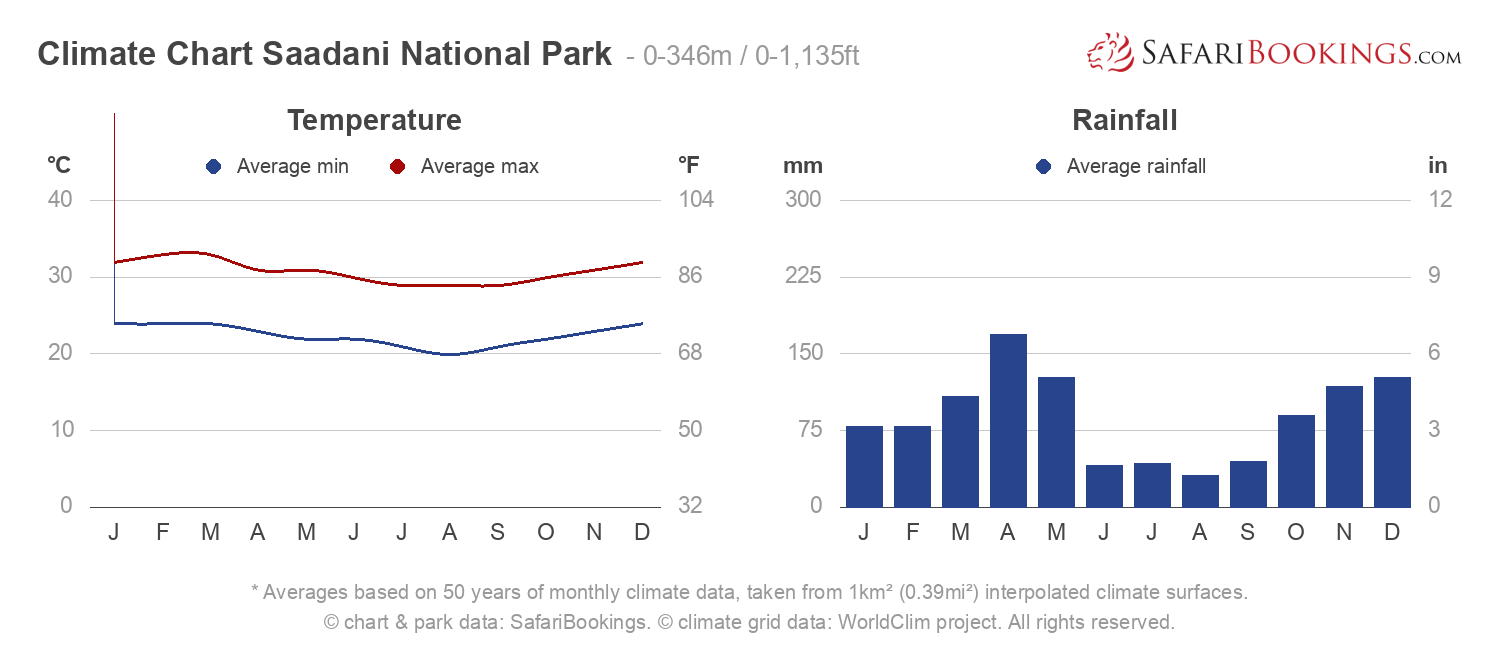 Climate Chart Saadani National Park
– 28-343m / -92-1125ft
* Averages based on 50 years of monthly climate data, taken from 1km² (0.39mi²) interpolated climate surfaces.
© chart & park data: SafariBookings. © climate grid data: WorldClim project. All rights reserved.
Being located close to the equator and on the coast of the warm Indian Ocean, Saadani experiences tropical climatic conditions. There are two Wet seasons. The 'long rains' (March to May) and the 'short rains' (October to November). Thunderstorms are common during the afternoons in the Wet season, but it seldom rains all day. Average temperatures stay high year-round.
Dry season
–

June to September
June, July, August & September - Rain is at a minimum, and the temperature is the coolest of the year. Afternoon temperatures average 31°C/88°F. The weather is light and days are full of sun. It cools off at night with temperatures of 21°C/70°F at the lower end of the range.
Wet season
–

October to May
Just as the rest of the year, temperatures vary little throughout the Wet season. Afternoon temperatures are usually around 33°C/91°F, and night temperatures are around 23°C/73°F.
October, November & December – 'Short rains' – A rainy period lasting about a month generally happens within this time. However, it isn't possible to know exactly when they will begin. Short afternoon rains are likely but will rarely extend through the day, making it unlikely to affect your trip.
January & February – A spell of dry weather, the timing of which cannot be predicted, occurs between the two Wet seasons.
March, April & May – 'Long rains' – It rains almost every day, but it would be unusual for it to last all day. Heat becomes a burden, and the humidity is high, although an ocean breeze does a lot to alleviate this.
Want to Visit Saadani NP?
Saadani National Park
Saadani NP Photos
View Photos
(10)