Weather & Climate – Shimba Hills NR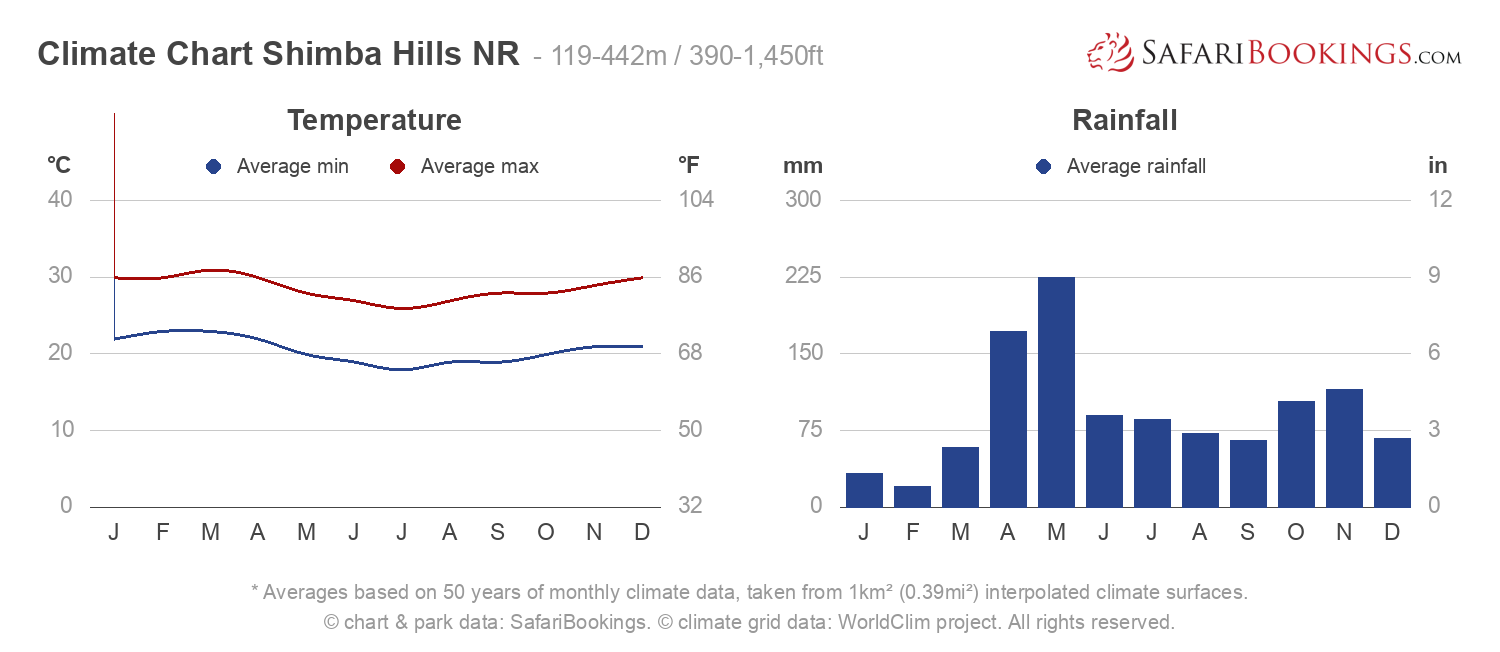 Climate Chart Shimba Hills National Reserve
– 95-466m / 312-1,529ft
* Averages based on 50 years of monthly climate data, taken from 1km² (0.39mi²) interpolated climate surfaces.
© chart & park data: SafariBookings. © climate grid data: WorldClim project. All rights reserved.
Although cooled by strong breezes, misty mornings and clouds, Shimba Hills has a hot and humid coastal climate. During the day, temperatures are around 29°C/84°F in the afternoon. It cools down a bit at nighttime, but it's still warm at around 20°C/68°F. Rainfall is common year-round, but peaks during the 'short rains' (October to November) and the 'long rains' (April to May).
Drier seasons
–

December to March and June to September
December, January, February & March – When the dry period actually hits is difficult to predict, but it usually falls in these months. Although it still rains a little, these months are the hottest with temperatures averaging around 31°C/88°F.
June, July, August & September – Sunny conditions prevail with little rain. It's the main Dry season, though showers are still around on some days. These months also represent the coolest time of year with daytime temperatures of 27°C/81°F.
Wet seasons
–

April to May and October to November
April & May – 'Long rains': Plenty of rain around during these months – the wettest of the year. Although showers are possible all day, storms in the afternoon are more likely. Expect an average of around 29°C/84°F in the daytime.
October & November – 'Short rains': Although it rains less than during the 'long rains', November, especially, can be very damp when rainfall peaks. Overcast days and afternoon storms are common, although sunshine does break through the clouds.
Want to Visit Shimba Hills NR?
Shimba Hills National Reserve
Shimba Hills NR Photos
View Photos
(29)