Weather & Climate – Volcanoes NP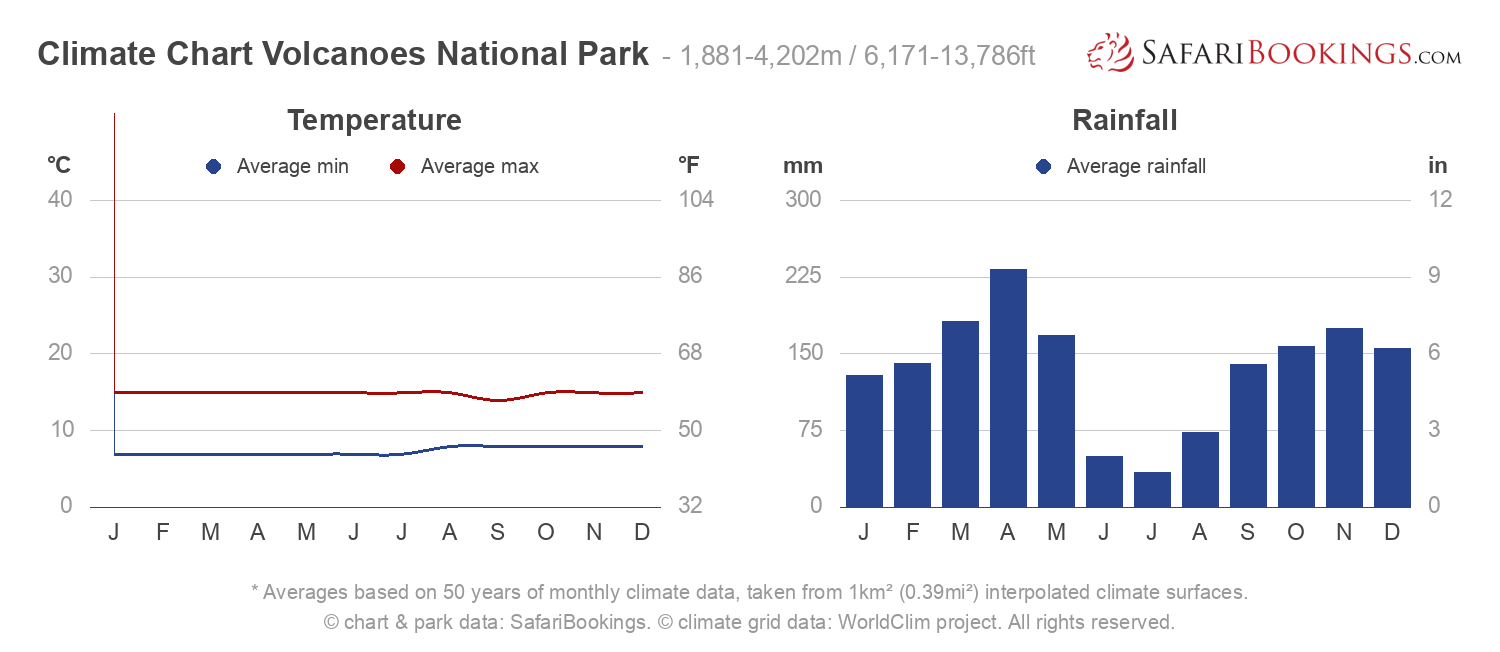 Climate Chart Volcanoes National Park
– 1,881-4,202m / 6,171-13,786ft
* Averages based on 50 years of monthly climate data, taken from 1km² (0.39mi²) interpolated climate surfaces.
© chart & park data: SafariBookings. © climate grid data: WorldClim project. All rights reserved.
Volcanoes NP receives a steady stream of rain and mist. Combined with the high altitude, this means that the climate is wet and cold. Temperatures don't change much throughout the year because of the region's close proximity to the equator. Temperatures are around 16°C/61°F during the day. At night, it cools off to about 6°C/43°F. The park's wide range of altitudes also means a range of climatic conditions. The temperature drops by about 6.5°C for every 1,000m climbed (or 3.5°F per 1,000ft).
Dry season
–

June to August
Volcanoes NP receives rain throughout the year, but there is a short, drier season from June to August. We recommend that you pack waterproof clothing and good walking shoes for hiking. Don't forget warm clothing, especially for the evenings and early mornings.
June & July – Although it can rain at any time, these are the driest months of the year. With drier trails on offer, it's an excellent time for hiking. Daytime temperatures average 16°C/61°F, while the mercury hovers around 6°C/43°F at night.
August – Time to pull out your rain jacket. The rains pick up noticeably in August. However, temperatures stay the same.
Wet season
–

September to May
Rain, rain, rain…there's plenty of it around at this time of the year. Don't forget to pack waterproof clothing, sturdy shoes for hiking and warm clothing for the cold, damp conditions.
September – If the rains don't arrive in August, they will definitely come in September. Temperatures are around 16°C/61°F during the day, depending on altitude. Nights are cold with an average of 6°C/43°F.
October & November – It rains a lot, with October a peak month for rainfall. Temperatures remain the same.
December, January & February – It rains a bit less than in October and November, but the rain can come at any time. Wet-weather gear is still a must.
March & April – These are the wettest months and it can rain for days. Hiking can be difficult as the trails get very slippery. Temperatures don't really change.
May – Sometime in May, the rain diminishes and there are more sunny days. Daytime temperatures are a bit lower.
Want to Visit Volcanoes NP?
Volcanoes National Park
Volcanoes NP Photos
View Photos
(25)