Weather & Climate – Aberdare NP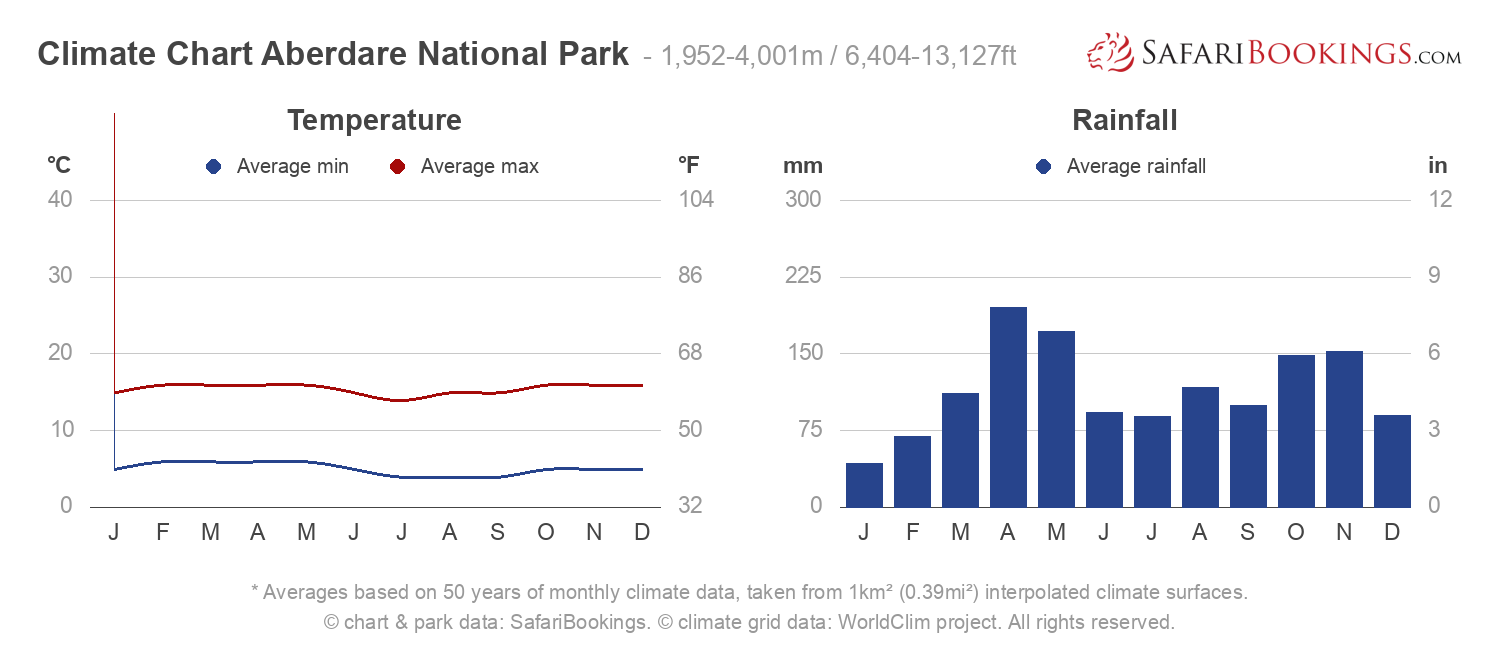 Climate Chart Aberdare National Park
– 1,952-3,894m / 6,404-12,776ft
* Averages based on 50 years of monthly climate data, taken from 1km² (0.39mi²) interpolated climate surfaces.
© chart & park data: SafariBookings. © climate grid data: WorldClim project. All rights reserved.
The altitude in the Aberdares varies widely – from 1,952 to 3,894m (6,404 to 12,776ft). Temperatures drop by about 6.5°C for every 1,000m you climb (or 3.5°F per 1,000ft), so even within the park there are wide climatic variations.

The climate is usually cool and misty. Heavy rain occurs year-round, averaging as much as 3,000mm per annum in the southeast areas. Being close to the equator, temperatures are quite uniform throughout the year. It is strongly advised to take warm and waterproof clothing.
Dry season
–

June to September
Even in the Dry season it still rains a lot. This is the coldest time of the year with afternoon temperatures around 15°C/59°F. Nighttime and early mornings are cold – just a few degrees above freezing.
June & July – It is mostly sunny but it can rain at any time. The average afternoon temperature is 15°C/59°F. It is recommended to bring warm and waterproof clothing.
August & September – Rain increases slightly in August and temperatures are picking up a little bit in September. Afternoon temperatures reach up to 16°C/61°F.
Wet season
–

October to May
Although the Wet season runs from October to May, there is a drier period from December to February separating the 'short rains' from the 'long rains'. There are many overcast, cloudy days and it can rain for long periods. It is cold in the early morning with temperatures around 4°C/39°F.
October & November – 'Short rains': The rains usually increase sometime in October. Afternoon temperatures are around 17°C/63°F.
December, January & February – There is a period of less rain between the short and long rains. The exact timing is difficult to predict and it will still be wet some days. These are the warmest months with afternoon temperatures up to 18°C/64°F.
March, April & May – 'Long rains': April is the wettest month. It rains most days, but not always for the whole day. Tracks might become slippery and difficult to navigate. Early mornings are slightly less cold with average temperatures around 5°C/41°F.
Want to Visit Aberdare NP?
Aberdare National Park
Aberdare NP Photos
View Photos
(22)