Weather & Climate – Akagera NP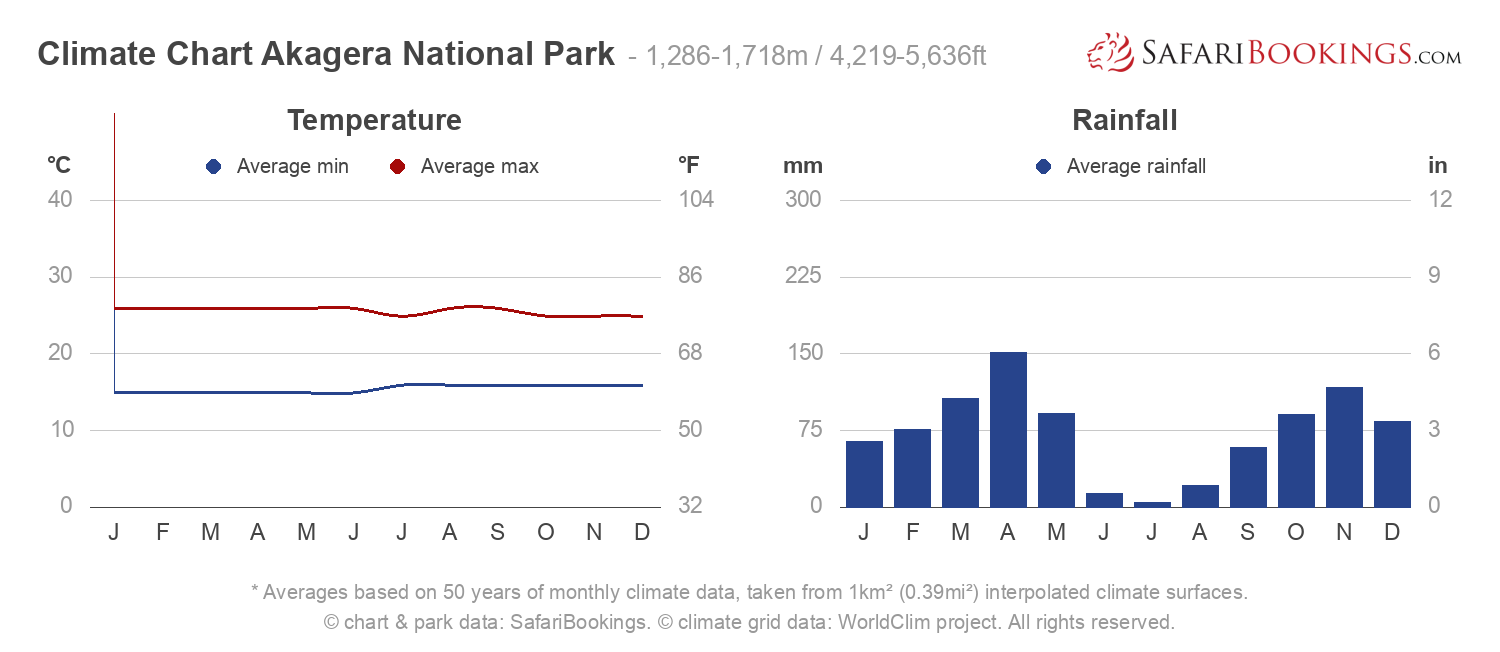 Climate Chart Akagera National Park
– 1,286-1,718m / 4,219-5,636ft
* Averages based on 50 years of monthly climate data, taken from 1km² (0.39mi²) interpolated climate surfaces.
© chart & park data: SafariBookings. © climate grid data: WorldClim project. All rights reserved.
The climate in Akagera is usually moderate to warm. Average temperatures are quite uniform throughout the year. It never gets extremely hot, but it is consistently warm during the day and cool at night. It is advised to take warm clothing for early morning or night game drives.

Akagera's Dry season is from June to September. There are two Wet seasons. The 'short rains' are from October to December and the 'long rains' are from March to May.
Dry season
–

June to September
There is very little rain during these months. Vegetation thins out and animals are attracted to the lakes and wetland areas in the park. Temperatures are warm and pleasant.
June, July & August – Afternoon temperatures are usually around 27°C/81°F. Most days are sunny with a fine, clear sky. It gets cold at night, with minimum temperatures around 14°C/57°F. It's usually cold in the early morning as well.
September – Early September is still dry, but sometime this month the short rains might start. Temperatures remain the same.
Wet season
–

October to May
As in the Dry season, temperatures are warm. Afternoon temperatures are usually around 26°C/79°F while nighttime temperatures hover around 15°C/59°F. During the Wet season it rarely rains all day, but afternoon thundershowers can be expected. There is a drier spell between the short and long rains.
October, November & December – 'Short rains' – The rains start in October (or September). It is rare for it to rain throughout the day. Afternoon showers are common. Daytime temperatures are usually around 26°C/79°F while night and early morning are about 15°C/59°F.
January & February – This tends to be a dry spell between the short and long rains. The exact timing is unpredictable.
March, April & May – 'Long rains' – These are the wettest months. It tends to rain most days, although seldom for the whole day. It is often cloudy. The average temperatures remain about the same.
Want to Visit Akagera NP?
Akagera National Park
Akagera NP Photos
View Photos
(25)