Weather & Climate – Bangweulu Wetlands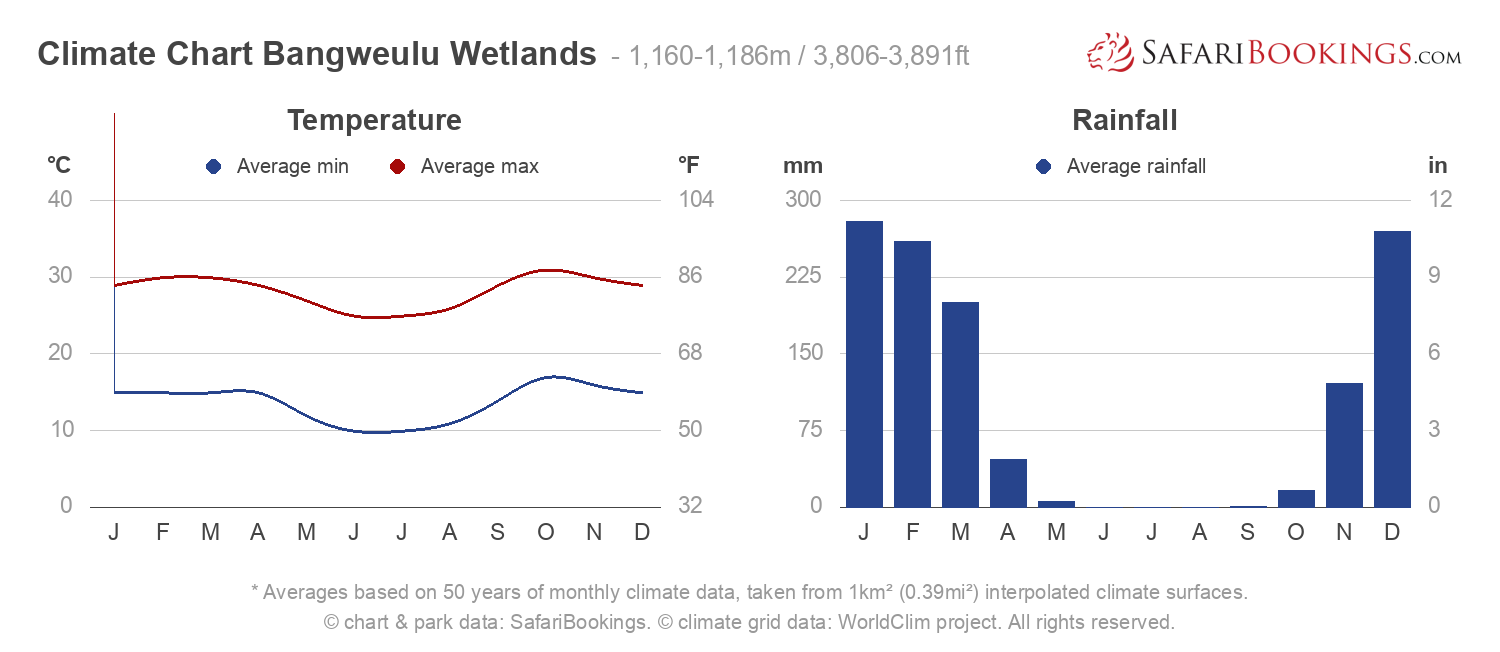 Climate Chart Bangweulu Wetlands
– 1,160-1,186m / 3,806-3,891ft
* Averages based on 50 years of monthly climate data, taken from 1km² (0.39mi²) interpolated climate surfaces.
© chart & park data: SafariBookings. © climate grid data: WorldClim project. All rights reserved.
Being in the tropics, Bangweulu Wetlands has a warm climate with a Wet and Dry season. The average temperature is uniform throughout the year, with a notable increase in temperature in October, before the rains. Nights are cool to cold in the Dry season months, from May to August.
Dry season
–

May to October
There is almost no rain at all in the Dry season. It is warm during the day, but cool at night. The water levels recede, making game drives easier.
May – This is the beginning of the Dry season. Rain is minimal, and the water level starts to recede. This is the best time to find shoebills.
June & July – The rain has stopped completely, and the floodplains are drying out. These are the coolest months with daytime temperatures around 24°C/75°F. It gets cold at night, with average temperatures of around 10°C/50°F. Warm clothing for early morning drives is essential.
August & September – The floodplains are getting even drier. It is warming up, and September has an average daytime temperature of 29°C/84°F. Mornings are less chilly. Shoebills have retreated into inaccessible, permanent wetlands.
October – Temperatures keep increasing to an average of 31°C/88°F. Mornings are lovely, with temperatures around 17°C/63°F. The land is now dusty and dry. The first rain usually falls this month, but the exact timing is unpredictable.
Wet season
–

November to April
This is the warm, Wet season. Water levels rise, and game drives become difficult. The lechwe have retreated deep into the wetlands. Afternoon showers are common, and thunderstorms are often spectacular. The sky is clear, and the bush is lush. This is the best time for bird watching.
November – The rain (usually beginning in October or November) is a relief because the bush is extremely dry. It is very hot and humid. The average daytime temperature is 29°C/84°F. It doesn't rain every day, and it mostly comes in afternoon thunderstorms.
December, January, February & March – The wettest months bring rain most days. Daytime temperatures average 27°C/81°F, while night and early morning temperatures average 17°C/63°F. These are the best months for birding, and shoebills arrive at the end of February.
April – This is a lovely month, as the rain is winding down, but everything is lush and green.
Want to Visit Bangweulu Wetlands?
Bangweulu Wetlands
Bangweulu Wetlands Photos
View Photos
(35)