Weather & Climate – Damaraland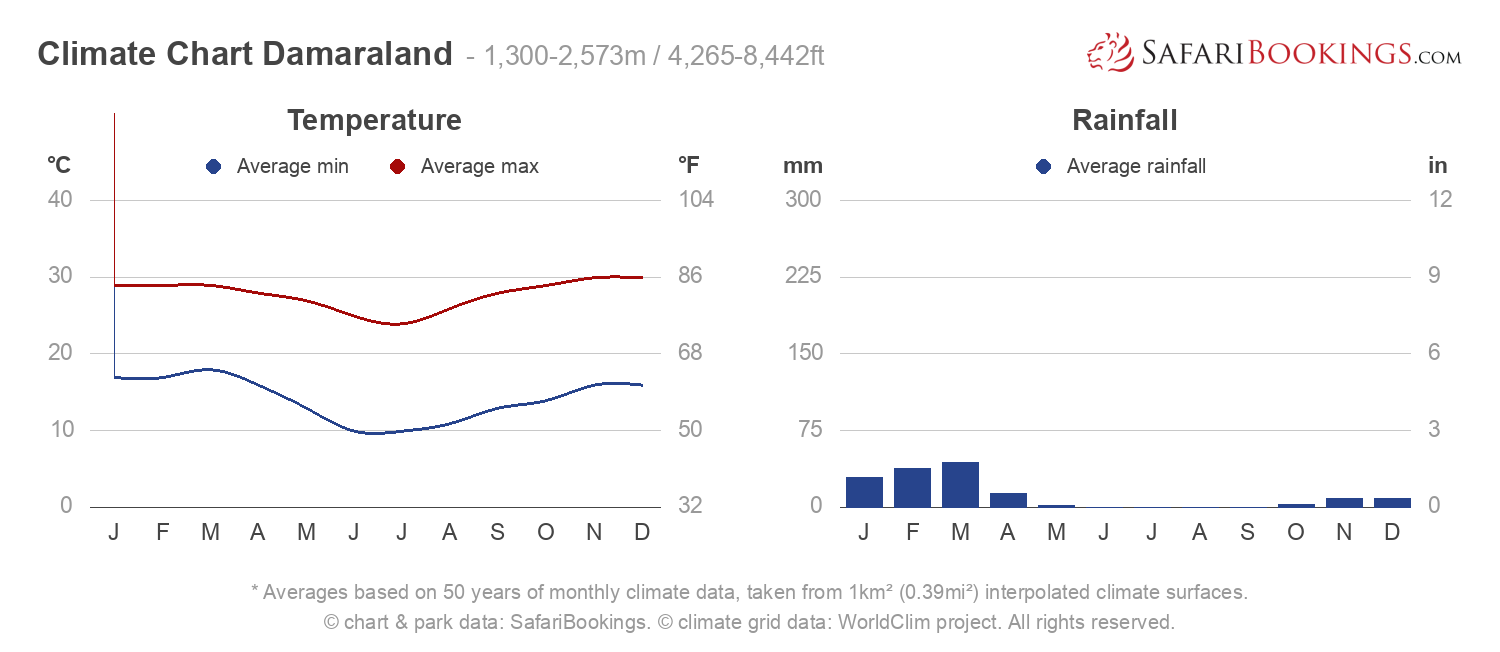 Climate Chart Damaraland
* Averages based on 50 years of monthly climate data, taken from 1km² (0.39mi²) interpolated climate surfaces.
© chart & park data: SafariBookings. © climate grid data: WorldClim project. All rights reserved.
Damaraland has a harsh semi-desert climate with wide variations in temperature due to changing altitudes. Daytime temperatures can spike to well above 38°C/100°F during summer (November to April), with winter nights falling well below freezing (May to October).The Wet season occurs during the summer and consists of sporadic rainfall. Thunderstorms are short in duration and it's unlikely they will disturb your trip plans. In the winter season, conditions are extremely dry and any precipitation is incredibly rare.
Dry season
–

May to October - Winter
As the winter months wear on, conditions become drier and drier. These are the coolest months of the year.
May, June, July & August - This is a time of drought, lots of sunshine and the coolest temperatures of the year. Afternoon temperatures average 25°C/73°F. Mornings average around 10°C/50°F, but they can often fall below freezing. Pack warm clothes for early morning wildlife drives.
September & October - Temperatures are on the rise, averaging a warm 28°C/81°F. Early morning averages are 12°C/54°F. The month of October is characteristically very hot, with temperatures occasionally soaring above the average to 38°C/100°F. The rains usually begin end of October/beginning of November.
Wet season
–

November to April - Summer
Calling this the Wet season is slightly misleading, as there is still only a scant amount of rain. Yet, afternoon showers do occur, just not on a daily basis. The climate remains sunny and hot. Warmer mornings are typical, with averages of around 16°C/61°F.
November & December - The occasional thundershower occurs in November, signifying the beginning of the rainy season. It is still mainly dry, but these rains bring relief from the long, dry period. Temperatures are the highest of the year, with a typical afternoon 30°C/86°F.
January, February & March - Most rain happens during these three months. Thunderstorms are common during the afternoon, but the sun is usually out all day long. The rains cool the air and temperatures reach 29°C/82°F, but are known to spike higher.
April - April sees the rains slowing gradually, as the temperature cools to an average of around 28°C/79°F.
Want to Visit Damaraland?
Damaraland
Damaraland Photos
View Photos
(40)