Weather & Climate – Golden Gate Highlands NP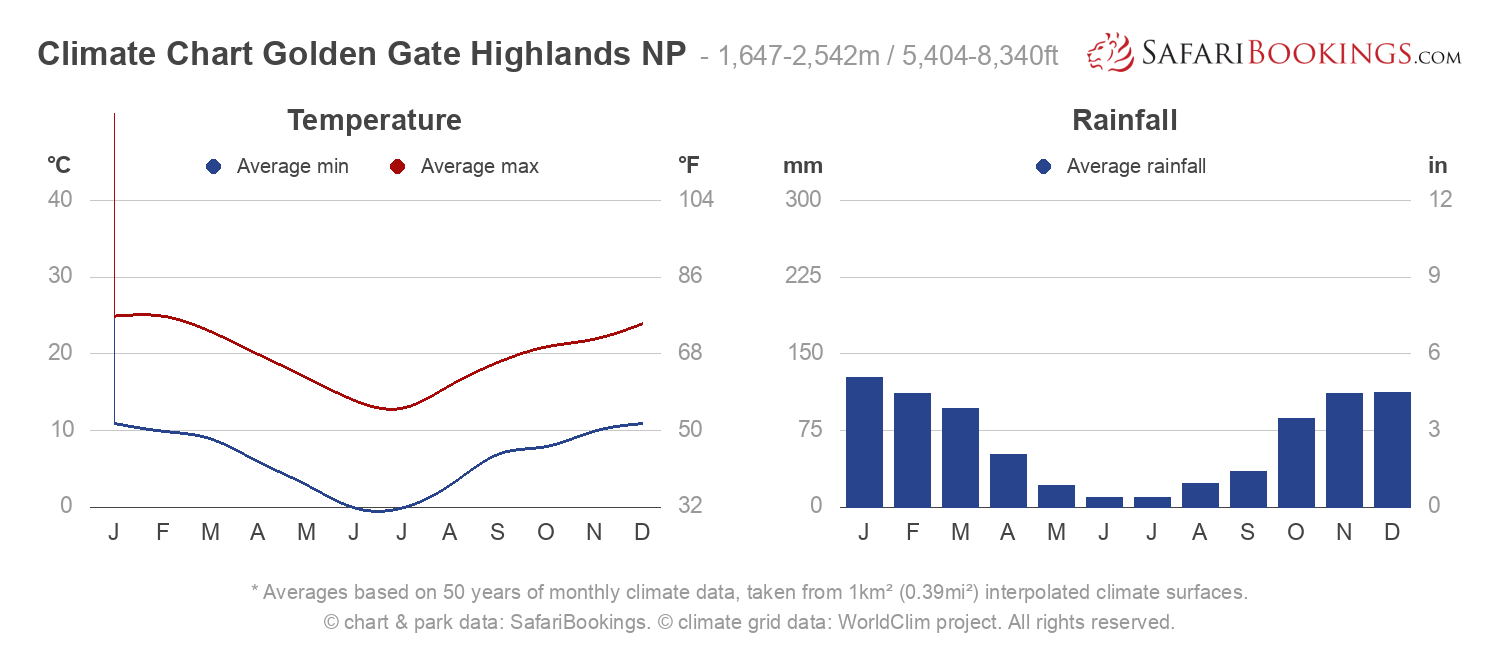 Climate Chart Golden Gate Highlands National Park
– 1,647-2,542m / 5,404-8,340ft
* Averages based on 50 years of monthly climate data, taken from 1km² (0.39mi²) interpolated climate surfaces.
© chart & park data: SafariBookings. © climate grid data: WorldClim project. All rights reserved.
Winter (May to September) and summer (October to April) are experienced at opposite times than in Europe and North America. The Dry season occurs in winter and the Wet season in summer. Winter gets cold with occasional snow. The park's altitude ranges from 1,647 to 2,542 (5,404 to 8,340ft), but the upper reaches are located within the inaccessible mountain peaks. Temperatures drop by about 6.5°C for every 1,000m you climb (or 3.5°F per 1,000ft), so wide climactic variations occur within the park.
Dry season
–

May to September – Winter
The winter months are very cold in the morning and remain cool throughout the day. Winter clothes are a necessity. Most days are sunny with very little rain if any at all. There is occasional snow.
May – This is the beginning of winter. Temperatures cool down – typically to around 2°C/36°F in the morning and 17°C/63°F in the afternoon.
June & July – These are the coldest months. An average morning is about -2°C/28°F, but temperatures often dip below freezing point at night. Afternoon temperatures are around 15°C/59°F.
August & September – It gradually gets warmer, with an average temperature of 19°C/66°F in the afternoon. Mornings are still cold with temperatures around 3°C/37°F. Rain might start in September and will bring much-needed relief after a long dry winter.
Wet season
–

October to April – Summer
Summer has more comfortable temperatures and regular thunderstorms. Rains rarely last all day; they usually come in the afternoon.
October & November – It gets warmer, and temperatures are between 8°C/46°F in the morning and 22°C/72°F in the afternoon. Rain is increasing, and in November, it will rain for many days.
December, January & February – These are the warmest and also the wettest months with afternoon temperatures reaching 23°C/73°F. Mornings are still cold, but more comfortable at about 11°C/52°F. It will rain most days in the form of afternoon storms.
March & April – It starts to cool down again with an average daily temperature of 21°C/70°F in the afternoon and 8°C/46°F in the morning. Rainfall begins to slow.
Want to Visit Golden Gate Highlands NP?
Golden Gate Highlands National Park
Golden Gate Highlands NP Photos
View Photos
(27)