Weather & Climate – Hell's Gate NP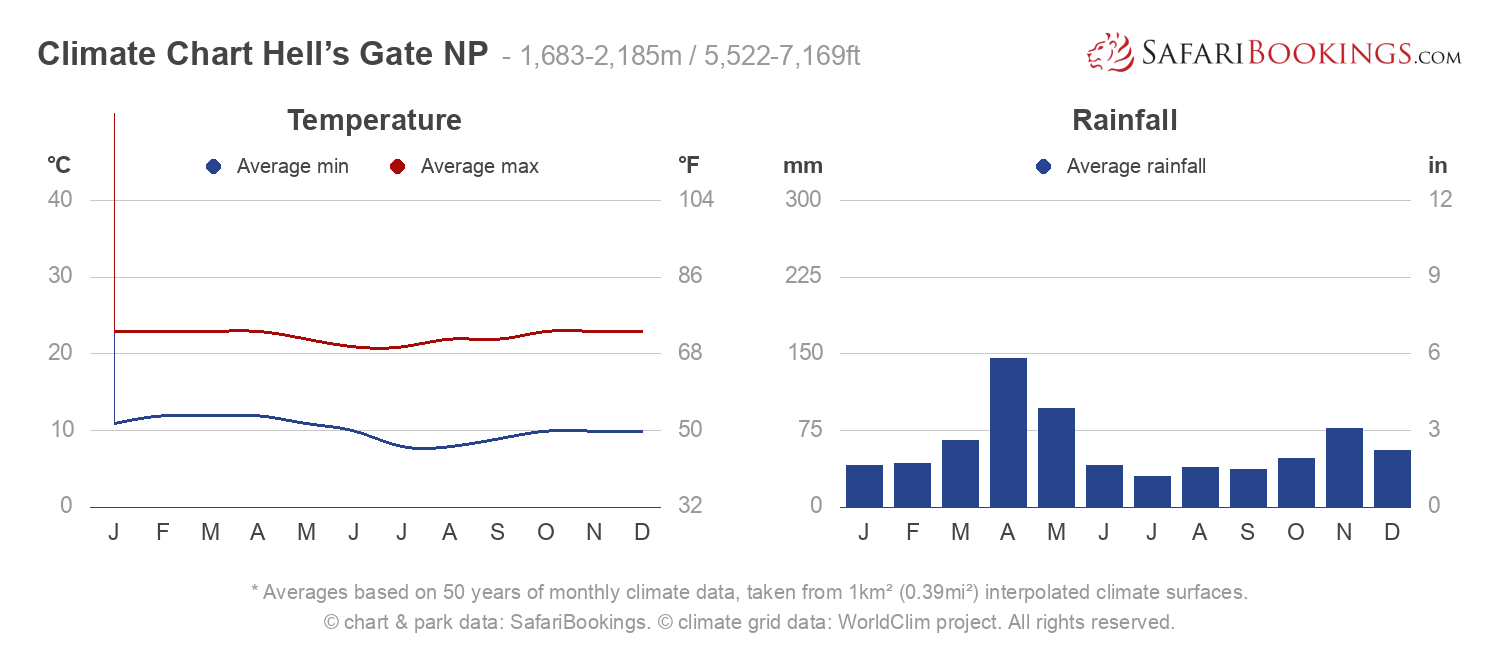 Climate Chart Hell's Gate National Park
– 1,683-2,185m / 5,522-7,169ft
* Averages based on 50 years of monthly climate data, taken from 1km² (0.39mi²) interpolated climate surfaces.
© chart & park data: SafariBookings. © climate grid data: WorldClim project. All rights reserved.
The relatively high altitude of Hell's Gate NP means the climate is slightly colder than is usually the case this close to the equator. Temperatures are quite mild throughout the year. Daytime temperatures are pleasant in the mid to upper twenties, while it cools off at night. The main Wet season ('long rains') is from March to May while there is a shorter wet period ('short rains') peaking in November. The short rains aren't as pronounced as in other places in Kenya.
Dry season
–

June to October
The weather is very pleasant in the Dry season. Days are usually sunny, but not too hot. It seldom rains, but there can be the occasional shower at any time. It is recommended to wear winter clothing on early morning game drives.
June, July & August – It is mostly sunny and dry, although there might be some rain in June. Afternoons are pleasant, with temperatures reaching 22°C/72°F, but evenings and early mornings are cold with temperatures of around 9°C/48°F.
September & October – It is still mostly dry, although there might be a bit of rain some days. It warms up a bit in October. Temperatures reach up to 25°C/77°F and higher. Early mornings stay chilly, with temperatures around 10°C/50°F.
Wet season
–

November to May
There is a drier period in January and February separating the 'short rains' and 'long rains'. Even the short rains aren't very wet, so the really wet period is only a short spell from March to May, peaking in April. Morning temperatures are around 10°C/50°F, so warm clothing is necessary.
November & December – 'Short rains': The rains usually break sometime in November. Afternoon temperatures are around 25°C/77°F.
January & February – There is a drier period between the short and long rains. The exact timing is difficult to predict, and it will still rain a bit.
March, April & May – 'Long rains': April is the wettest month. It often rains, but not for the whole day. Afternoon showers are common, so visiting the park in the morning is recommended.
Want to Visit Hell's Gate NP?
Hell's Gate National Park
Hell's Gate NP Photos
View Photos
(25)