Weather & Climate – Kafue NP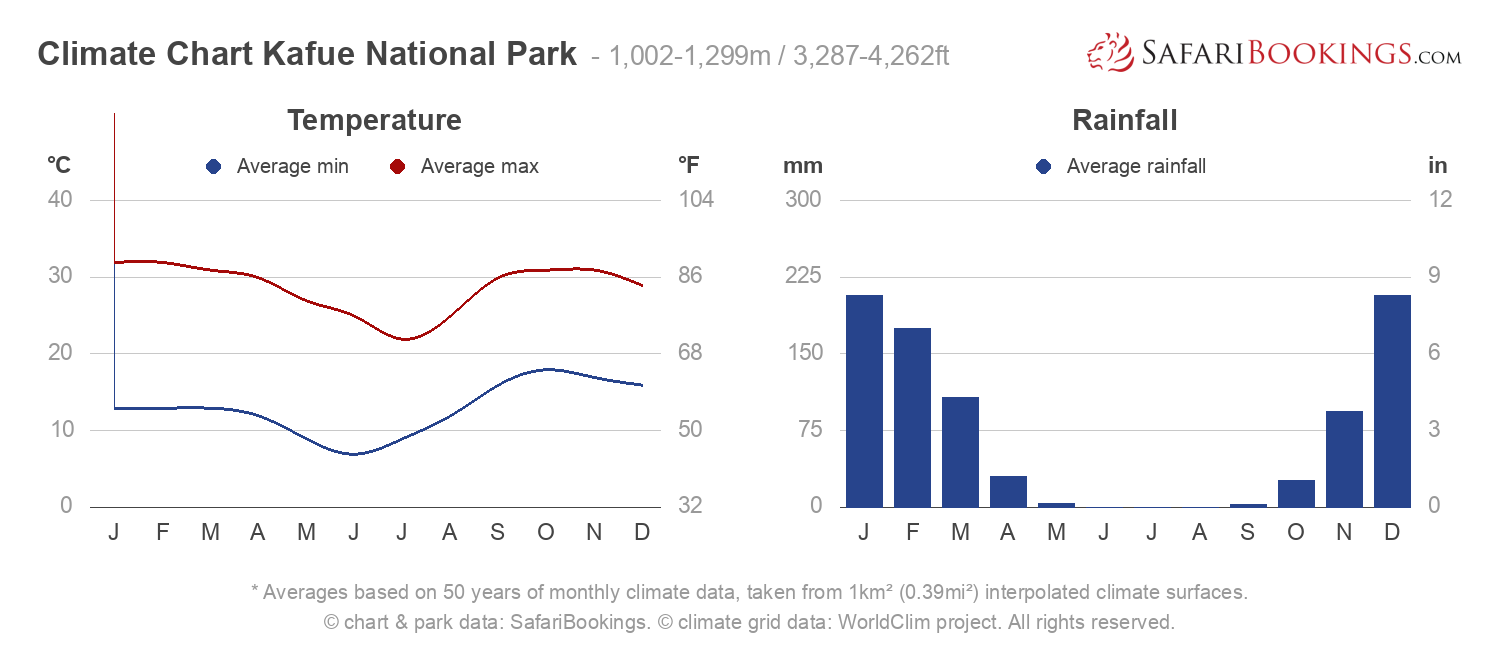 Climate Chart Kafue National Park
– 1,002-1,299m / 3,287-4,262ft
* Averages based on 50 years of monthly climate data, taken from 1km² (0.39mi²) interpolated climate surfaces.
© chart & park data: SafariBookings. © climate grid data: WorldClim project. All rights reserved.
Kafue has a hot climate, with a Wet season and Dry season. The average temperature is quite uniform throughout the year, as the park is in the tropics. However, there is an increase in temperature in October, before the rains begin. The nights tend to be cooler in the Dry season, from May to October.
Dry season
–

May to October
There is very little rain in the Dry season. This is the best time for wildlife viewing, and it gets better as the season progresses. It is warm during the day, but cold at night and in the early morning. Warm clothing is essential for early morning game drives.
May – This is the start of the Dry season. The bush is still lush, and there is a lot of water around, but precipitation has become minimal.
June, July – The rain has completely stopped. These are the coolest months – daytime temperatures are around 25°C/77°F. It gets cold at night with average temperatures of around 6°C/43°F.
August, September – It is still completely dry. The bush is starting to look parched. It is warming up too, and September has an average daytime temperature of 31°C/88°F. Mornings are a little less cold at 13°C/55°F on average.
October – Temperatures keep increasing to an average of 33°C/91°F. Peak temperatures can be much higher. Mornings are more comfortable with temperatures around 16°C/61°F. The first rain usually falls this month – temperatures will drop after the rain.
Wet season
–

November to April
During the warm, Wet season, roads deteriorate, and many camps are closed, especially on the Busanga Plains – this area is off-limits during these months. Afternoon showers are a regular event, and thunderstorms often light up the sky. The bush is green and lush.
November – It usually begins to rain in late October or November. The rain is a relief because the bush is very dry and hot. Daytime temperatures average 30°C/86°F. It doesn't rain every day, and there are thunderstorms in the afternoon.
December, January, February, March – The wettest months bring rain most days, but rarely lasting the whole day. Daytime temperatures are around 28°C/82°F, while night and early morning temperatures average about 18°C/64°F.
April – This is a lovely month with less rain, but everything is lush and green. Although there isn't much rain, the roads are still wet.
Want to Visit Kafue NP?
Kafue National Park
Kafue NP Photos
View Photos
(35)