Weather & Climate – Khutse GR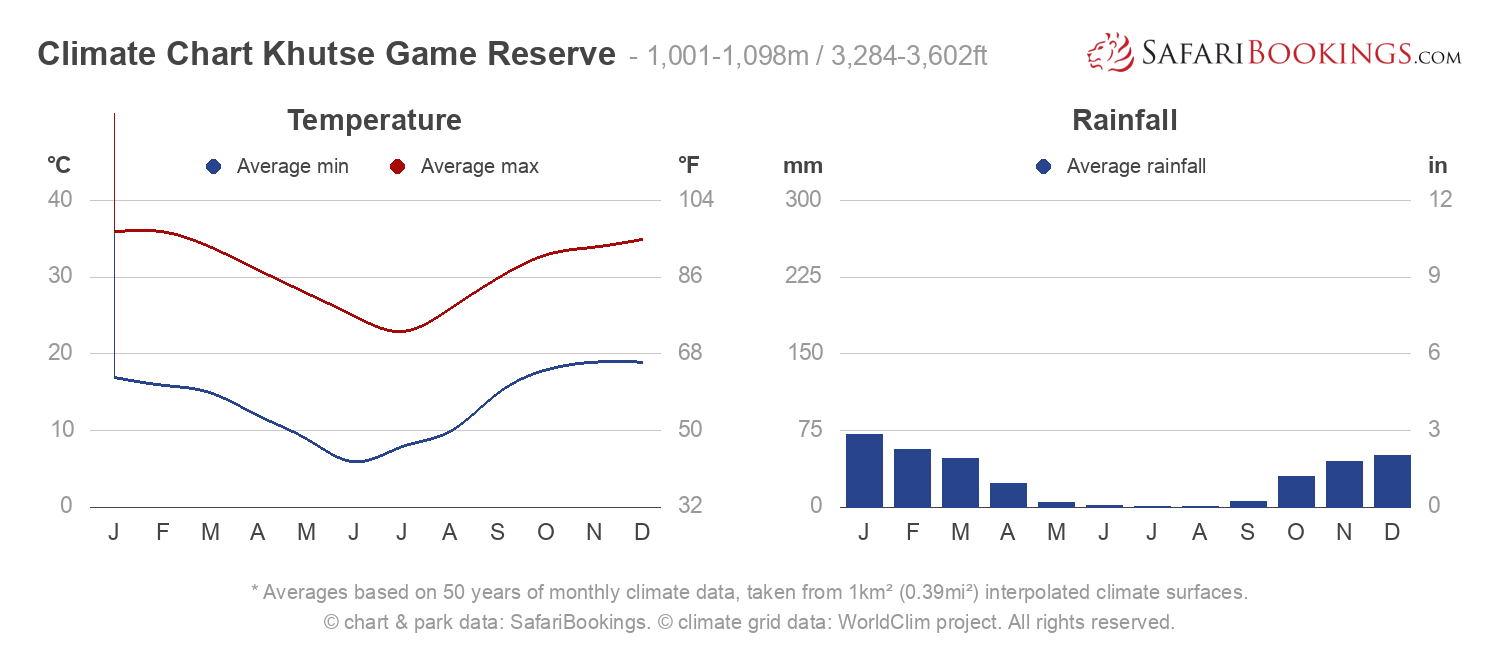 Climate Chart Khutse Game Reserve
– 1001-1,098m / 3,284-3,602ft
* Averages based on 50 years of monthly climate data, taken from 1km² (0.39mi²) interpolated climate surfaces.
© chart & park data: SafariBookings. © climate grid data: WorldClim project. All rights reserved.
A hot, desert climate awaits visitors to Khutse, which is also subject to a distinct Dry and Wet season. April and May are the beginning of the Dry season, and the rains that kick off the Wet season usually begin in October or November.
Dry season
–

April to October
The park begins to really dry out from May onward, as the season progresses. The coolest months are June and July, but temperatures begin climbing in August and peak from October to January.
April & May – These months are mostly dry and sunny. The middle of the day reaches temperatures up to 27°C/81°F.
June, July & August – The days are cooler now, with afternoon temperatures of around 24°C/75°F, on average. It is recommended to bring warm clothing for early morning drives when temperatures hover at about 5°C/41°F.
September & October – The end of the Dry season and the park is extremely parched. Before the rains break, temperatures continue to rise. October is very hot with average, afternoon temperatures of 32°C/90°F. Nights and mornings are more comfortable.
Wet season
–

November to March
The first rains bring relief from the relentless heat. Afternoon thunderstorms and short showers are a daily pattern, although it rarely rains all day. Afternoon temperatures are typically about 31°C/88°F all season. Mornings are pleasant.
November & December – It is hot, with sunshine and occasional showers. Early mornings are the best time when temperatures of about 18°C/64°F are experienced.
January & February – Heavy storms are common. These are the wettest months. It's wet some afternoons, but the rain doesn't last long.
March – The rains are decreasing. Thunderstorms can still occur every couple of days though, which brings a bit of rain. Mornings are slightly cooler, averaging 16°C/61°F.
Want to Visit Khutse GR?
Khutse Game Reserve
Khutse GR Photos
View Photos
(40)