Weather & Climate – Kwando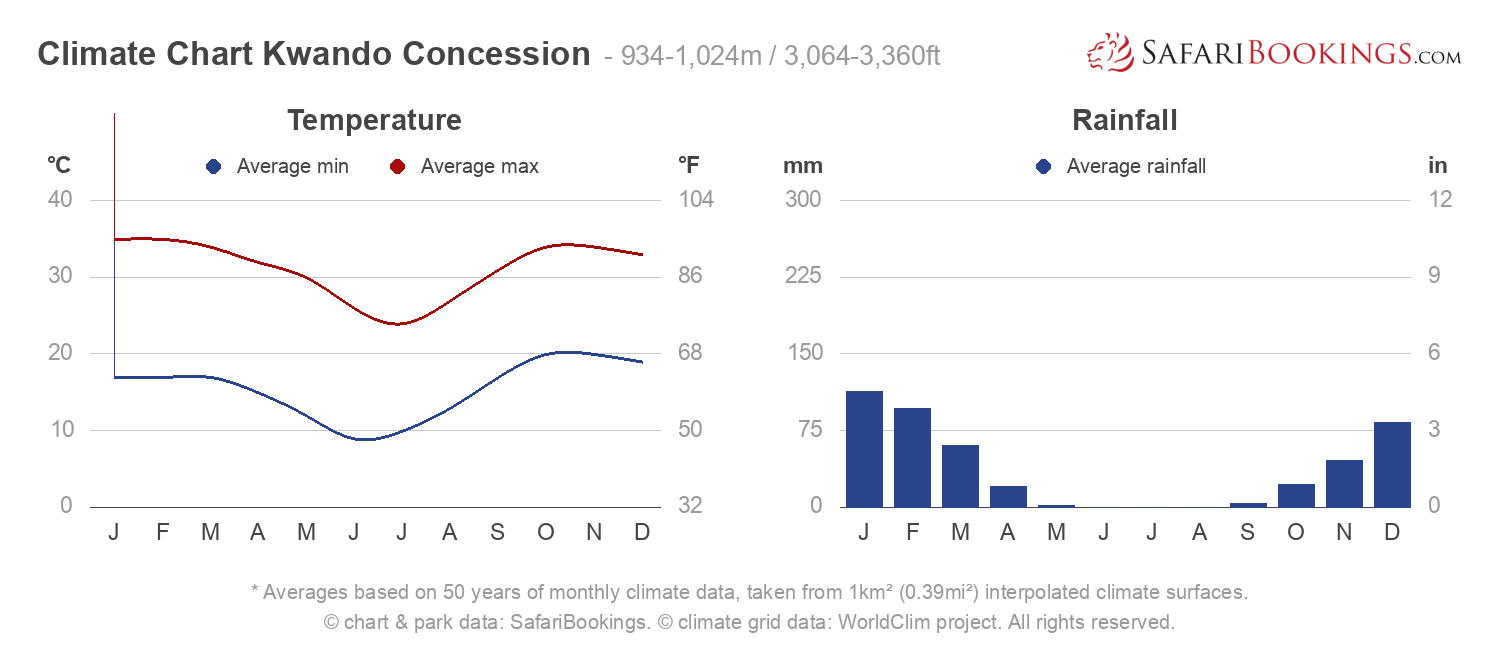 Climate Chart Kwando Concession
– 934-1,024m / 3,064-3,360ft
* Averages based on 50 years of monthly climate data, taken from 1km² (0.39mi²) interpolated climate surfaces.
© chart & park data: SafariBookings. © climate grid data: WorldClim project. All rights reserved.
Visitors to Kwando Concession will experience warm to hot weather, as well as a distinct Dry and Wet season. Don't forget to pack warm clothing for early morning game drives and boat trips.
Dry season
–

April to October
The last showers of the Wet season typically fall in April. June and July are the coolest months. Temperatures start climbing in August, peaking in October.
April & May – At the beginning of the Dry season, the vegetation is still green. The middle of the day can still be hot – temperatures up to 29°C/84°F are not uncommon.
June, July & August – It hardly ever rains in the heart of the Dry season. Afternoon temperatures reach a very pleasant 26°C/79°F on average. Early mornings are nippy, however, with temperatures struggling to get above 7°C/45°F.
September & October – The end of the Dry season sees temperatures on the rise before the rains break. October is scorching with average, afternoon temperatures of 35°C/95°F. Nights and mornings are much better.
Wet season
–

November to March
It immediately cools down a bit after the first rains, and the dust settles. Afternoon thunderstorms and short showers are typical, although normally it won't rain all day. Afternoon temperatures average 32°C/90°F throughout the Wet season.
November & December – Temperatures tend to build before the rain and drop afterward, but rainfall is sporadic. It is hot and mostly sunny. At around 19°C/65°F, the early mornings are the most comfortable time of the day.
January & February – Not many afternoons miss out on the rain. These are the wettest months – but it is normally over in a few hours. Heavy storms are common.
March – The rains are diminishing. Expect rainfall every couple of days – usually in the form of a storm. Mornings are a bit cooler at 18°C/64°F.
Want to Visit Kwando?
Kwando Concession
Kwando Photos
View Photos
(40)