Weather & Climate – Lower Zambezi NP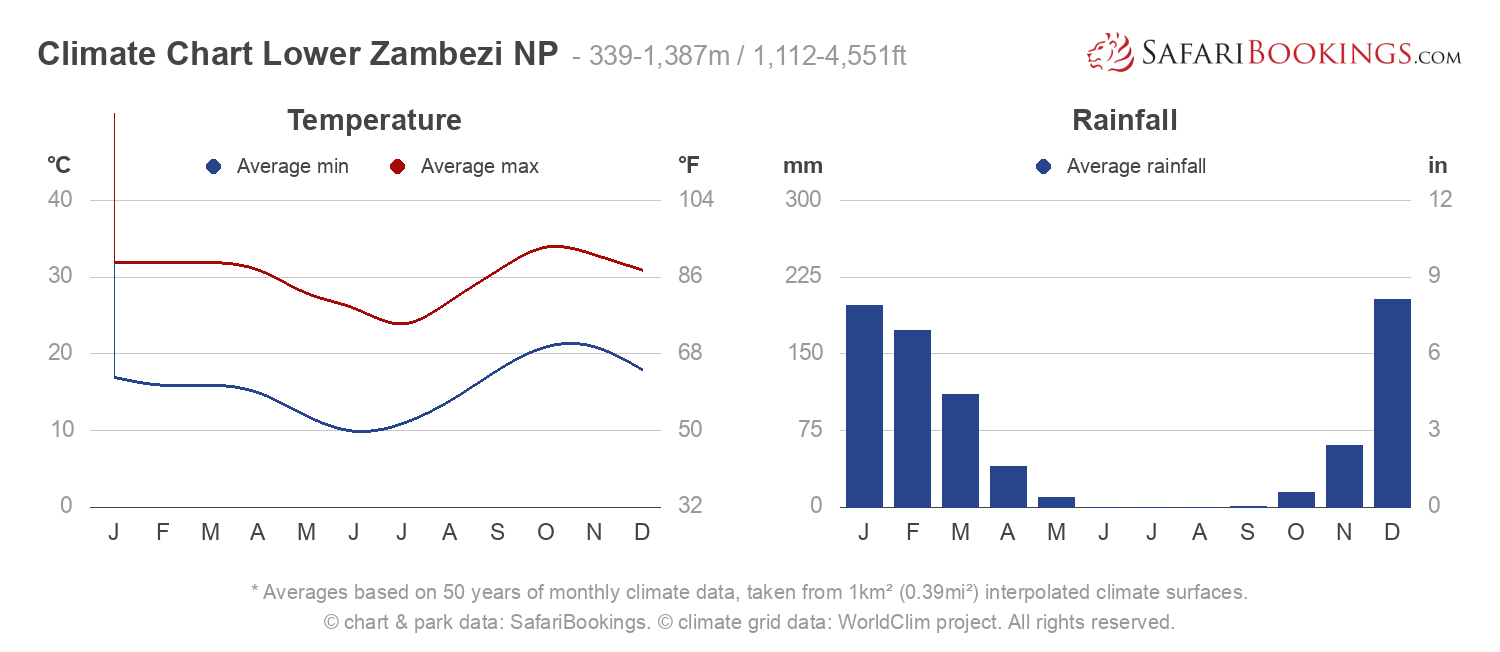 Climate Chart Lower Zambezi National Park
– 339-1,387m / 1,112-4,551ft
* Averages based on 50 years of monthly climate data, taken from 1km² (0.39mi²) interpolated climate surfaces.
© chart & park data: SafariBookings. © climate grid data: WorldClim project. All rights reserved.
Lower Zambezi has a hot climate with a Wet and Dry season and fairly uniform temperatures year-round. However, it gets quite cold at night in the Dry season, from May to August. Variations in climate take place due to the changing altitudes (from 339 to 1,387m/1,112 to 4,551ft) inside the park. As altitude increases, temperatures fall by about 6.5°C for every 1,000m you climb (or 3.5°F per 1,000ft). The higher altitudes in the park are out of reach of tourists.
Dry season
–

May to October
The lack of rainfall means the bush gets drier and the drier as the season progresses. Animals congregate around the river making it the best time for wildlife viewing. The days are hot but the nights are cool and refreshing.
May – The beginning of the Dry season is marked by the West season rains coming to a halt. The vegetation is still thick, and there is still a lot of water around.
June & July – With the end of the rains, the bush dries out. Temperatures fall to a modest daytime average of around 25°C/77°F. Warm clothing for early morning drives is essential, as the nights cool down to around 10°C/50°F.
August & September – Dry conditions prevail. The bush is starting to look parched. It is warming up too, and September's average daytime temperature is about 32°C/90°F. Mornings are getting milder.
October – Temperatures rise to an average of 35°C/95°F. They can peak much higher with the heat intolerable during the day. Mornings are lovely with temperatures around 20°C/68°F. The first rain often falls in October, leading to a drop in the temperature.
Wet season
–

November to April
This is the warm, Wet season. Some remote areas are difficult to reach as roads deteriorate and many camps are closed. Afternoon showers and thunderstorms are common. Clear skies and lush landscapes are the norm.
November – The rain (when it starts in October or November) brings respite from the dry conditions. It is extremely hot with daytime temperatures about 33°C/91°F. It doesn't rain every day and rain mostly arrives as afternoon thunderstorms.
December, January, February & March – These are the wettest months with rain most days. Temperatures hover around 30°C/86°F during the day, while at night, and in the early morning, 20°C/68°F is usual.
April – This is a favorite month with less rainfall, and the bush is lush and green.
Want to Visit Lower Zambezi NP?
Lower Zambezi National Park
Lower Zambezi NP Photos
View Photos
(25)