​Weather & Climate – Malawi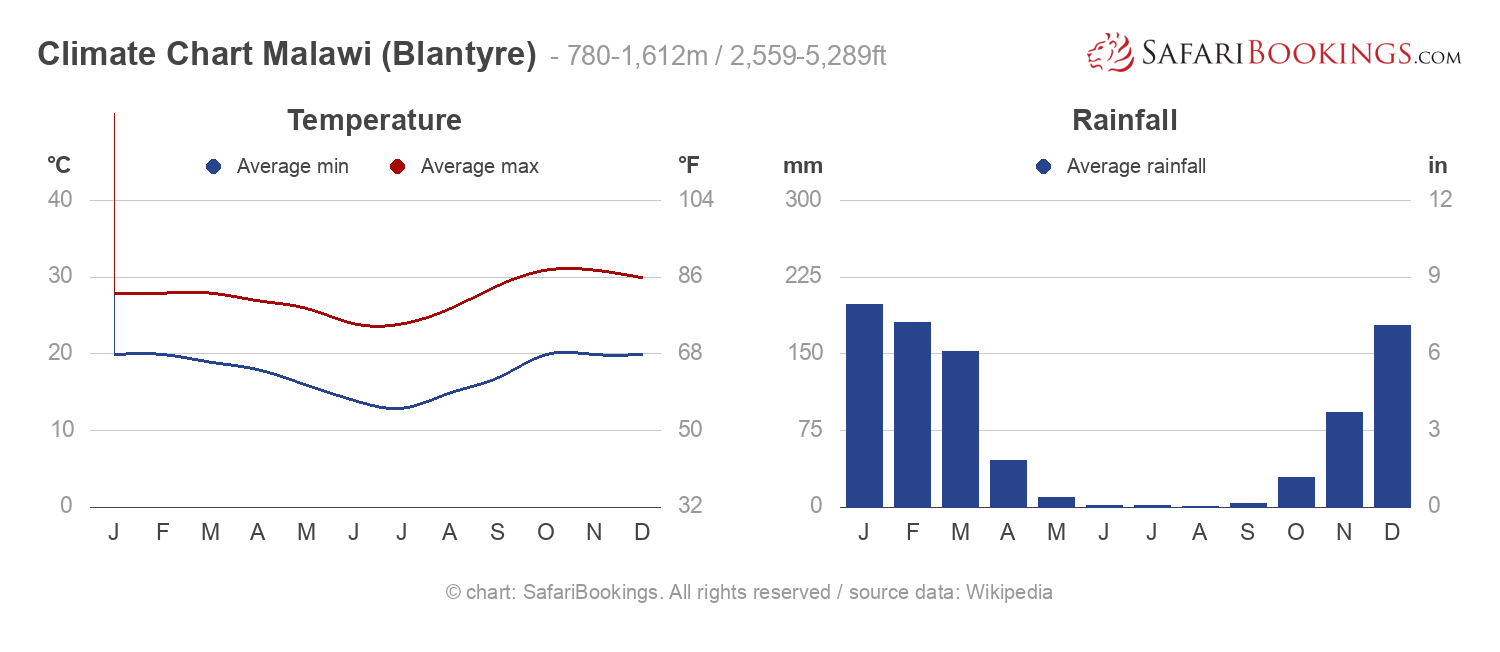 Climate Chart Blantyre
– 780-1,612m / 2,559-5,289ft
Malawi is situated in the tropics and receives good rainfall. It has a Dry season from May to the end of October, and a Wet season from November to April. In the Wet season, many roads deteriorate and a 4x4 is essential. In October, at the end of the Dry season, temperatures rise and relief comes only when the rains start.
Blantyre's Climate Compared to Malawi's Parks
Blantyre's warm climate is representative of the climate found in the rest of Malawi, except the high-altitude areas and parks, including Nyika NP. This mountain area has a more temperate climate. Temperatures increase by about 6°C for every 1,000m you descend (or 3.5°F per 1,000ft).
Dry Season

– May to October – Winter
There is little to no rainfall during the entire dry season and humidity is very low. Animals will congregate around waterholes and other permanent water sources.
May – This is the end of summer and the rain has stopped. Temperatures are relatively cool, typically 16°C/61°F in the morning and 26°C/79°F in the afternoon. Nighttime temperatures start to drop.
June, July & August – The average morning temperature is 14°C/57°F. Bring warm clothing for the cold morning game drives in open vehicles. Afternoons will be more pleasant, with temperatures around 25°C/77°F. Nyika Plateau with its high altitude is much colder.
September & October – The heat gradually builds, and the first rains bring relief from very dry conditions. Daytime temperatures will be around 29°C/84°F in September and 31°C/88°F in October, the latter being the hottest month. Peak temperatures can be much higher.
Wet Season

– November to April – Summer
November – This month is unpredictable – the rain starts in the afternoons. Temperatures are between 20°C/68°F in the morning and 31°C/88°F in the afternoon.
December, January, February & March – These are the wettest months, characterized by torrential downpours in the afternoon. Afternoon temperatures are around 29°C/84°F and the humidity is high.
April – Rain is dwindling and so are the temperatures. Daytime temperatures still reach 27°C/81°F but evenings and early mornings can be chilly.
Want To Visit Malawi?