Weather & Climate – Mashatu GR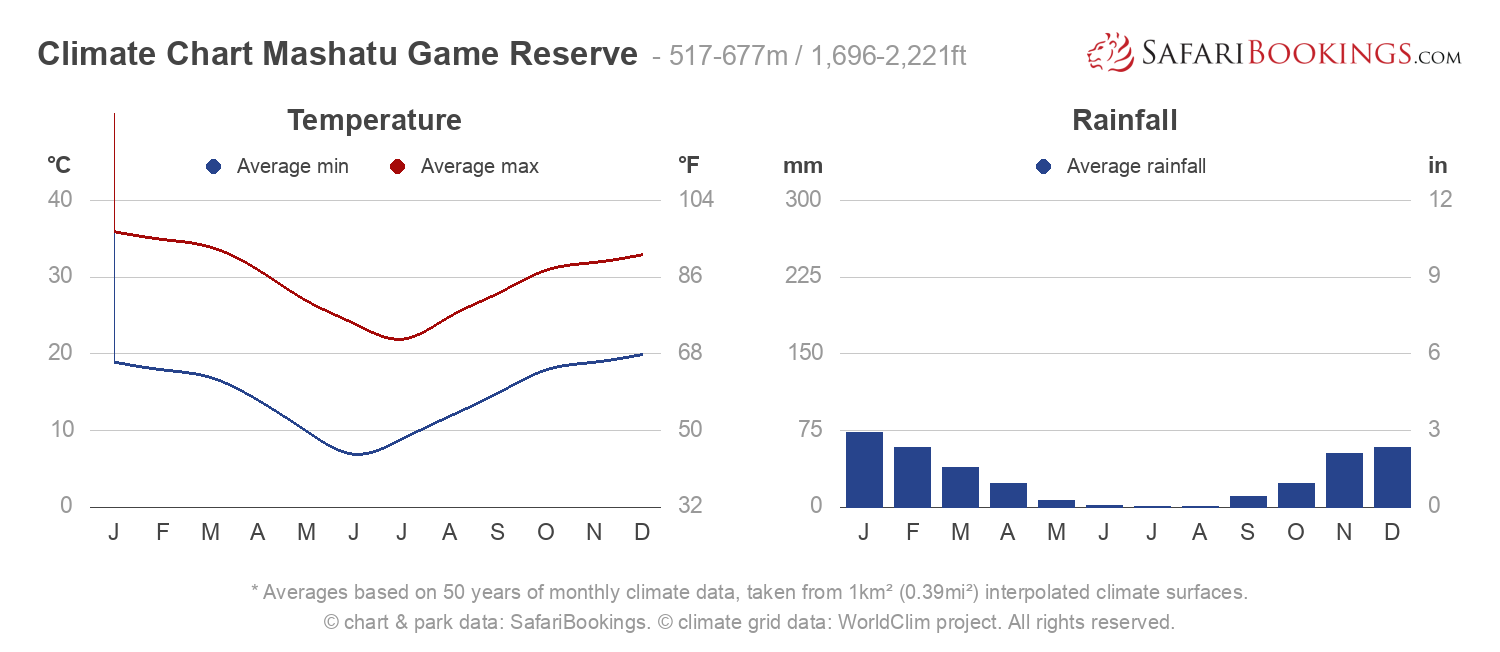 Climate Chart Mashatu Game Reserve
– 517-677m / 1,696-2,221ft
* Averages based on 50 years of monthly climate data, taken from 1km² (0.39mi²) interpolated climate surfaces.
© chart & park data: SafariBookings. © climate grid data: WorldClim project. All rights reserved.
Mashatu's climate is semi-arid with an annual rainfall ranging from 300-350mm/11.8-13.8in. Rain is highly variable, but occurs almost entirely during the summer months, from October to April. Summers are hot, and winters are mild.
Dry season
–

May to September – Winter
Winter is dry, and temperatures are mild. It is, however, chilly in the morning and it is recommended to bring warm clothing for early morning game drives.
May – Summer is coming to an end, and it is cooling down considerably. Average temperatures are mild, with a range of 9°C/48°F in the morning to 27°C/81° during the day.
June, July & August – Chilly mornings are typical during the coldest months of the year. The nighttime temperature routinely drops to about 6°C/43°F, from an average daily high of 26°C/79°F.
September – September is a lovely month, marking the end of the Dry season, and temperatures are increasing, so the early morning drives are less cold. Temperatures are around 13°C/55°F in the morning, and 31°C/88°F in the afternoon.
Wet season
–

October to April – Summer
Summers are very hot. The humidity is relatively low, which makes the heat a bit more bearable. It doesn't often rain all day, but afternoon showers are normal. Temperatures always peak before the rain breaks, which in turn cools everything down.
October & November – The first rain comes as a relief after months of dry heat. Temperatures are between 18°C/64°F in the morning and 33°C/91°F in the afternoon.
December, January & February – This is an extremely hot time of year. The average temperature in the afternoon is 33°C/91°F, but peak temperatures may rise to 45°C/113°F or higher. There are occasional afternoon thundershowers, but it never stays cloudy for long.
March & April – It cools down during these months, and temperatures are a bit milder at 30°C/86°F in the afternoon. Mornings are still pleasant at 17°C/63°F. There is some rain, but it stays mostly dry.
Want to Visit Mashatu GR?
Mashatu Game Reserve
Mashatu GR Photos
View Photos
(25)