Weather & Climate – Meru NP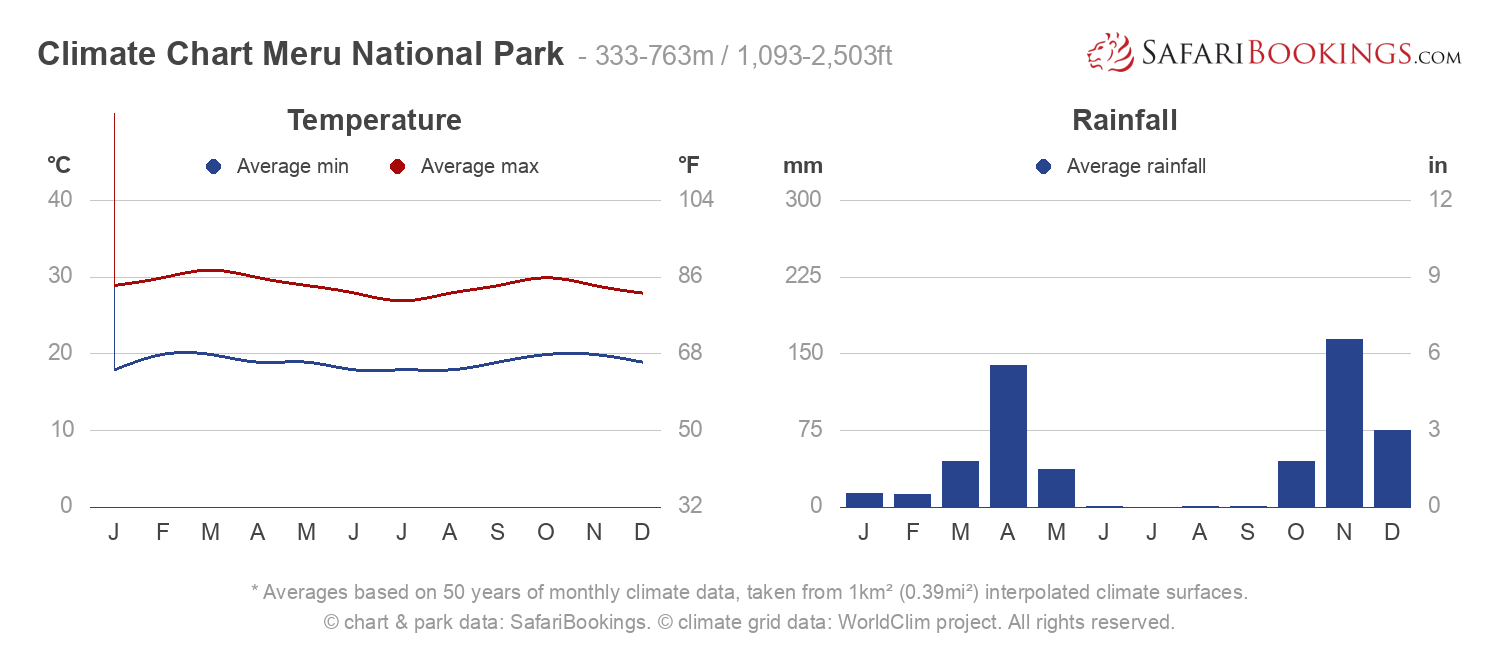 Climate Chart Meru National Park
– 333-763m / 1,093-2,503ft
* Averages based on 50 years of monthly climate data, taken from 1km² (0.39mi²) interpolated climate surfaces.
© chart & park data: SafariBookings. © climate grid data: WorldClim project. All rights reserved.
Meru has a hot, arid climate. Humidity is low, which makes the heat less oppressive. Because it's close to the equator, temperatures are fairly uniform. Daytime temperatures are around 32°C/90°F, and at night temperatures fall to about 17°C/63°F. There is almost no rain in the Dry season from June to October. The Wet season from November to May is characterized by two periods of rain: the 'short rains' peak in November, and the 'long rains' peak in April.
Dry season
–

July to October
It is hot, sunny and dry. It seldom rains and humidity is very low.
June, July, August & September – It is mostly sunny and there is no rain at all. Afternoons are hot with temperatures reaching 31°C/88°F, but evenings and early mornings are cooler with temperatures of around 16°C/61°F.
October – Temperatures increase and it gets extremely hot before the rain breaks the heat. Average afternoon temperatures are about 33°C/91°F, but it peaks a lot higher. When the rain finally comes, it is a huge relief after the long Dry season.
Wet season
–

November to May
The wet season is divided into three parts: the 'short rains' from November to December; the 'long rains' from March to May; and a dry period in between. Aside from April, rain figures aren't very high. However, even a bit of rain can make the roads difficult to navigate.
November & December – The rain might start in October or November. November is usually the peak of the short rains. Temperatures tend to build up before the rain and drop immediately after. Average afternoon temperatures reach up to 32°C/90°F.
January & February – This is a dry spell in the wet season. These are the hottest months with an average temperature of 34°C/93°F.
March, April & May – These months see the long rains. April is by far the wettest month and roads can become impassable. The rain dwindles in May, but roads might be bad until late May. Afternoon temperatures are around 33°C/91°F.
Want to Visit Meru NP?
Meru National Park
Meru NP Photos
View Photos
(20)