Weather & Climate – Namib-Naukluft NP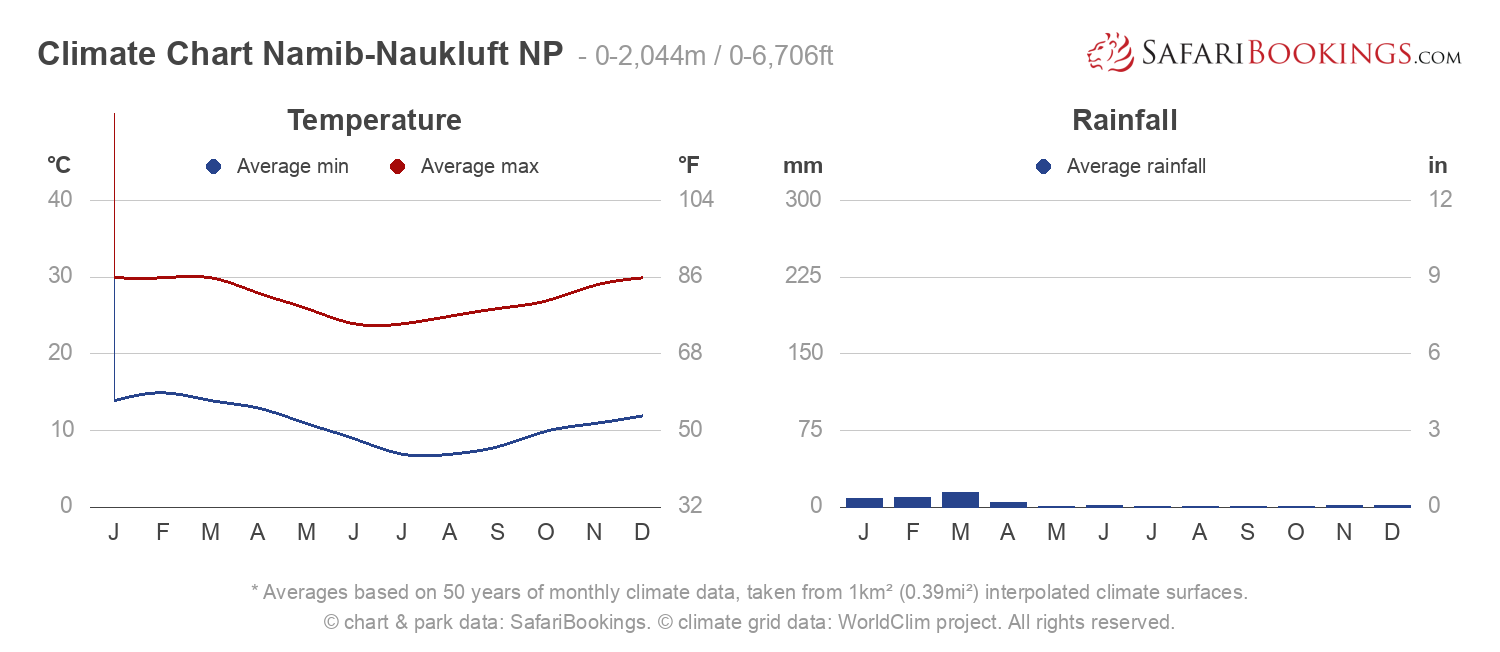 Climate Chart Namib-Naukluft National Park
– -48-1,973m / -157-6,473ft
* Averages based on 50 years of monthly climate data, taken from 1km² (0.39mi²) interpolated climate surfaces.
© chart & park data: SafariBookings. © climate grid data: WorldClim project. All rights reserved.
Namib-Naukluft has a hot and extremely dry climate with very little rainfall. There are wide climatic variations within this enormous park, and in certain areas temperatures can reach a peak well above 38°C/100°F during summer (November to April). Nights can drop below freezing point in winter (October to April).

The altitude in the park varies widely, from below sea level to 1,973m (-157 to 6,473ft). Temperatures increase by about 6.5°C for every 1,000m you descend (3.5°F per 1,000ft). The Sossusvlei area is located at a lower altitude and temperatures get very hot. The higher altitudes are mostly in the Naukluft Mountains section.
Winter
–

May to October
These are the coolest months bringing relief from the oppressive heat at other times of the year. There is almost no rain at all and it gets drier as the winter progresses.
May, June, July & August – It is sunny and totally dry. These are the coolest months and the average afternoon temperature is 23°C/73°F. Areas at lower altitude (such as Sossusvlei) can be substantially hotter. It is cold in the early morning, with temperatures of around 9°C/48°F.
September & October – It is still dry and sunny. This is the end of winter and temperatures increase to an average of 25°C/77°F, but can reach a peak of 38°C/100°F and above in low-altitude areas. Early mornings are less cold, at around 11°C/52°F.
Summer
–

November to April
The summer months are hot. Although daytime temperatures average 27°C/81°F, they frequently rise to 38°C/100°F and above in low-altitude areas of the park, including Sossusvlei. Early mornings are warmer, averaging around 14°C/57°F. Summer corresponds to the Wet season, but rainfall is low.
November & December – It is very dry. When the first rain falls, it comes as a relief after a long dry winter. Afternoon temperatures are around 27°C/81°F. Areas at lower altitude (such as Sossusvlei) will be substantially hotter.
January, February & March – The only months with regular rain. It is still mostly dry and sunny. People need to be careful for flash floods in dry riverbeds during occasional storms. It usually cools down after rain and average daytime temperatures are around 28°C/82°F.
April – Rain decreases rapidly in April; there are less and less days with precipitation. The weather cools with average temperatures around 26°C/79°F.
Want to Visit Namib-Naukluft NP?
Namib-Naukluft National Park
Namib-Naukluft NP Photos
View Photos
(30)