Weather & Climate – Queen Elizabeth NP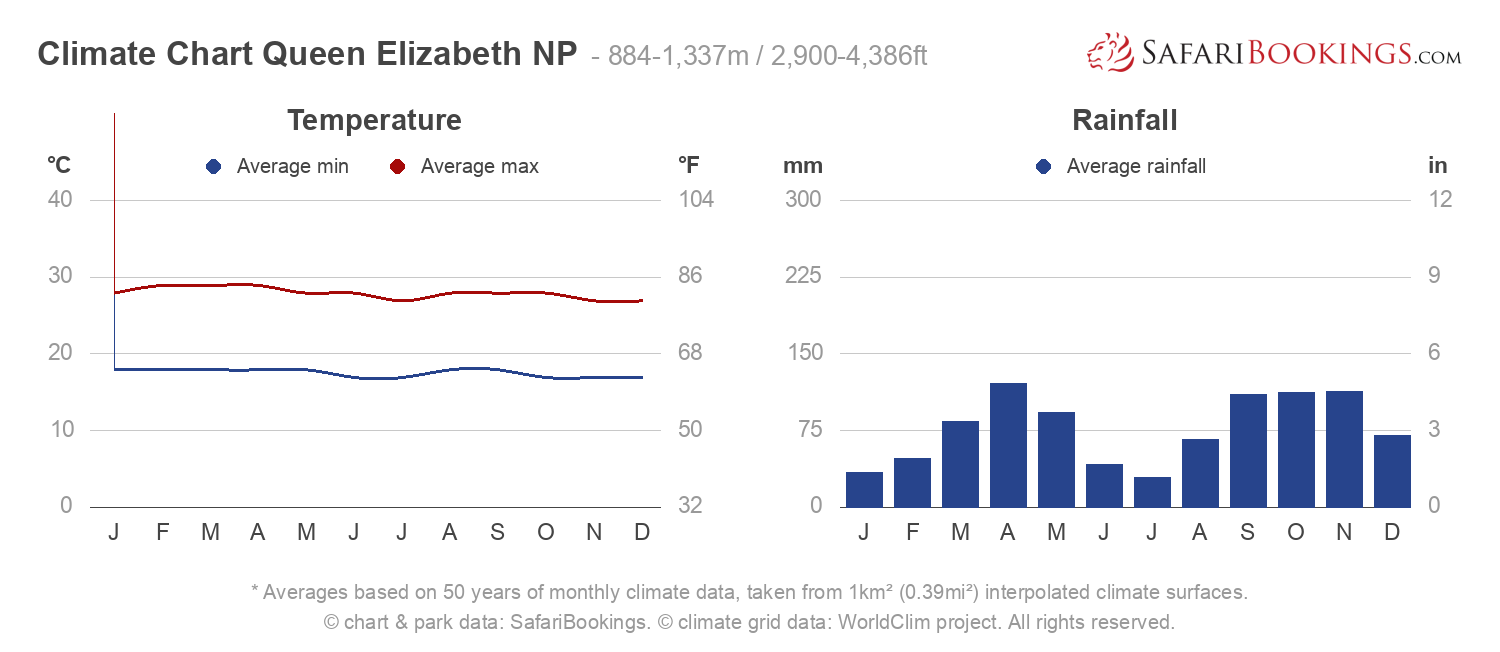 Climate Chart Queen Elizabeth National Park
– 884-1,337m / 2,900-4,386ft
* Averages based on 50 years of monthly climate data, taken from 1km² (0.39mi²) interpolated climate surfaces.
© chart & park data: SafariBookings. © climate grid data: WorldClim project. All rights reserved.
The climate in Queen Elizabeth NP is warm. Temperatures remain stable year-round, being near the equator. Daytime temperatures rise to around 29°C/84°F and slowly fall to around 17°C/63°F at night. Queen Elizabeth NP doesn't have a real Dry season, so there is always potential for rain. Rain happens less during December through January, with June and July having the least rain. Wet seasons occur in March to May and from August to December.
Dry seasons
–

January to February and June to July
January & February – Rain should still be expected even though this time of year enjoys dry weather, in general. Rains can even happen for days at a time.
June & July – There is a slight potential for rain during these months, the driest months. Daytime temperatures average 29°C/84°F, and nighttime temperatures average 16°C/61°F.
Wet seasons
–

March to May and August to December
March, April & May – Rain peaks in April during this time of increased rainfall. Temperatures are pleasant (around 29°C/84°F) in the later afternoon and cooler (17°C/63°F) in the morning. Roads can become impassable and trails used for chimp tracking get slippery.
August, September, October & November – This time of year is similar to March through May, with rain peaking in November.
Want to Visit Queen Elizabeth NP?
Queen Elizabeth National Park
Queen Elizabeth NP Photos
View Photos
(25)