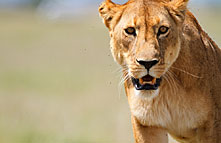 Meru Mountain Treks & Safaris
4.0/5 – 27 Reviews
Located In:

Size:

10-20 employees (Founded in

2004

)

Member Of:

Kilimanjaro Association of Tour Operators

Tour Types:

Budget & mid-range tours with set start dates and a fixed itinerary

Destinations:

Price Range:

$160 to $550

pp

per person

per day

(USD, excl. int'l flights)

Meru Mountain Treks & Safaris
Rating Breakdown
Roxana Barbuceanu
–
RO
Visited: October 2019
Reviewed: Nov 4, 2019
Email Roxana Barbuceanu | 35-50 years of age | Experience level: 2-5 safaris
The review below is the personal opinion of Roxana Barbuceanu and not that of SafariBookings.
Avoid them!
Ibrahim, the manager, is an asshole! He was rude and unprofessional. The accomodation provided was terrible. I would never ever book another safari with this guy.
The driver, Johnson, was ok and also the lady working for him, who arranged our transfers, was ok. But Ibrahim, the man who owns the bussiness, should find something elso to do for living, as in tourism he's a disaster.
Stephan
–
RO
Visited: April 2018
Reviewed: May 4, 2018
Email Stephan | 20-35 years of age | Experience level: first safari
The review below is the personal opinion of Stephan and not that of SafariBookings.
Unprofessional behavior and old cars! Do not go with them!
1st of all I can tell you that you can have a good experience with them but don't risk it.

Part 1. The manager, I think Ibrahim, took us from airport and went to a restaurant, it wa OK.

Part 2 We went to the hotel which had no hot water... Whatever we were going in Safari next morning, he told us that the car will arrive at 8am. It arrived at 8.20 with the problem of windshields. We lost like anotjer 30 mins.

P4 The driver was ok and had the knowledge of the parks (Tarangire and Ngorngoro).

P5 In the first day of the trip it rained in the car, it was during the rain season.

P6 The accomodation in the Manyara Igloo was ok.

P7 CUT TO THE CASE... We should have had another night in that Peace hotel we stayed in the first night. We went to Arusha wit a taxi driver coz' the Safari driver should have stayed in Safari for another day. AND THERE the manager told us that we wont stay at the hotel because président it's in town and there are no rooms left. When I asked him why it wasn't already payed he said that the room was "complementary", not like it was in tha package we paid. Like we should have stayed on the streets if it wasn't so 'kind' to offer us a "technical room" at the Meru Treks offices, with a llt of lound and unclean bed.

DO NOT GO WITH THEM!!!

This guy is full of surpises.

Actally the car broke in the Safari and we stayed there 45 mins...
Olivia
–
FR
Visited: May 2017
Reviewed: May 20, 2017
Email Olivia | 20-35 years of age | Experience level: first safari
The review below is the personal opinion of Olivia and not that of SafariBookings.
Ibrahim the monster
I don't recommand meru treks at all frist of all the boss Ibrahim he's an asshole I would even say worse but I'll stay polite. It's an horrible person. We booked a 2 days safari with him for 280€ which extremely cheap, he was really nice friendly and professional at the beginning, so we were so happy to get a safari that cheap that we asked him if we could book a excursion to see the waterfalls, to do the coffee tour and to see the kilimanjaro. He said sure it's going to be 30€ more he said we'll take you from your place to the montain. We thought we were going by car obviously so we said yes . So the day after we were supposed to go at 7:30 no one came. We waited and called him he said the guide he's comming. And at 9am so 1:30 late 2 guides came and one of them was drunk and we were supposed to have only one guide. We told the drunk one to leave we went with the other one. And after 5min in car to get to the city centrer he told us that we were going to take the public transports to moshi which is at 2hours from arusha we were so angry because we paid to not take the public transports we could have done it ourselves. When we arrived in moshi we had to take another daladala to get to the mountain and we waited 1hour for the daladala to leave moshi and the guide was smoking talking to his friends so unprofessional. So basically we left at 9am to arrive at the place at 2pm. So we did the visit it was cool but the guide made us rush because he didn't want to miss the last dalala to get back to moshi so we couldn't take our time and enjoy. At the end obviously we missed the last daladala and the guide who was supposed to pay us everything didn't have enough money to pay for the motorbikes to take us to moshi so we had to pay. When we arrive in moshi we spend an hour in the street waiting for him to find money walking around the city to pay the bus to arusha, it was 8pm. Organisation 0 ! And then he finally got the money and we took the bus to Arusha and arrived at 10pm and we had the safari the day after at 7:30 am we didn't even have time to eat. My friend and I were so pissed off then we decided to complain to the boss. So we went to the office before going on safari. And ibrahim's real face appears, we talk to him very politely and he started shouting on us he got crazy he didn't even let us speak he had an answer for everything and he started saying "if you complain for that you're going to complain for the safari so don't go" we were so angry because we wanted to do the safari still but we had to complain about the day before because it was horrible. So he started to take off our bags from the car of the safari and he kept shouting waiting for us to apologise but we didn't, fortunately the driver was great and told him to let us go so we went on safari. Do you imagine 30€ for that ! And he didn't give us the money back obviously. But fortunately the driver joseph was amazing and the safari went well and we saw all the animals. So the 1 star I put is only for the safari and because at least it was cheap. But if you can avoid this company avoid it and especially Ibrahim this monster shouting on two 21 years old girls when he is the on who is wrong.
Lilian and Renato
–
BR
Visited: November 2015
Reviewed: Nov 15, 2015
Just perfect!
All went perfect in our 3 night safari. Mr Ibrahim always tried (successfully!) to accomodate all our needs, and we consider flexibility and dedicated customer care to be one of the qualities of this company. Our guide Johnson was a great 4x4 driver and had very good knowledge of the wildlife. We had an unforgettable experience, fully pleasant, with reliable professionals that knew how to do their jobs well. Thank you very much, Mr Ibrahim.
chen valdman
–
IL
Visited: September 2015
Reviewed: Nov 15, 2015
Email chen valdman | 20-35 years of age | Experience level: first safari
excellent safari - meru treks
we were very satisfied with meru treks - excellent services and excellent guid!
meru treks is very attentive to the needs of travelers and will do everything in order to give you the best safari experience
Jagna
–
PL
Visited: September 2015
Reviewed: Nov 3, 2015
Email Jagna | 20-35 years of age | Experience level: first safari
Fantastic experience, welcoming and helpful staff
My boyfriend and I went for a 5-day safari including Serengeti, Ngorongoro and Tarangire Park. The experience provided by Meru Treks exceeded our expectations. The manager Ibrahim suggested a very good itinerary, was very well informed and helpful. He picked us up when we arrive in Arusha and took care of our accommodation after the safari.

Our guides were very nice and approachable. Although they have been driving in the parks so many times, they still understand the first timer excitement. Thanks to them we were able to enjoy the wilderness to the fullest. The chefs were excellent as well. I have few dietary requirements and although it is not particularly easy to cook in the bush, they made sure everyone's need was met.

Regarding the flat tires that somebody mentioned in his/her review, every safari group I saw on the way face the issue. Most of the time it was our guys who were helping the others. People are friendly and safari is not meant to be a highway drive. It is bumpy, wild and full of awaiting adventures.

Meru Treks highly recommended!
yarden and ori
–
IL
Visited: September 2015
Reviewed: Oct 12, 2015
Email yarden and ori | 20-35 years of age | Experience level: first safari
excellent
It is highly recommended!
We booked the tour from our country ( Israel ) in advanced.
When we arrived at the airport , Ibrahim picked us up and took care of everything. showed us a restaurant, transformation.
The guide was excellent and also the chefsis his best. we saw all the animals .
Everyone was kind and patient

yarden and ori
It was great \ Recommended;
Lucian
–
RO
Visited: September 2015
Reviewed: Oct 8, 2015
Email Lucian | 20-35 years of age | Experience level: first safari
Very good company with great staff
We had a five days safari and everything went perfect. We had the chance to interact with two different drivers and two different chefs and all four of them were great to us, same as the manager, Ibrahim. Definitely would recommend this company.
Jonathan
–
BE
Visited: July 2015
Reviewed: Sep 20, 2015
Email Jonathan | 35-50 years of age | Experience level: first safari
Great time, good service, good prices
We are very happy to have choosen with Meru Treks in Tanzania.
The company and Ibrahim, the manager, are very reliable. They have organized our safari (5 days in Serengeti, Tarangire and the crater) and our Kili Trek (5 days trek on the Marangu Road) in a few days, just before doing those trips…
So we could book everything in Arusha and that was very very much cheaper than doing it from home.
The service was great and the guides (Olé for the safari and Julius for Kili) were perfect !
After a few talks with different agencies, we could bargain the price with Ibrahim and he was ready to do it.
It's note the most luxurious agency… it's simple, comfortable, reliable and not so expensive
Enjoy !
Jeff
–
Visited: August 2015
Reviewed: Sep 7, 2015
A wonderful experience
I had a real wonderful experience with Meru Mountain treks and safaris, a driver was very experienced and he made things possible throughout a safari in Serengeti, Ngorongoro and lake Manyara national parks. I also enjoyed a well organised tour in Zanzibar. Thanks to Meru mountain treks and safaris company.
Disclaimer
All corporate and/or tour info is provided by Meru Mountain Treks & Safaris, not SafariBookings
The tours offered by Meru Mountain Treks & Safaris are subject to their terms & conditions